Peyton Manning reflects on his career as he nears his HOF induction
Indianapolis Colts Hall of Fame quarterback Peyton Manning is being inducted into the Pro Football Hall of Fame. #18 sat down Dave Calabro to revisit his career.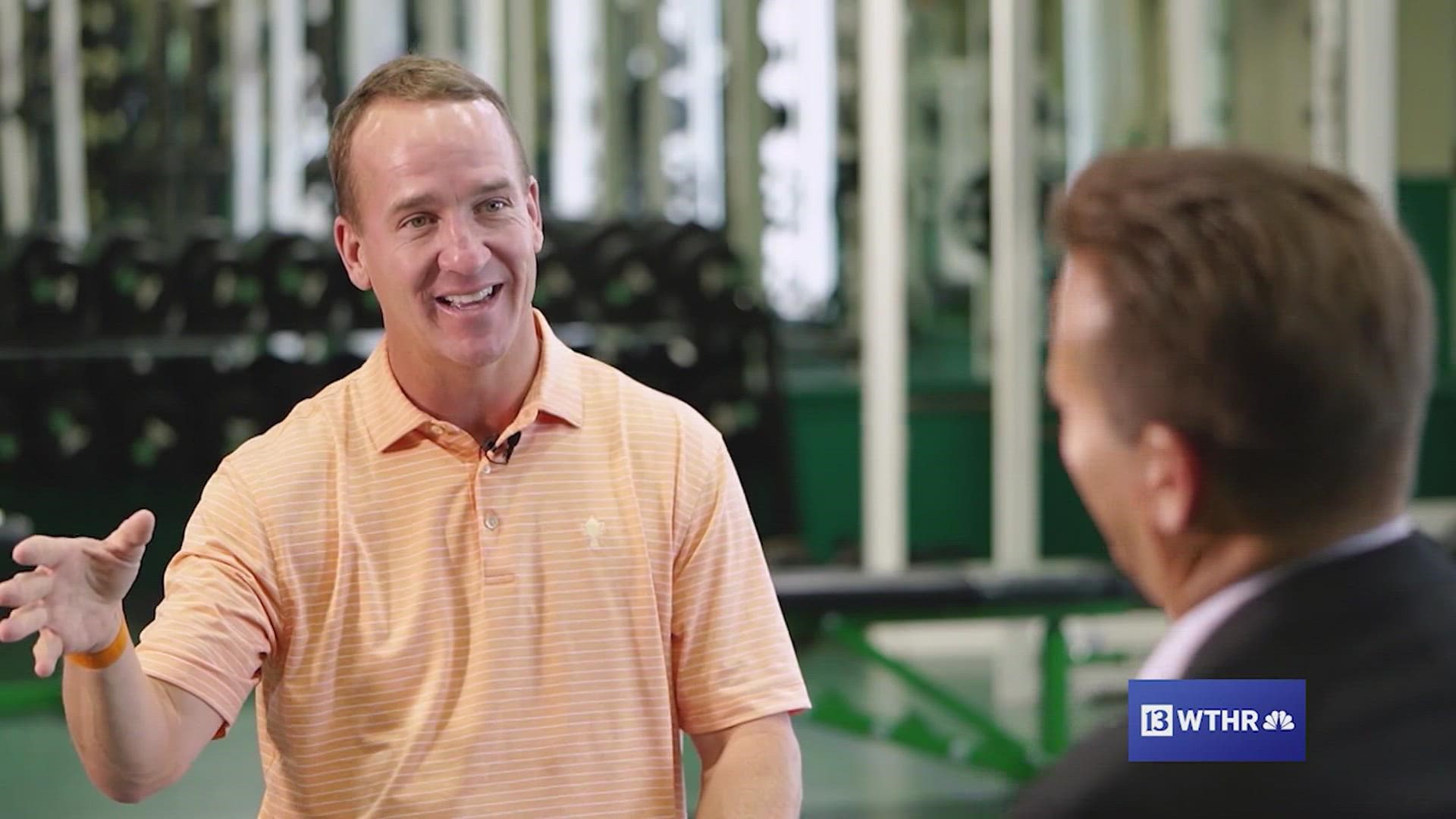 As Peyton Manning prepares for his induction into the NFL Hall of fame, 13News got the chance to do an exclusive interview with him in his hometown of New Orleans, Louisiana.
13News Sports Director Dave Calabro talked with Peyton about his childhood, his football career and his future in an exclusive interview at Peyton's high school in New Orleans.
Watch the video above for the complete interview with Peyton. The full interview is also available on the 500 Voices with Dave Calabro podcast.
The School That Started It All
:
Just a few miles away from the world famous French quarter, tucked away on a quiet street, is Isidore Newman School. This school is where Peyton first chased his dreams along with his older brother, Cooper, and younger brother, Eli.
"See if you can find me!" Manning challenged Calabro. "Right smack in the middle."
"Oh my gosh, how could you miss you?" Calabro said, looking at Peyton's senior class picture.
Newman is a private K-12 school with a history of producing distinguished alumni.
"A lot of people in this picture I went to school with from kindergarten through 12th grade," Peyton said. "I could name everybody in this picture because most of them I have known since I was 5 years old."
Peyton and Calabro continued to walk the halls when we passed a large plaque for the Distinguished Alumnus/a Award. The wood plaque has three columns of bronze-color plates bearing the names of politicians, doctors, philanthropists and others honored each year. In the top right column is the honoree for 2015: Peyton Manning.
"Oh wow, you are a distinguished alum, Peyton!" Calabro exclaimed.
"It makes you feel old is what that does," Peyton stated as he pointed out other names on the plaque, like authors Walter Isaacson and Michael Lewis. "Yeah, that's a great honor."
Peyton played basketball and baseball at Newman and learned a lot from his multisport high school career.
"I liked playing other sports," Peyton said. "I encourage young kids to play other sports, not just specialize. I didn't start playing tackle football until the seventh grade."
Peyton and Calabro entered the gym, encircled by green and white banners celebrating championships.
"These are all the banners of all the championships—no football, we got close in football," Peyton said as he pointed at the different banners.
"I was on the '91 championship," Peyton remembered. "I used to come in for Cooper, I was the 'sixth man.' I would always get this scowl from him when I would come in for him, like I had done something wrong. 'The coach put me in for you!'"
Peyton Arrives in Indy and Transforms the City
:
Calabro asked Peyton what it means to represent the Colts in the hall of fame.
"It's a big deal," Peyton said. "My gratitude to Jim Irsay and the Colts organization is off the charts. They drafted me in 1998, and everything Jim told me he was going to do when I met with him at the Surf Club in Miami..."
Peyton then corrects himself and said it might have been a different place. He's never one to let a detail slip through the cracks. What did stick with him in that meeting 24 years ago was the attitude of Colts owner Jim Irsay.
"I could tell how committed Jim was making Indianapolis a winner," Manning recalled.
As the records books show, Irsay did exactly that. The Colts teams with Peyton under center won 141 regular season games, nine playoff games and, of course, Super Bowl XLI.
This weekend in Canton, Manning will be back together with many of the teammates and coaches that worked with Peyton to turn around the Indianapolis Colts franchise.
"To be reunited with Marvin, Tony, Bill, Marshal Faulk, to be going in on the same weekend as Edgerrin James," Peyton said. "He's maybe my favorite teammate of all time. It's really cool."
And Peyton thinks he shouldn't be the last player from his Indianapolis teams that should be making the trip to Canton.
"There's room for more Colts, let's go down the list," Peyton said.
"Reggie Wayne needs to be in there," Calabro declared.
"Yep, there's room! But I am very proud to represent the Colts and the horseshoe in Canton," Peyton said.
What's Next For Peyton?
:
Peyton's prowess as a commercial star is well documented.
"Let's talk quickly about TV commercials," Calabro said. "What's your favorite? You have done a bunch of them."
"If I had to pick one, because it was short and quick—everybody loves those, keep it moving—we did one ESPN SportsCenter commercial with me, Eli, Cooper, and my mom and dad," Peyton answered.
"It was just fun," Peyton recalled. "Someone gave me a hard time and said that I was kicking Eli kind of hard. I'm like, 'he weighs 230 pounds, I think he is IK.'"
"I remember Eli gave me a wet willy," Peyton said. "I was like, 'Hey sir, do we have that one? Can't we just stop?'"
"Do you have interest in owning a team or politics?" Calabro asked him.
"I keep looking for the $3 billion that it costs to buy an NFL team. I don't know where it is," Peyton joked. "Is it in a separate account? I don't have it. I can't find it."
"Wait a minute, you made some money off of 'Omaha!'" Calabro suggested.
"I haven't said no to anything," Peyton said. "If an opportunity came about and it seems it would be fun being a part of a team is always going to be attractive to me."
"It's all the things I loved about playing, the teamwork, the competition, the working together to try to accomplish a common goal," he continued. "If and when something happens, yeah, possibly. I will always be a part of the game in some fashion or another as an ambassador and that's important to me."
Watching A Legend Form
:
When I started covering the Colts in 1992, I saw fans sitting in the stands on the 50 yard line, reading the paper—during games!
The Colts were an afterthought. Indy was a basketball and Indy 500 town. In 1998, the game changed.
The Colts were shopping for a new starting quarterback.
I met Peyton in a hotel lobby during the NFL Combine. I think there were five reporters there.
It's a big change from today because the Combine is covered by hundreds of journalists.
Peyton was well dressed and well prepared. He knew everyone by name after about 20 minutes of casual conversation. He is still Mr. Detail to this day!
Manning showed up at training camp in Anderson and immediately took control of the franchise.
There was no doubt who the leader of this team would be for years to come.
I had asked Peyton to do a weekly segment on Channel 13. He agreed. After each game, we would meet on the field or locker room for an interview.
That first season was long. The Colts won just three games that season.
Those weekly interviews were awkward for me. I am a journalist and asking tough questions, that's my job. I was on the "13 Sports Jam" one Sunday night with former Colts QB Jack Trudeau. We grilled Manning for his horrible play.
Peyton told me, years later, he had watched the report and said he respected me for being honest. He handled all of it well.