In a statement, IU's graduate students explained the two main reasons behind their decision to suspend the strike: First, they want to see how the effects of the strike play out over the summer and secondly, they want to strike "under conditions in which we are strong," referring to times when they're teaching hundreds of classes in the fall and spring semesters.
According to Katie Shy, a grad student worker at IU, the strike will be suspended until Sept. 26. A vote will take place by that date to determine if they'll recommence the strike.
Shy said they're still working to unionize on campus and are hopeful that, with the voiced support of the IU faculty, the administration will come to the bargaining table to work with grad students on resolving issues before the September vote.
In the meantime, IU's grad workers are exploring plans to strengthen their fall strike. Their statement mentioned options such as asking grad workers to move their classes off of Canvas for the fall semester and exploring how research assistants could join in on the strike. They also plan to set up their local union and elect union officers and a bargaining committee ahead of the fall semester.
"[We] hope that removing ourselves from Canvas and preparing RAs will further strengthen a prospective strike and bring the administration to their senses," the grad workers' statement says.
IU grad workers' statement on suspending strike for the summer
However, after four weeks of picketing and calling for change on campus, there's still no bargaining happening between the two sides.
On Monday, an all-faculty meeting took place on the Bloomington campus over the question of supporting grad students. It was the first all-faculty meeting to be called since 2005. There, hundreds of faculty voted to support the grad workers' cause, but that support isn't finalized just yet.
"We are unstoppable, a living wage is possible," grad student workers chanted outside IU Auditorium Monday afternoon.
Spring classes may be over, but the campus came alive Monday afternoon, as grad student workers and faculty members showed up in force for the all-faculty meeting.
"We're just really seeing that we can make a change on IU's campus and make education here better for the research that we want to do and for our undergraduate students," said Shy, a third-year grad student worker in the English department.
More than 700 faculty members came out for the meeting and a vote, taking under consideration more faculty control over grad worker reappointments, graduate stipends and if they'll recognize the grad student union or side with the administration on the strike.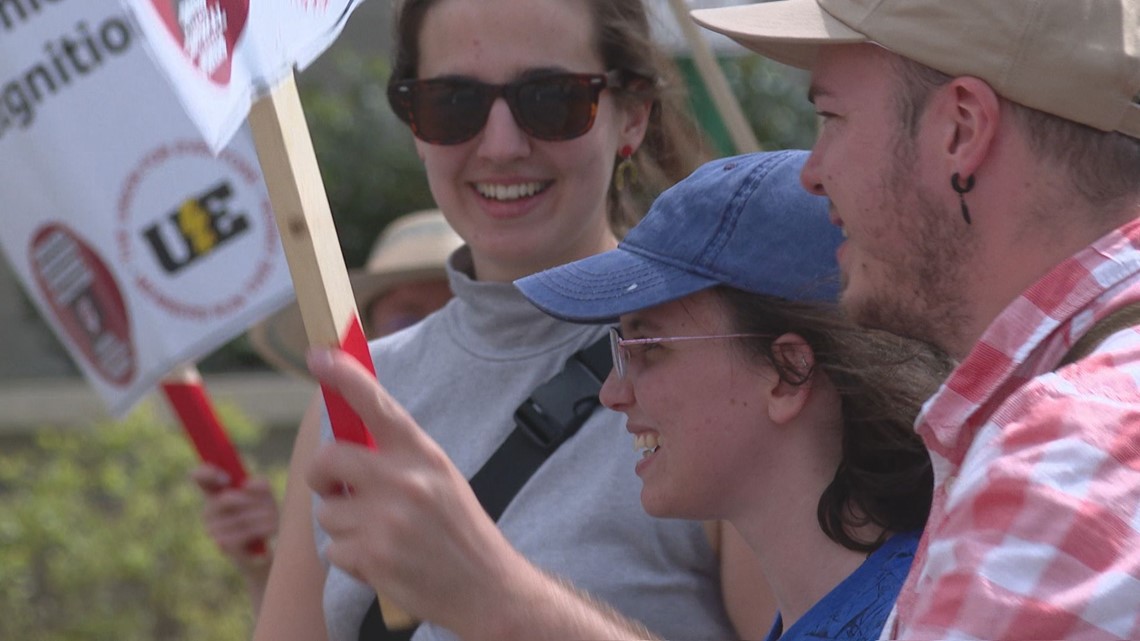 "So I think the meeting is a really clear demonstration of the will of the Bloomington faculty that the leadership needs to get moving, recognizing the union and making us a leader rather than a laggard among our comparator public universities," said Ben Robinson, chair of Germanic Studies at IU Bloomington and Bloomington chapter president of the American Association of University Professors.
Robinson said the faculty present overwhelmingly voted to support grad student workers with a vote of 683 in favor and just 39 against.
But with fewer than 800 faculty members present, Robinson said those same questions will now be put to an email ballot system for faculty to vote on. He stressed he doesn't expect the faculty show of support to change.
"No one could avoid that message. I'm absolutely confident that they'll hear it, what I wish I had more confidence in is that they'll listen to it. But there was a lot of expression in the room. If they don't listen to the united faculty convening all together for the first time in 17 years, they're going to experience a complete loss of confidence in their leadership, and that really is what's at stake in this," Robinson said.
Grad workers like Shy are hopeful the faculty's support will finally get the administration to the bargaining table.
"We're really hopeful that the administration will understand that their goals are the same as ours, better education, more tuition dollars getting into the classroom, we really think there's a lot of space for a productive conversation," Shy said.
IU shared the following statement with 13News regarding the all-faculty meeting:
"IU remains committed to a strong system of shared governance, which provides many avenues for our community to address pressing challenges together.

Ultimately, we will seriously consider the advice faculty provides through this process, and will balance it against our current academic obligations and governance structures. Our highest priority will be maximizing the educational experience for both our undergraduate and graduate students."
What other people are reading: