INDIANAPOLIS — When Steven Howard woke up Wednesday morning, the 69-year-old retired carpenter and Vietnam veteran had a place to call his own, a home he's owned for more than a decade.
Just a few hours later, though, everything belonging to Steven and his sister, Denise, was gone.
Two homes suffered significant damage after the fire near West 32nd and Rader streets around 11 a.m.
Crews arrived to find the home at 1005 W. 32nd St. fully involved, and the fire was spreading to a second house next door.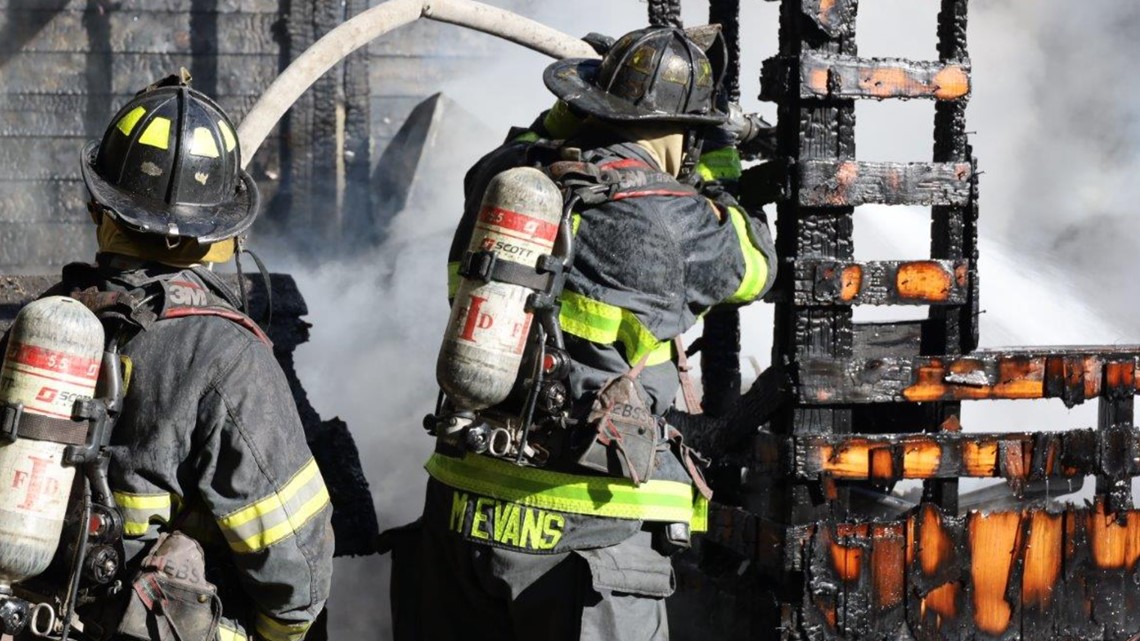 Emergency crews evacuated the houses at one point while the gas company worked to contain a leak.
Crews also encountered live ammunition going off in the fire.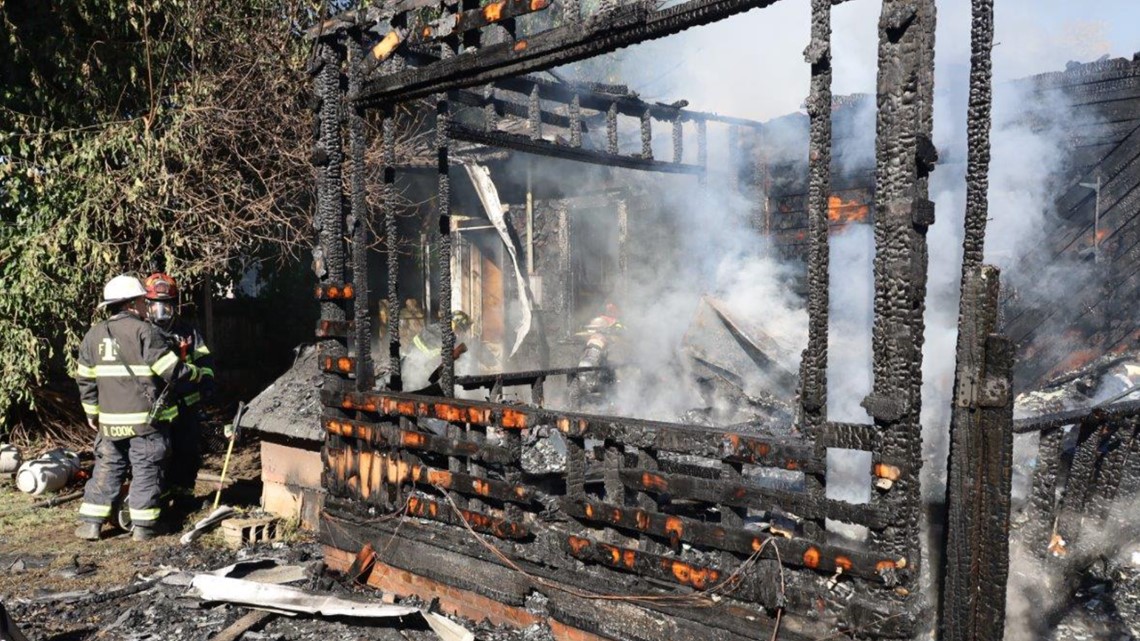 "This was the living room," said Howard, walking through the front room of his house.
"It's your whole life gone," Howard said, looking at the charred furniture and blackened walls and ceiling. The smell of smoke was still in the air.
Howard said he left in the morning to run a quick errand and when he came back, he spotted smoke coming from his house and the house next to it.
"My sister was coming down the street," Howard recalled. "She had a blanket wrapped around her with no shoes on."
Howard's sister, Denise, told him she'd been in the bathroom when their 17-year-old pit bull "Champ" started barking, alerting her of the fire.
"The back door was open. He could have just ran out, but he stayed in there until he got her out," said Howard.
"I love that dog to death," Denise added.
Fire officials said Howard told them he thinks the fire started on the back porch from a space heater that got too close to something.
The house next door was also destroyed. A 70-year-old woman and her 52-year-old granddaughter lived there and have also been displaced. Neither was home at the time of the fire.
Fire officials are still investigating. Howard and his sister had no insurance to speak of to cover the loss.
"You have to rob Peter to pay Paul," said Howard.
In this case, "Paul" is thousands of dollars in medical bills Howard is paying for treatment of gallbladder cancer.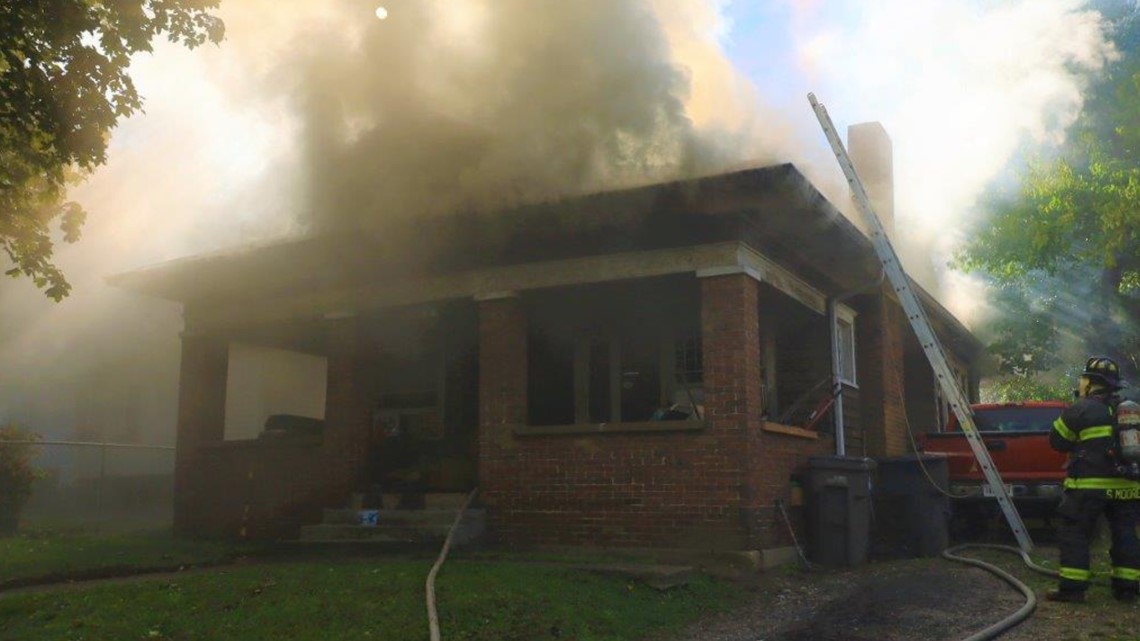 Something had to go, and that was Howard's homeowner's insurance this past April.
"I thought, 'Whenever I catch everything up, I'll just get some more,' but it didn't happen like that," Howard said. "It's almost like you gambled and you lost."
A loss not just of his home, but of keepsakes even insurance couldn't replace.
"I had a locket my mother gave me, a lot of coins and stuff and there's nothing back there in the back of the house," said Howard. "The whole thing is just ashes."
From those ashes, though, Steven Howard is determined to find a way.
"You got to just keep going," he said. "Keep moving forward and that's what I got to do now. Just keep moving forward."
Anyone willing to help Steve and his sister can reach them at (317) 981-9467.
Heating assistance resources
With natural gas prices skyrocketing, many people might try to cut corners on heating costs this winter.
But there are things you can do now to avoid sacrificing a safely heated home.
Consider early maintenance on your furnace now to make sure it's not sucking up extra energy - and money - later. And keeping your air filter clean can save you up to $30 dollars a month.
Beyond that, you can lower the thermostat by just two to three degrees when leaving the house or heading to bed.
Open blinds during the day to let in light and make sure there's nothing covering your floor vents.
If you're still struggling to afford your monthly heating bill, remember utility companies will often work with you.
There are also agencies out there to help people having trouble paying heating bills:
Heating safely
It's important to keep warm. Cold temperatures kill 20 times more people than hot ones. But you'll want to make sure you stay warm safely.
If you're going to use a fireplace, make sure you get your chimney inspected and swept first. Keep the flue open.
Also, have a carbon monoxide detector in your home.
If you rely on a space heater, make sure it's plugged into a grounded wall socket. Don't use an extension cord. Keep it away from fabric and other flammable objects and don't leave it unattended or keep it running while you sleep.
You should also never run a gas generator inside your home. They release fumes that can be deadly.
What other people are reading: