INDIANAPOLIS — This season of NBC's "The Voice" has some Hoosier representation — a sibling trio living in South Bend and a soloist from Fort Wayne.
These vocal powerhouses have spent the last few weeks wowing the judges. Here's what you need to know about Girl Named Tom and Samuel Harness:
Girl Named Tom
Girl Named Tom had a four-chair turn in the season premiere of the blind auditions Sept. 20. After the celebrity judges made many convincing pitches, and a few jabs at each other, sibling trio Caleb, Joshua and Bekah Grace chose Team Kelly, and they've been dominating ever since.
The siblings were homeschooled with music being a large part of their curriculum. They eventually enrolled in public school and dreamt of becoming doctors but when their father was diagnosed with a rare form of terminal cancer, the trio decided to focus on family. They formed their trio in 2019 and live together in South Bend.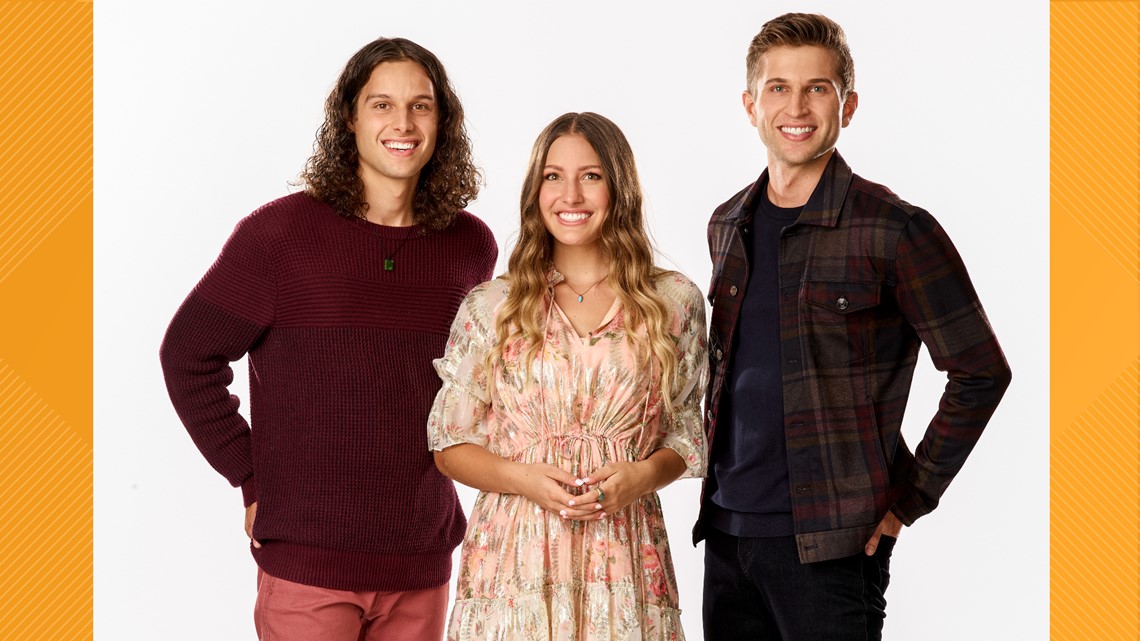 After winning against Kinsey Rose in the Battle Rounds on Oct. 11, Girl Named Tom advanced to the Knockout Rounds. For their performance on Oct. 25, they chose the song "Wichita Lineman" in honor of their father. Their touching tribute led to yet another victory, securing the trio a spot in the Live Playoffs.
They opened the live shows Nov. 8 with their rendition of Radiohead's "Creep." The siblings advanced as one of two singers or groups on Team Kelly with the highest number of votes.
On Nov. 15, Girl Named Tom performed Kansas' "Dustin in the Wind" and advanced to the Top 11.
The remaining 11 acts returned Monday, Nov. 22 to sing for America's votes. Girl Named Tom sang Ingrid Andress' "More Hearts Than Mine" on Monday night.
On Tuesday night, the trio found out they were among the top nine voted through to the next round.
On Monday, Nov. 29, Girl Named Tom closed the show with a rendition of Coldplay's "Viva La Vida." The trio was announced as one of eight semifinalists Tuesday night, alongside Jim & Sasha Allen, Jershika Maple, Hailey Mia, Wendy Moten, Lana Scott, Joshua Vacanti and Paris Winningham.
The trio performed Joni Mitchell's "River" in the semifinals on Monday, Dec. 6. Their studio recording reached No. 1 on iTunes and still sat atop the chart as of Wednesday morning.
The public voted Girl Named Tom through to the finals Tuesday, Dec. 7, along with Hailey Mia, Wendy Moten and Paris Winningham. Jershika Maple advanced to the finals in the "Instant Save" round.
Girl Named Tom performed two songs in the live finale on Monday, Dec. 13: "The Chain" by Fleetwood Mac and "Baby Now That I've Found You" by The Foundations. They will perform once more, a song with coach Kelly Clarkson during Tuesday's results show.
The winner of this season will be announced during Tuesday's show, which starts at 9 p.m. on Channel 13.
Samuel Harness
Fort Wayne native Samuel Harness did not advance, however.
Harness sang Ne-Yo's "So Sick" in the Live Playoffs on Monday night. On Tuesday, Team Legend's Jershika Maple, Joshua Vacanti and Shadale all moved on.
But the road wasn't over just yet for Harness. He had the opportunity to compete against four other artists to earn a wild card spot.
Harness sang Lewis Capaldi's "Before You Go."
He was ultimately sent home when fans voted Team Kelly's Hailey Mia onto the next round.
In the Blind Auditions, Harness chose John Legend as his coach after getting a three-chair turn for his rendition of 3 Doors Down's "Here Without You."
Harness won his Battle Round against KJ Jennings and in the Knockout Round episode, Harness sang Lewis Capaldi's "Bruises" against BrittanyBree. Legend chose Harness to advance to the Live Playoffs.
Harness was raised in a family of five adopted children in Fort Wayne. He now lives in Roanoke with his 4-year-old son.
"The Voice" airs Monday and Tuesday nights at 8 p.m. ET on WTHR Channel 13.