MONTPELIER, Ind. — A Montpelier woman has been arrested and charged with multiple felonies in the death of a 5-year-old boy and his great-grandfather Thursday.
Police said Brandi Bare, 46, crashed through Jake Michael's house, killing him and his great-grandson, and injuring two others in the house.
According to Montpelier police and court records, Bare was driving under the influence Thursday night when she drove through a yard the house on Blaine Street in Montpelier — roughly 95 miles northeast of Indianapolis — shortly before 8 p.m. Police said she entered through the back of the house and came out the front, hitting a vehicle parked in the driveway.
Blackford County Coroner Zach Crouch confirmed that Jerry "Jake" Michael, 74, and Jenson Reynolds, 5, were killed in the crash.
According to court documents, Jenson's body was under Bare's vehicle when police arrived. He was pronounced dead at the scene.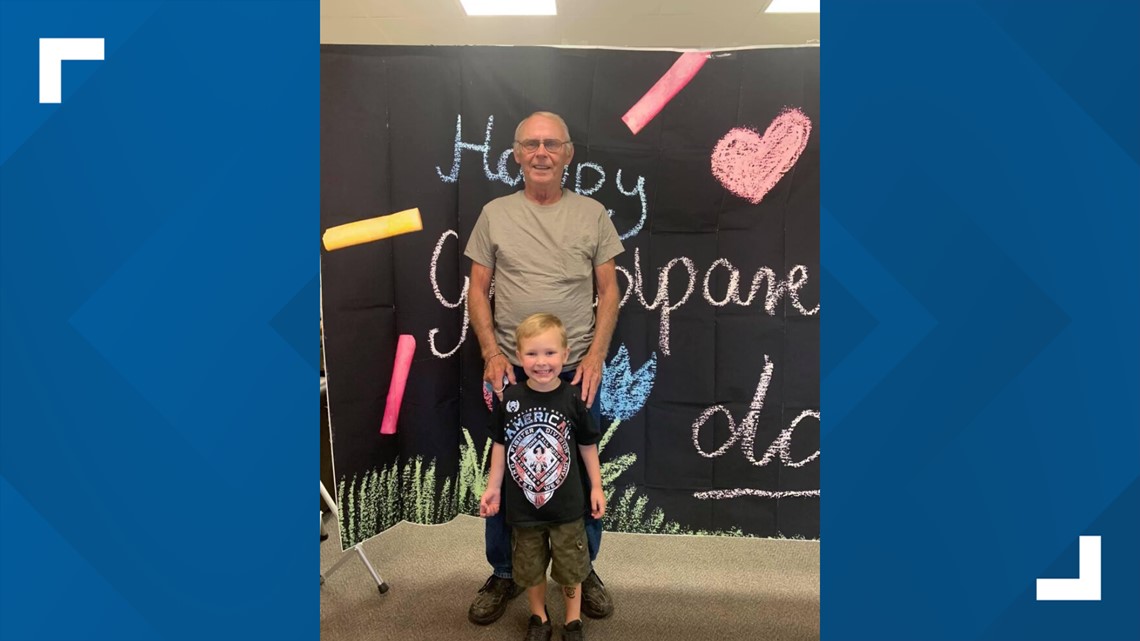 Montpelier Chief of Police Chris Snyder said Bare was handcuffed at the scene of the crash and put in a police car. According to court documents, she was able to get her left wrist out of the handcuffs, got out of the police car and tried to run from the scene. She was caught a few yards away by the arresting officer.
"They hadn't been there 10 minutes when it happened. They were actually on the porch," Jeff Strait, Jenson Reynolds' maternal grandfather, told 13News. "She drove through the back of the house, through the house, out the front and hit everybody, then got out of her car and took off. That's the whole problem. She's a flight risk."
'It was like a movie'
Michael's daughter, Lisa Simmons, and her husband Tom, are Jenson Reynolds' grandparents. They recalled the moments before the crash.
"It was just like a normal day for us," Lisa said.
"Getting together in the yard. People on the porch. People in the front yard, just enjoying life, setting up for a rummage sale. I heard a boom and it was over," Tom said.
Their lives are now changed forever.
"It was like a movie, where you see glass and things are shattering and you've got the dust and you're looking around and there's bodies, and it's like I'll never forget that. That will never be out of my mind," Lisa said.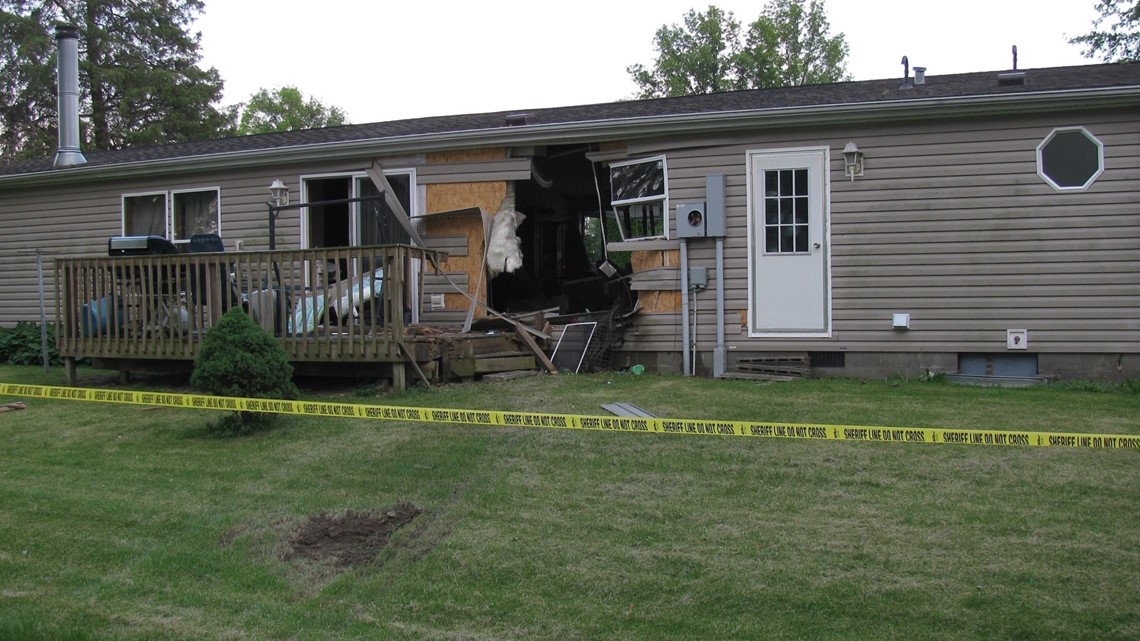 In addition to losing Lisa's father and their grandson, the Simmons' son, Jerod, and his 18-month-old daughter, Emma, were both airlifted to an Indianapolis hospital. Emma suffered a fractured skull and needed stitches.
Four other people were on the porch at the time of the crash but were not injured.
Jerod is out of the hospital, but not out of the woods yet. He suffered a head injury.
"We lived a block away from each other. We were at their house everyday. Everyday. Now, I can't even go home," Reynolds said.
Reynolds said his son, Jenson, and his great-grandfather were best friends. Jenson graduated from preschool a couple weeks ago.
"He was so excited for kindergarten. He's so smart, so funny, so loving. Sweet," Reynolds said.
Suspect jailed
Bare was taken to a hospital in Blackford County for a blood draw, then jailed in the Blackford County Security Center. According to the request for a blood draw, an officer wrote that Bare said "she was sorry and did not mean to do it."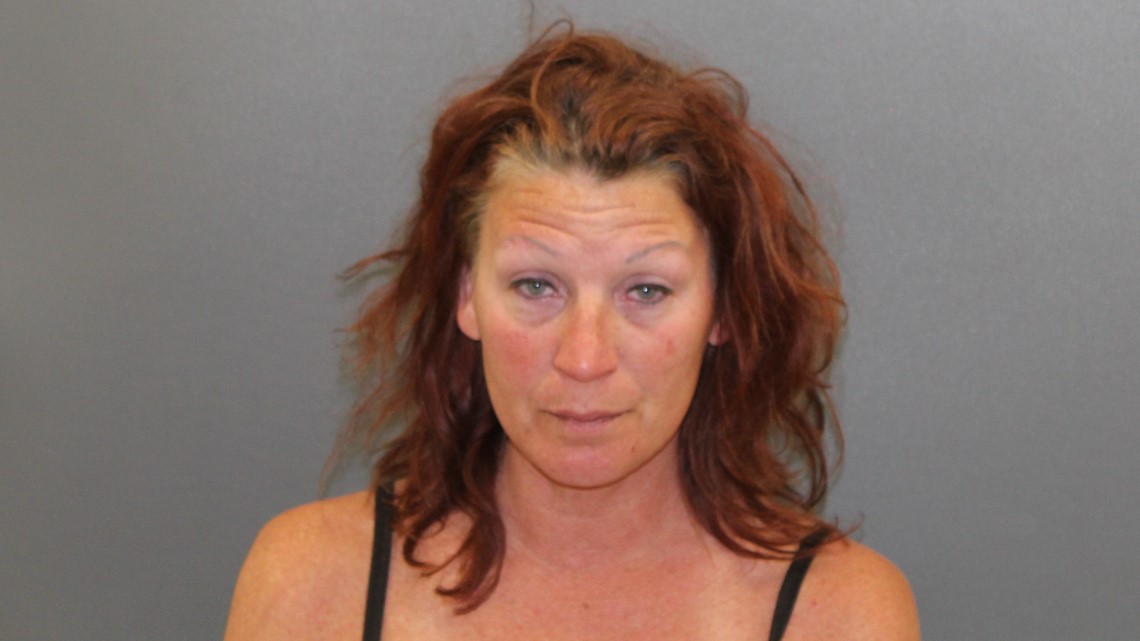 On Friday, she was charged in Blackford Superior Court with two felony counts of driving drunk causing death, two felony counts of reckless homicide, two felony counts of driving drunk causing serious bodily injury and resisting law enforcement.
Court records also show the state intends to try to have Bare declared a habitual substance offender.
Her initial court date to face charges in the deadly crash is set for June 9. Snyder said Bare was still in the Blackford County Security Center as of 9 a.m. Monday.
Investigators are still gathering information from witnesses regarding events that led up to the crash, according to Snyder.
Family and community members rallied Monday outside of the Blackford County Courthouse. They're urging a judge to increase the $5,000 bond issued for Bare.
"The best thing for our family is for her to stay in jail, make it harder for her to get out. Make it a higher bond for her to get out," Lisa Simmons said.
Bare's criminal history
Court records dating back to 2012 show Brandi Bare had numerous encounters with police on the road.
They include charges for operating a vehicle with an alcohol concentration equivalent of .15 or more — a class A misdemeanor — in Wells County.
According to court documents, Bare received home detention and probation for that case.
Two years later, investigators say Bare was convicted of operating while intoxicated, a level six felony that was later reduced to a misdemeanor.
In 2018, Bare appeared in a Blackford County court, charged with driving while suspended. A judge dismissed that charge and also found her not guilty of unauthorized use of a motor vehicle.
In 2020, a Howard County court order shows Bare's driver's license was reinstated.
According to Blackford County investigators, Bare's two prior vehicular substance offenses "qualify her as a habitual vehicular substance offender."
Court documents show the prosecutor plans to seek that status in court. That means, if convicted, a judge could add another one to eight years to her sentence.
What other people are reading: