INDIANAPOLIS — An Indianapolis native and local radio personality said he's lucky to be alive after someone shot at him while he was driving on the north side of the city.
It was the biggest scare of Ron Sexton's life.
"I just felt glass. I didn't even hear the pops. I just felt glass everywhere," said Sexton, a local stand-up comedian and voice actor who appears on "The BOB & TOM Show" as "Donnie Baker."
A police report confirms a barrage of bullets ripped through his car at around 2 a.m. Sunday as he was driving on Shadeland Avenue near 82nd Street on the north side of Indianapolis.
Sexton believes he knows who the shooter is and that he was targeted.
"It wasn't a scare tactic, he was trying to make sure that I was dead. He was trying to kill me, there's no doubt," Sexton said.
After a show in Portland, Indiana, on Saturday night, Sexton went back to Indianapolis, hoping he'd be able to catch up with family before flying back to Florida.
"I stopped to get a hotel room at the Drury Inn off 75th Street and was hungry, so I decided to meet my girlfriend for some wings and have a drink at the nearest bar, which is right by there," Sexton said.
The bar he said they went to was the Northside Bar and Grill. After he left, Sexton said he was attacked. He claims the attacker was his girlfriend's ex.
"After leaving there, he just drove up right to my driver side ... and I recognized him. There's no doubt who I saw. I know who it is," Sexton told 13News.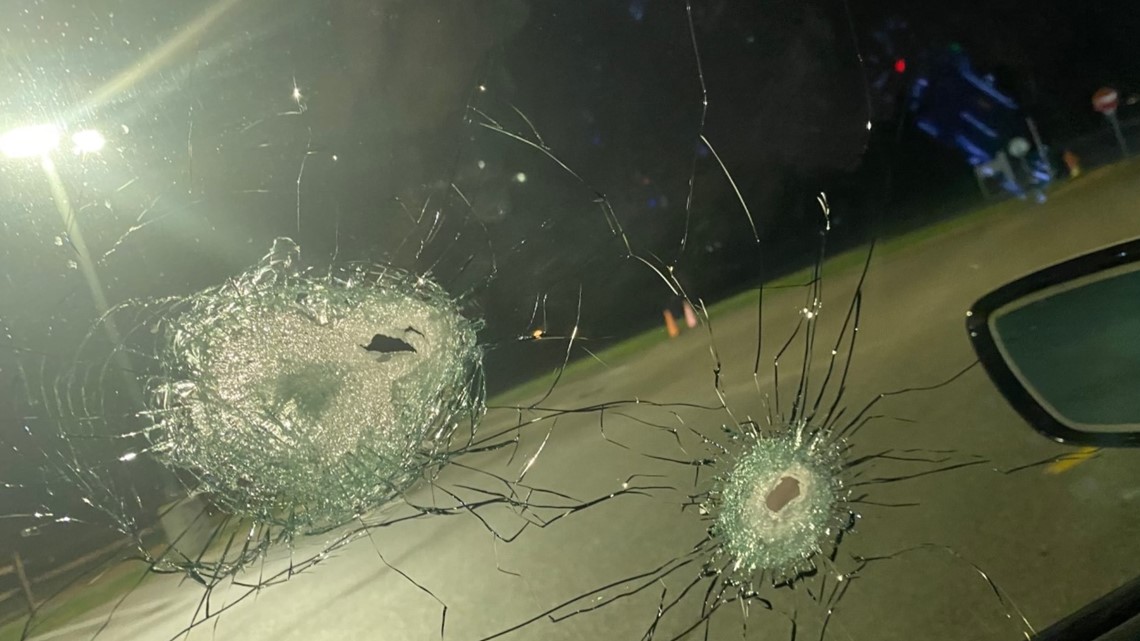 On Sunday, Sexton spoke to 13News and recounted the shooting saying, "Last night, it came to a head with me all of a sudden pulling up to a red light and seeing him in my blind spot on my driver's side, and he pulled a weapon. In 'Sopranos,' they say you don't hear it. You're right, you don't hear it. I didn't hear anything. I felt glass. I felt glass on my face, on my ears, everything."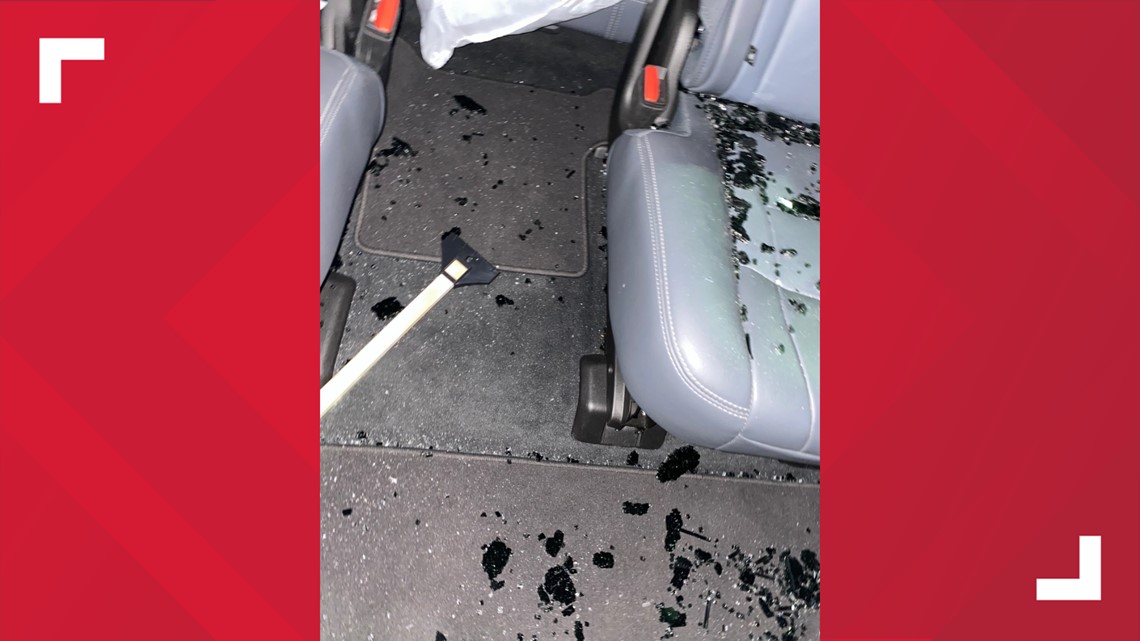 Sexton said once the shooting began, he hit the gas and made a right on 82nd Street.
"He still followed me. I ended up running like one or two red lights before he finally stopped and then I called 911," he said.
After that, it didn't take long for IMPD to arrive.
When he got a chance to collect himself, Sexton said he counted nine bullet holes through his rental car.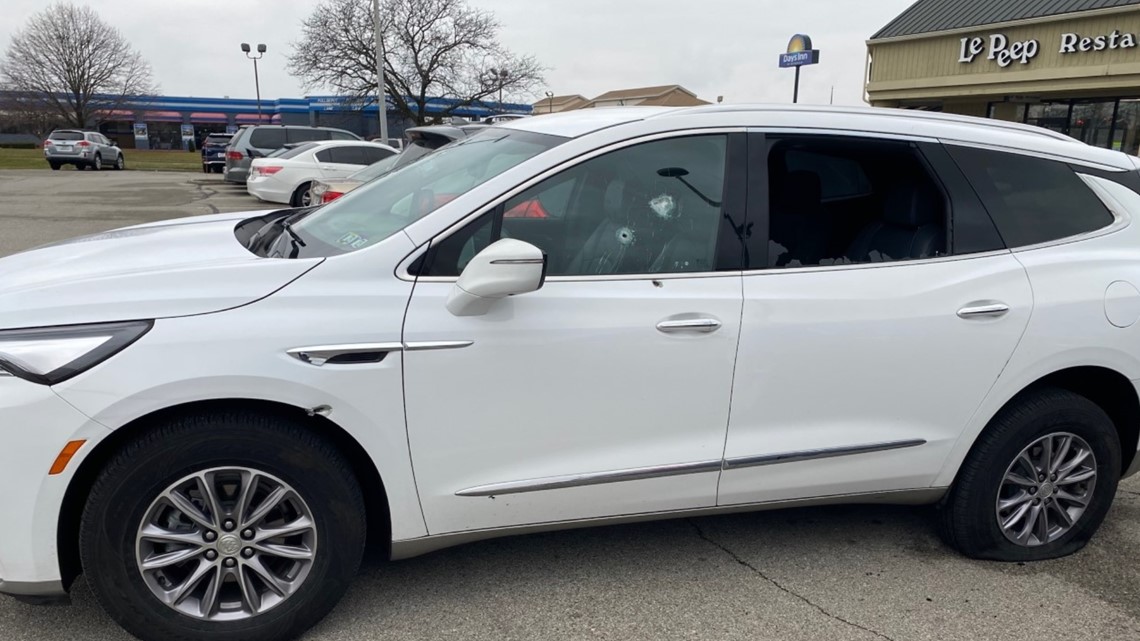 Besides some minor cuts, he came out unharmed.
"I'm very lucky that at no point did I come to a dead stop. I was rolling toward a red light and luckily, because I was moving and he was moving, he was firing through the passenger window," Sexton said.
It was a scary incident that Sexton said made him fear for his and his parents' lives.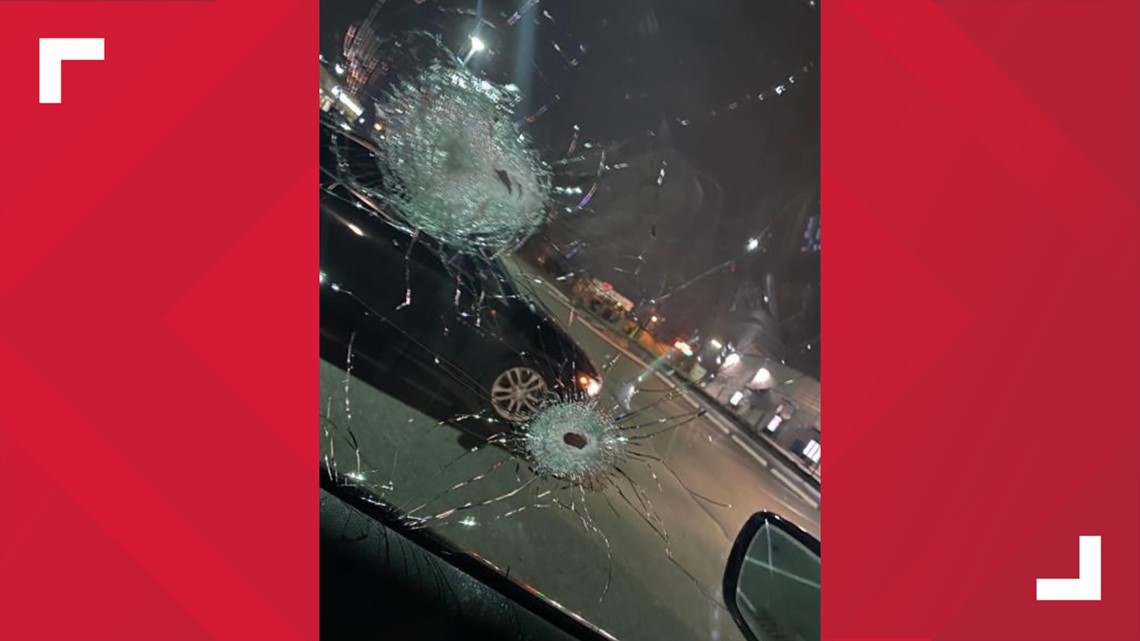 On Sunday, Sexton boarded a plane back to Florida. He arrived safely on Sunday night and, despite what happened in Indianapolis earlier that day, Sexton is going to be back in the area this coming weekend for a couple of shows in Shelbyville.
"I do feel confident with their security plan in place that everything will be fine. I have no doubt that they'll be fully prepared to have an eye out for this individual," Sexton said.
IMPD told 13News that nobody has been arrested in the incident as of Monday afternoon, and the investigation is ongoing.
Anyone with additional information about the incident or potentially has video from about 1:45 a.m. to 1:55 a.m. between the 8000 and 8200 blocks of North Shadeland Avenue is asked to contact Detective Ryan Gootee at Ryan.Gootee@indy.gov.