INDIANAPOLIS — A Trafalgar police officer who made a life-changing sacrifice while protecting his community just received a life-altering gift: a wheelchair-accessible van, donated by generous Hoosiers.
Family, friends and fellow officers gathered to witness the event Tuesday afternoon, with a backdrop of balloons at Superior Van and Mobility on the south side of Indianapolis.
Less than two months after 13News shared the story of Officer Dustin Moody's severe injuries in the line of duty, people mobilized to help. They literally set the wheels in motion for his independence.
The van, tall enough to fit Moody's 6-foot, 4-inch frame, will help the Moodys with day-to-day activities.
"This has been such a positive experience in such a negative time in our lives," said Emily Moody, Dustin's wife. "And to know that we're not alone and that complete strangers have given us the most wonderful gift? It's an answer to a prayer."
And it's for a man who answered the call to serve, regardless of risk. Officer Moody's life changed nearly a year ago when he got paralyzed in a crash, trying to pull over an impaired driver.
In the months since, his family has been navigating a new normal.
There's therapy for Dustin. Emily had to quit teaching to care for him and the boys. They're remodeling their home to make it accessible, living in a temporary apartment for now. And just getting around town has been a huge challenge.
Everyday trips to the grocery store required renting a van for an exorbitant cost.
"It's been, 'How am I going to get to doctors appointments for my sons?'" Dustin said. "'How am I going to be able to go out to dinner with my family when my family goes out?'"
That's where the community came in.
The Central Indiana Police Foundation kicked things off, helping to raise tens of thousands of dollars for the Moodys' future needs.
UpLift Johnson County was also instrumental in getting even more money for the cause.
"We started the wheels, but many people came together to make this happen, and it happened quickly," said Lisa Rollings, executive director of the Central Indiana Police Foundation. "I believe it's meant to be. It's just a blessing and it's a blessing for them and we're so happy to be a part of it."
Then, businesses pitched in to get the van.
Kristine Dunn, who works in sales with Carver Toyota, is also a friend of the Moody family and a former police officer herself.
"Seeing that he was in this kind of struggle just to be able to move about, be with his kids, go places, really struck a chord with me," Dunn said. "I took it to my general manager and said, 'You know, this is a local friend of mine who's gotten in an unfortunate accident, and is there anything we can do to help with this?' She responded, 'Let me make some calls.'"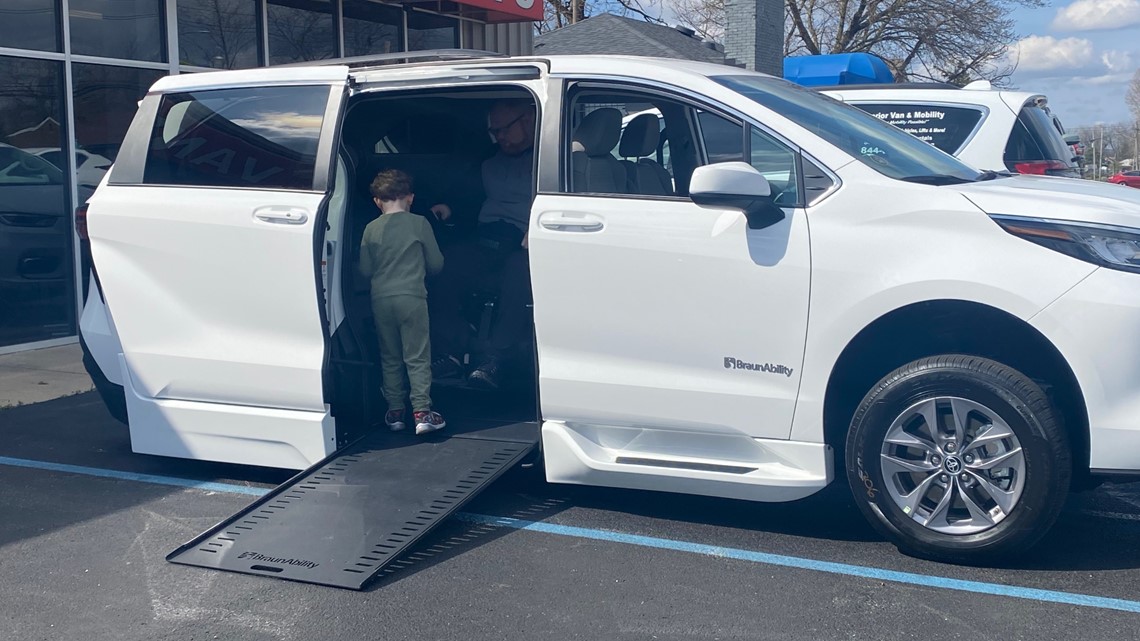 Carver Toyota donated the Sienna, a model that wasn't easy to find because of the vehicle's popularity.
Then Carmel-based BraunAbility donated all the equipment to modify and retrofit the van, making it accessible for Dustin's power wheelchair.
The generosity is humbling for this family of faith.
"I'm very grateful for everything that everyone has done and continues to do for not only myself but for my family," said Dustin. "I'm thankful for the community and it's been amazing to see the things that have truly come through all this through prayer."
"And if this van affords us that ability to go out and be a blessing to others and give back, it's just indescribable," Emily added.
Officer Moody still has a goal of walking again, protecting the public again.
"I'm not giving up. I'm going to continue to fight, going to continue to go to therapy and give it everything in the world that I have," he said.
Until then, with this van, his family has freedom.
"This is an amazing blessing and something that we're beyond grateful for," Dustin said.
There are still future needs for the Moody family as they navigate his road to recovery. To help, you can donate here.