RICHMOND, Ind. — The Richmond Police Department, officers from around the country and community came together Monday to lay to rest K-9 Officer Seara Burton, who was shot during a traffic stop in August and died from her injuries Sept. 18.
The funeral was held at the Richmond High School. It was filled with touching moments and sentiments from those who knew Burton.
"Officer Burton has had an impact on all of us in this room. She, in her own way, touched our lives and left meaningful and indelible memories for us to cherish the day," said Mayor David Snow.
During the funeral service, Ami Miller, Burton's stepmom and fellow Richmond officer, spoke about her loss.
"I saw her as my daughter. I may not have given birth to her. But in my heart she was my daughter and will forever be in the last four years, I was able to watch her achieve so many things. Seara had the determination and drive that all of us should strive for," Miller said.
"When I was having bad days you were my calm. I can't express to the world how perfect you were. Since the day you were shot. Everything has been a blur. I talked to everyone about you. I was your number one fan," Miller said. "I don't know if this pain in my heart will ever go away. I love and I miss you so much. And I will every single day. I love you forever."
"I remember standing in the kitchen with her at the beginning of our relationship, and having a conversation with her discussing the dangers of her career. She asked me if I was willing to accept that being with an officer. I told her I would completely support her in her career. But even in that moment, I still felt there's no way something like this could happen to such a wonderful human. Even standing here right now...still isn't real," Neal said. "Behind that badge was a woman of my dreams. A woman who could be treated and talked to in awful ways for eight hours a day at work...and could still come home and laugh and be so kind-hearted."
PHOTOS: Ofc. Seara Burton funeral
Neal then spoke about the future she and Burton had planned for but, tragically, will never have.
"[Seara] was going to be the best mom to our future children that we already had names picked out for. A woman who never went a day without telling me just how beautiful I am, and how in love she was with me. A woman who left me love notes all over the place and made me coffee every morning," Neal said.
She finished by talking about how she would remember Burton.
"She was my best friend, my lover, the heart of the happiest year of my life. I feel an emptiness without her here. But I will forever be thankful for the purest love she gave me and the wonderful family and friends she has have become mine," Neal said. "Seara, I promise to carry you with me and my heart everywhere I go. To love you and live for you until we meet again. My love, thank you."
After the funeral, Burton's body was taken along a long procession route so the community could thank her for her service and say their goodbyes.
It stopped at the Richmond Police Department for the final 10-42 end of watch call.
The procession made its way through parts of central Indiana along US-40 as people in communities along the way paid their respects.
The procession ended at Crown Hill Cemetery in Indianapolis where Burton was laid to rest in the Heroes of Public Safety section.
Recounting the shooting
Burton was shot around 6:30 p.m. on Wednesday, Aug. 10. The day after the shooting, Richmond Police Chief Michael Britt said Burton was in "extremely critical" condition after suffering a gunshot wound to her head.
At the time, she was helping other officers with a traffic stop. When her K-9 partner, Brev, went to check 47-year-old Phillip M. Lee's moped, Burton went to talk to Lee. That's when he allegedly pulled out a gun and shot several rounds toward officers.
Court documents say Lee was aiming at the officers' "head and facial areas."
Burton was shot at close range, and the officer next to her was nearly shot in the head. Other officers returned fire, and Lee shot at them as he ran away.
The shooting happened less than two weeks before Burton's wedding day.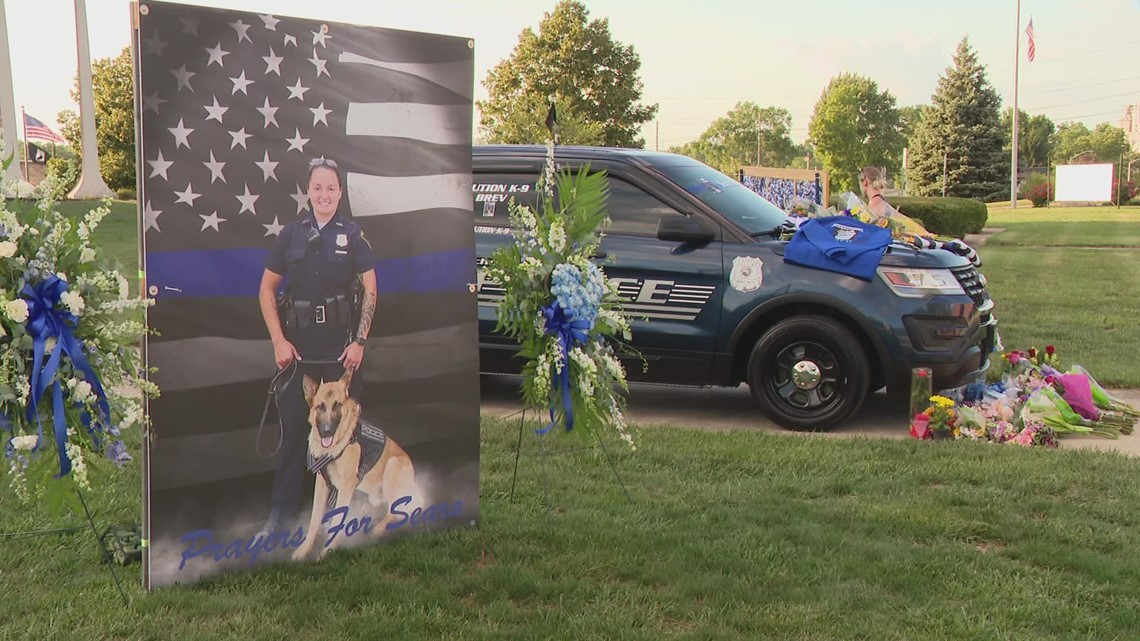 Officer Burton taken off life support, transferred to hospice
Major Jon Bales announced Burton would be taken off life support on Thursday, Sept. 1. He said her injuries had been determined to be "unrecoverable" and that she would live on through organ donation.
Days later, Burton was transferred to a hospice facility in the Richmond area on Sept. 3
"Seara will live on and continue to be a hero with her selfless gift of organ donation. Officer Burton will continue to serve others long after her passing," Bales said.
When taken off life support, Burton continued fighting.
Officer Burton's death
Burton died the night of Sunday, Sept. 18, more than five weeks after she was critically injured in the shooting, Richmond Police Chief Michael Britt announced.
In a statement, Britt said Burton died at 9:59 p.m. at a hospital surrounded by her family.
"We would sincerely like to thank the Richmond community, and those who have supported Seara, her Family, and the Department from near and far," Britt said in the statement. "Thank you to all of those who have shown unbelievable support throughout this very difficult time including the Dayton Police Department, The Indiana State Police, Indiana State Fraternal Order of Police, Richmond Fire Department and Wayne County Sheriff's Department, as well as many other agencies.
"The family is extremely grateful for the massive amount of support from the community," Britt said. "We kindly ask that you respect the family's privacy during this difficult time."
The Richmond Police Department updated that K-9 Brev visited Burton on multiple occasions.
On Monday, Sept. 19, the Richmond Police Department and multiple other agencies escorted Burton back to Richmond from Dayton, Ohio.