Camp Atterbury shows how it's spending $16 million to restore the facility after hosting Afghan relief mission
13News got an exclusive tour to see the repairs and damage following Operation Allies Welcome.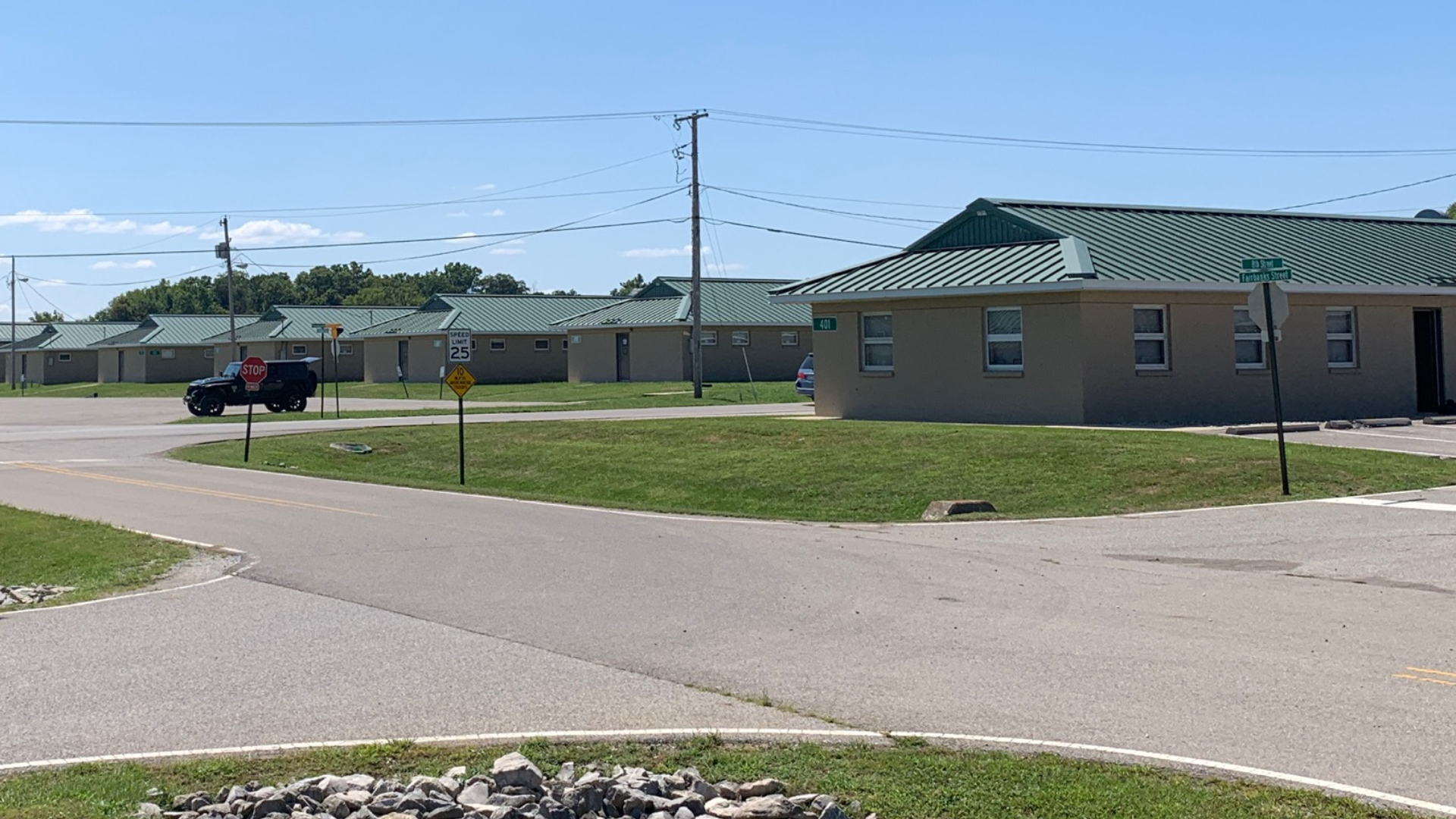 Those repairs, which began immediately after the end of Operation Allies Welcome, will take another year and cost nearly $16 million to complete, according to a spokesman at Camp Atterbury.
"We used 121 buildings at Camp Atterbury for the operation. Right now we are resetting those buildings, just making them like they were before the Afghans came," said Lt. Col. Chris Johanningsmeier, the facility's director of public works who is helping to oversee the restoration project.
Camp Atterbury granted 13News a tour of the base to see the damage and repairs. It is the first time cameras have been allowed inside Camp Atterbury's barracks since the operation began, and the military's tour and interview with 13Investigates provides a clearer picture to explain why the U.S. Department of Defense is spending millions of dollars to restore the facility.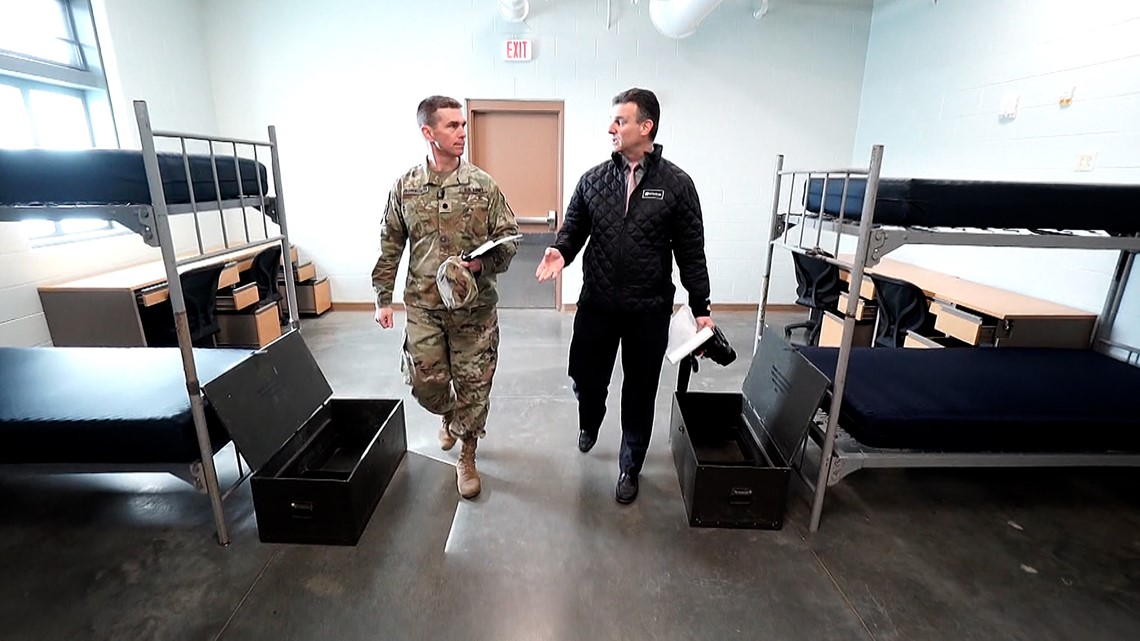 What caused the damage?
:
Johanningsmeier says the vast majority of Atterbury's buildings were used during Operation Allies Welcome, and most of those buildings sustained some type of damage.
"Wear and tear is a very good description of what we're addressing," he told 13News. "We are used to hosting a few hundred or a few thousand people at a time, and when they're here, they're here for a few weeks and they're training, so they're not in the barracks very much except to sleep. Now imagine bringing in 7,200 people on short notice who are living in these barracks 24/7 for five months straight. It's a very different situation and it put a lot of strain and stress on the buildings."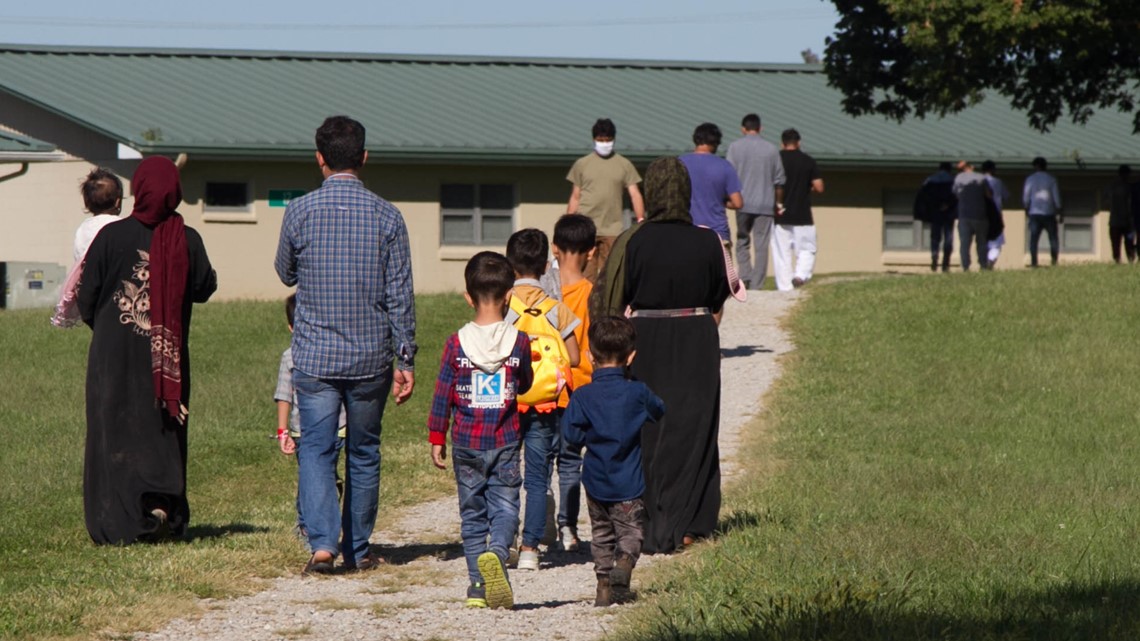 About half of the refugees who lived at Camp Atterbury were children, and the National Guard says those kids – who had a lot of freedom to explore the grounds and who were not always closely supervised – contributed to much of the damage that is now being repaired.
For example, children were provided chalk, crayons and markers to keep them busy and entertained during the relief operation. Many walls, floors and furniture were covered with drawings and scribbles when the guests departed Camp Atterbury in January 2022.
"It wasn't vandalism or graffiti … It was just kids being kids with markers writing on limestone. Some of the stuff could wash off and some stuff didn't wash off," Johanningsmeier said.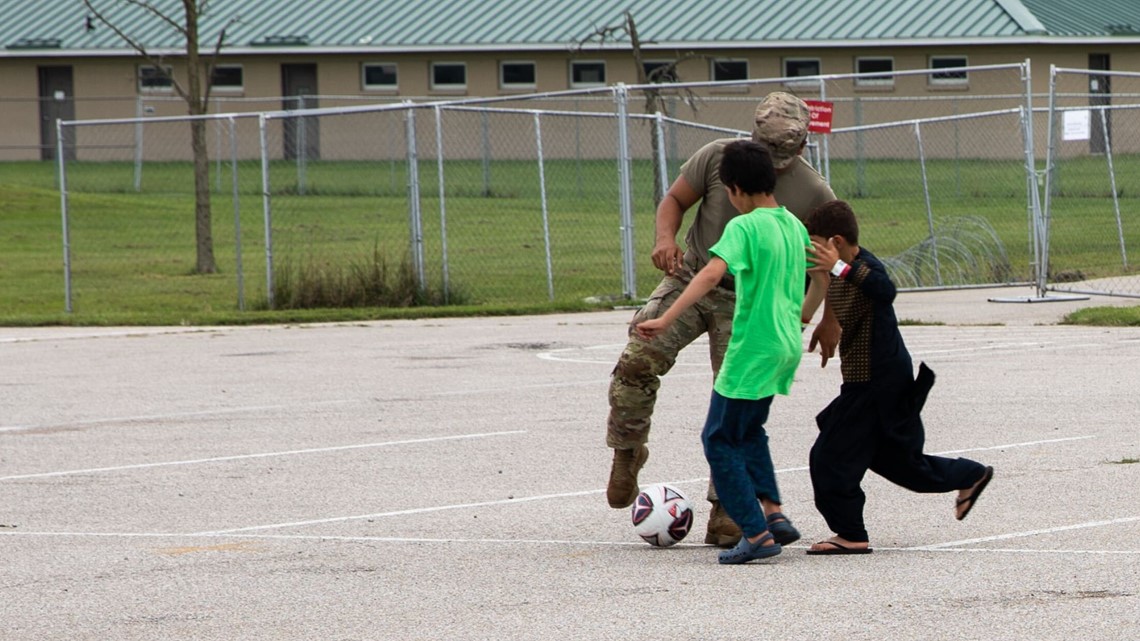 Kids playing soccer and other games resulted in broken windows and damaged soffits, gutters and insulation. The public works director said children – some unaccustomed to living in modern accommodations – also damaged exit signs, electrical and plumbing fixtures, and the barracks' fire suppression systems. Many light switches, thermostats, exit signs, bulletin boards and fire extinguisher cabinets have been replaced due to damage.
Small toys, clothing and other items flushed down toilets and urinals placed additional stress on a plumbing system already strained by a huge influx of people living in the barracks – resulting in more costly maintenance and repairs. The heating and cooling systems also suffered damage.
"Some of our air conditioning units, there would be blankets put on top of them. That can really kill a compressor inside an AC unit, but it's not because someone was trying to harm it," explained Johanningsmeier.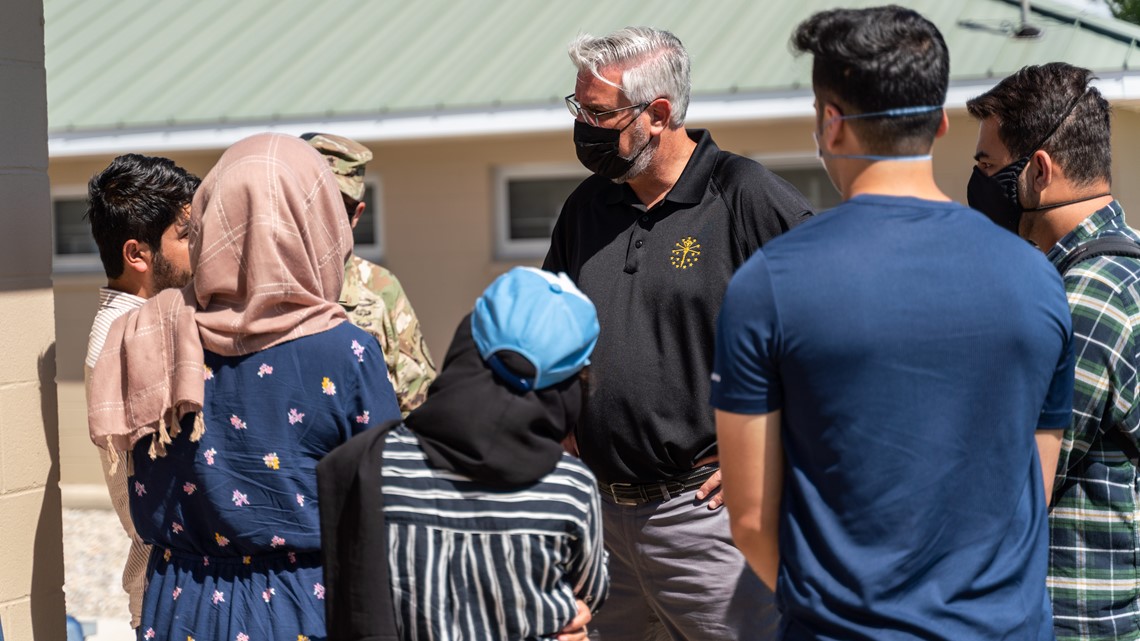 While some media reports claimed refugees at Camp Atterbury engaged in illegal, violent and destructive behavior, officials at the Indiana National Guard base say the vast majority of the damage at the training base was routine for a humanitarian mission of this scale and not associated with intentional destruction.
"We're not talking about malicious destruction. We really didn't see much of that all," Johanningsmeier told 13News. "We're talking about large families and small families living in these barracks – families from different tribes, different cultures, different lifestyles. It was just a unique set of circumstances."
Government contractors are responsible for some of the damage now being fixed at Camp Atterbury – especially inside the facility's large kitchens.
Officials at the National Guard base say they were forced to replace an expensive conveyer belt on a commercial dishwasher unit that broke due to contractors who did know how to use the machine. Other kitchen equipment must be replaced because contractors left cleaning solution inside the machines, with resulting damage not identified until months after the operation ended.
Camp Atterbury damage from Operation Allies Welcome
The large scale and duration of the humanitarian mission also wore out kitchen equipment years before it would otherwise need to be replaced, necessitating the purchasing of new equipment to ensure Camp Atterbury is prepared for its busy spring and summer training missions.
"When you're serving 7,000 to 8,000 meals four times a day for five months … you're talking about a whole lot of meals cooked on our equipment," the lieutenant colonel said. "We had equipment that basically had its life drained from it."
Camp Atterbury also replaced more than 7,000 mattresses following Operation Allies Welcome. An Indiana National Guard spokesman said the mattresses were either too badly worn or soiled for continued use, so they were sent to a landfill and replaced with new ones.
How the money is being spent
:
The Department of Defense allocated millions of dollars to restore conditions at military bases used during Operations Allies Welcome, and it sent a team of auditors to each facility to assess damage and repair costs following the mission.
DOD officials authorized about $16 million in restoration projects at Camp Atterbury to return the facility to the same condition it was prior to the operation. The work began in early 2022, even before the funds were officially approved. Based on Camp Atterbury's restoration contracts, the money will be spent in the following areas:
Interior and exterior painting and surface prep (including some minimal flooring replacement) - $3,838,800 (24%)
Fixture repair and replacement including fire alarm, thermostat, lighting fixtures, plumbing fixtures, doors, hardware, and wall-mounted equipment - $3,039,050 (19%)
Electrical, HVAC and mechanical testing and associated repairs - $2,399,250 (15%)
Mattress and furnishings replacement - $2,218,900 (14%)
Kitchen repairs and equipment replacement - $1,300,000 (8%)
Overhead & general conditions including supervision, detailed inspections, equipment, dumpsters, final cleaning - $3,199,000 (20%)
Officials at Camp Atterbury say they are not surprised by the cost of the repairs, which they call appropriate.
Other military facilities are under scrutiny for requesting far more Operation Allies Welcome restoration funding than Camp Atterbury. For example, Fort McCoy hosted 12,706 refugees, which is nearly twice as many as Camp Atterbury. But the Wisconsin army base requested $145,560,000 to restore its facilities – nearly ten times the repair costs sought in Indiana.
Johanningsmeier says the restoration costs at Camp Atterbury are strictly for repairs arising from the Afghan humanitarian effort – not to renovate buildings that needed work prior to Operation Allies Welcome.
"It's really a small cost. It's easily defendable or justifiable if you could see the condition of the buildings before [the current repair work began]," Johanningsmeier said.
What's happening how
:
During our visit to Camp Atterbury, 13News watched contracted work crews repair and replace drywall in several of the facility's south barracks. The contractors were also sanding, painting and caulking bunkrooms and bathrooms in the barracks. Mattresses and fixtures throughout the buildings had already been replaced. Nearly all walls in all barracks used during Operation Allies Welcome will be or already have been painted.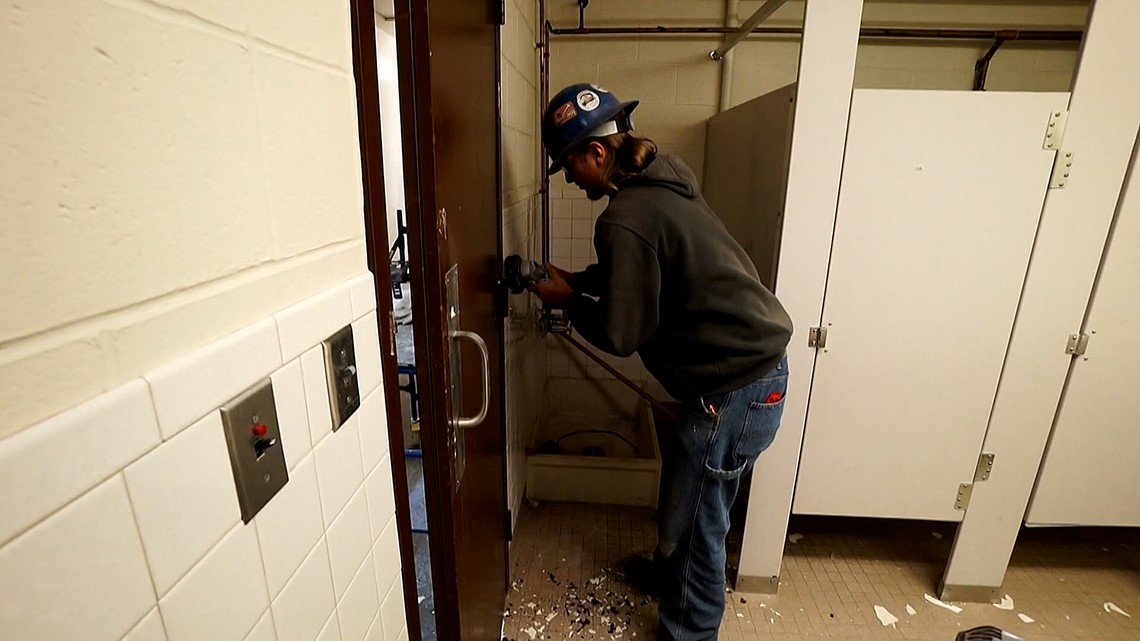 On the north end of Camp Atterbury, large dormitories that housed more than 3,000 refugees have already been cleaned and painted. All damaged wall fixtures and bulletin boards have been replaced, and beds have been supplied with new mattresses. Shower curtains have been replaced in all bathrooms, where work crews permanently removed built-in soap dispensers that had been damaged. Work has already been completed on the electrical and plumbing systems, although the fire alarm systems still must be tested and reset after they sustained damaged during Operation Allies Welcome. Some lockers and furniture in the bunkrooms still have ink markings from children who drew on them during their stay at the base, but Camp Atterbury staff say the markings do not justify the cost of replacing those fully-functional pieces of furniture.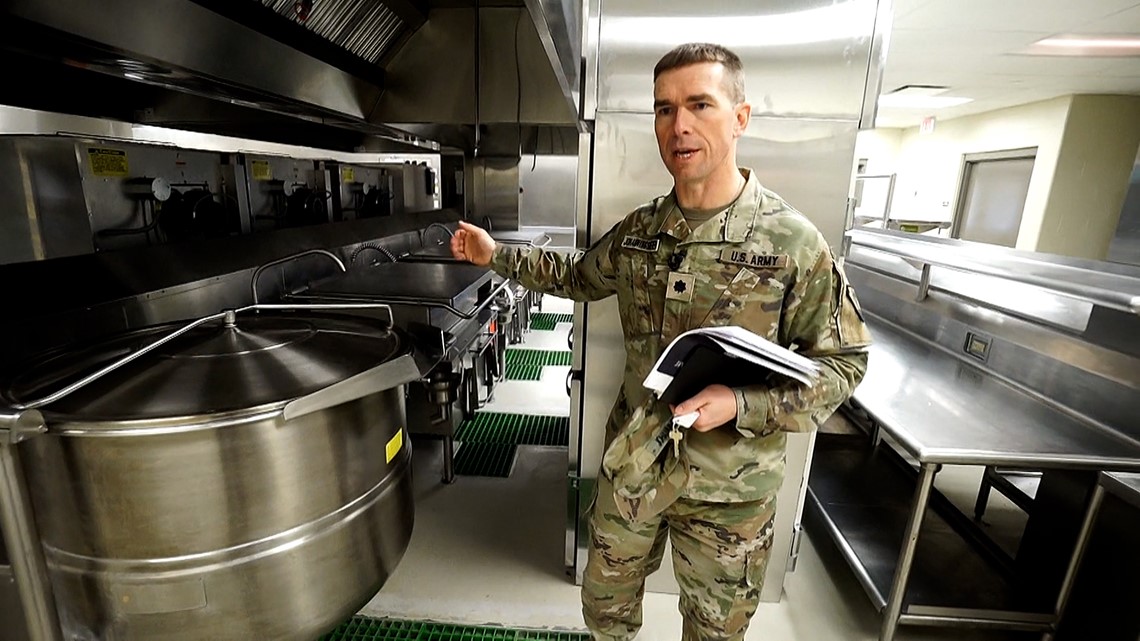 We saw contractors installing new commercial food warmers in one of Camp Atterbury's kitchens. The previous warmers that were used during the relief mission broke due to over-use, according to Johanningsmeier. A commercial dishwasher and several other pieces of commercial kitchen equipment had just been repaired or replaced because they were improperly used or cared for during the operation.
The restoration work is currently 40% completed and should be finished by May 2024, according to Johanningsmeier. The repairs have been scheduled to take place over a two-year period – so they do not conflict with training for thousands of National Guard members who visit Camp Atterbury every spring and summer.