INDIANAPOLIS — At Center for Inquiry 27, Thomika Gouard-West makes cold packs, hands out medication and even administers COVID tests. The registered nurse tells 13 Investigates her first year working in a school is busy, fulfilling, but less stressful than some of her other positions.
Research shows school nurses like Gouard-West can identify and address behavioral health issues and help with health disparities. They help kids stay healthy, so they spend more time in class learning.
"I feel like everyone in this building has to count on me," she said. "Whether it's the custodian, the principal, administrative assistant... the entire building. I think we have like 520 or so students here and everyone counts on the school nurse."
The Governor's Public Health Commission acknowledged the importance of the role in a report released in July 2022. However, it found there were not enough school nurses in Indiana schools. The state requires each district to have one registered nurse (RN) on staff and recommends one RN for every 750 students.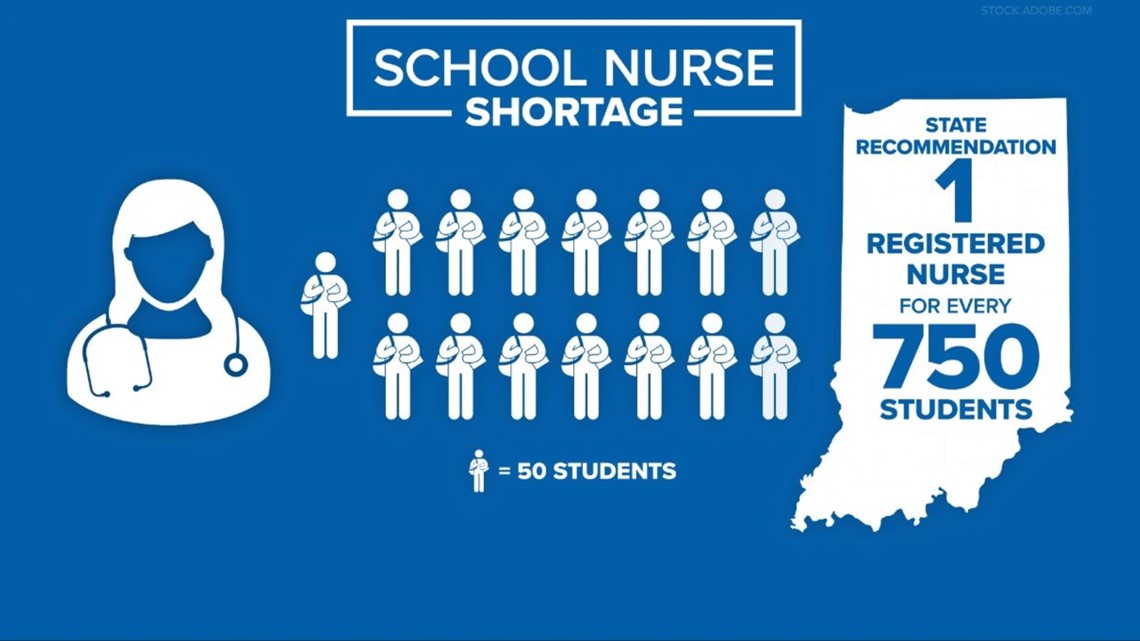 The commission writes, "There is no formal data collection mechanism to quantify the availability of school nurses; however, it is known that not all school corporations meet these standards."
13 Investigates reached out to 31 central Indiana districts to see if that was the case locally.
Some schools didn't provide enough information for us to calculate a ratio. Metropolitan School District of Warren Township and MSD of Washington Township did not respond to our emails.
Six schools responded to our inquiry but either didn't provide data or not enough for 13 Investigates to calculate a ratio.
An Indianapolis Public Schools spokesperson confirmed some of the data was compiled months ago but was never approved for release.
The Avon Community School Corporation directed 13 Investigates to Hendricks Regional Health. The hospital system supplies the district's school nurses, a spokeswoman sent an email stating, "Hendricks Regional Health prefers not to participate at this time."
Franklin Township Community School Corporation directed us to Community Health for comment – the healthcare provider reported providing 15 nurses daily but would not specify the type of nurse.
Zionsville Community Schools sent a statement that school nursing services are provided by Ascension St. Vincent but did not provide further details.
Twenty-five districts did provide enough data to for us to calculate a ratio by dividing the student population by the number of registered nurses. Most districts were below the recommended ratio of one RN to 750 students. The other 12 districts were above it.
13 Investigates discovered five districts had ratios above one RN for every 1,000 students - MSD of Pike Township, Mount Vernon Community School Corporation, Greenfield-Central Schools, North Putnam Community Schools, and Brownsburg Community School Corporation.
Brownsburg schools specified its nurse-to-student ratio is much lower if you break it down by grade levels. Brownsburg elementary schools have one RN for every 550-760 students. The district's coordinator of communications acknowledged the ratio is higher for middle and high schoolers, but also pointed out students in those grades are more independent. Pike Township also reported its ratio for the elementary level was below the recommendation.
13 Investigates found many schools may not have the recommended number of RNs but that ratio did not include licensed practical nurses or health aides/assistants. Many districts reported having at least one RN, LPN or a medical aide or assistance at each school. Take North Putnam schools, for example. 13 Investigates calculated districtwide it provided one nurse or health aide for every 229 students.
Still, many of the districts acknowledge finding and retaining staff can be a struggle.
"We have historically struggled to find qualified candidates for open RN and health assistant positions, and we have high turnover rates," stated Greenfield-Central Superintendent Harold Olin in an email. "The salary tends to be the largest obstacle for both positions both in obtaining and retaining employees. School nurses generally are not paid equally to their peers in other areas of nursing. For the health assistants, those are non-benefited positions, and many people need insurance, or the pay rate is not what they need to meet the needs of their families."
"NASN no longer refers to a ratio of school nurse to students; a ratio alone does not address the needs students have for school nursing services. To staff for safe care, school leaders need to consider and analyze complex factors including the number of students, social determinants (e.g., housing instability, nutrition insecurity, lack of access to healthcare, no transportation), student health acuity levels, barriers to care, other heath staff responsibilities, current use of technology, and health care to adequately meet the health and safety needs of students."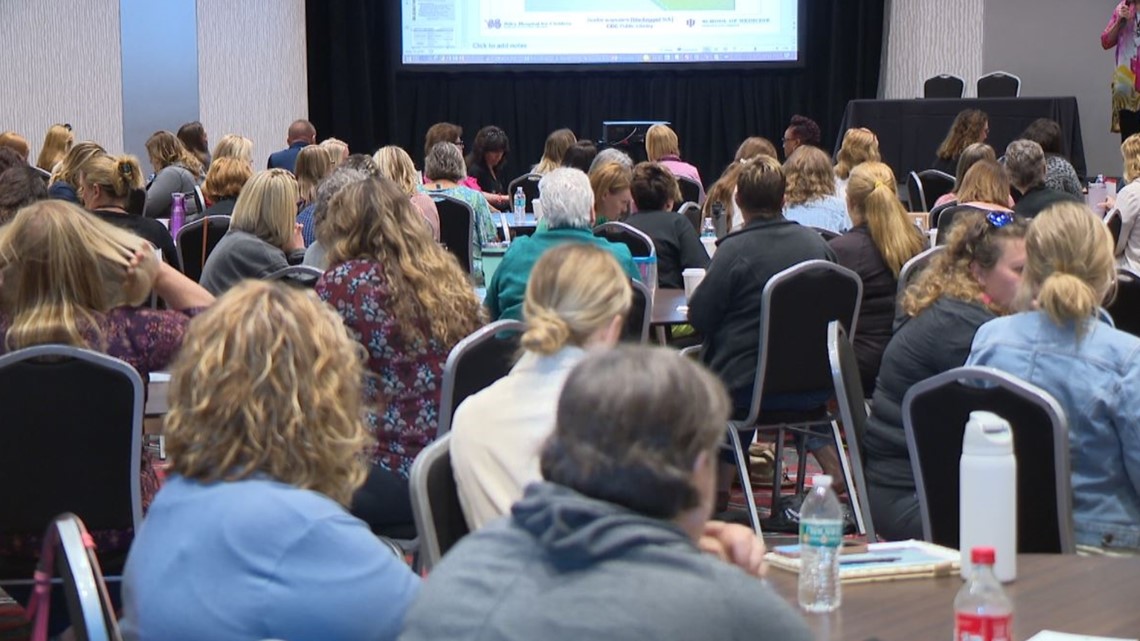 Still, the Governor's Public Health Commission signaled the state needs more school nurses. Its report recommends Indiana focus on improving the student ratio and putting into place policies to help with recruitment and retention – including "addressing low pay and incentivizing school nurse credentialing."
13 Investigates met Kayla Praschak during the Indiana Association of School Nurses 2022 conference. She reported becoming a school nurse when her son started school not long after the Sandy Hook Elementary School shooting.
"My husband and I came together and said, 'I think there are some things that we can do,'" Praschak said. Seven years in and the registered nurse loved the work, but the pay no longer worked for her family.
"There was never a time where I was able to just be a school nurse," she said. "...sometimes working in the emergency department in the evening was sometimes less stressful."
Praschak made less than $30,000 a year and often had to take a second job. Now she no longer works full-time, but instead substitutes for her district when she can.
Joy Sunday with the Indiana Association of School Nurses reports some school nurses make less than teachers and sometimes thousands, even tens of thousands less than what they would make in a hospital or health care facility. She thinks Indiana schools could attract more nurses if the state would chip in more money. Indiana does not have a designated funding stream to pay for school nurses.
"I know we can't compete with hospitals, I get that, but we need to be able to compete we need to be able to attract," Sunday said.
Fifteen central Indiana districts reported hourly and salary wages. Pike Township reported the highest hourly rate of $40 to $45 an hour for registered nurses and $31 to $36 an hour for licensed practical nurses. Mt. Vernon reported the highest salary, with a range from $39,585 to $74,848 for RNs.

Gouard-West said she could have made more if she continued working as a contract nurse, but said school nursing offers her more stability and "peace."
She thinks higher pay and other incentives like helping with student loans would allow more nurses to consider working for a district.
"I love being a school nurse," she said. "It's fun here, the kids love me, I feel like I'm the star of the show."
A star ready to listen to a kid in need or rush to an emergency.