INDIANAPOLIS — It was the kind of scene that caused several people to call 911 as they tried to do anything they could to help at a crash scene at Washington Street and Ritter Avenue, just after 4 p.m. Tuesday.
"There were multiple people who actually tried to render aid to that child and two adults," said IMPD Ofc. William Young, speaking of the three people hit in a crosswalk by two vehicles after they collided at the intersection, just outside IPS School 57.
According to police, the three victims were a child, her mother and a crossing guard helping them cross the street as school was getting out.
Police say the child, 7-year-old Hannah Crutchfield, who was a student at the school, later died at Riley Hospital for Children. Crutchfield's mother and the crossing guard, Mike Sykes, were taken to area hospitals in critical condition.
Sykes was at the scene of the crash Wednesday as a memorial to the young girl grew throughout the day.
"The crossing guard was just like anybody else doing their job," said Young.
As of Thursday morning, a PayPal account collecting funds for the families has raised more than $17,000. Click here to donate.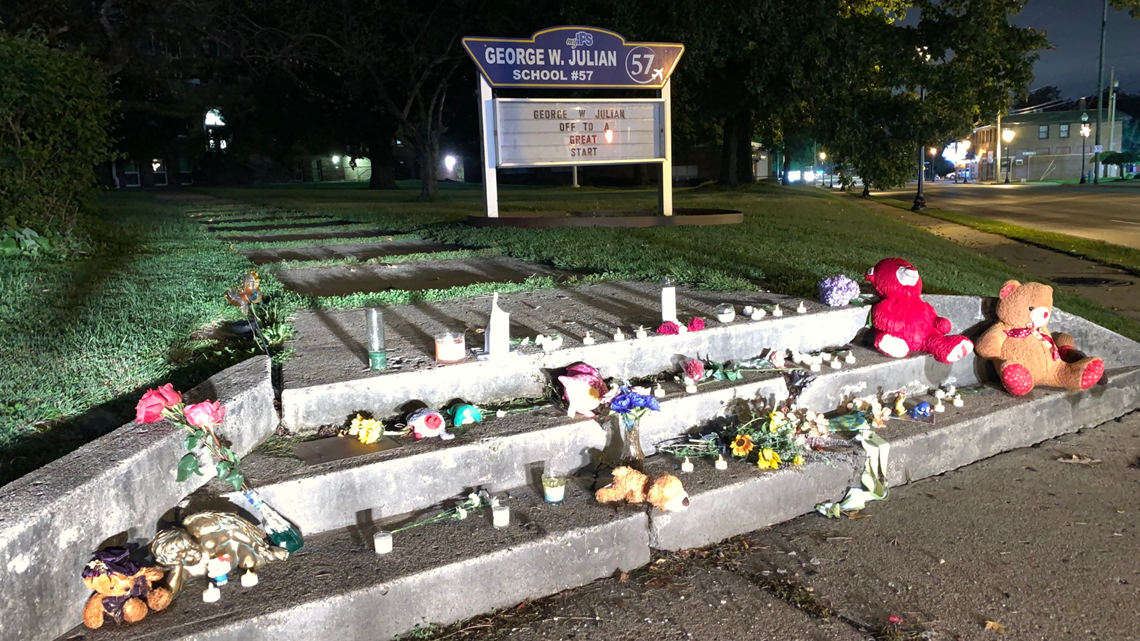 Police said it's too soon to tell what caused two vehicles to collide at the intersection or who was at fault. Investigators spent several hours at the scene, taking measurements to later help them reconstruct the crash.
According to early information, police say two cars were involved in a "disturbance" or "interaction" going west on Washington. One of those cars that collided with a another car that was heading south on Ritter.
Police said both drivers stayed on the scene to work with investigators, who took both drivers to Eskenazi Hospital for a blood draw, which is standard procedure in a crash with serious bodily injury.
Investigators are still working to determine what exactly happened between the two cars on Washington due to inconsistencies in what the drivers are saying. IMPD is asking anyone who might have witnessed what happened prior to the crash or have video of it to contact Detective Eric Snow at 317.327.6549 or email him at Eric.Snow@indy.gov.
"People have no regard for the speed limit through here," said Sarah Unroe, who lives nearby.
Unroe said she's seen it with her own eyes, the way cars speed along East Washington Street in the city's Irvington area.
"You hear 'em revving their engine, driving like this is a little drag strip through here," said Unroe.
Investigators are still working to determine if speed played a part in the collision.
Police say they'll be checking surveillance cameras of area businesses to see if any of those cameras captured video of exactly what happened at the intersection.
Young emphasized the importance of drivers keeping an eye out for pedestrians, especially in peak hours when school has ended and people are returning home from work.
"People need to slow down and watch these stoplights," said Robert Lee Kassing Jr., who lives nearby and came outside to see why so many police where in the area.
When he found out three people had been hit, including a child, "That makes me think about my grandkids. Yeah, that's an awful thing," he said.
"It's absolutely devastating, officers, personnel those responding to the scenes, it's heart-wrenching," Young said. "I've spoken to a few officers who responded first and they have children of their own and it's very disturbing."
Indianapolis Public Schools canceled Wednesday classes at George W. Julian School 57. The district will provide crisis support at the school beginning Wednesday morning for students, staff and families.
"Our Indianapolis Public Schools family is devastated to learn about the tragic death of one of our students at George W. Julian School 57. We extend our love and deepest sympathies to the student's family and loved ones. We are also hoping for a full recovery for the two adults involved in the accident," said IPS Superintendent Dr. Aleesia Johnson.
Classes are expected to resume on Thursday, Sept. 16.
The district also postponed its 2021 State of the District address. A new date has not yet been determined.
"This is an extremely difficult time for the IPS family; the students, staff and families at George W. Julian School 57, for the Irvington community, but mostly importantly for the families and loved ones of our beloved student, and the two adults injured in the crash," Johnson said. "We often say that IPS is a family of schools, but we're more than that … we ARE family. This is a painful loss for the entire IPS district. Please continue to keep everyone in your thoughts and prayers."
"Tonight my heart is with all those affected by this afternoon's tragedy—family, friends, neighbors, teachers, classmates. Let us lift up the memories of a young life taken too soon, and surround a school community in mourning," the mayor wrote.
City-County Councilor Jason Larrison, who represents District 12, where the crash occurred, shared the following statement about the crash Tuesday night:
"Like many others, I am horrified by today's tragic event at Washington and Ritter. IMPD continues to investigate the incident in which three individuals near School 57 were struck by a vehicle, resulting in the death of a 7-year-old child. I remain in contact with IMPD as investigators continue to look for answers to the many questions surrounding this tragedy. I deeply appreciate their efforts, along with those of Indianapolis EMS and IFD. I also appreciate the civilians who attempted to render aid until first responders arrived.
Neighborhoods across Indianapolis and across the country are dealing with an increase in dangerous driving. It is a topic at nearly every neighborhood meeting I attend. I speak regularly with IMPD and DPW regarding traffic calming and enforcement, and continue to work with my Council colleagues to ensure both agencies get the resources they need. I urge every driver in my district and across our city to drive safely. Simply slowing down can save lives."
What other people are reading: