INDIANAPOLIS — An Indianapolis police officer has been released from the hospital. Officer Elizabeth Iversen, a 2-year veteran, was shot five times after she responded to a shooting on the northwest side of the city where two other people were injured May 29, 2021.
Double Shooting
Keith Allender, 21, is accused of first shooting a 61-year-old woman while she was inside a car with a toddler, who was unharmed, and then shooting a 38-year-old man who was outside the car. Police believe the victims were Allender's neighbors.
The Indianapolis Metropolitan Police Department said the shooting happened at 3:40 p.m. Saturday in the 6400 block of Kentstone Drive, near West 62nd Street and Rodebaugh Road.
"The shooting was seemingly unprovoked and no disturbance preceded the shooting," IMPD said.
After she was shot, the 61-year-old woman was able to drive a short distance away where a 55-year-old woman attempted to help her. This is when detectives allege Allender intentionally struck the 55-year-old with his SUV. The 55-year-old was taken to St. Vincent Hospital and was in stable condition.
When officers arrived at the scene, the 61-year-old woman was in critical condition and the 38-year-old man was stable. Officers provided medical treatment to the victims at the scene before they were transported to St. Vincent Hospital.
Police Chase
After striking the 55-year-old woman, Allender fled in his SUV. When he got to the area of 3500 W. 62nd Street, he allegedly shot at and struck three civilian vehicles. IMPD said no one was injured at this location.
When officers found Allender at 3:44 p.m., they tried to stop him near W. 62nd Street and North Michigan Road. This is when Allender allegedly got out of his vehicle, shot at two officers, struck one officer's vehicle and then got back in his car and traveled south on Michigan road.
He led officers in a chase down Michigan Road, westbound on W. 30th Street and then, at around 3:50 p.m., he stopped in the 1600 block of West 30th Street, near Riverside Drive.
Officer Shot Five Times
At this point, officers and the suspect began shooting at each other. During the exchange of gunfire, Officer Elizabeth Iversen was shot five times.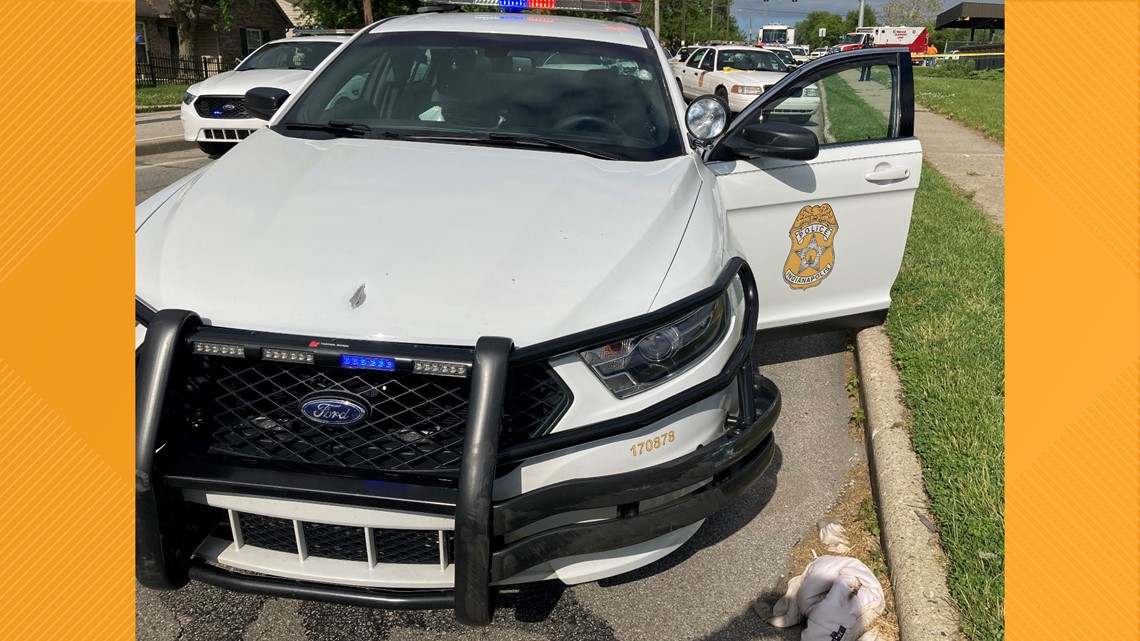 The two-year veteran officer was hit once in the vest below her body camera, twice in the right arm and twice in her left leg. Another officer took her to Methodist Hospital where she was reported to be in good condition, alert and talking.
Shortly after 10 p.m., IMPD reported she had been released from the hospital.
Allender was also shot. Officers provided him with medical treatment until medics arrived and transported him to Eskenazi Hospital. He is listed in critical condition.
Allender was arrested on suspicion of:
3 counts of attempted murder
Aggravated battery
Criminal recklessness
Resisting law enforcement
However, the Marion County Prosecutor's Office will make the final charging decision.
The Investigation
Following the shooting, IMPD launched an investigation and recovered Allender's handgun from the scene. IMPD said Allender has a valid handgun permit.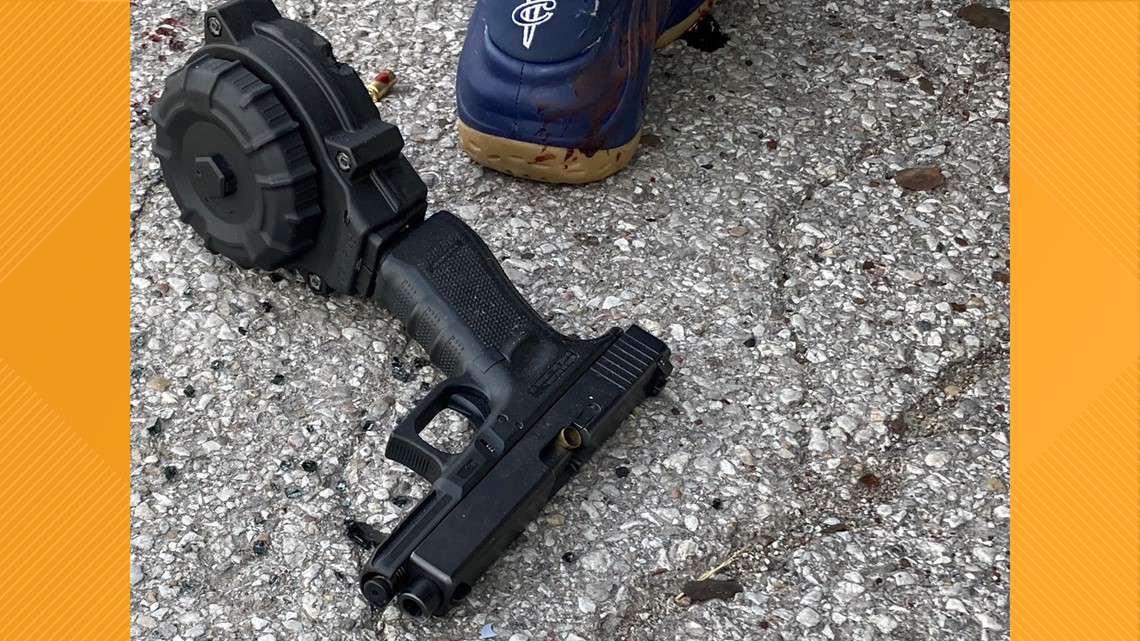 IMPD said multiple officers had their body cameras activated during the shooting, and there was also at least one dash camera that was activated during the incident.
While officers were investigating, IMPD said the area of West 30th Street from Clifton Street to East Riverside Drive would be shut down and asked the public to avoid the area.
The IMPD Critical Incident Response Team is conducting the criminal investigation with the help of the Marion County Forensic Services Agency.
An investigation is also being conducted by the department's Internal Affairs section. The officers who fired their guns were placed on administrative leave, a standard practice in such an investigation.
IMPD said the civilian-majority Use of Force Review Board will conduct a hearing and will make an advisory finding, limited to determining whether the officer's actions were within departmental policy.
On June 4, IMPD identified the officers involved in the shootout with Allender as 3-year veteran Christopher Hester, 5-year veteran Brett Lauerman, 7-year veteran Keith Shelton, 5-year veteran Corey Shinn, and 5-year veteran Nicholas Snow.
If you have information, call Crime Stoppers anonymously at (317) 262-8477.
Family statement
The family of the 61-year-old woman and 38-year-old man who were shot provided the following statement Thursday morning:
"Our two family members were involved in the horrific, senseless shooting events on Kentstone Drive on Saturday, May 29, 2021, while talking in the driveway to one another, as they often do.
The experience was extremely difficult and heartbreaking for everyone present, and especially for the two wounded (a son and his mother), the victim's children who were both present, and the others who were directly impacted immediately following the unprovoked shooting.
While our family members are continuing to heal and will face long days in the future, we are grateful that they have survived this tragic event.
We would like to thank all emergency responders for fulfilling their duty to protect and serve our family members that day. We are also grateful to the good Samaritan who was injured while attempting to provide aid to our wounded relative and comfort to the toddler in the backseat of the car.
We appreciate your prayers for healing and attribute our strength and peace to our Lord and Savior, Jesus Christ."