INDIANAPOLIS — Police are investigating a shooting outside a near northwest side funeral home that left a 4-year-old girl in critical condition and four other people injured on Saturday afternoon.
A funeral service was in progress at Sprowl Funeral & Cremation Care when police say a man was dropped off in the parking lot next to the funeral home and approached another person's car.
The two people started arguing around 4:30 p.m. Police believe the argument happened with someone who was in the area because they were attending the funeral. This argument led to a man firing shots throughout the parking lot.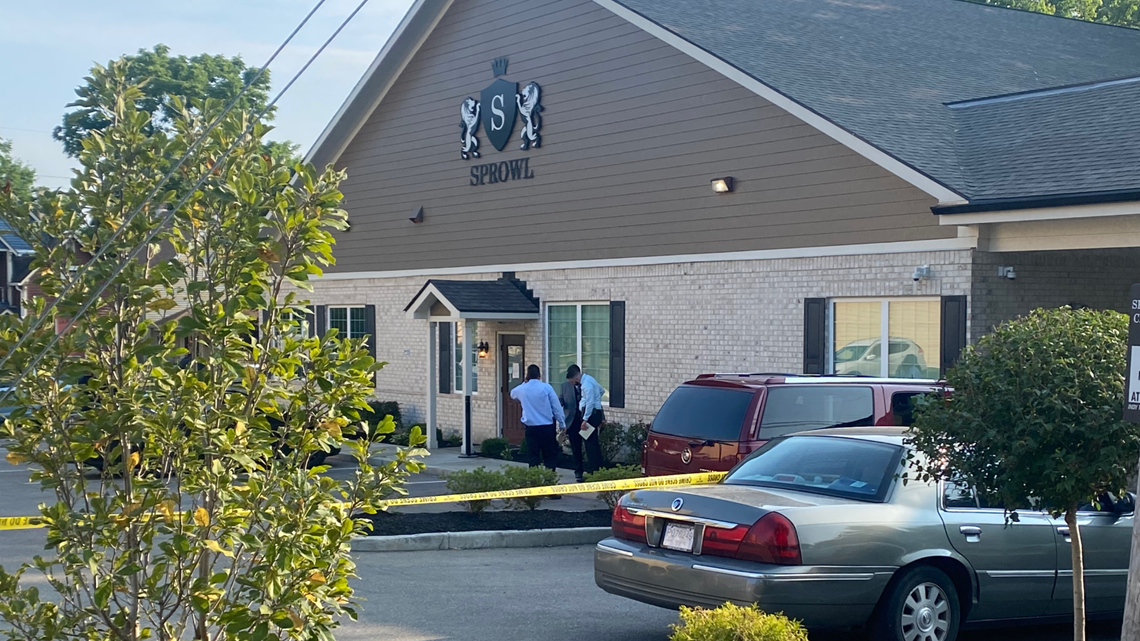 Meanwhile, the Indianapolis Metropolitan Police Department was called to the area on a report of a person shot in the 1100 block of West 30th Street. Before police arrived, IMPD said the suspect had fled and was no longer on the scene.
When officers got to the area, they initially discovered three people had been shot.
The first was a 16-year-old girl, who was taken to Eskenazi Hospital in stable condition. There was also a man who was taken to St. Vincent Hospital in stable condition.
Police said the third person was a 4-year-old girl, who was taken to Riley Children's Hospital in critical condition. When police arrived, the child's mother was trying to get her in the car and to a hospital. Medics saw what was happening and took over, taking the mother and child to the hospital together.
Then, two more people separately walked into Methodist Hospital not long after the others who were injured were taken to area hospitals. These two people were both suffering from at least one gunshot wound, and police believe they were on the scene at some point during the shooting. They're in stable condition.
This brings the total to five people who were injured, and investigators believe some of them were in the area to attend the funeral when they were shot.
Indianapolis Mayor Joe Hogsett called attention to the shooting on Saturday, saying it was a "cowardly act" and calling for an end to "this cycle of violence."
"This afternoon, our community witnessed yet another violent incident, this time with multiple victims, including a young child," Hogsett said in a statement. "Tonight, our thoughts are with all those impacted, including those injured in the shooting, their families, and a neighborhood scarred by a cowardly act. Far too many residents have borne the consequences of the combination of firearms and failed conflict resolution, and I join a frustrated community in calling for an end to this cycle of violence."
Lloyd Sprowl II and Lori Hobbs shared a statement on behalf of the funeral home Sunday. They said they were hurt that this type of violence is taking place, especially "during the sacred act of grieving."
"At Sprowl Funeral & Cremation Care, we believe everyone we serve is family. Our family is hurting following yesterday's shooting in our parking lot. We are praying for peace and healing for the victims and their loved ones. We also are grateful to law enforcement, public safety and medical officers for their quick and compassionate response. We are fully cooperating with law enforcement as the investigation progresses...
...While we take every precaution to protect our clients, staff and guests, we are saddened that violence can touch anyone at any time, even during the sacred act of grieving. The Sprowl family continues to be proud members of the neighborhood and community our business calls home. Please pray for our city, and please be a part of the solution to end the violence."
Detectives were still in the area by 6:30 p.m. Saturday. They shut down the 1100 block of West 30th Street to investigate.
IMPD said they're reviewing surveillance footage and interviewing people who were attending the funeral when the shooting happened.
"It's a shame. Here we are at a funeral home where a family is gathered to send their condolences to their own family, and next thing you know, we have additional people injured," IMPD spokeswoman Genae Cook said. "This isn't the way that Indianapolis operates. We need to think about our actions, think about what we do."
Cook is urging anyone who knows something about the shooting to contact the police department or Crime Stoppers of Central Indiana at 317-262-8477.
"IMPD and the City of Indianapolis will continue to try every solution, incorporate every best practice we can. But we cannot do it alone. It will take neighbors sharing information, supporting those who are hurting, intervening when someone is headed down a dangerous path," Hogsett said.