DOOR COUNTY, Wis. — For the latest Chuck's Big Adventure, we traveled north to the frozen tundra of Wisconsin, where the weather is cold but the fun didn't stop!
Ice fishing
Let's not sugar coat it — winters in Wisconsin can be brutally cold, which could lead many people to just spend four months of the year indoors, but what if we could find a compromise? What if we could enjoy the briskness of a February day with the comfort of a warm heater and still take part in the great outdoors?
That's exactly why we wanted to go ice fishing.
When JJ Malvitz was 18 years old, he put together a shack on Green Bay and started a fishing guide business, which has now grown into 14 shacks on Sturgeon Bay in Door County.
Manned with chains on our shoes for a good grip, Malvitz took us out to a shack about a quarter of a mile offshore. It was both terrifying and exhilarating.
Driving on the ice on an ATV with a subzero wind chill to the shack, we arrived at a place on 8 inches of ice over 80 feet of water.
Inside the building, a space heater kept us warm and cozy. There were six holes, drilled by an auger. We got to spend part of the day at perfect peace with bait on the hook, just waiting for "Mr. Whitefish" or "Mr. Perch" to take a bite. I loved the serenity of the experience but was absolutely shocked by how crystal clear the water appeared in the bay.
"It's 'gin clear,' and the cool thing is when we are out fishing or sometimes in 60 to 80 feet of water and you can see those silver fish on their way up, it's pretty cool," Malvitz said. "And the Door County area, you know, is a four-season destination. I get tons of couples that come up where the guys are going to go on the ice for the day, and the ladies are going to go to all the boutiques."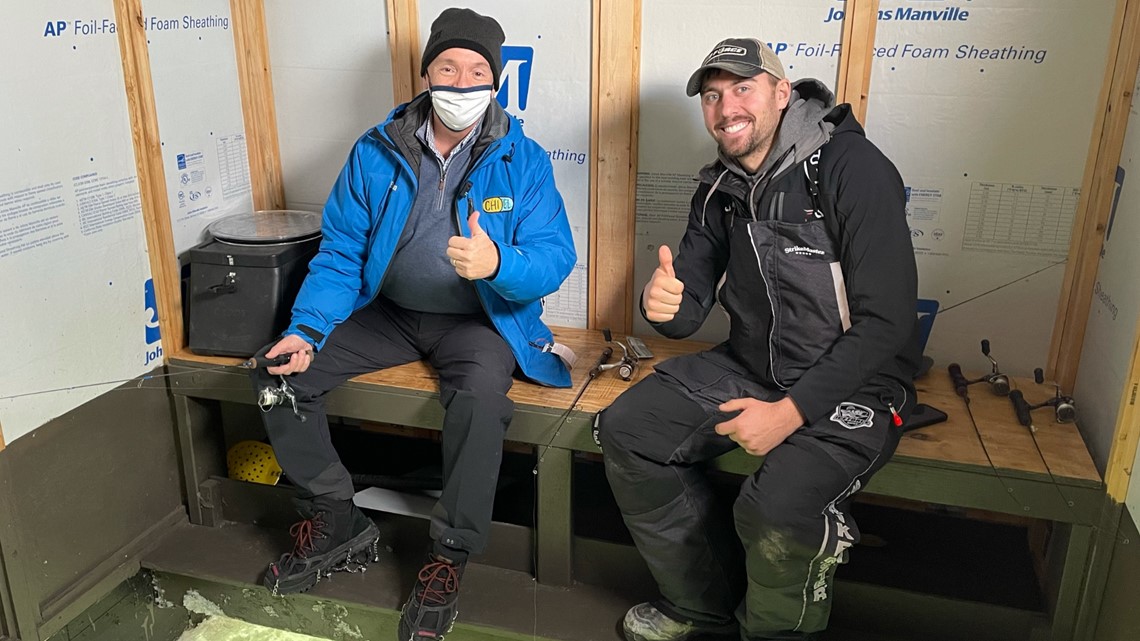 Despite COVID, Malvitz had a great year on the ice, with waiting lists on some days. There has been a whitefish boom on Sturgeon Bay, and it's paid off for Malvitz, with lots of customers, but it has also breathed life into tourism, allowing shops and restaurants to stay open by serving freshly caught fish.
Sadly, I didn't catch anything. The fish had moved in a current to deeper water, but I must tell you, I will be back again. Yes, I got cold getting out to the shack, but I was warm enough inside, and I could have stayed all day.
There's still a few weeks before the ice thaws. Check it out — peace and serenity can still be found, and if you're lucky, maybe a whitefish filet too!

Door County history
Door County, Wisconsin, is one of the nation's most unusual counties and tourist attractions. It is one of those rare places in the world where you can see a sunrise and sunset on the same body of water and not drive more than a few minutes.
The county comprises the strange peninsula that juts into Lake Michigan. Filled with small towns, quaint restaurants, boutiques and endless outdoor opportunities, this strip of land encompasses 482 square miles, but there is a lot to see and experience in that space.
It's named after the strait of water between the Door Peninsula and tiny Washington Island, only accessible by ferry that passes through a strait called Death's Door due to the wind and rough water seamen faced.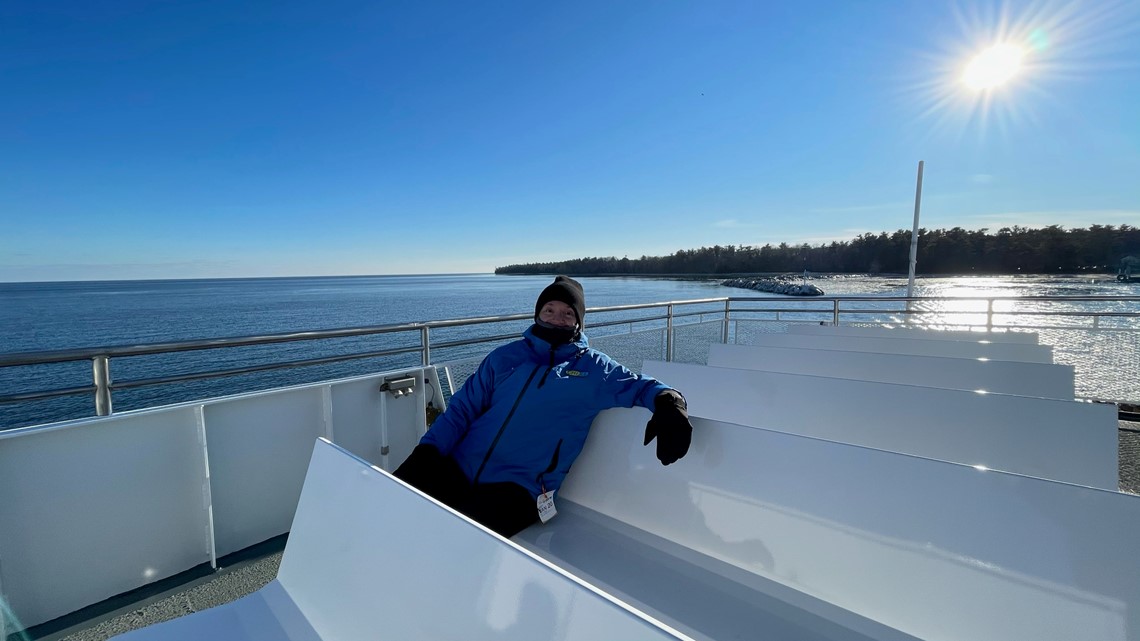 A number of shipwrecks have occurred here, but without trepidation, our crew boarded the ferry on a cold, winter day to experience the ride. We loaded our SUVs and braved the icy wind to hitch a lift across the bay for the 30-minute ride. It was cold, but the views were breathtaking.
In the summer, the ferries are loaded as tourists go across the strait to shop, eat and stay for a while.
Al Johnson's Swedish Restaurant & Butik
Known for goats grazing on the roof during warmer months, this busy restaurant/store is active in the winter too.
Al started this business in 1949 to celebrate his family heritage and the Swiss heritage of the region. In the years since, goats climb up stairs to graze on the grass roof when the weather is nice, but inside, palate-pleasing American and Swiss dishes are served to guests, who at times wait two hours in line to enter.
Lars, Al's son, now runs the business.
"This beautiful building you are in came from Scandinavia in 1973. My parents traveled to Scandinavia and worked with Scandinavian carpenters and Norwegian carpenters and came up with a design," Lars said. "They were able to ship, all of this entire building, piece by piece, from Scandinavia to Door County."
The business has expanded, building a large outdoor venue and new store next to the existing structure.
There is much more than shopping and dining in the eastern Wisconsin county. Door County is also home to five state parks and one state trail. We sampled a couple of them and saw beautiful ice formations and icy trees that gave off an other-worldly feel. You'll see this displayed in some of photographer Steve Rhodes' work in our series.
We also stopped by the Door County Maritime Museum in Sturgeon Bay and got a chance to check out their new Jim Kress Maritime Lighthouse Tower. It gives incredible 360-degree views of Sturgeon Bay from 10 stories up and also has a rooftop deck.
The Jim Kress Maritime Lighthouse Tower opens to the public in May 2021. Phase two will open in October, with the final section of exhibits set to open by May 2022.
Door County — a winter wonderland I won't forget, but to be honest, I can't wait to get back when it's warmer!
The House on the Rock
Have you ever tried explaining something that couldn't be described easily? Try describing quantum physics, explaining déjà vu or even describing the color of a mirror...you get my drift. The House on the Rock falls into that category.
When we were planning our trip to Wisconsin, the first place on my list of visits was this historic, iconic and eccentric tourist stop. For 60 years, Wisconsin's most international attraction has drawn visitors and has been a work in progress.
Once you have seen and experienced the awe-inspiring home precariously perched on the rock near Inspiration Point, there is still so much more to see. In fact, 95 percent of a visit is spent away from the house.
Alex Jordan started work on his retreat in 1945, building an unusual, eclectic house on top of a rock near Spring Green, Wisconsin. He then built structures to house his vast collections from around the globe. In 1960, he opened this ever-changing experience to the public.
The house was closed for the season when we visited, but thanks to the hospitality of owner Sue Donaldson, the whole place was ours for hours. It was unforgettable. More on that in a moment, but first, how to describe this place: Sue put it simply, and I couldn't have said it any better.
"I always tell people that the House on the Rock is an amazing collection of buildings, streets and exhibits like you never see anywhere else in the world," Donaldson said.
To take in the whole experience, plan to spend much of the day on the property. It's a two and a half mile walk through a set of buildings and walkways. Because of the natural flow of the house, it was easy to keep going through the pandemic because of the natural social distancing.
The staff makes it easy to experience the whole thing at one time, in selected experiences or just looking through house. All of this can be decided online before arriving.
House on the Rock exhibits
There are some parts of Jordan's multi-million dollar exhibits that are a must-see. For our photographer Steve Rhodes and most visitors, the one-of-a-kind carousel is a bucket list kind of experience. This nearly $5 million ride has 20,000 lights, 182 chandeliers, 260 animals and weighs 36 tons. A word of caution: If bringing children, you may want to bypass this because there is nudity — yep, I said nudity — on the carousel. For adults, this exhibit with its light display and angel mannequins over our head made this memorable and honestly, made it a little hard for me to sleep that night.
Where else but the House on the Rock could you find a multi-million dollar ride like that but also a sea creature that is longer than the Statue Of Liberty is tall? That exhibit is part of a tribute to the sea that features British Royal Navy uniforms, items from the Titanic and menus from cruise ships at the turn of the last century.
We quickly moved to the "Streets of Yesterday" with a look back at the late 1800s and the early 1900s, and my favorite, The Organ Room, with many old time organs displayed in the settings where they were used.
In the "Tribute to Nostalgia," you'll be whisked away to your childhood or the childhood of your grandparents with ads, displays and signs from decades past.
Those display areas are just a small part of this massive attraction. The new Alex Jordan Center is the first thing you will see on your visit and really gives a great and needed perspective on the history and the reason behind the exhibits.
There is much more that I can put down in a blog, but it is a visit with maximum sensory overload. Nearby is the House on the Rock Inn, a golf course to play, a spa to relax in and the tasty 400 Springs Restaurant.
And they're still not done expanding.
"We've added some Japanese gardens and Asian gardens. We've created some smaller exhibits, like the camera shop, and we've upgraded and added to different exhibits," Donaldson said.
You may love it, you may leave scratching your head, but you will never forget a visit to Spring Green Wisconsin's House on the Rock.
The attraction opens back up in the spring. Click here for more information.