FISH CREEK, Wis. — For the latest Chuck's Big Adventure, we traveled north to the frozen tundra of Wisconsin, where the weather was cold but the fun didn't stop!
Fish Boil at White Gull Inn
Let me ask you a question? Does the prospect of eating boiled — not broiled — fish sound the least bit appetizing? Before we left for Wisconsin, I asked several people their thoughts, and the answers were pretty much the same. Nobody felt this was a stand-in-line, pine-for-weeks kind of culinary offering; in fact, it just didn't sound good. Although I was anxious to try the delicacy, it wasn't my first choice either.
History shows that Native Americans may have done some sort of fish boil hundreds of years ago. But on the Door Peninsula, the practice started in the late 1800s. Hundreds of Scandinavian immigrants brought the tradition with them. With so much whitefish available in Lake Michigan, the fish boil was an efficient and economical way to feed large crews of lumbermen, who were clearing nearby forests.
Churches and families continued the tradition, but in 1961, a couple of restaurants — including the legendary White Gull Inn — started producing their own recipe.
Pat McMurtry has been doing the cooking and the flaming show for guests for 11 years. It is half Vegas light spectacular and half family dinner, all wrapped together. He has a formula, which is precisely timed for dropping in the whitefish and potatoes over a slow boil that culminates with a 20-foot flame shooting straight up in the air.
"I'm cooking approximately 117 pieces of whitefish," McMurtry said. "They're all caught on Lake Michigan, and they all had to be 16 inches or longer to be caught in the nets. And so, the whitefish are cut into chunks and filets."
The boiling draws guests outside to watch, even if it's bone-chilling cold. Just 10 minutes after the flame erupts, the entire restaurant can be served at the same time. It is truly an amazing thing to see, how the staff times out the fish boil and then serves the meals.
The White Gull Inn serves all year long, but winter is special because the fish, potatoes and experience somehow seem like the ultimate comfort experience.
"It's hectic to get here, but once you drive past that sign, come down the road and stay here, it all goes away, even when you're working. That's the magic of this place, more than everything," McCurtry said.
I agree. You won't see a tradition like this often in your life, and it's a neat tradition to share with family, friends and especially children.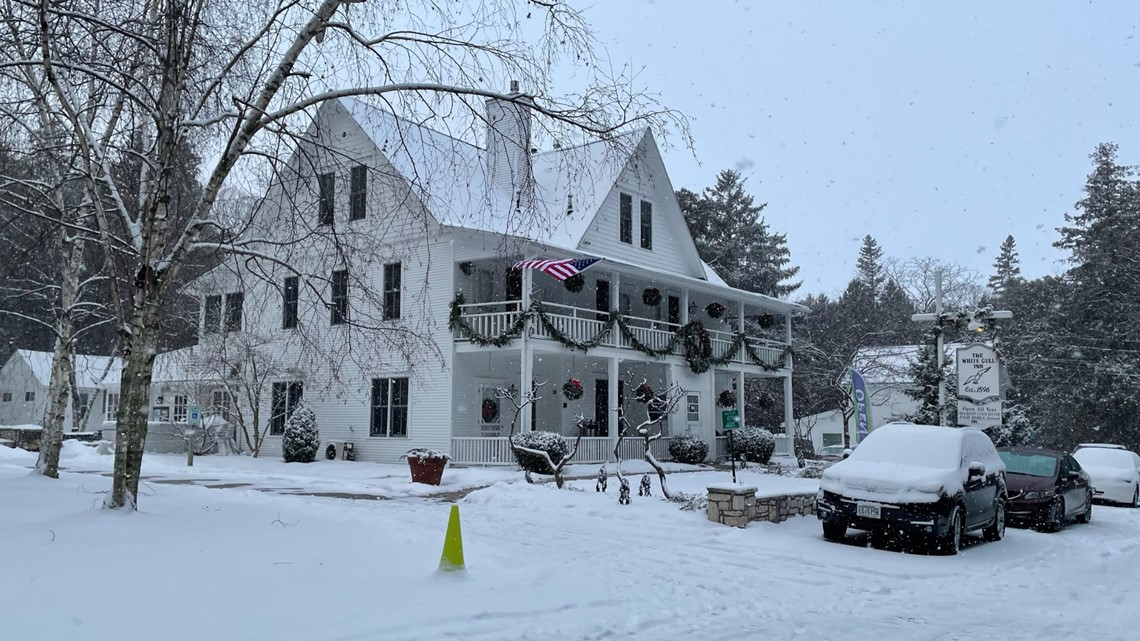 Not only did we enjoy a meal at the White Gull Inn, but we stayed there, too.
Meredith and Chris Canter took over the inn from her parents in 2018. The couple is continuing a tradition of quality that has been in the family since 1972, but the lovely hotel has been in Fish Creek since 1896. Seven generations of families have visited this place, had homemade breakfasts, enjoyed the quaint rooms and the natural beauty of Door County Wisconsin — and of course the fish boils.
Nope, it still doesn't sound appetizing to me, but I have tried it, and I can't wait to come back to enjoy it all over again!
The fish boils happen year-round, and the beautiful inn is open for business all 12 months of the year as well. This place books quickly, so click here to check out available dates.
National Mustard Museum
Most of us want to be remembered for something. We want to have a purpose and leave a legacy.
Barry Levenson seemingly had it all. He was Assistant Attorney General for the State of Wisconsin, had argued a case before the United States Supreme Court, and was an author and a law professor. Something was missing though, and Levenson found himself in mourning — that's right, mourning.
In 1986, Levenson's beloved Boston Red Sox had lost a World Series game, and it didn't look good, making his depression an even deeper reality.
"They came within a pitch of winning Game Six. Then, they lost Game Seven to the New York Mets," Levenson said. "I was so depressed at the time while working at the attorney general's office here in Wisconsin."
Levenson did what any long-suffering fan would do: He cried and then went to the grocery store.
"I couldn't sleep, so I went to an all-night supermarket to walk away the misery, the frustration, the depression," Levenson said. "I decided I needed a hobby, and as I walked down the condiment aisle, I remember passing the ketchups, the olives, the pickles, the relishes, the mayos — nothing. Suddenly, I was in front of the mustards, and I heard a voice: 'If you collect us, they will come.' I did, and they have."
Levenson grabbed several jars of different kinds of mustard and unbeknownst to him — or the all-night cash register clerk — history was taking place. Those jars would form the nucleus for the start of the National Mustard Museum, a one-of-a-kind, one-stop-shop for everything associated with his favorite condiment.
He collected hundreds of different kinds of mustard, and then, using the biblical injunction of having as little faith as that of a mustard seed, his dream came true — a home for his collection.
"We opened the museum in 1992 in nearby Mount Horeb. We are now in Middleton, Wisconsin, which is just outside of Madison, and we have the world's largest collection of mustard and mustard memorabilia," Levenson said. "There are over 6,000 different mustards behind me, and we also have antique mustard pots, old mustard tins. We have an exhibit about mustard in medicine because before we had antibiotics, mustard plasters, mustard rubs, mustard ornaments were the preferred medicine for doctors all over the world, including here in the United States."
Before the COVID-19 pandemic, thousands of visitors entered the door of the museum and gift shop. Bus tours, senior groups, school outings and the curious have seen videos, tasted spicy samples and especially seen the tie between baseball and mustard — the only condiment fit for a hot dog.
"Nobody puts ketchup on a hot dog. You know, in Chicago, there are many hot dog stands that will refuse to serve you a hot dog if you ask for it with ketchup," Levenson said. "By the way, in terms of condiments, and this is for parents and grandparents, according to the National Condiment Research Association, ketchup is now the leading cause of stupidity in America."
Tongue is firmly in cheek here. The National Mustard Museum houses "Poupon U" — yes, that's what he calls it — which is celebrated with banners, T-shirts and diplomas for sale.
If you are shopping for mustard, you'll have the opportunity to buy pepper mustard, honey mustard, grainy mustard and Levenson's favorite, a house blend called sweet and nicely hot mustard.
One long wall in the museum shows different states and the mustard produced there in hundreds of jars from all over the world, some one-of-a-kind.
Is Indiana represented here? You bet.
"Dillman Farm mustard is one of our most popular mustards. Their smoky chipotle mustard won a medal at the Worldwide Mustard Competition a couple years ago," Levenson said.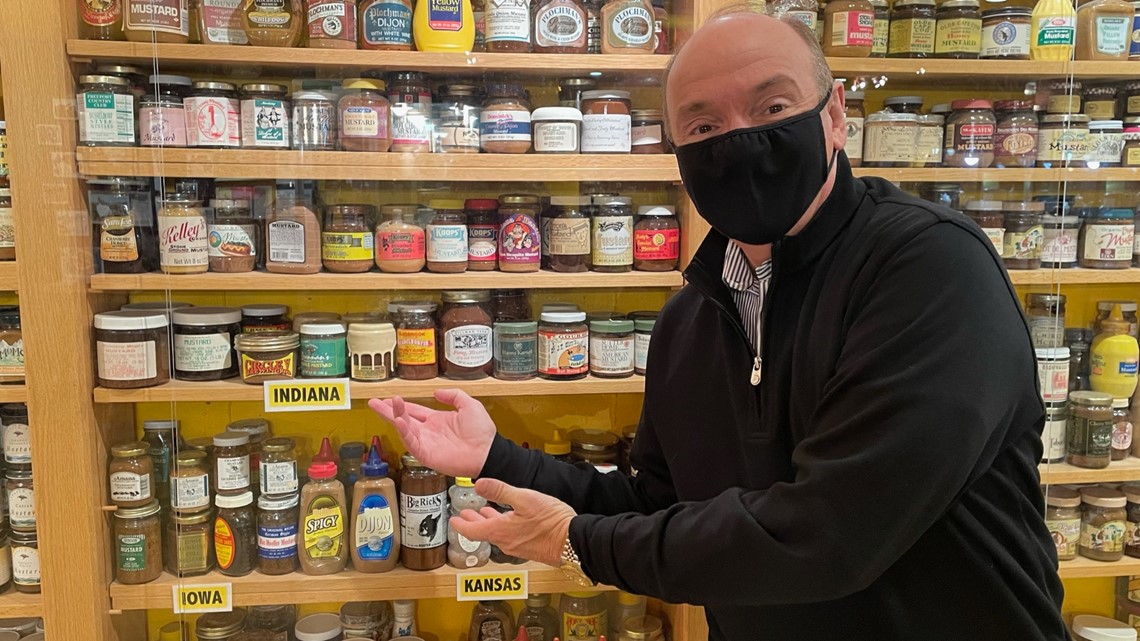 After our tour and a quick stop at the gift shop, Levenson blessed me with a diploma from Poupon U, but of course, I couldn't be a true graduate until I joined him in singing the school's alma mater to the tune of the classic "On Wisconsin:"
"On our hot dogs, on our bratwurst,
Never mayo, never ketchup,
They're against the rules.
Gleaming gold and mellow yellow,
smooth, rough, sweet and hot.
Fight, Poupon U, we'll fight
If you are near Madison, Wisconsin, visit the beautiful campus, the pristine parks and the gorgeous lake system. Don't, however, leave until you've seen the National Mustard Museum. You'll never look at a hot dog the same way again.
Yes, Levenson still occasionally teaches young people, oddly enough, in food service law, but he has found his purpose and joy, all in a jar of pure joy that you can buy at the store for $2.98.
Click here for more information on the National Mustard Museum.