INDIANAPOLIS (WTHR) - Every week, Bob Kravitz offers his Dopey Report Card on the Indianapolis Colts' performance. This week, he breaks down the Colts' overtime victory over the San Francisco 49ers.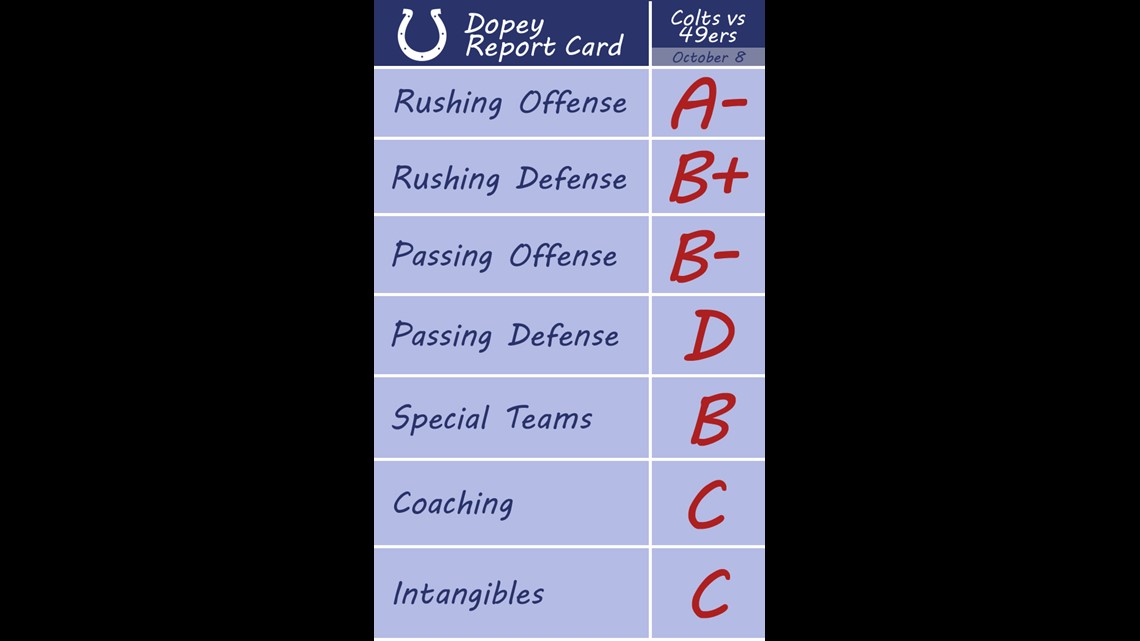 For now, the Colts are using Marlon Mack exactly the way they should be using Marlon Mack. He's the changeup running back, the speedy replacement who can spell Frank Gore and touch the ball eight to 10 times per game. Come next year, he will be Indy's every-down back, but for now, he's better off being used the way they're using him. He still needs to improve at pass protection and running inside the tackles, but that will come in time. Sunday, we saw why Chris Ballard selected him out of South Florida. Nine rushes, 91 yards, a touchdown and nearly two touchdowns. He's the first real breakaway threat the Colts have had since Donald Brown. According to Pro Football Focus, Mack is among the league leaders in missed tackles, average yards after contact and big plays (73 yards on runs over 15 yards).
San Francisco running back Carlos Hyde came into the game averaging 4.9 yards per carry; against the Colts, he ran just eight times for 11 yards. Running up the middle was completely fruitless for the Niners, and both Al Woods and Johnathan Hankins deserve a lot of credit for that. Niners back Matt Breida ripped off some decent runs, averaging 4.9 yards on 10 carries, but his longest was just 14 yards. Antonio Morrison, John Bostic and Jabaal Sheard (more on him later) each had seven tackles.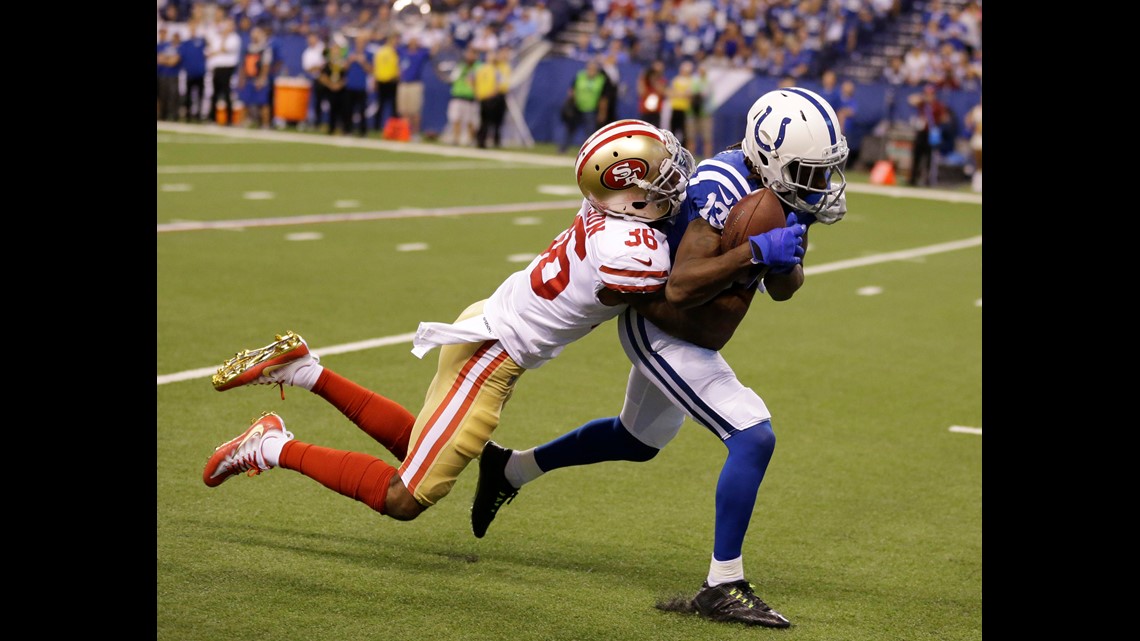 Mixed bag, anyone? T.Y. Hilton's day was a microcosm of the passing game performance – some really, really good and some really, really bad. Hilton had two early penalties and two early drops, but rebounded to have a 177-yard day. Jacoby Brissett, well, this is what you get with a 23-year-old quarterback who is making just his sixth career start. He is a playmaker, good plays, bad plays. It almost seems like the Colts are better off when things break down and Brissett simply has to run around and make a play – a la Russell Wilson. The interception early in overtime? Just a horrible throw. The offensive line played decently, but still gave up 12 pressures on 43 pass plays, according to PFF.
Sorry, but Brian Hoyer with 353 yards, two touchdowns and a 101.1 quarterback rating? The Niners' quarterback feasted on the Colts over the middle, which tells you all you need to know about the coverage abilities of their inside linebackers. According to PFF, Hoyer was 18 of 23 for 233 yards and two touchdowns over the middle, and feasted on the inside linebackers. Once again, Sheard was the Colts' best defender, getting the best of Pro Bowl left tackle Joe Staley, finishing with 1.5 sacks and several pressures. All of that said, the Colts still limited San Francisco to 4 of 14 on third-down conversions.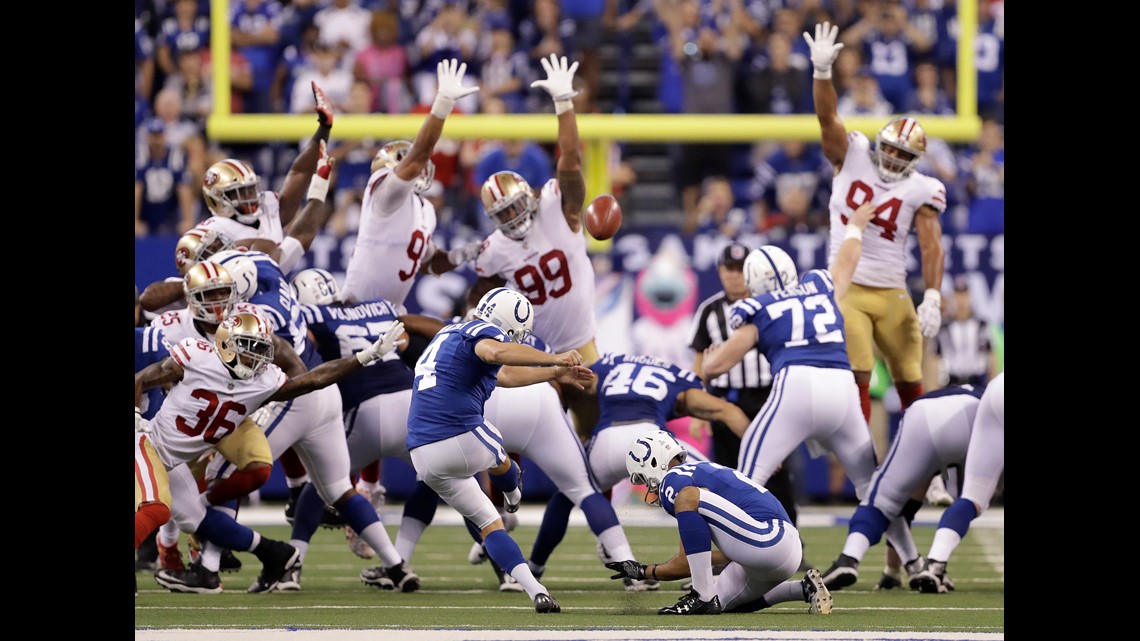 First, the good stuff, like the kicking game. Adam Vinatieri was terrific, kicking a 52-yarder and then a 51-yarder in overtime to win it. The guy is getting better as he gets older, and the statistics bear that out. Rigoberto Sanchez, who's been a terrific find, punted four times, all inside the 20-yard line, for a 47.8 net yard average, limiting San Francisco's explosive punt return game to zero yards. The Colts also limited the Niners to just 14.8 yards on kick returns, led by Kenny Moore II and a terrific tackle deep in Niners' territory. And now the bad stuff. Well, the bad thing, singular: That Quan Bray lateral to Krishawn Hogan that nearly turned into a disaster. I don't care what the Colts' coaches saw on tape or the fact that Bray made a mistake by throwing the football; you don't put the guy in that position. If Vice President Mike Pence hadn't left the game after the anthem, he would have left after that play.
Did I mention the lateral on the punt? And then there was the decision to throw deep, into coverage, with second and 10 at the 49ers' 34-yard line with the Colts in (long) field goal position in overtime. Brissett already had thrown a pick in the end zone earlier in OT; why put him in that spot again? As it turned out, the Colts were fortunate the ball didn't get picked off, but I found that difficult to understand. The Colts late-game blunders were on full display once again, Indy giving up two late touchdowns to a team that had gone seven quarters without sniffing the end zone. How do you fix that? I don't think Chuck Pagano has any idea, or it would have been fixed by now.
In the end, this is who they are, a deeply flawed team that is skewing young and making mistakes at key moments in the game. But it's not just the young guys: Frank Gore had a tough day. Vontae Davis still isn't playing the way Vontae Davis can play. Hilton had a terrible start. And for all that, they are just one game out of first place in the AFC South, a division that remains completely up for grabs, especially now with the sad news that J.J. Watt and Whitney Mercilus are done for the season.