INDIANAPOLIS — Paramedics responded to an apparent accidental fall during a concert Tuesday night at Lucas Oil Stadium.
The incident reportedly happened as Motley Crue took the stage as part of the show that also featured Def Leppard, Poison and Joan Jett and the Blackhearts. According to a witness, a man fell from an upper level into the seats below.
"We seen a figure, at first we didn't think it was a person, we thought it, you know, they had been tossing volleyballs and different stuff around the crowd. But when you heard the thud twice, then we knew it was a person," Steven Neeley told 13News. "You could hear the audible gasps over the music playing."
"Everyone was just kind of standing around looking, trying to figure out what to do, who to talk to, who to get to come over to the landing and check the person out," said Krista Neeley. "We didn't know if they were breathing or not breathing or what was going on."
Steven Neeley said a nurse who had been sitting nearby came to the man's aid, followed by deputies and then paramedics.
Dave Earlywine and his wife were only a few sections away when they heard the commotion.
"It was dark, so you couldn't really see who it was, but you see this full-size body come over and start flipping and when he hit the ground, almost everybody was in shock," Earlywine said. "Nobody really moved for at least 20 seconds. They were just trying to figure out what just happened."
"There was a lot of young people in front of us that my wife was trying to console, because we just seen somebody fall from above us, we don't know how far above us, but you don't go to a concert and plan on seeing that," Steven Neeley said.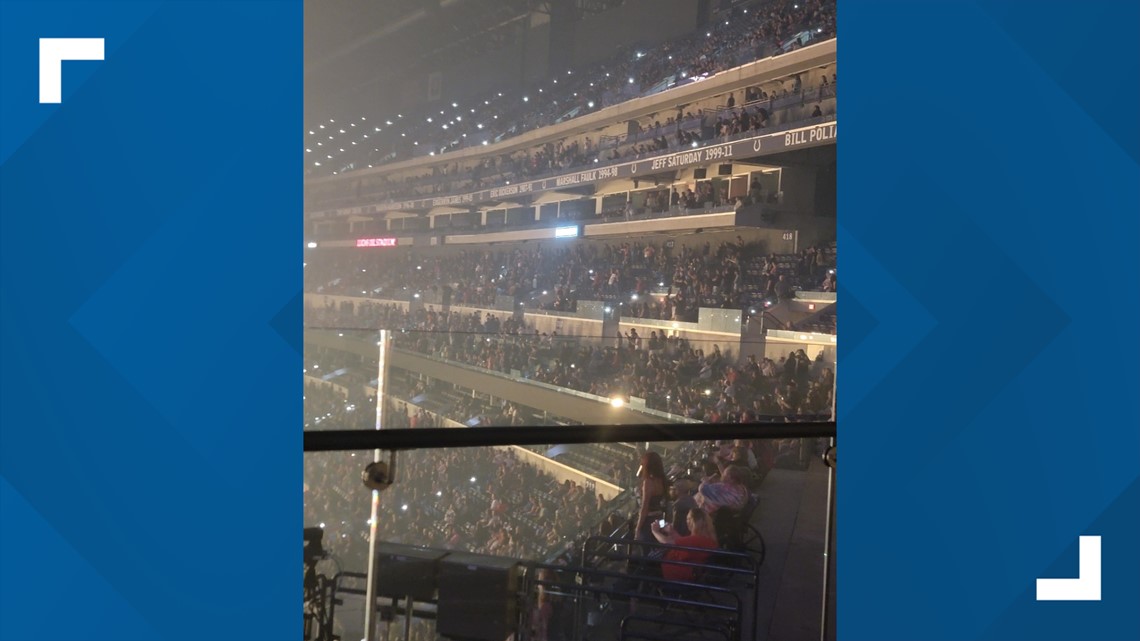 Earlywine said the drop was about 40 feet. After it happened, he ran to get help.
"There are some things you won't forget. I have never seen anything like this happen," he said.
IMPD confirmed to 13News Tuesday night that they assisted IEMS medics who responded to the scene.
An IMPD public police report indicated the man, who was believed to be intoxicated, stumbled over the railing and was transported to Eskenazi Hospital in stable condition.
We also reached out to Lucas Oil Stadium officials for more information. An official told 13News that the man was "awake and talking" when taken to the hospital. A statement to 13News on Wednesday reads:
Lucas Oil Stadium and our contractors work tirelessly to maintain the highest safety standards and best practices with regard to the physical structure and operations of the stadium, including observation of the NFL's standards. Additionally, every person that works or volunteers with Sodexo Live!, our food service provider, must complete rigorous training around service of food and alcohol.