WHITELAND, Ind. — Johnson County Sheriff Duane Burgess asked residents late Friday night to stay out of Whiteland after police said the town took a "direct hit" during a severe weather outbreak that wreaked havoc across Indiana.
"Please stay away from the WHITELAND area if you do not live there. Please avoid the roads around WHITELAND as well," Burgess said in an alert Friday night after a tornado whipped through Whiteland.
It all happened fast, residents said.
"It's really an eye-opener, you know things can change in an instant," Anastacia Davilla said.
The NWS confirmed a tornado, believed to be an EF-2 with winds of up to 135 mph, hit Whiteland.
Davilla experienced the tornado firsthand.
"About 10 o clock, the tornado sirens went off."
She said she and her family immediately went to the back of their home and took cover.
"As soon as we got in the tub, my other family went into the bathroom, the lights cut off and the tornado, it just hit," she said.
Whiteland police said the town "took a direct hit."
It lasted only about five minutes, Davilla said.
"It was fast. It was a lot of wind and I didn't think it did this much damage until I opened the store and saw everything," Davilla said.
It was a path of destruction that limited power and communication.
Burgess said Friday night that multiple agencies were working to check on residences and buildings in the area.
"The town has received a lot of storm damage," Burgess said.
The tornado tore houses to pieces, downed trees and left mangled cars and scattered debris in its wake.
"Here I am today, never going through this. Don't really know where to start. Just really taking it all in," Davilla said.
Photos show downed trees littered across homes and yards and powerlines in roadways.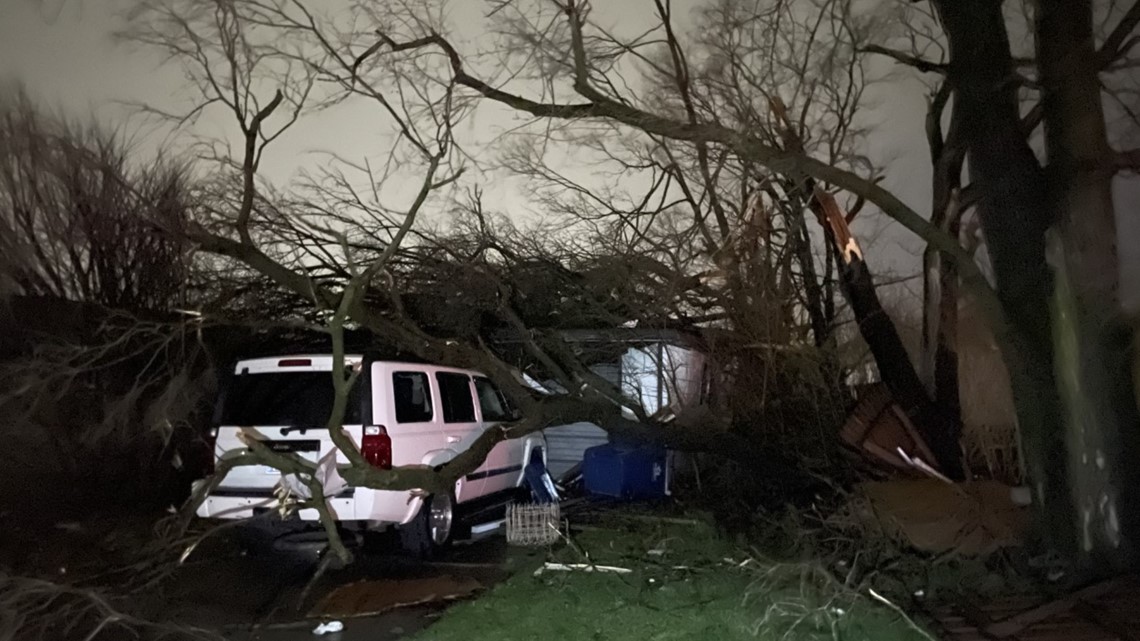 One photo showed a whole section of power lines down on the U.S. 31 southbound lane just south of Whiteland Rd.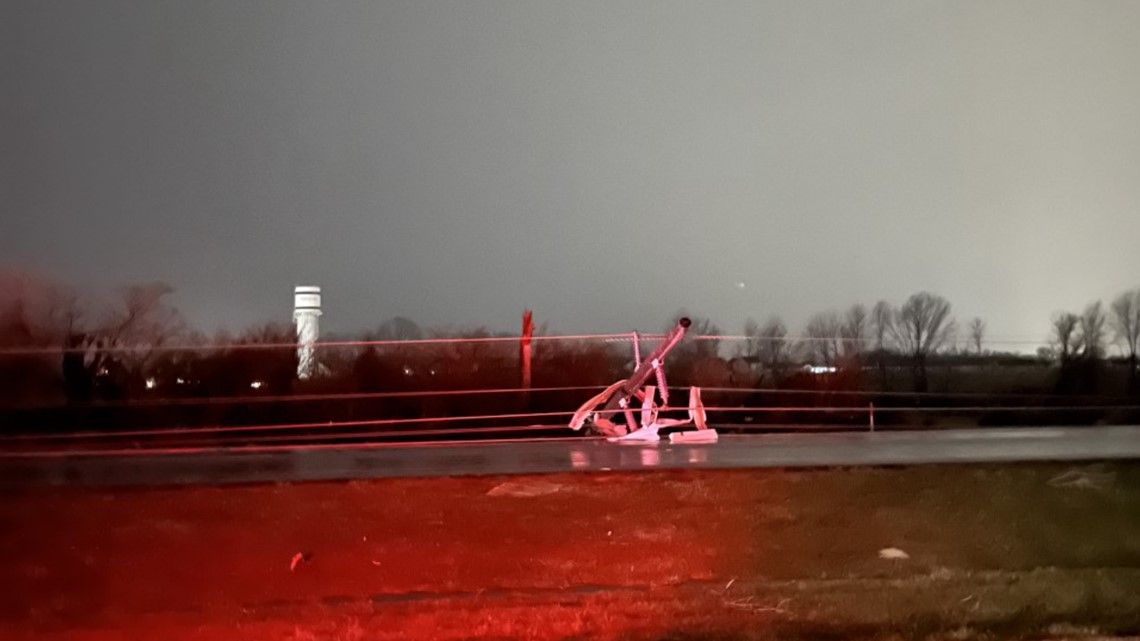 And that damage poses a serious threat to residents.
"We are asking people to stay out of WHITELAND, do not come to look at the storm damage. There are live power lines that are down in yards and roadways and is extremely dangerous," Burgess said Friday night.
A temporary shelter was set up at Whiteland High School for residents who needed a place to go.
First responders continued their efforts well into the morning and, when the sun rose, they saw the full scope of the tornado's destruction.
"We do not know the extent of damage as we will need to wait until daylight so we can survey the area," he said.
GALLERY: Central Indiana storm damage | March 31, 2023
On Saturday, Davilla was joined by dozens of people, trying to salvage whatever they could from their homes.
In the meantime, Davilla and others are just glad things weren't worse.
"We're all going through the same thing and I'm just grateful that there were no casualties and everybody made it out okay."
Central Indiana storm damage | April 1, 2023
The Clark-Pleasant Community School Corporation canceled classes Monday due to significant storm damage.
"Some of our buildings still have power issues, utility poles are down and some roads are blocked due to storm cleanup which creates significant traffic problems, especially with our buses," the district said in a statement. "All of these issues impact our ability to have school."
The district said it would reassess the situation on Monday and provide an update then.
The storm damage was seen well outside Whiteland and in other parts of Johnson County.
In addition to the tornado that hit Whiteland, the NWS confirmed an EF-0 with winds of up to 85 mph touched down in Bargersville.
Burgess said agencies are tending to those areas in need.
Plus, the storms knocked out power for tens of thousands of people across the state.
"Power companies are working very hard to restore power, allow them to do their jobs," Burgess said. "We ask the public to be patient."