PLAINFIELD, Ind. — Plainfield Police are still looking for the robbers responsible for a smash-and-grab burglary that was caught on camera at a local jewelry store early Tuesday.
Customers walking up to Mason Jewelers at 1822 E. Main St., which is in a strip mall that includes a Kroger store, are greeted by a sign telling them it's closed due to a robbery.
If you walk inside, you can see what kind of robbery it was: a smash-and-grab.
"You look around to see what they did to these cases, it's terrible. I can't believe someone would do this. When you look at where we are in the past few years it's a scary place and it's changed a lot," said Scott Mason, the store's owner.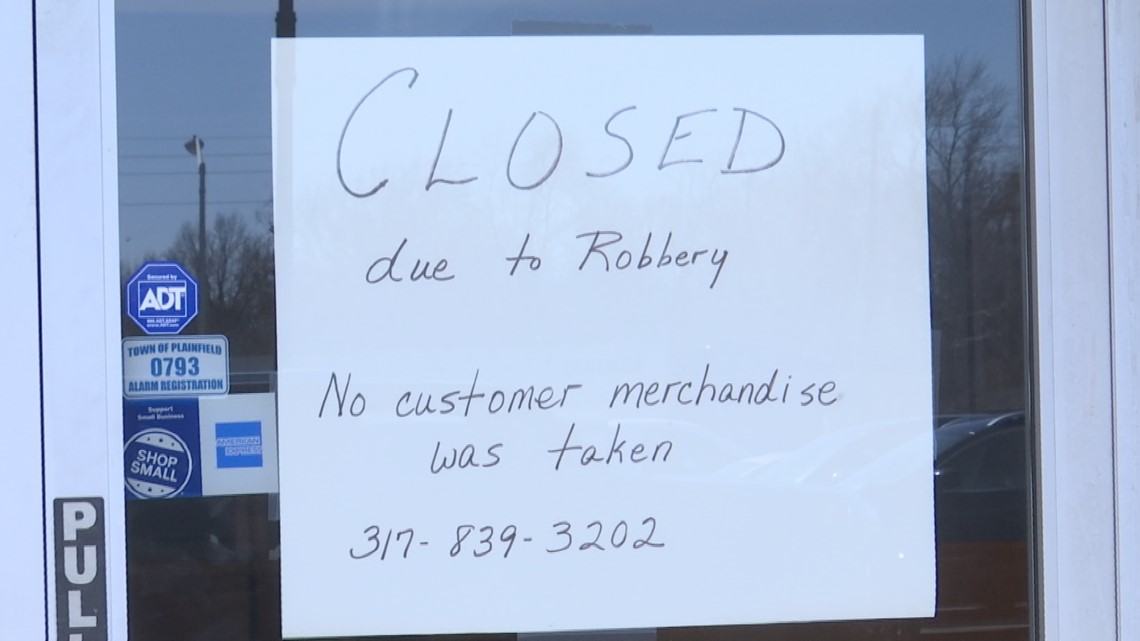 The robbers used hammers to shatter most of the cases. They were in and out in less than two minutes.
Mason added up the damages and said the burglary resulted in a loss of about $130,000.
"I've never had anything like this happen. This is nuts," said Mason.
Items were taken from the store's display cases, where the suspects did extensive damage, but police said no customer items were taken in the crime.
Customer Kellie Joseph stopped by the store to pick up her ring. She was stunned by what she saw.
"It's devastating. It really is. You're not safe anywhere," said Joseph.

Despite the destruction, Mason said it could have been much worse.
"Hopefully, they'll get caught, but the biggest thing is no one was hurt, and no customer jewelry was stolen. That's very important to me," said Mason.
Mason Jewelers has been a family-owned business for more than 60 years. Mason said the support he's receiving from the community has made all the difference.
"When I look on Facebook it's really cool, because I see the whole community standing behind us and I love seeing all those nice messages," said Mason.
Mason will spend the upcoming days replacing the glass and preparing to re-open next week.
"We are going to be here for a long time. This is a setback. We are all going to be fine," said Mason.
If you have information, call Plainfield Police at 317-839-8700.
What other people are reading: