INDIANAPOLIS — A man shot and injured by IMPD officers after a chase late last month is now facing criminal charges.
Christian Myers, 22, has been charged with attempted murder, battery, criminal recklessness, possession of a machine gun and resisting law enforcement, all felonies, along with misdemeanor counts of unlawful possession of a firearm by a domestic batterer and battery resulting in bodily injury.
Last week, IMPD identified the three officers who shot and critically injured Myers on Sunday, Jan. 29 on the city's northeast side.
Zachary Boston, a three-year veteran; Andrew Girt, a 15-year veteran; and Jacob Liebhauser, a three-year veteran, shot Myers.
The incident started Sunday morning in Broad Ripple and resulted in a police chase that ended in a crash later in the afternoon, IMPD said.
According to IMPD, officers responded to the 100 block of Broad Ripple Avenue, near Broad Ripple Park, around 3 a.m. for a report of shots fired. A woman told officers she was involved a dispute with the father of her child, who she said fired at least one shot, hitting her car as she drove away.
Detectives responded to the scene to begin an investigation and search for the suspect, Myers.
They found Myers outside a car at the BP gas station at the intersection of East 38th Street and East Fall Creek Parkway North Drive just after 4 p.m.
Officers attempted to stop Myers, who got into a car and drove away, leading police on a chase. He eventually crashed into an uninvolved car near the intersection of Binford Boulevard and Kessler Boulevard East Drive.
No one was injured in the crash.
Myers and another man inside the car ran westbound across Binford Boulevard, through a ditch and over a fence.
Myers then fired shots at officers in the area of 5800 Winding Way Lane, just northwest of Kessler Boulevard East Drive and Binford Boulevard, and three officers returned fire, shooting Myers, IMPD said.
Myers was taken to Methodist Hospital in critical condition. Police have not provided an update on his condition since Monday afternoon, when he remained critical.
The second person who ran from police, identified as a 24-year-old man, was taken to Eskenazi Hospital for a complaint of chest pain. Police said there is no indication this man fired any shots at officers. Detectives arrested the 24-year-old man for resisting law enforcement.
No officers were injured.
IMPD Officer Joshua Barker said Sunday evening it was too early to tell how many shots were fired in the shooting.
Detectives located a handgun with an extended magazine outside the passenger door of the suspect car, and a handgun with an extended magazine and Glock switch where the suspect who fired shots at officers was found, police said.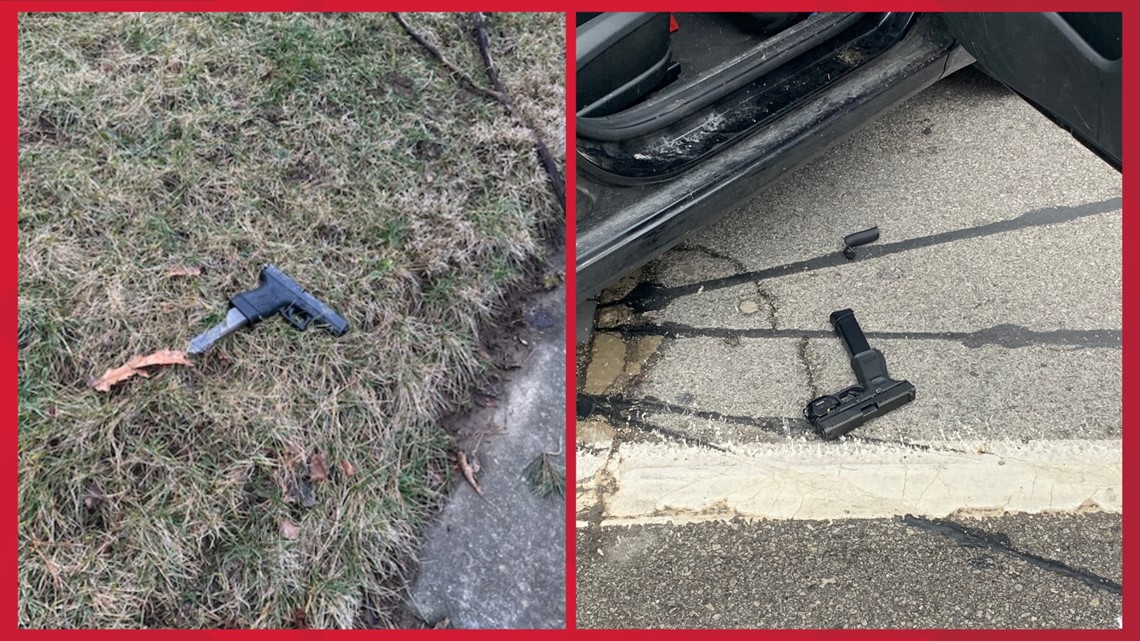 Multiple body-worn cameras were activated during the incident, police said.
The Marion County Prosecutor's Office will make final charging decisions in the case.
The IMPD Critical Incident Response Team is investigating the incident, and a separate administrative investigation is being conducted by IMPD Internal Affairs.
Boston, Girt and Liebhauser have been placed on administrative leave, which is standard procedure in officer-involved shootings.
The civilian-majority Use of Force Review Board will conduct a mandatory hearing after the criminal process concludes.
Anyone with information on the incident is asked to contact Detective Sergeant Erika Jones at the IMPD Homicide Office by calling 317-327-3475.
Tips can also be submitted anonymously to Crime Stoppers of Central Indiana at 317-262-8477.