INDIANAPOLIS — Indy Eleven and Keystone Group unveiled renderings of the previously announced neighborhood village development in downtown Indianapolis.
Eleven Park will include a 20,000-seat multipurpose stadium built for the soccer team, hotel, 205,000 square feet of office space, more than 600 apartments, 197,000 square feet for retail space and restaurants, and public plazas and parking garages.
Amenities at the public plaza include an outdoor stage with free concerts, kids play zone, outdoor activities, water features, dog park and public art.
Groundbreaking on the 20 acres of land, which was previously owned by The Diamond Chain Company, is scheduled to begin in May.
Renderings of Eleven Park
"The vision of this transformational development into a live, work, and play village is becoming reality," said Ersal Ozdemir, chairman and founder of Keystone Group and Indy Eleven, in a news release. "Eleven Park will not only change the skyline of Indianapolis, but will add over a thousand jobs, have a huge economic impact, create quality of life benefits and attract talent and opportunities to our city and state."
"We've been investing in downtown for over 20 years and believe it is important now more than ever," Ozdemir continued. "Our goal for Eleven Park is to continue the city's tradition of using sports as a business driver for Indiana by increasing Indianapolis' profile as a global city and showcasing the world's most popular sport."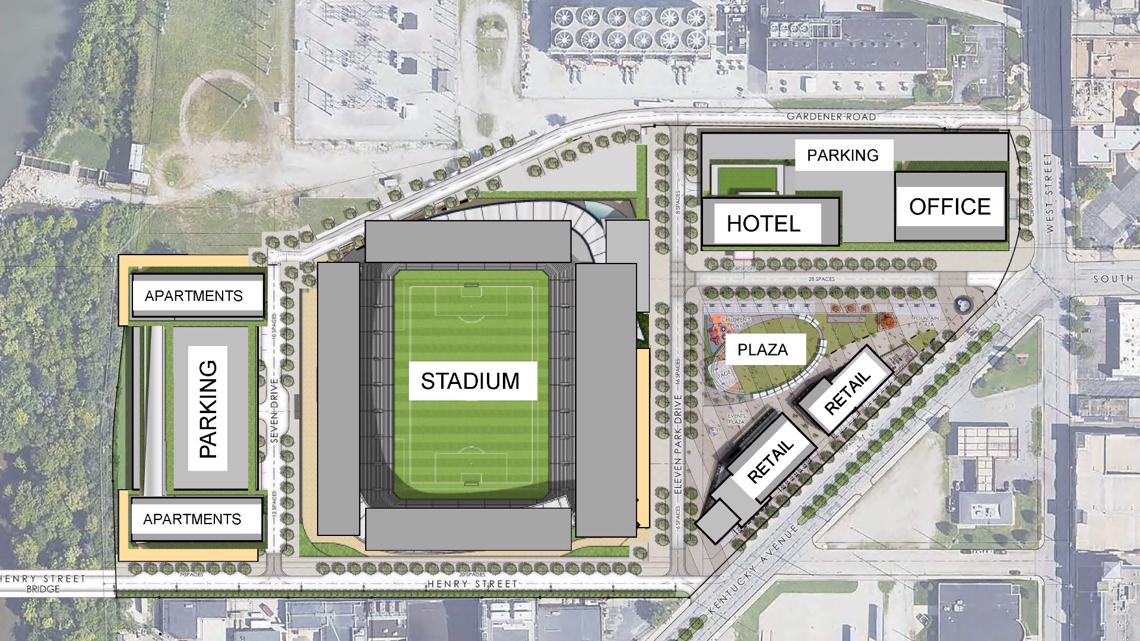 The site borders West Street, Kentucky Avenue and the White River.
The stadium, which is expected to be finished by summer 2025, will host Indy Eleven games for both its men's and women's professional soccer teams, as well as field sports — soccer, lacrosse, football, rugby and field hockey — for the NCAA and IHSAA, international matches, concerts and other community events.
This will be the first time Indy Eleven has its own permanent stadium. Right now, the team plays at IUPUI's Carroll Stadium.
"We love our partnership at Carroll Stadium and IUPUI and certainly the years that we spent at Lucas Oil Stadium, but the fact is this one is a little different. This is our true home," said Greg Stremlaw, President/CEO of Indy Eleven. "At the end of the day, soccer is the most popular sport in the world. It's a beautiful game and this is our way of also engaging Hoosiers and share with them how much we love the sport."
Indiana Sports Corp said a space like this will help them bid on more events and tournaments for the city.
"It will enhance not only our soccer experience in Indianapolis, but it's really going to help us when we bid on other events, such as Final Four," said Patrick Talty, president of Indiana Sports Corp. "That is a package that other cities can't replicate and copy. So that is a huge benefit for us."
Keystone Group said the project will generate more than 1,000 jobs in the area. They are currently working on an economic impact study.
A spokesperson for the city said, "The City continues to engage with the Indy Eleven and Keystone on their plans for Indy Eleven Park. Located near significant city infrastructure investments, the site is critical for the future of downtown and activation of the White River."