INDIANAPOLIS — Megabus announced it will resume services in Indianapolis, and aspiring passengers could get their hands on a quick trip out of town just in time for spring break.
Back in January, Megabus, one of the largest bus companies in North America, announced a partnership with Miller Transportation that would have connected Indianapolis and Bloomington with 32 other cities. The services marked a return of Megabus to the Circle City after they canceled services here a few years ago.
But Megabus backtracked a little over a month after that announcement, saying they would not be offering Indianapolis trips after all. By Feb. 23, the company had voided customers' tickets.
Representatives with Megabus now tell 13News cancellations of those services were not their call. While the other services would have been offered in partnership with the Indianapolis-based bus charter company Miller Transportation, the recently announced services are being offered in collaboration with Burlington Trailways, a company based out of Iowa.
"Megabus had to cancel trips from Indianapolis to other Midwest cities operated by Miller Transportation effective February 23. This was due to a business decision made by Miller Transportation. Today's announcement is separate and is in partnership with Burlington Trailways, not Miller Transportation," a spokesperson with Megabus told 13News in an email statement.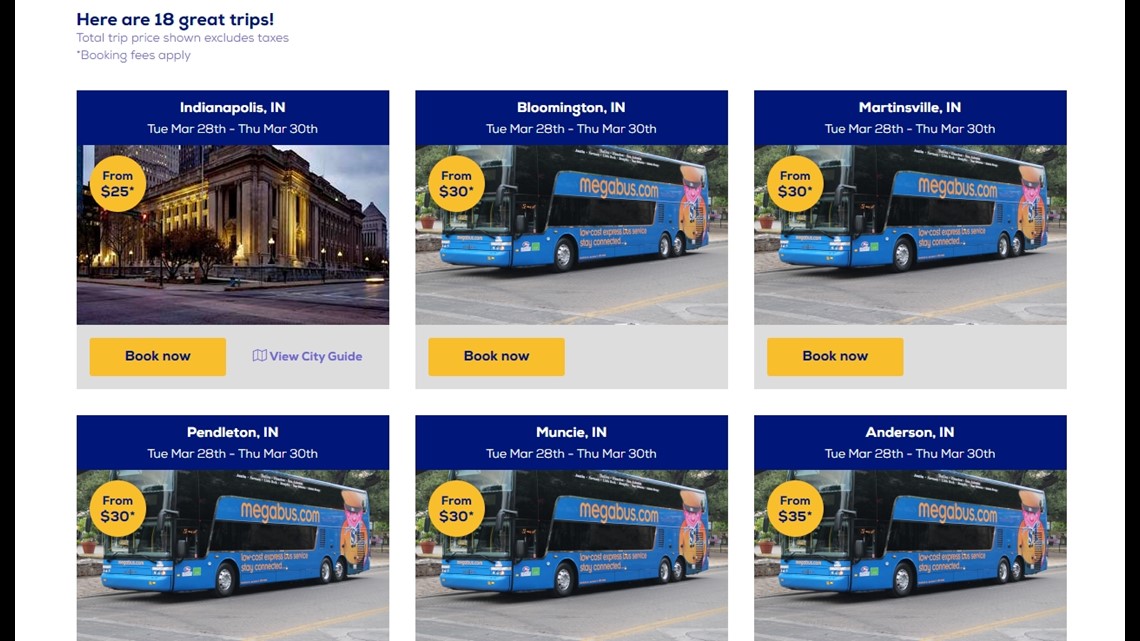 A quick search from 13News found Megabus tickets from Indianapolis to several destinations throughout Indiana and Illinois available now on the site that from range from $25 to $135.
Megabus representatives added this current partnership will allow for expanded service options for 48 Midwest cities, which include daily trips between Indianapolis and 22 cities, including Des Moines, Denver, Omaha and Champaign.
More services will be offered between Chicago and 12 cities, Denver and 22 cities, Des Moines and 33 cities, Iowa City and 20 cities, and Saint Louis and 11 cities.
New service will offer trips between Indianapolis and the below cities:
Denver, CO
Sterling, CO
Ogallala, NE (MT)
North Platte, NE (CT)
Lexington, NE
Kearney, NE
Grand Island, NE
Lincoln, NE
Omaha, NE
Des Moines, IA
Monroe, IA
Oskaloosa, IA
Ottumwa, IA
Fairfield, IA
Mt. Pleasant, IA
Burlington, IA
Monmouth, IL
Galesburg , IL
Peoria, IL
Bloomington/Normal, IL
Champaign, IL
Danville, IL (CT)