INDIANAPOLIS — The Marion County Coroner's Office is releasing its findings into the death of a 39-year-old Indianapolis man who died in police custody April 25.
The Marion County Coroner's Office ruled Herman Whitfield III's death a homicide and said he died from "cardiopulmonary arrest in the setting of law enforcement subdual, prone restraint and conducted electrical weapon use." The coroner's office also said morbid obesity and hypertensive cardiovascular disease were contributing factors in Whitfield's death.
A toxicology report determined Whitfield had marijuana in his system at the time of the incident. The coroner's office said no other alcohol, drugs or medications were detected.
The case was presented to the Marion County Prosecutor's Office on July 22, 2022.
The family said their call to 911 on April 25 was to request an ambulance to come and help them with getting mental health care for their son. Instead, they said the officers arrived.
The lawsuit claims the officers used a stun gun on Whitfield and then "crushed the breath out of an unarmed, non-violent Mr. Whitfield."
The lawsuit also claims the officers ignored Whitfield's cries of "I can't breathe."
The family said the claims in the lawsuit are supported by police officers' bodycam videos. Those videos were released to the public on June 28, more than two months after Whitfield's death.
The lawsuit asserts there was no reason for officers to have used a stun gun on Whitfield and that officers violated their own training by leaving Whitfield face-down after he was restrained.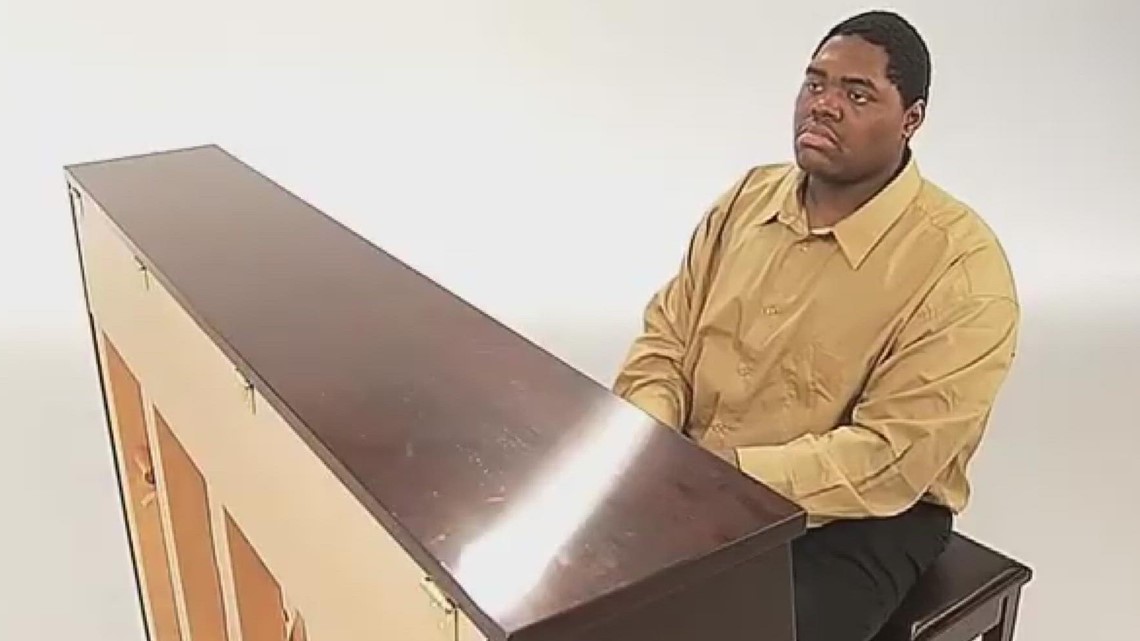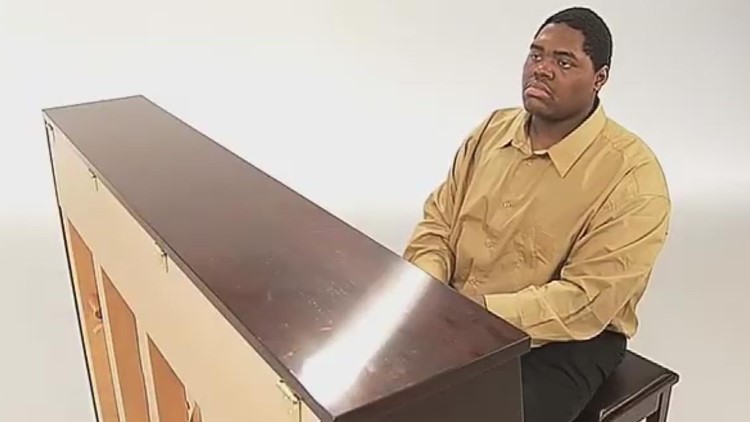 Waples & Hanger released the following statement on behalf of Whitfield's family:
The Coroner's findings are consistent with the body cam videos showing police officers shooting Mr. Whitfield with a taser then restraining him face down even after handcuffing and after he says "I can't breathe." The autopsy report is consistent with the family's federal lawsuit filed against the City of Indianapolis and the officers who caused Herman's death.
Mr. Whitfield did not present a danger to the officers, and there was no need to taser him. Moreover, the officers violated their own training by keeping Mr. Whitfield handcuffed face down after he was restrained, and after he had told them he couldn't breathe, and when he was not moving or breathing, which led to this death. For over twenty-five years, the policing community has agreed that officers should not 2 keep a restrained individual in the prone position because of the significant risk of death. Mr. Whitfield, who was in his family home, needed professional mental health care, not the use of deadly force.
The Whitfield family calls upon the Indianapolis Police Department to release all body cam videos which depict their son's unnecessary death. They also call upon the City to immediately expand its crisis intervention teams to be available 24/7 so that this type of tragedy is not repeated. IMPD should also honestly respond to the misconduct of its officers which led to Herman's death.
The Indianapolis Fraternal Order of Police shared the following statement with 13News after the coroner's report:
First and foremost the outcome of this incident is a tragedy for all involved and we extend condolences to the family of Mr Whitfield.
We also recognize the emotional trauma for the officers involved who were called to the scene to intervene and assist during this matter.
We await a full and fair review of the facts surrounding this evolving investigation based on the facts known by those involved at the time of the incident, including the officers on the scene.
Meanwhile, it is important to remember a determination of homicide does not mean the actions of the officers were criminal in nature.
In fact, of the five legal manner of death options available to the coroner, it is often the term chosen to describe a death occurring in a struggle with another.
To date, there is no allegation of criminal culpability and it's apparent several contributing factors were involved. Yet the outcome remains tragic nonetheless.
Our professional police officers remain focused on providing service and protection for all in Indianapolis as this matter remains under review.
IMPD claims
According to IMPD, officers were called to the 700 block of Marrison Place, near North Sherman Drive and East 42nd Street, around 3:20 a.m. April 25. A man told officers his son was "having a psychosis" and asked for an ambulance, which was then called to the home.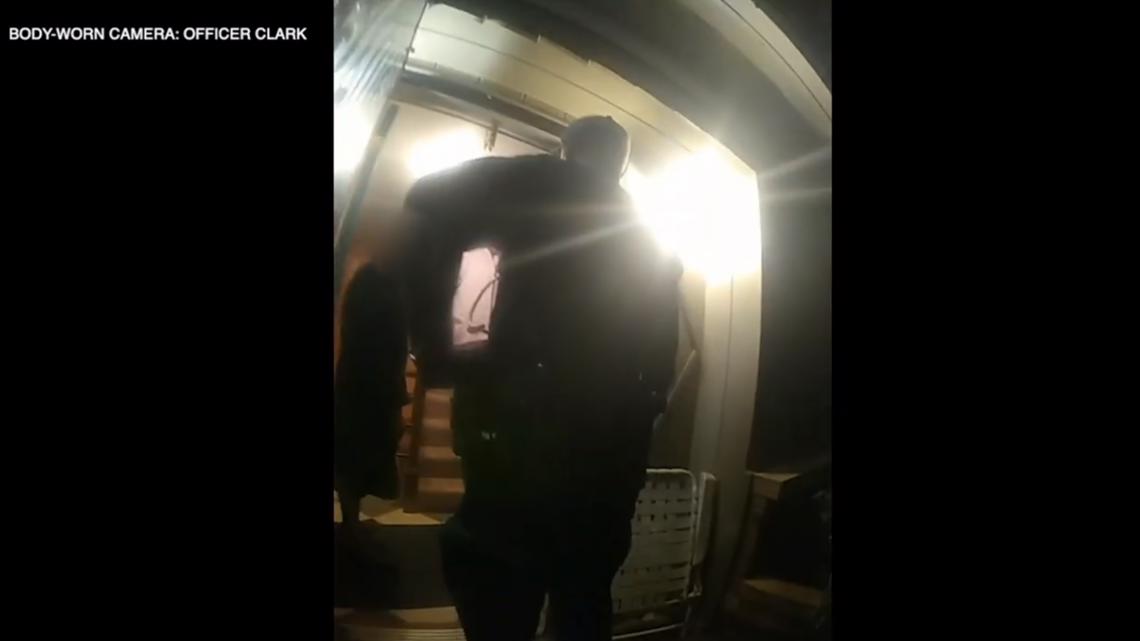 According to IMPD, Whitfield was bleeding from the mouth and was moving around the home, naked and sweating. Officers lost sight of him several times.
IMPD claims officers used de-escalation techniques.
In the bodycam video, Whitfield can be seen at one point rushing out of a bedroom and into the kitchen. You can hear items banging around as IMPD claims Whitfield was throwing items. An officer can be heard telling Whitfield, "Put it down. Hey! Stop picking things up!"
Whitfield then rushes out of the room and into a dining room area. An officer in that area had his stun gun at the ready and used it on Whitfield twice. You can hear Whitfield shouting "fire."
IMPD claims Whitfield "moved quickly towards an officer." That officer deployed a stun device, but police said Whitfield continued to resist.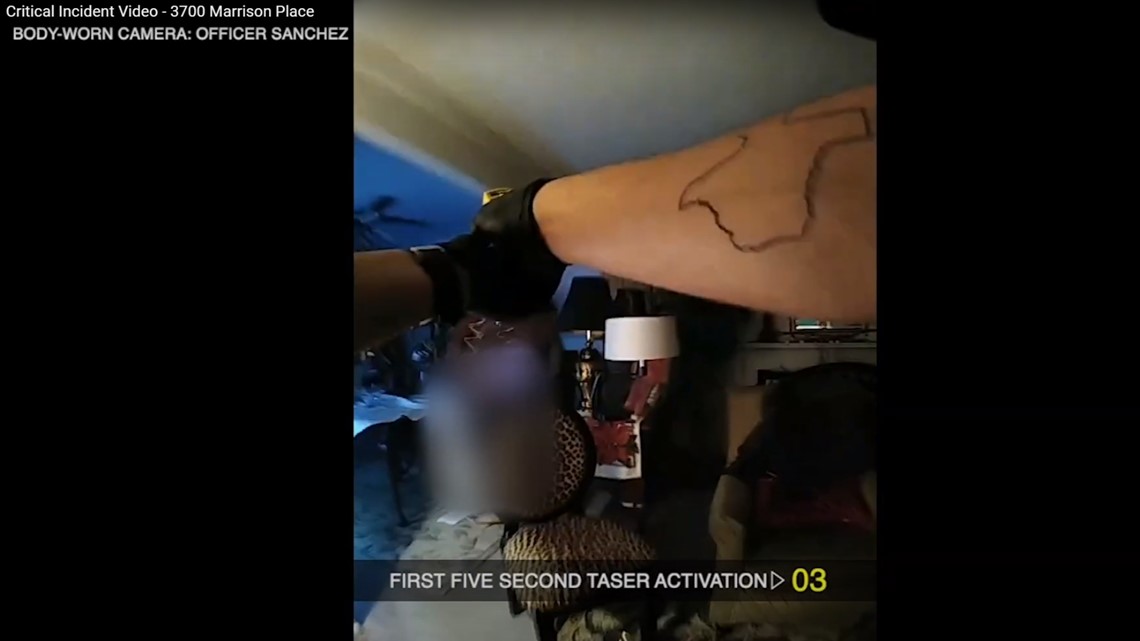 Proper IMPD procedure requires officers to give a verbal warning before using a stun gun when possible, then aiming below the chest and heart when pulling the trigger. IMPD originally said one of the stun gun's probes hit Whitfield in the chest. But in a revised release days later, IMPD said the probe actually hit Whitfield in the abdomen. IMPD said that revised information comes from the autopsy and review of officers' body-worn cameras.
Data from the stun gun was downloaded and showed it was deployed twice. It fires for five seconds and was then deployed a second time four seconds later.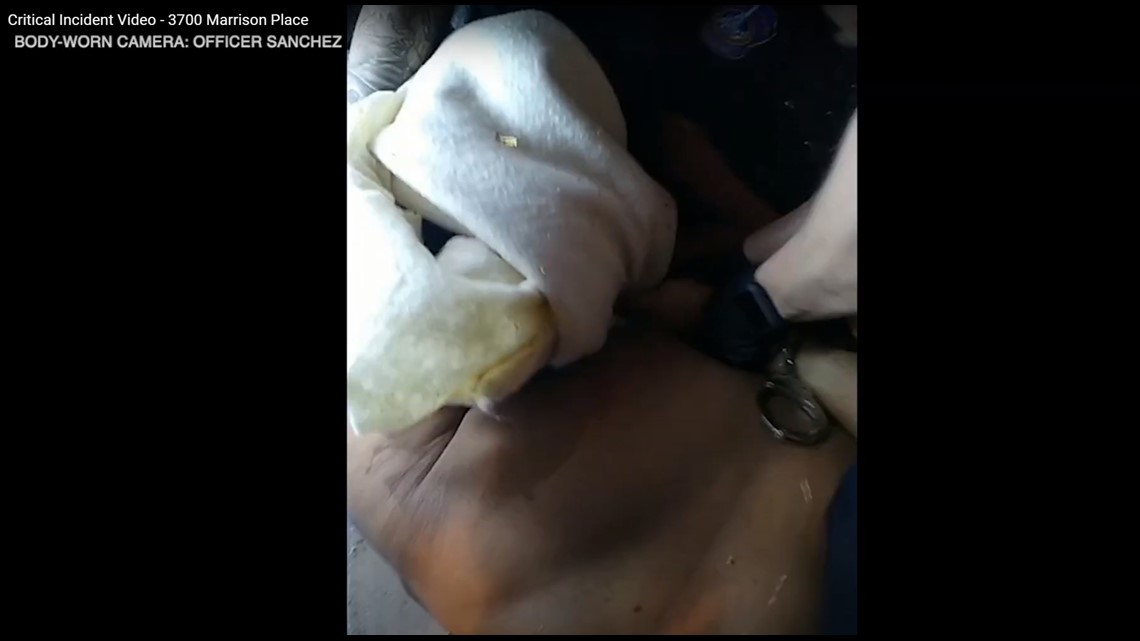 Whitfield was eventually restrained using two pairs of handcuffs. IMPD said linking two pairs of handcuffs typically provides "more comfort to larger individuals." Whitfield was approximately 6'2" tall and weighed 280 pounds, according to police.
During that time, you can hear Whitfield saying "I can't breathe" as officers place the handcuffs on him. Whitfield can be heard wheezing and then going silent.
An IMPD public information officer said, "once the man was detained, medics, who had been waiting outside for the scene to be safe to enter, were requested to come inside the home. The bodycam video appears to confirm that request was made at that time.
In the video, Whitfield remains face-down with officers' hands on his back, holding him down. He does not move or make any sound.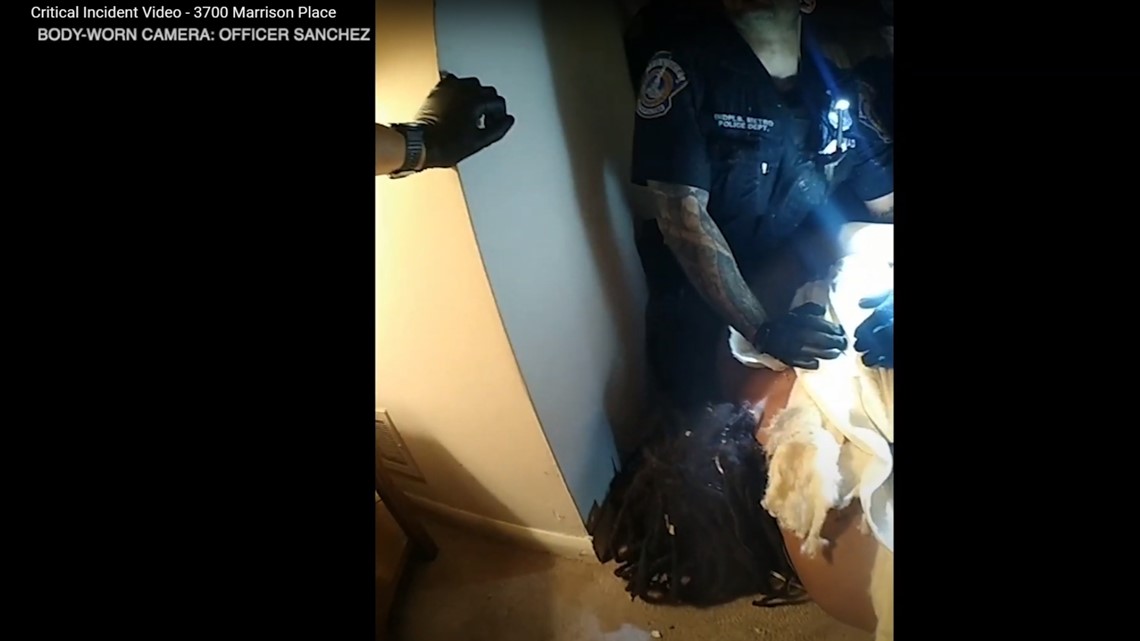 The IMPD video is edited and does not show the time between when officers handcuffed Whitfield and the medics arrive. IMPD claims in the video that it was approximately three minutes later.
At that point, medics asked the man to roll over and he did not respond. After medics checked for a pulse, Whitfield was unhandcuffed, and medics and several officers administered CPR, according to IMPD. The edited video does not show Whitfield's handcuffs being removed or CPR being performed.
Whitfield was taken to a hospital, where he was pronounced dead a short time later.
What other people are reading: