Data from a recent IPS study showed Black and brown students are performing better in other Marion County schools than those in IPS schools.
In just a few weeks, IPS is expected to release details of "Rebuilding Stronger," its proposal on how the district plans to improve student achievement.
Some IPS parents want to know what changes are coming to central Indiana's largest school district.
Dozens of them showed up at Thursday's school board meeting to let the board know their concerns, and what they want — and don't want — to see in the proposal, and what that means for their kids.
"We deserve to see the active proposal and to have time to reflect and comment on that," one parent told the board at Thursday night's meeting.
"A really big concern of mine is what's going to happen to our neighborhood schools," said another mom.
Parents wanted to know if some K-8 grade schools could be closed or consolidated, making some kindergarten through fifth grade.
"There's a reason all the private schools I can't afford to send my kid to are K through 8," said one mom, to the loud applause of other parents. "You can't dismantle something that's working. We should be building every school up to the high standards we have for these choice schools."
District officials have said they're considering consolidating some schools as they look for ways to increase student performance and resources across the board.
"There are disparities in the experiences our students have," said IPS Superintendent Dr. Aleesia Johnson. "Those disparities often come at the expense of students from under-resourced communities and often come at the expense of our Black and brown students."
Thursday's board meeting came just a month after the district released its ILEARN Scores for 2022, measuring language and math skills for third through eighth grade, as well as high school biology. Those scores show that while Black, Hispanic, and white students all saw improvement in 2022, white students achieved greater improvement.
"It's not because Black and brown students are less intelligent. It's not because they are any less capable. It's all because of the opportunities that they receive and the access to high quality performing programs," explained A.J. Lucky with Stand For Children.
Lucky said parents with Stand For Children have looked at the data and want the district to take action. They want IPS to look at schools both in and out of the district where Black and Brown students show high achievement and replicate those programs districtwide.
"The message is simple: Parents have been advocating for years to replicate and grow schools that work for all students," Lucky said.
"We have to act," Johnson said at the meeting.
What actions the district will take, though, is still in question. The Rebuilding Stronger proposal is expected to be released to the public on Sept. 13. Parents will have time to comment and give feedback through October.
The school board is expected to vote on the proposal in November.
"You can see only about 9.9% of students pass both the ILEARN and math portions in 2022. That's a huge gap," said Lucky.
"This is an issue of equity and students having access to high quality programs and school models," said Lucky.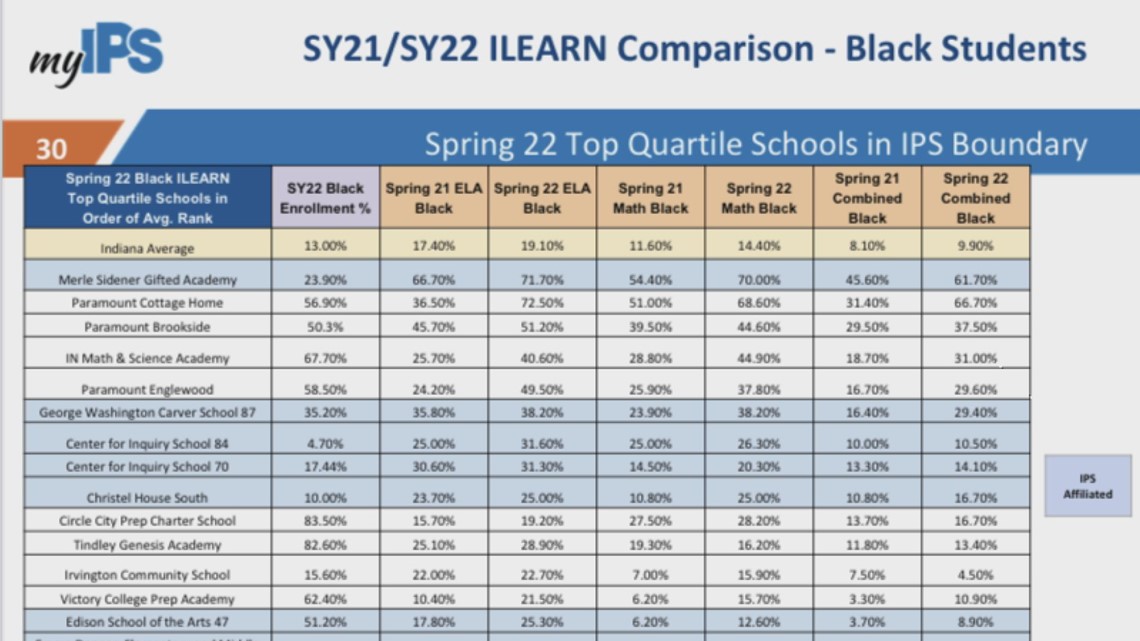 An IPS graphic shows Paramount Cottage Home school has 66% of their Black students passing both ILEARN math and reading portions, and they also have 56% enrollment of Black students.
"Their programs are working here for students, and we should be using these programs across the city," Lucky said. "I think it starts with strategic partnerships that are based on data not based on popular schools or school types."
They believe doing this will have a positive impact on our community.
"We know when a student is performing well," said Lucky. "They end up being super productive and super successful members of society."
What other people are reading: