In New York, a dramatic shift turned skies a hazy orange in just three hours Wednesday.
In Indianapolis, an air quality alert is in effect.
With these hazy conditions not going away, city officials are urging people with sensitive respiratory systems to stay inside.
The potential for a clear June day was once again blocked by smoke and haze around Indianapolis.
Gabe Filippelli, who works at Indiana University's Environmental Resilience Institute, said smoke sent south by Canadian fires are leading to concerning air quality levels in central Indiana.
"I've been paying really close attention to air quality," Filippelli said. "We have a monitoring network here in Indianapolis that we deploy for research purposes, but it's also a community science network. And the minute I walked out on Monday and was barraged by smoke, I went straight to the sensor network and you could see throughout Indianapolis very dangerous air quality."
Filippelli said he's never seen levels this high across the entire city. The area is under an air quality alert for Wednesday and into Thursday.
"There's so much smoke coming from these fires that it's staying here. So the air quality today was only marginally better than it was Monday night," Filippelli said.
The hazy, smoky conditions are not expected to improve just yet.
"So, Indianapolis has something called the Air Quality Index and right now, it's hovering around 100-130, which is the unhealthy range for sensitive groups. My daughter in Jersey City, in New York City, it's 400," Filippelli said. "So air quality today in New York City was actually worse than it was in Delhi, India, which is the most polluted city in the world."
That orange haze in New York is worrying people around the country.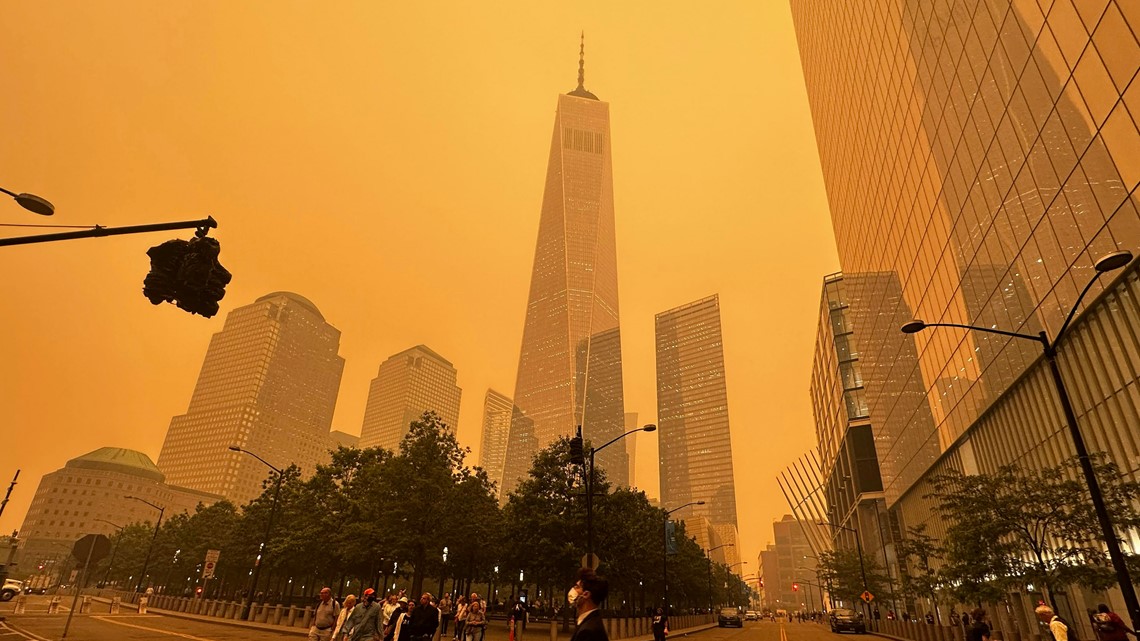 Dr. Graham Carlos, a pulmonary critical care doctor at Eskenazi Health, said Indy's air quality levels are concerning, too, not just for those at high-risk for lung and breathing issues but now for everyone.
"When you're over 150 on the AQI, that's when even healthy lungs can start to become affected. As of right now, in Indianapolis this evening, our number is 146. Yesterday, we very briefly peaked at 155. So should that number keep going up through the night and into tomorrow, it could effect everyone and not just people who have lung trouble," Carlos said.
This smoke can cause coughing, shortness of breath and flares for those with asthma or emphysema, according to Carlos. That's why limiting exposure is key.
"Longer exposure is going to create more inflammation in those airways and nasal passages. Thankfully, we're not nearly at the level here in Indiana that they're seeing in Pennsylvania and New York," said Carlos.
And, he said, if you are having trouble breathing it's important to seek care.
"If you are having trouble breathing, it's good to get checked out. We know that when people die of asthma, what really gets them is they wait too long and they suffer at home, they don't go to an emergency department. We have great healthcare systems here in Indiana," Carlos said. "Just go, get checked out, get those treatments you need. Don't try to ride it out at home because that's when you get dangerous."
With the air quality alert in effect Thursday and likely Friday, Carlos recommends taking extra caution by limiting time outside, avoiding strenuous activities during the day like exercise or mowing the lawn.
The city of Indianapolis is calling for a Knozone Action Day Thursday. Leaders are asking people to not burn trash or yard debris and to avoid bonfires and barbecues.