INDIANAPOLIS — The life of a seven-year-old first grader killed in her school crosswalk will be honored with a makeover of the playgrounds at George W. Julian IPS School 57.
The sign in front of the school, just yards from where Hannah was hit by a car, reads "Remembering Hannah" in red letters. But Hannah is best remembered on the playgrounds behind the school.
"I automatically think of Hannah on this playground, every time," said Hillary Brown, a parent of a School 57 student and co-chair of the school's PTSA playground. "I can see her here clear as day. But we need some joy and some love and this is the best way that we can think to help honor that."
Hannah was walking home with her mother and older sister. When they stepped into a crosswalk, a car struck Hannah, her mother, and a crossing guard. Investigators say the accident was caused by two aggressive drivers in a road rage incident.
About 90% of the students at School 57 live nearby in the Irvington neighborhood. Many of them play on the playgrounds almost every day after school. Hannah was one of them.
"The students, in processing their grief, decided that they wanted to create a beautiful and a joyful space to remember Hannah and honor who she was as a person," said Michelle Pleasant, School 57 PTSA president and a school parent.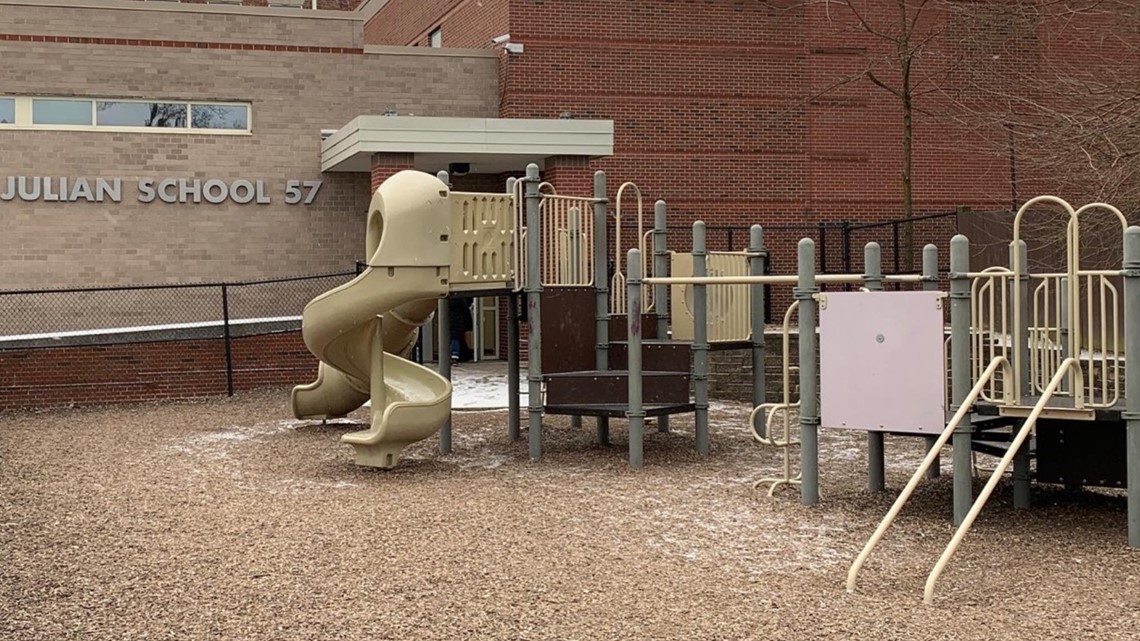 "Some fourth graders and I were out here one day after the accident," said Haley Lovan, School 57 social worker and a member of the playground committee. "They were just talking about how it's kind of like 50 shades of beige and boring. They wish it could be colorful and a fun place that they could remember Hannah, because they did spend so much time out here playing with her."
The website includes a message from Hannah's family:
Hi. My name is Cassandra, and I am Hannah's mother. Along with her father Jeremy and big sister Charlotte, we are so grateful for the support and compassion that the wonderful families and staff at George W. Julian have given us. I thought I would share a little bit about who our Hannah was. She was always a kind and caring girl who showed empathy at an early age. She loved to make friends and have play dates. She enjoyed being outside and loved nature and bugs, especially butterflies, cicadas, and praying mantises. She always wanted to stay after school to play on the school playground with other students. She had her own sense of fashion which always included lots of colors and patterns. She was a bold and adventurous girl who loved to try new things. She enjoyed going to school at George W. Julian, and we think that updating the playground would be a great way to honor her. Thanks for your support!
Organizers hope to add some colorful new equipment and artwork to the playgrounds and have the makeover completed by next school year.
Charges have been filed against two people for the crash that killed Hannah. Torrell King faces three charges, including reckless homicide and criminal reckless. Investigators say a 17-year-old who has not been named caused the crash when she swerved and hit a third car that hit Hannah and the others.