INDIANAPOLIS — Music and the sound of clanking weights plays in the background as Columbus Caudle works to becoming stronger – building muscle so he can relearn how to stand and walk. A shooting one year ago this week paralyzed Caudle from the chest down.
"My core has came back a lot," he said. "Like so much as gotten stronger."
Caudle is no stranger to hard work. Or the gym. He just didn't think he'd spend the last year in physical therapy.
He went from being a star high school basketball player to learning to walk again.
Caudle was shot in the back while attending a graduation party May 31, 2022.
The paralysis squashed his plans of heading to Alabama State University to play Division I basketball. The goal – make it to the NBA like his uncle, NBA great Shaquille O'Neal.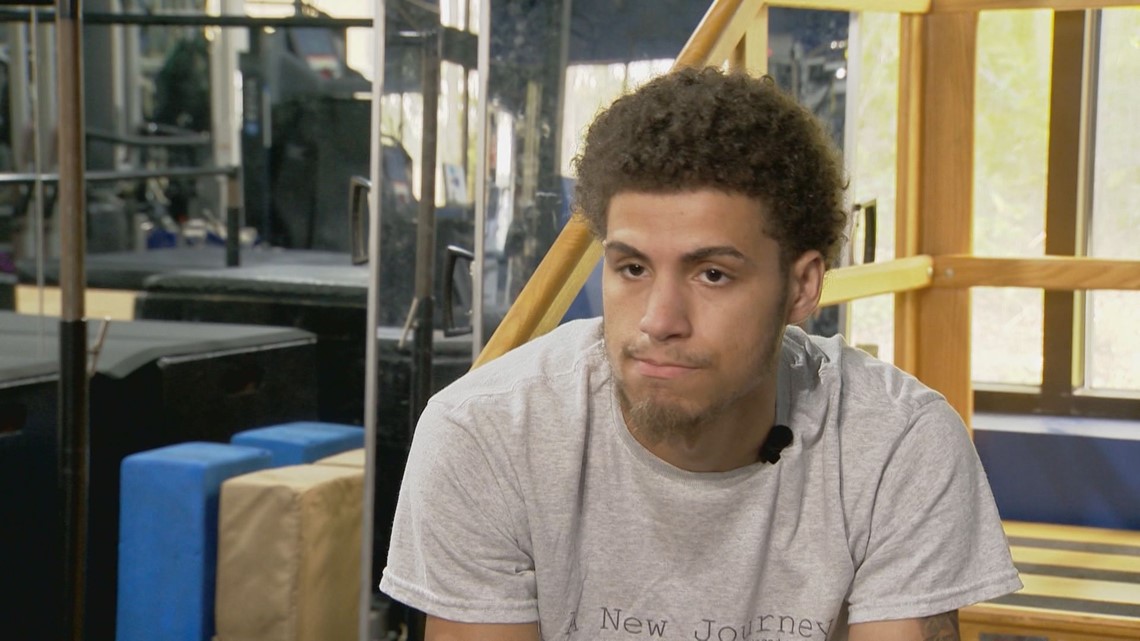 Caudle is continuing with his studies virtually and focused on building up his body.
"My goal is to get back on my feet, and hopefully go play basketball - is what I'm leaning for," he said. "But right now, I'm just fighting to get on my feet."
Now, instead of studying game videos and plays, he reviews physical therapy sessions that he records on his phone. Caudle said the videos help motivate him and help him see tremendous progress already. He went from being paralyzed from the chest down to now having feeling around his belly button.
"I (didn't) even know where my legs were," he said, explaining what it was like right after the shooting.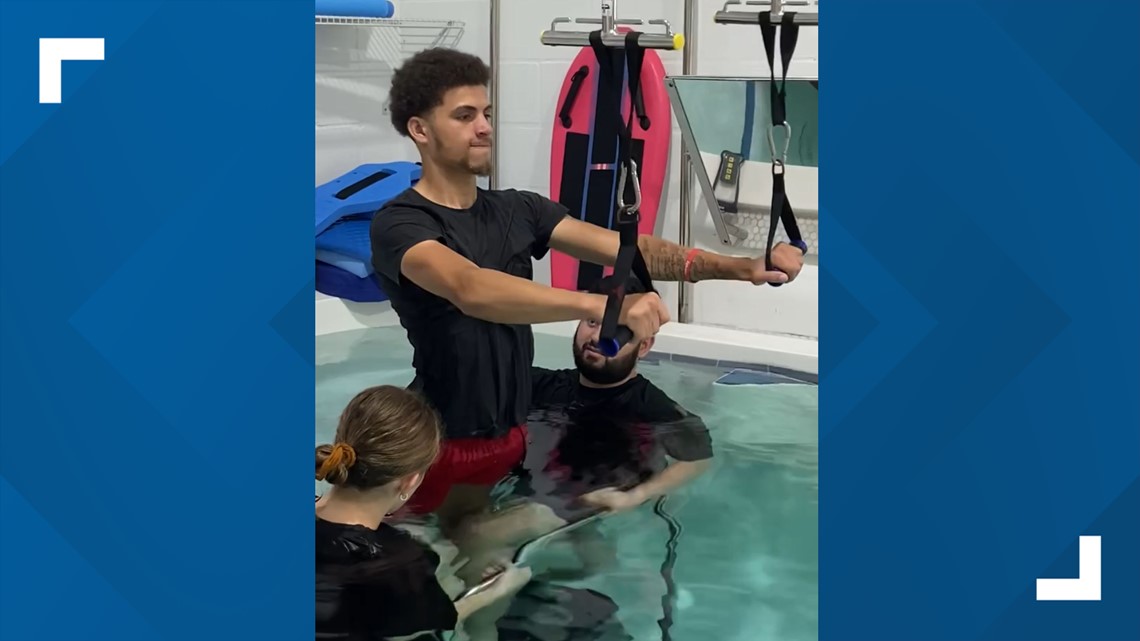 "Now I know, like when somebody would take my leg, like lift it up," he said, "I know you grabbed my leg. But before, I'm telling you, I couldn't feel nothing at all. So, it's ... it's really a blessing that I have today."
Caudle lives in Florida, near family. Three times a week, he heads to Center of Recovery & Exercise (CORE) in Altamonte Springs, Florida, outside Orlando. His physical therapy team there even gave him an award for inspiring others.
The gym in Florida can seem like a world away from Indianapolis where he was shot, and his case remains unsolved.
"I have put that in the past just for the best," he said.
Caudle would like officers to solve his case, but he said it's not his focus.
Every person handles the moving on process differently. Other victims of gun violence and families of those who have died told 13News they are very focused on solving the crime and finding justice.
Money to help victims and their families
The state of Indiana sets aside millions to help victims of violent crime reclaim their lives. The Violent Crime Victim Compensation Fund is money specifically designated to help pay for medical, mental health and funeral costs.
People who were injured in a violent crime or some close family members of people killed in a violent crime are eligible. Also, someone who was injured or killed while trying to prevent a violent crime or helping a law enforcement officer can receive assistance. People who were injured or killed while participating in, attempting, or committing a criminal act do not qualify for assistance.
Other qualifications to receive money include that the crime must have happened in Indiana, the injured person must not be incarcerated, and the injured person must have incurred at least $100 in out-of-pocket expenses for treatment of a physical injury.
Starting in July 2022, the fund also started providing help to family members of victims who have paid a portion of funeral or burial costs and children who witnessed a crime but were not physically injured.
In 2021, the fund gave out more than $6.5 million dollars. Eligible survivors and families can receive up to $15,000 for medical expenses, a max of $3,000 for mental health care and up to $5,000 for funeral costs.
Many victims do not receive money
Nichole Clanton survived a shooting last year and lost two sons to gun violence. She knows the aftermath can be expensive.
She still has hospital bills from both her sons' shootings. Nineteen-year-old DuJuan Love was killed in 2018. Three years later, younger brother DuVuan Love was killed in an unrelated shooting.
"Yeah … that's my kid," she said. "It's on me at the end of the day."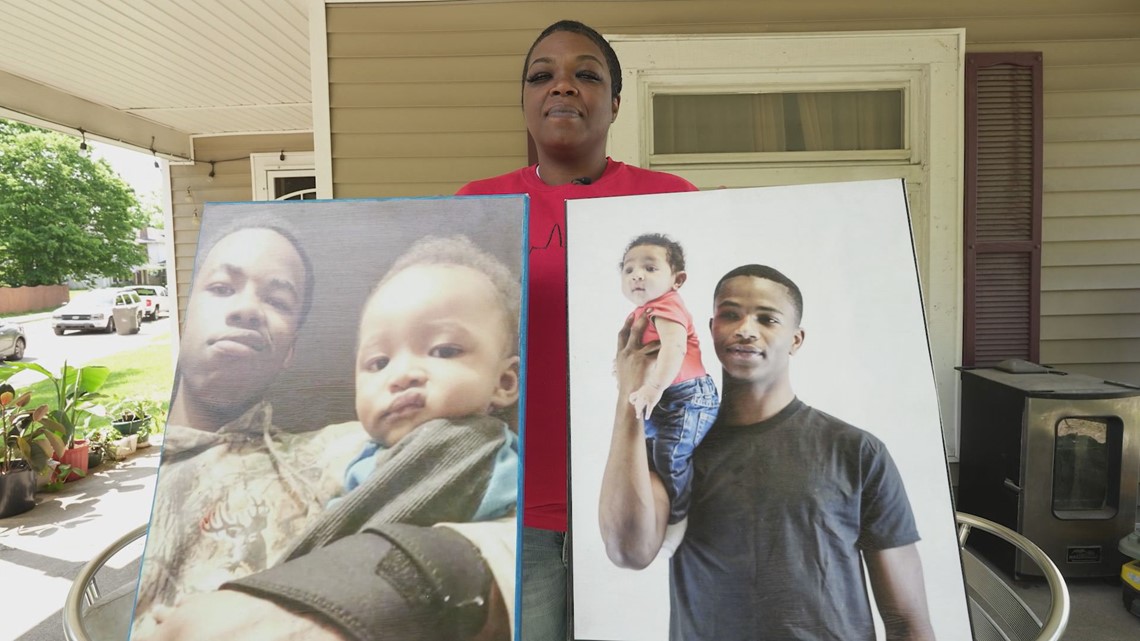 Nichole said someone told her there was help available after her sons died. She remembers receiving flyers and papers, but said she wasn't ready to process that information then.
"I was in a state where I might not even open up mail," she said. "I wasn't mentally stable to fill out a form and make a phone call and follow up and try to get help."
She never received any victim's compensation.
The state fund gives victims of violent crimes and their relatives two years to make a claim. Hundreds of Hoosiers apply for help every year. During the 2021 fiscal year, there were 922 new applications. Only 153 were approved.
The Indiana Criminal Justice Institute runs the fund. 13 Investigates went to the institute's executive director to ask why 77% of applications were denied.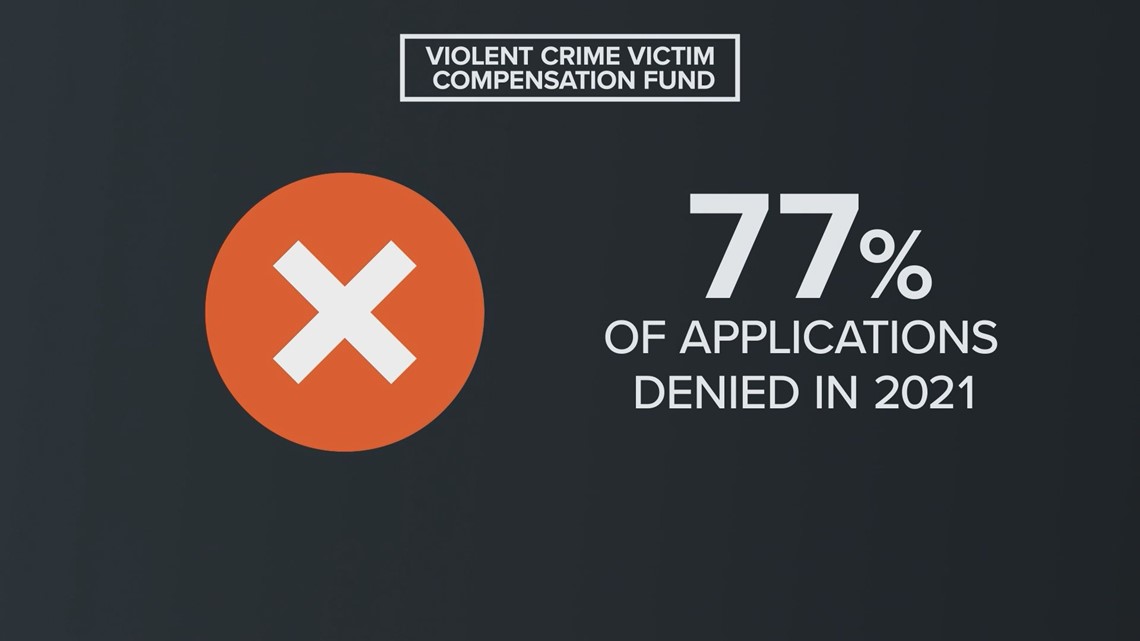 "That number is kind of odd," he said. "It looks very drastic, but unfortunately, we see a lot of folks are denied because they may file an application, and then we're not able to follow up with them, their phone has been disconnected, or we send them … an acknowledgement letter through the mail, and all of our mail gets returned, and they never follow up. "
As a way to help solve those challenges, McDonald said the fund now allows for online applications. He said applying using the website makes it easier to update information and gives applicants a way to track the status of a claim. McDonald also encourages victims to follow up on their claim every 30 days.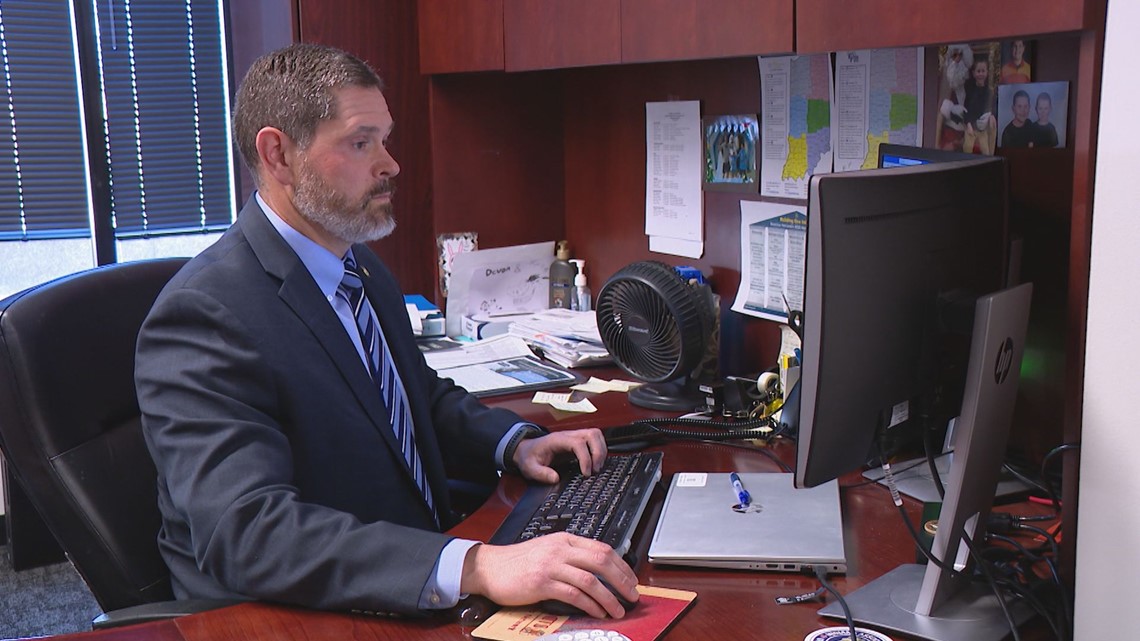 Some victims we spoke to, like Caudle, say they didn't know about the fund.
Even without the extra help, he's focused on the future.
"I just don't give up," he said.
His goal is to go to college on his feet. While doctors told Caudle there was just a 5% chance he would walk again, he's not letting the odds discourage him.
"I believe that you can do anything that you put your mind to," he said. "So, like, I believe that I can conquer this."
Caudle and Clanton were both shot the same week of 2022. They are two of 31 shooting victims in Indianapolis the week of May 29 through June 4 of last year. Five of those victims died. Twenty-six survived.