DELPHI, Ind. — During Thursday afternoon's pre-trial hearing for Delphi murders defendant Richard Allen, the prosecutor and defense team debated whether Allen should remain in custody at Westville Correctional Facility or be moved to a county jail closer to Delphi.
The Westville prison warden testified at the hearing and, for the first time, provided very specific details about the cell where Allen is living and the accommodations he is offered while awaiting his January 2024 trial. Westville Correctional Facility warden John Galipeau testified:
Allen is living in the prison's A-pod, which is a segregated maximum security unit with additional security within the prison. The unit houses felons who have been convicted of serious crimes such as murder and child molestation.
The Delphi murders defendant is the only pre-trial (non-convicted) inmate currently housed in the prison's maximum security unit, and the only pre-trial inmate assigned to the unit during the four years that Galipeau has been warden at the prison.
Since arriving at the prison last fall, Allen has been living in a 12' x 8-1/2' cell that is equipped with a mattress on a secured bed frame, a toilet and a bible.
Allen's cell is equipped with a surveillance camera that records his activities 24 hours a day.
The warden assigned Allen to a segregated (individual) cell because the high-profile nature of Allen's crime involving children places him at a higher risk of retaliation and violence from other inmates. Galipeau said he would be concerned about Allen's safety if he were to place him in the general population of Westville Correctional Facility.
Allen is permitted to shower three times per week, and he is allowed one hour of recreation time outside his cell five times per week.
The defendant is provided three sets of clothing each week. He also has access to the prison commissary and has purchased socks, shoes and shirts, according to the warden.
Each inmate, including Allen, is provided an electronic tablet that allows him to listen to music, watch movies and make phone calls. Those calls can be accessed and monitored by a prison investigator.
Unlike other inmates in the maximum security unit, Allen is permitted to have face-to-face visits with his family.
When Allen is being transported from his cell to other locations within the prison, he is placed in chains/cuffs around his hands, feet and torso, and is sometimes transported with a restraint chain, which his defense team described as a leash similar to those used to walk a dog.
Allen has been on "suicide watch" since last fall. The warden testified that Allen's mental health seemed to decline a few months after he arrived when the defendant "received his legal paperwork."
Because he is on suicide watch, the Indiana Department of Corrections has stationed a prison officer outside Allen's cell around the clock. It used to be another inmate who was posted at Allen's cell door as part of the facility's "companion program," but the warden said that changed once Allen's mental state declined.
Allen has written the warden five or six letters while in prison. He did not elaborate on the topic of those letters.
He acknowledged Allen has lost considerable weight since arriving at Westville, but Galipeau said the defendant's vital signs have remained within a "normal range" and he receives almost daily checkups by the prison's medical and mental health staff.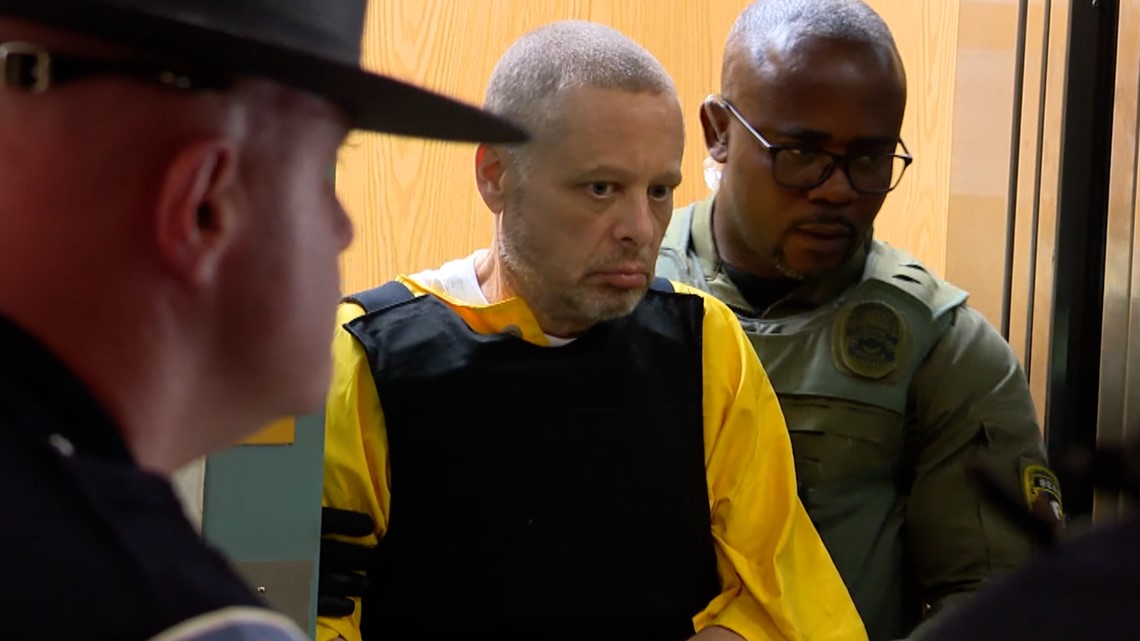 Galipeau and Carroll County prosecutor Nick McLeland said that Allen is receiving the same treatment as other inmates in the maximum security unit of the prison and, in some cases, is being treated better.
After Allen's arrest in October 2022, the Carroll County sheriff immediately asked the court for a "safekeeping order" to move the defendant out of the Carroll County jail due to fears that the small, understaffed facility could not ensure Allen's safety.
The request was granted. Allen was temporarily transported to the White County jail before being moved to the Westville Correctional Facility, which is 90 minutes from Delphi.
His defense attorneys have been attempting for months to get him moved closer to Carroll County. They have asked special judge Frances Gull to modify the safekeeping order to mandate a transfer to another facility that can be more easily accessed by his lawyers.
Defense attorneys claim Allen treated poorly
Allen's defense team told Gull that the defendant's physical and mental health have deteriorated dramatically since he arrived at Westville – so much so that at times, he is not able to actively participate in his defense during meetings with his attorneys.
Attorney Brad Rozzi took issue with the prosecutor telling the judge that Allen was being treated better than other Westville prison inmates. He said comparing Allen's treatment to other inmates at the state maximum security prison is an improper comparison because Allen should be treated as a pre-trial, non-convicted detainee – not as a criminal convicted of a heinous crime like the other inmates in the Westville A-pod unit.
During the court hearing, Rozzi and one of his office's college interns explained that visiting Allen at the Westville Correctional Facility was very difficult and offered them no privacy to meet with their client.
They said they were denied the ability to take their cell phones or laptop computers into the prison, so they could not show Allen thousands of pages of documents that will be used in his defense.
Rozzi also told the judge that prison guards videotaped his meetings with his client. He said during those meetings, Westville staff directed Allen to sit in a specific chair that faced a window, where prison staff stationed outside the room then videotaped the entire meeting through the window.
Guards required Allen to remain in shackles during his meetings with his attorneys. And when the lawyers asked for a cup of water for Allen because the temperature in the meeting room was over 90-degrees, the request was denied, according to legal intern Max Baker who accompanied Rozzi on his prison visits to see Allen.
"There is no privacy when we're meeting with him," Rozzi told the judge, adding that his time has been consumed with addressing Allen's detention issues rather than preparing his client's defense. "None of this facilitates an attorney-client relationship."
He also said the prosecutor failed to show an "imminent threat of bodily injury or death" to the defendant or others if Allen were moved to a local jail closer to Carroll County.
Carroll County Sheriff's Department staff claimed such an imminent threat was present when they asked the court to approve a safekeeping order to transport Allen to another facility last fall. But at Thursday's hearing, the county sheriff and chief deputy both admitted they are unaware of any actual threat made against Allen or their department's staff. They testified they were – and still are – concerned about the possibility of a potential safety threat if Allen is housed in the Carroll County jail.
An alternate plan
Earlier this year, Rozzi attempted to make arrangements for Allen to be moved to the Cass County jail, just 20 minutes from Delphi. That move was not opposed by either the prosecutor or the judge, but the plan never materialized due to opposition from Carroll County Sheriff Tony Liggett, Rozzi suggested.
The newly-elected sheriff testified Thursday that he is concerned about his department's ability to safely transport Allen between the Cass County jail and the Carroll County courthouse. Liggett said that 15-mile transport would be challenging due to the added security and manpower that would be required.
During the pre-trial hearing, when asked if Cass County is still willing to accept Allen at his jail, Cass County Sheriff Ed Schroder bluntly told the court "I don't want him" due to the extra hassles and security concerns of housing an inmate in a high-profile murder case. But the sheriff quickly added that his large, modern facility is well-suited to house Allen, and Schroder said he would accept the defendant if ordered to do so by the judge.
Schroder also said he would likely house Allen in an individual suicide-watch padded cell that is video monitored by jail staff. Any transportation would be the responsibility of Carroll County, the sheriff explained. If Allen is moved to a county jail, both the Indiana Department of Corrections and Indiana State Police are being considered as possible options for transports based on Carroll County's staffing limitations.
McLeland suggested the request to move Allen to Cass County was simply an attempt to make visits with Allen more convenient for his defense counsel, but he told the judge he would not oppose the request and "we'll leave it the court's discretion."
Rozzi countered the motivation for his request was to ensure Allen receives due process and equal protection under the law – not about convenience.
"This is not rocket science … We're not asking to put him in a Holiday Inn," Rozzi told the judge during his closing argument, reiterating the hurdles he's faced while trying to visit Allen at a maximum security state prison. "It's got to stop and I'm asking your honor to intervene."
Gull said she would take the testimony under advisement and will offer a decision at a later time. She did, however, agree to sign a restraining order to prevent staff at the Westville Correctional Facility from videotaping future meeting between Allen and his defense counsel.
The judge scheduled Allen's jury selection to begin on Jan. 8, 2024.