SOUTHPORT, Ind. — Nearly five years after Southport Lt. Aaron Allan was shot and killed, the man accused in the killing is standing trial.
Jason Dane Brown faces a murder charge in the deadly shooting. The prosecutor's office had been seeking the death penalty, but it was removed after Brown asked to waive a jury trial. The judge then ruled the prosecution had not established evidence for a life without parole sentence on Feb. 11.
The 6-day trial ended with the prosecution calling Brown's own mother.
In closing arguments, the prosecution argued Brown was likely on drugs when he shot and killed Allan.
The defense argued Brown had suffered a seizure and was not in control of his actions.
The judge will issue a verdict on Brown's birthday, Feb. 22.
Day 6 of trial
Rebuttal witnesses are set to be called Tuesday to finish the trial of Jason Brown in the killing of Lt. Aaron Allan.
Among those rebuttal witnesses will be Brown's own mother, who will be a witness for the prosecution. She will be testifying via video conference due to a COVID diagnosis.
Teresa Brown said her son doesn't remember much from the day of the July 27, 2017, crash and shooting. She said he remembers going to get cigarettes then waking up with gauze in his face. Teresa testified that Jason told her he remembers telling his passenger not to light up spice because he has bad reactions to it.
Teresa recalls Jason calling her when he had smoked spice and bit his girlfriend around 2015. Jason was scared, and Teresa went over to check on him. She also remembers Jason telling her about a bad incident with a stripper and using spice.
Teresa testified that she was using meth when she was pregnant with Jason. Jason tested positive for meth when he was born and was just 4 lbs, 13 oz at birth. Jason's father was manufacturing meth and went to prison when Jason was still a baby.
Teresa said Jason was dropped on concrete when he was 5 months old and was hospitalized with skull fractures. When he recovered, he was placed in foster care for five months. She also recalled a go-kart accident when Jason was 9 or 10 years old, where he may have had a head injury.
Teresa said her boyfriend slammed Jason's head against the wall when Jason was 14. The boyfriend broke his arm in the incident, and DCS was involved.
Teresa said Jason was walking around in circles after a 2008 car crash, confused and disoriented. She said he was just asking for his glasses. Prosecution followed up by asking, "Did you know he was high?" Teresa responded: "No"
After her testimony, final arguments began. The judge told 13News' Rich Nye that he will not issue a verdict today. The judge said he will consider the evidence and testimony and announce a verdict at later date.
The prosecution said the defense expert neurologist changed her theory on seizure when she realized Jason Brown's minor brain injury was caused by a grazing gunshot wound and not in the crash. (That expert, Dr. Pamela Blake, believes Brown suffered a seizure while driving that caused crash.)
The prosecution said Brown picked up Hasan London to go get high because he had not had any drugs in 13-14 hours. Right after the crash, the nurse asked Hasan, "What's he on?" "Are you on anything?"
The prosecution argued that the defense expert theory on Brown having a seizure while driving is not supported by the fact that Brown has never had a medically documented seizure and has not had a seizure in the last four years in prison.
The prosecution said the body cam video of Allan shows that Brown was having a bad reaction and hallucinations after smoking spice, something Brown had a history of doing. Brown's voluntary actions in shooting Allan were triggered by smoking spice, prosecutors claimed.
In its closing arguments, the defense said there is no evidence that Brown used any drugs that day. It claimed his urine screen does not prove when or how much drugs were used. The defense also pointed out, no blood screen was ever taken that would accurately show drug use.
The defense pointed out that no spice or cocaine was found in Brown's car, only marijuana. Police didn't search Brown's house for drugs.
The defense also said investigators made no effort to get a blood draw because they knew drugs were not a factor in the crash. They said investigators "horrifically failed" Allan's family and Brown by not getting a blood screen on day of incident. They went on to say that the investigation failure leaves reasonable doubt.
"When you don't do your job, you create reasonable doubt," said Denise Turner, Brown's attorney.
She went on to say there are no drugs and no motive. The evidence of Brown being in an altered state of consciousness, making nonsensical statements and movements, lines up with the defense's claim of a complex partial seizure.
"Not every story has to have a villain. Heroes don't have to be murdered to be heroes," Turner said.
The defense said the incident was "tragic and devastating" for both Allan and Brown.
"Lt. Allan is still a hero, and Jason is innocent of murder," Turner said.
13News spoke with Turner after closing arguments about her client.
"He was crying in court when we watched it. He feels horribly about what happened. It's difficult because he doesn't remember. He doesn't remember doing these things, but he feels awful. He has a son just that's just a couple years younger than Lt. Allan's son," Turner said.
13News asked Turner if Brown is in any way responsible for Allan's death.
"Criminally, no. Will it stay with him for the rest of his life? Yes," she said.
Allan's mother strongly disagrees.
"I don't get to see my son ever again. I don't get to tell him I love him every day. He took something away from me that I can never get back. He deserves everything he gets plus some," said Laurie Lowry, Lt. Aaron Allan's mother.
13News also tried to talk to the prosecutor, but they declined to comment before the verdict.
Judge Mark Stoner said he will take all the evidence and testimony under advisement and issue his verdict in the murder trial of Jason Brown in the deadly shooting of Southport Police Lt. Aaron Allan on Tuesday, Feb. 22 at 11 a.m., which will mark Brown's 33rd birthday.
Day 5 of trial
Houston neurologist Dr. Pamela Blake took the witness stand. She is the director of The Headache Center of Greater Heights. Blake testified about complex partial seizures in the temporal lobe of the brain, which she says can cause impaired consciousness, unresponsiveness to commands and last a couple minutes. People coming out of these seizures can be confused, disoriented, mutter and have amnesia.
Blake said complex partial seizures can be caused by genetics, brain tumors, head injuries, or stroke. She reviewed the case materials and interviewed Jason Brown. Brown told her that while driving, he suddenly "started to feel strange and thought he smelled spice blunt."
Blake said Brown told her that he wanted to stop at a gas station. He told her his last memory was waiting for a light to turn green. She also reviewed Lt. Allan's body cam video and concluded that Brown was unresponsive because he had suffered a complex partial seizure.
Blake observes in the body cam video that Brown's responses to Lt. Allan were inappropriate to the situation. She claims Brown is saying repeated stock phrases. She points out that Brown brushes the ceiling of the car with his hands, then rubs them together. Brown suddenly becomes inexplicably agitated.
Blake believes Brown suffered a complex partial seizure while driving that led to the crash. His symptoms and behaviors after the crash and before the shooting are indicative of someone coming out of a seizure.
Blake does not believe drugs were a factor in Brown's behavior in the crash or the shooting. She believes Brown might have also suffered a brain injury in the crash itself. Her opinion is that Brown was not in control of his actions and behavior when he shot Lt. Allan.
Blake challenged the credentials of a neurosurgeon that testified for the state as to his credentials to diagnose or observe a complex partial seizure.
The prosecution began its cross examination of Blake discussing how she charges about $350 an hour with an estimated $7,000 charged for her testimony in the Brown trial. The prosecution established Blake is not a seizure specialist and has not treated anyone with a seizure from epilepsy in 20 years.
Blake wrote in a previous email that it was possible Brown had a seizure while driving, but said she is now 99% sure Brown had a seizure driving. Blake said in a deposition that a brain injury from the crash had caused the seizure, but said she didn't have notes with her at the time she made those claims.
Blake said her theory did not change since the deposition, but evolved based on reviewing her notes. She believes a seizure started while Brown was driving. She said the crash did not cause a seizure but may have aggravated a seizure's effects.
Blake said Brown's passenger in the car the day of the shooting, Hassan London, told her that Brown suddenly started driving "extra fast." But Blake did not hear from London about any observed possible symptoms of seizure.
When Blake was questioned about Brown's possible history of head trauma, which could lead to a lower threshold for having a seizure, she said he was dropped on head as a baby and had multiple childhood accidents where he may have hit his head.
In a prison interview, Brown told Blake that he started using marijuana in fifth grade. When he was 22 years old, he said he remembered passing out after smoking spice. Brown did not tell Dr. Blake if he had a history of seizures in their prison interview. Blake admits there is no clinical documented history of seizures for Jason Brown.
The prosecution reviewed research about violent behavior during seizures by people with a lengthy history with epilepsy. Blake was questioned about what criteria would support that a seizure caused Brown to shoot Allan.
Blakes said Brown told her in a prison interview that he moved to Indy in 2014 to get away from friends who were using spice. He told Blake he used cocaine, but not on the day of crash and shooting. (Brown's urine analysis showed marijuana, spice and cocaine.)
In the prison interview, Blake said Brown told her that he started using cocaine Jan. 1, 2017. By the time of crash and shooting in July, Brown told Blake he was using cocaine daily, snorting up to 10 times a day. Brown told Blake he didn't use cocaine the day of crash and shooting because he didn't want his new girlfriend to know he was using cocaine. Brown told Blake he did not feel any effects that day from the absence of cocaine.
Blake acknowledged that Brown has had no seizures in prison for the past four and a half years, is not taking anti-seizure medication, and has never had a medically documented seizure.
When asked by the defense if there are any other plausible explanations for Brown's behavior and actions on the day of the shooting other than him having a complex partial seizure, Blake responded "no."
Blake told the judge there is no difference in Brown firing one or 18 shots as far as being in control of his actions during a seizure.
Arial Shelton, Brown's sister, also testified. She spoke about a previous car accident she and her brother were involved in as passengers. Arial said Jason did not want to seek medical treatment because he had been smoking weed. Arial said when Jason smoked spice, it "made him mean" and aggravated.
Ciera Brown, Jason's older sister, testified that she has seizures. Her first one was at 25 years old, nine years ago. She was told they can be hereditary. She thinks Jason may have had similar issues in his past, but she never talked to him about it. Ciera said Jason has always been a cautious driver. We call him a "grandma driver."
Brittany Powell testified she and Jason Brown had just started a relationship for a couple weeks before the crash and shooting. She lived in Ohio. She spent the night at Brown's place the night before incident. She did not see Brown take drugs that night or the next morning.
Powell said she thought Brown left his house to get cigarettes and give a friend a ride on July 27, 2017. She never talked to Brown again until about a month after the incident. She knew Brown had used marijuana, but not cocaine. He never used drugs or was intoxicated around her.
Forensic toxicologist Kevin Grant Schanks reviewed Jason Brown's urine analysis. Schanks said the spice found in the urine could have been taken within the past couple days and up to two weeks prior. He said there was no evidence of impairment from drugs in Brown's medical records from the day of the crash and shooting.
Schanks reviewed the evidence and said his expert opinion is that there is not enough evidence to support any sort of impairment to judgement from drugs, regarding Brown's behavior and actions in the July 27, 2017 shooting.
The defense rested its case. Brown told the judge he had decided not to testify. The state will now call rebuttal witnesses.
Day 4 of trial
Prosecutors are expected to conclude their witnesses Friday morning.
Carmel neurosurgeon Dr. Troy Payner took the witness stand to start the day. He only does brain surgery and performs five to six brain surgeries a week. He often treats patients who have suffered head injuries in car accidents. He reviewed medical records of Jason Brown and treatment from the car crash.
The defense is challenging Payner's expertise regarding identifying gunshot wounds to the head, and whether he can testify about whether Jason Brown suffered a head injury from the crash or a bullet after the crash.
The judge overruled the defense objection to Dr. Payner's expertise. Payner never treated Brown, he just reviewed Brown's CT scan taken after the crash and shooting. Payner saw non-severe brain bleeding near the hairline on Brown's forehead. He said the patient should have no major consequences.
Payner said he would expect the patient to have a full recovery from this non-severe brain injury. He saw a 6-7-centimeter laceration on the scalp at the same area of the non-severe brain bleeding.
Reviewing Brown's CT scan in court, Payner identified metal fragments in the laceration on Brown's forehead. He said he saw no major brain swelling and concluded this was a "mild brain injury."
Payner watched Lt. Aaron Allan's body cam video. It is his opinion that the minor brain injury did not happen in the crash because he sees no laceration on Brown's forehead in the video before shooting. He said if the laceration had already occurred, he would expect to see dripping blood. He said he saw no blood dripping from Brown's forehead of on the ceiling of the upside down car. Payner concludes the laceration and mild brain injury happened after the crash from a gunshot wound.
Payner testifies he sees no evidence of Brown having had a seizure. He said he saw Brown making directed, intentional movements inside the upside down car. Payner said that firing a gun 18 times is an intentional move. His conclusion from viewing the bodycam video and reviewing medical records of the laceration and "minor brain injury" is that Brown had no brain injury at the time of the shooting.
In response to the judge's questions, Payner said there is "tremendous evidence" Brown did not have a seizure after the car crash, there was no previous evidence of seizures, and there is no evidence he bit his tongue or had urinary incontinence. Medical personnel treating Brown after the shooting had no suspicion of a seizure, and there is no evidence of Brown having any seizures since that day.
Forensic toxicologist Dr. Sheila Arnold testified she reviewed the urine analysis of Brown. She confirms the urine analysis indicated previous use of drugs, but she could not say exactly when or how much.
Arnold said blood test indicates what is available to the brain to effect actions and behavior. (A blood screen for drugs or alcohol was not done on Brown at the time of the crash and shooting. A blood screen is preferred in legal proceedings.)
Judge Mark Stoner ruled the life without parole sentence will not be a consideration because there is not clear evidence that Jason Brown knew that Lt. Aaron Allan was a police officer. The death penalty was taken off the table when Brown agreed to a bench trial. The murder charge remains for the shooting.
The decision was made after a motion by Brown's attorney, who claimed it was clear Brown was incoherent after the crash. The state responded that expert testimony demonstrated Brown could have been under the influence of drugs. The judge agreed with the defense and took life without parole off the table.
The ruling came after the prosecution had rested its case. The trial will continue Monday as the defense presents its case.
Day 3 of trial
Day 3 of the trial for Jason Brown begins with IMPD Officer Joshua Fritsche on the witness stand. He arrived at the crash scene after the shooting had stopped. Fritsche testified that Brown had his eyes open and complied with orders to stop moving and show his hands. Fritsche helped remove Brown from the upside-down car after Brown's seat belt was cut. He handcuffed Brown, then took the handcuffs off for paramedics to treat Brown. He helped put Brown on the stretcher.
Fritsche said he heard Brown groaning in pain, but never heard any audible words. Fritsche pulled Brown's wallet from his back pocket and found an ID.
Richard Armberger from Indy Crime Lab examined all the guns fired in the incident. He testified that shell casings found at the scene were fired from Brown's 9mm gun, and that bullets recovered from Lt. Allan's body were fired from the same gun.
Forensic drug chemist Dustin Crawford from Indy Crime Lab testified that he tested material recovered on a digital scale in the glove box of Jason Brown's car, and it was marijuana. There was also testimony that a bag filled with several smaller baggies of suspected marijuana was found in Brown's car.
IMPD crash investigator Douglas Heustis testified that Brown's BMW was traveling at least 65 mph when he left Madison Avenue and crashed, flipping into a yard and through a fence.
Heustis testified that his crash investigation report was amended in 2018 to correct that a blood test for drugs and alcohol was not taken for Jason Brown on the day of the crash, which the original report indicated it was taken. On cross-examination, Heustis said he was never given an edict to get a blood draw from Brown for drugs and alcohol testing. He said a blood test needs to be taken within 3 hours of an incident for use in prosecution.
Hasan London, the passenger in Jason Brown's car when it crashed, took the witness stand in an orange prison uniform. He was brought to Indianapolis to testify as he is currently held in a federal prison in Kentucky. London said he was a friend of Brown for about two years before the crash.
London was given immunity for his testimony in this case, but claims he doesn't remember anything from the day of the crash. He also said he doesn't remember giving a statement to police or a 2019 deposition to the defense.
Previous witnesses have testified that London crawled out of the vehicle after the crash while Brown was still hanging upside down in the driver's seat. London was not in the car at the time of the shooting.
London was shown photos from the crash scene and said he didn't recognize it or himself in the photos. London admitted he previously drank alcohol with Brown and "probably" smoked weed with him. London said about Brown: "He's a good person."
A recording of London's statement to police on the day of the crash was played in court. London said he was in the passenger front seat of the car with Jason Brown. London said he was sitting in the grass near the car when he heard shots fired and said it "sounded like a shootout."
London said he knew Brown had a gun permit, but did not know Brown was carrying his gun that day. When London crawled out of the car, he said Brown wasn't responsive. Investigators are heard in the recording telling London that Brown was hit by gunfire but is going to be OK. London then asks about Lt. Allan and is told he didn't make it.
London said in the recording that Brown picked him up about 30 minutes before the crash. They made a quick stop at a gas station. London said Brown just started driving fast on Madison Avenue. He called Brown an "older person I look up to." Investigators asked London if he had any idea why Brown shot Lt. Allan. "I don't know, sir. It's sad," London said.
London said he has ridden with Brown driving fast in the past, but he couldn't say why Brown was driving fast right before the crash. London said he was wearing his seatbelt during the crash, hit his head on side of the car, but he was able to get out of car on his own. He said he heard but did not see any of the shooting.
A nurse who saw the crash was the next to take the stand. He said Brown's car sped past him on Madison Avenue, then he saw the crash ahead. He approached Brown's upside-down car and didn't see any visible injuries, but told brown to stop moving.
Then, the nurse testified he saw Brown pull a gun from his waistband, so he ran away and heard several shots fired. The nurse took cover behind his truck until the gunshots stopped. Then, he saw Allan on the ground with multiple gunshot wounds. He started doing chest compressions until medics took over.
The nurse said he heard Lt. Allan tell Brown at one point, before shots were fired, "That's not what I'm here for."
"He was a great brother, a hero, a best friend to me, just really an all in all great person," Cory said of his brother outside the courtroom.
Cory Allan wanted the death penalty for Jason Brown. But that was taken out of consideration when Brown accepted a bench trial, with a judge deciding if he is guilty of murder.
"The state let us down really. I expected something different to come out of all this. It's really just heartbreaking man," Cory said. "I just wanted him to go through the same type of pain that my brother had to go through."
The trial adjourned until Friday. The prosecution has two more witnesses to call Friday morning.
Day 2 of trial
Lt. Aaron Allan's father
13News reporter Rich Nye spoke with Lt. Allan's father, James, who has been in court for every minute of the trial.
"To know more of who my son was. This isn't just about a police officer or somebody chasing bad guys. This is about a gentleman who gave his life attempting to help another," James Allan said. "It's still difficult. I lost my son that day. My grandson lost his father, my daughter-in-law her husband. I lost my legacy. (What are you hoping for in terms of justice here?) The son of a b***h dies."
James acknowledged he is aware the death penalty is off the table.
Day 2 testimony
Homecroft Police Reserve Officer Chris Hemphill took the witness start to start testimony on the second day of the trial. He said he came to the scene after a call on the radio for all available officers to respond. He said he saw officers with guns drawn and was told the driver had shot Lt. Allan.
Hemphill drew his gun as well and approached the upside down car. He saw a gun laying on the ceiling inside car with the slide locked back, indicating the gun was empty. He said he ordered Brown to stick both of his arms out of car. Brown said OK and complied. Hemphill cut the seat belt and pulled Brown out of the car with another officer.
Now retired Homecroft Police Officer C.T. Bowman was on the scene right after Lt. Aaron Allan. He took the stand and recalled Allan down on all fours and crawling into car to assist Jason Brown. Bowman was talking to other witnesses when he heard 10-15 shots fired, a lull, then more shots fired.
Bowman drew his gun, but said he never fired it. After shots were fired, he recalled Brown yelling hysterically. On cross examination, the defense pointed out Bowman's original statement to police was that Brown was already hysterical when Allan was trying to calm him down after the crash. The defense emphasized that was before shots were fired.
Paramedic Anthony Reddington-Noble testified that weapons were drawn when he arrived with an ambulance. He said paramedics were held back for safety. Jason Brown was soon removed from the inverted car and placed in handcuffs on his stomach. Paramedics then approached and Brown was unconscious.
Brown was placed on a backboard with a neck collar due to the nature of the crash. He was quickly placed in the ambulance for the 14 minute ride to the hospital. Near the hospital, Reddington-Noble said Brown regained consciousness, moaned and groaned, responded to questions with his name and answered "yes" that he knew what happened.
The paramedic said he performed no tests for drug or alcohol use on Brown because he saw no signs and was given no reason to suspect drug or alcohol use.
IMPD officer Joshua Kreutzberger testified he responded to an officer down radio call and saw guns drawn when he arrived. He said he heard whimpering cries from Jason Brown. He went to his police car, got gloves, and helped pull Brown from the inverted car and put him in handcuffs.
Kreutzberger told the defense he thought Brown might be dead when he was pulled from car because he was unconscious and his body was limp.
Homeowner Terry Johnson took the witness stand late in the morning. The car landed upside down in his yard and took out his fence. Johnson said he was watching TV when he heard two loud noises and went outside to investigate.
Johnson said he was upset about the significant property damage. He said he approached the inverted car and spoke to a man who had been a passenger and was outside the car. Johnson said he asked what they were thinking and the man replied, "We were just getting high and driving fast." Johnson then said he asked the driver if he was OK and Brown said, "Get me out of here."
Johnson said he saw Lt. Aaron Allan crawling out of the car and trying to stand when shots were fired. He could see Brown with his arm out and firing a gun.
After police arrived, Roberts said he was standing just a few feet from the car when he heard gun shots from inside car. He said he saw Lt. Allan stand up, take a couple steps and collapse. Roberts then heard return fire. He said he froze as others scattered.
Roberts saw Brown pulled from the car and thought he was dead because he was like a "rag doll." Roberts said he thought someone might have died in the crash because of its violent nature and thought Brown was traveling 80-90 mph at the time of the crash.
Nurse Sonja Pope testified what happened when she and her husband stopped to help at the crash scene. She saw Lt. Allan inside the car trying to calm Brown and potentially trying to undue his seat belt. She said Brown was hysterical.
Pope said Brown was fluctuating between saying "help me" and "Get the f**k off me." She and her husband were not needed to help. As they walked away, she heard loud bangs coming from the car. She said her husband grabbed her and told her to run.
IMPD lead investigator Mark Prater returned to the witness stand and said no blood draw was taken on the day of crash to check for alcohol or drugs. Investigators tried to get a blood sample from the hospital 19 days after crash, but the blood had been thrown out. The defense pointed out that no blood draw was taken on the day of the accident because investigators had no suspicion of drug or alcohol use.
When no blood was available from Brown from the day of the crash, investigators were able to get a urine sample for testing. The defense has objected to the admissibility of urine test results.
Prater also testified that Brown refused to talk to him at hospital the day after the accident. The judge noted that cannot be held against Brown.
Pathologist Dr. Kent Harshbarger performed the autopsy on Lt. Allan on July 28, 2017. Harshbarger found wounds from 10, likely 11, bullets from heel to chest and out to forearms. Some had entry and exit wounds. Five bullets were recovered from Allan's body.
Harshbarger said the lethal bullet wound entered the left flank, traveled through the torso and through the heart. The second imminently lethal bullet entered the chest, traveled through the lung and spinal column and exited at the neck. The cause of death was multiple gunshot wounds.
Day 1 of trial
The prosecution played Allan's body-worn camera video of the incident in its opening statement.
Allan is heard telling Brown to "stop moving" as Brown is hanging upside down in the seat belt in his crashed car. Then Allan shouts "He's trying to grab something out of his pocket!" and several rapid gun shots are heard. Those are the last words Allan said before the body camera is on the ground and not moving.
Members of Allan's family in the courtroom, including his father, mother, and brother, were visibly shaken listening to the video. They could not see the video screen from the gallery.
Prosecutors said Brown is responsible for the murder of Allan. They argued he had a high level of function as he was able to fire 18 shots - 11 hitting Allan - all while hanging upside down in the car.
The defense team argues the shooting was not murder, as Brown was not aware or responsible for his actions, alluding to a brain injury suffered during the crash.
Defense attorney Denise Turner called the shooting horrific, tragic, and devastating, "but it wasn't murder."
Allan's widow, Stacy Allan, testified briefly. She said that her husband went into work late with permission the day he was killed so that he could take their son to school on the first day of kindergarten. She recalled how she was rushed to Eskenazi Hospital, where a doctor told her that her husband was dead.
The prosecution's first witness was Kevin Conjelko, an off-duty Johnson County sheriff's detective and registered nurse who stopped to assist at the accident scene. He testified he was walking away from the scene he thought was under control when he heard shots fired. He said he turned around and saw Brown firing shots in the car.
Conjelko testified he fired approximately six shots from his gun, ran back to his car to get another magazine, then fired two more shots before he heard "cease fire."
Homecroft Police Chief John Ryan testified that he heard three single shots as he drove up on the scene and got out of his car. He approached the upside-down car and saw Brown hanging, pointing a gun at him. Ryan said he fired two shots at Brown.
Crime scene specialist Christine Hagan took the witness stand after the lunch break. Her 20-minute video of the crime scene was shown in court. She identified evidence in crime scene photos. She also testified both officers who fired at Brown used the same type of Federal-brand .40 caliber ammunition, different than the bullets fired by Brown's gun.
Hagan identified 18 9mm shell casings recovered from inside and near the car believed to be fired from Brown's gun.
The defense team for Brown showed Allan's body cam footage with enhanced audio and closed captioning from a forensics expert. Brown is seen trying to hand his driver's license to the officer and repeatedly identifying himself as Jason.
Court will resume at 9 a.m. Tuesday with more prosecution witnesses. The prosecution plans to call about 25 witnesses to the stand this week.
The trial is expected to last into next week.
July 27, 2017
Allan and an officer with the Homecroft Police Department were responding to a crashed car near Madison Avenue and Maynard Drive.
In court documents, a witness told police Brown's BMW came at her at "a high rate of speed, went airborne, then upside down and landed in the yard."
The first officer on scene found Brown "hung up in the seat belt and was kind of wedged in."
Allan, 38, was reaching in to help Brown when prosecutors say Brown opened fire. Witnesses said Brown continued to fire even as Allan tried to crawl away. Investigators said Brown fired 12 shots and hit Allan 11 times.
Other officers who had responded to the scene returned fire, shooting Brown in his face and neck.
Brown was taken to the hospital and, after recovering from his injuries, was arrested and charged.
Brown's charges

His past criminal history includes a 30-day sentence for possession of a controlled substance. He was also convicted of driving on a suspended license.
"He has never been in any kind of trouble before," said Brown's attorney Denise Turner in 2017. She had argued the facts of the case did not support the death penalty.
The motive for the shooting was either never learned or released.
The prosecutor's office said Allan's family was consulted on the decision to remove the death penalty.
Lt. Aaron Allan's service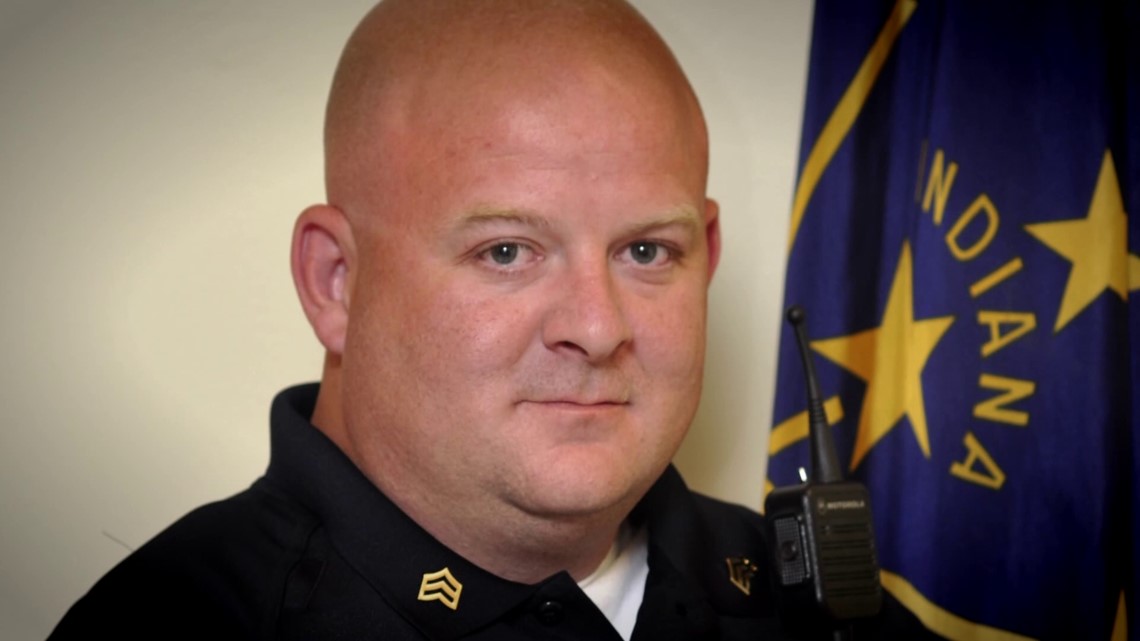 Allan, a 20-year law enforcement veteran, had served with the Southport Police Department for nearly six years. Allan left behind his wife and children. Allan had walked his son, Aaron Jr., to the bus stop for his first day of kindergarten on the day he was shot and killed.