MITCHELL, Indiana — Two police officers were shot Sunday morning in Mitchell, Indiana, during an exchange of gunfire with a drug suspect, who was killed, Indiana State Police said.
State police named the two officers involved — Lawrence County Deputy Joshua Rhoades and Mitchell Police Officer Christian Anderson. Rhoades is a five-year veteran of the department, with the past three years served as a road deputy. Anderson is a three-year veteran of the Mitchell Police Department.
Investigators say the suspect, 29-year-old Anthony Richmond of West Baden Springs, Indiana, fired several rounds at the officers when they were arresting him on Sunday. The incident was caught on bodycam video and is being reviewed by investigators, state police said.
According to state police, the incident began as an early morning traffic stop in Mitchell.
Around 3:15 a.m., a deputy pulled over a red sedan on State Road 37.
PHOTOS: Police investigate after 2 officers shot, suspect killed
A second Lawrence County deputy and his K-9 partner, along with Anderson, arrived to assist. The K-9 detected narcotics in the vehicle, ISP said.
Police said as they tried to put the man, identified as Richmond, in handcuffs, he ran west across S.R. 37 into a grassy area near Doc Hamilton Boulevard on the north side of Mitchell.
State police said when officers caught up with Richmond, he physically began to resist arrest, drew a handgun and began firing at the officers at close range.
Rhoades was shot twice and Anderson once. At least one of the officers was able to return fire, wounding Richmond.
State police said Richmond died after being loaded into the ambulance.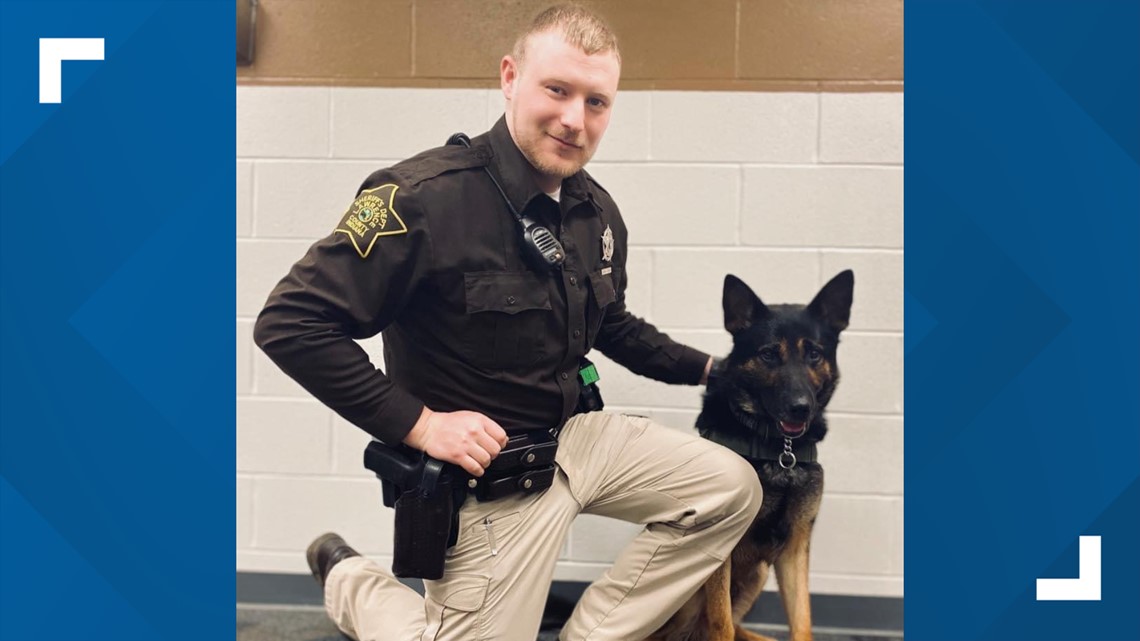 More officers and medics from the fire department arrived and provided emergency medical attention to Richmond and both officers.
"Nothing's never happened like this that I've ever known of and I'm 55," Brian Chapman said.
Chapman told 13News he drove by the scene when it happened.
"Seen other people laying on the other side of the road where they were kind of compressing them, you know what I mean? Giving them compressions on their chest," Chapman said.
Rhoades and Anderson were both taken by ambulance to IU Bedford Hospital in serious but stable condition and then flown to IU Methodist Hospital. They were described as "alert (and) conscious" when they left the shooting scene.
State Police said Sunday night that Rhoades has been released from the hospital.
Wednesday morning, Lawrence County Sheriff Greg Day confirmed Anderson has also been released from the hospital.

"This tragic incident underscores the dangers that law enforcement officers face each day, even in our beloved Lawrence County," Day said in a statement. "I am extremely proud of the actions and response by officers from my office as well as our law enforcement and first responder partners. I am very thankful Deputy Rhoades and Officer Anderson will make full recoveries, and I am mindful that a family is mourning the loss of a loved one. The lives of many people were affected by a senseless criminal act. Thank you to our brave officers for their dedication and courage."