INDIANAPOLIS — The Indianapolis Colts confirm to 13Sports director Dave Calabro the team is aware of an investigation into one of their players for betting on games. The Colts have no further comment about the investigation at this point.
According to reports, the player under investigation by the NFL placed hundreds of wagers with at least some being on his own team.
The identity of the player is not being released at this point, but cornerback Isaiah Rodgers posted an apology on his Twitter account Monday night.
"Addressing the current reports, I want to take full responsibility for my actions. I know I have made mistakes and I am willing to do whatever it takes to repair the situation," Rodgers wrote. "The last thing I ever wanted to do was be a distraction to the Colts organization, my coaches, and my teammates. I've let people down that I care about. I made an error in judgment and I am going to work hard to make sure that those mistakes are rectified through this process. It's an honor to play in the NFL and I have never taken that lightly. I am very sorry for all of this."
The report in Sports Handle has a source referring to the player having placed "hundreds of wagers" and called it "pervasive."
The report states the Indiana Gaming Commission is also investigating the alleged violations.
"We have received information pertaining to this matter and we are following developments," the commission wrote in a statement to 13News. "The IGC is not the lead agency on this matter, as it involves alleged violations of a league policy at this point. We will, however, continue to review information as it emerges to determine what, if any, regulatory actions are necessary."
13News reached out to the NFL following the allegations. They declined to comment.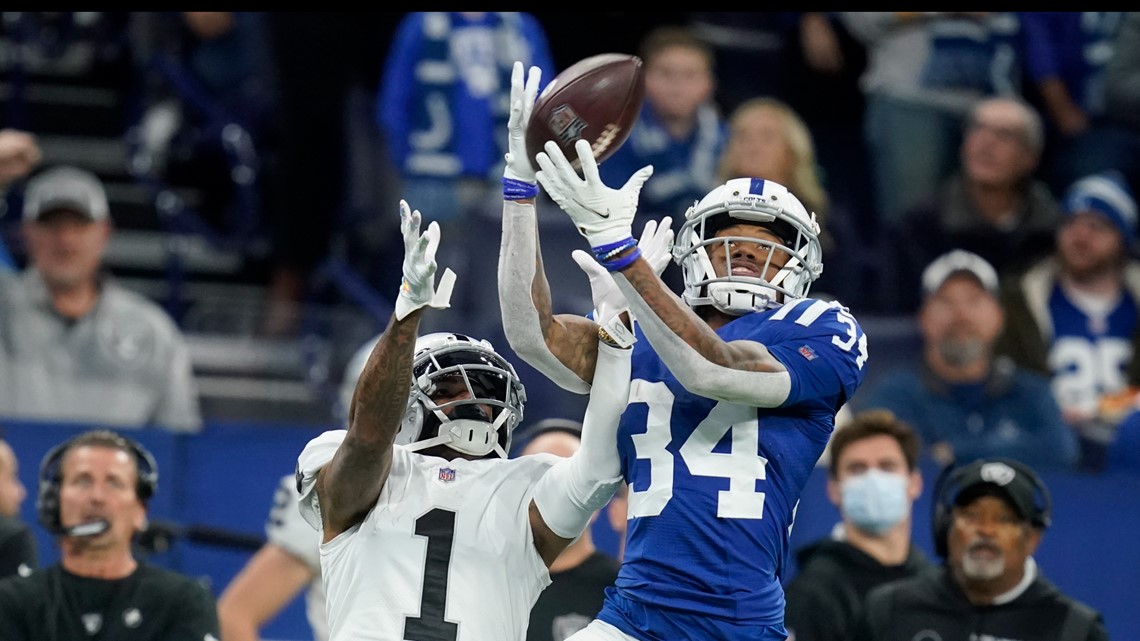 Rodgers, a sixth-round draft pick in 2020, is in the final year of his rookie contract and was in line to play more minutes this season after the Colts traded another starter, Stephon Gilmore, to Dallas during the offseason.
Nathaniel Grow, an associate professor of business law and ethics with IU's Kelley School of Business, said these kinds of allegations have to be taken seriously.
"The integrity of the games that player was actually betting in. So even if a player is betting on his team to win, they may still play differently than a player who doesn't have any money riding on the game, especially if they're betting on a team to lose, that raises a whole different set of issues," Grow said. "You know, even if the player wasn't betting on his own team, there's still a concern that if they get too far into gambling debt, it could give people leverage for blackmail or whatever over the player that could cause them to throw plays or throw a game down the road. So I think from a league standpoint and from a gaming commission standpoint, you'd rather have people playing in those games stay out of it."
He said both the NFL and the IGC have rules on this.
"The NFL rules are really strict on when and where and what types of bets you can place and all that," Grow said. "So if the allegations are true that a player was betting on NFL games, that's going to be a big problem under league rules. The Indiana Gaming Commission has also set up rules that restrict certain types of individuals from betting on contests, and one of them is a case where you're a participant in a sport that you're betting on. So under the rules, you can't place a bet on a game in which you have an opportunity to influence the outcome."
With the rise and convenience of online sports betting, Grow said these kinds of investigations may become more common.
He said both the NFL and the Indiana Gaming Commission take these allegations seriously.
"The NFL is likely to come down with some kind of punishment for the player and that could be a suspension, potentially a season long or a number of games. The gaming commission could potentially try and sanction the player themselves, but they're also going to be looking at most likely, did the gaming operator or casino know or should they have known that they were accepting bets from an NFL player?" Grow said.
Previous NFL suspensions
The NFL suspended five players in April, four from the Detroit Lions, for gambling infractions. The Lions released three of those players — receivers Quintez Cephus and Stanley Berryhill and safety C.J. Moore. Cephus and Moore were suspended indefinitely for betting on NFL games, while Berryhill and receiver Jameson Williams each drew six-game suspensions for gambling on non-NFL games. Williams, the No. 12 overall pick in the 2022 draft, remains on Detroit's roster.
Washington Commanders defensive end Shaka Toney also was given an indefinite suspension in April for betting on NFL games, and in 2022, the NFL suspended Atlanta Falcons receiver Calvin Ridley for the entire season for the same infraction. Ridley was reinstated in March and is now with the Jacksonville Jaguars.
It's not the first time the Colts have been involved in a gambling allegation.
In 1983, former quarterback Art Schlichter, the No. 4 selection in the 1982 NFL draft, was suspended indefinitely after he agreed to testify against bookies he owed money to. Then-commissioner Pete Rozelle reduced the punishment to 13 months, and he was reinstated for the 1984 season.
But the Colts released Schlichter early in 1985 after rumors surfaced that he had continued gambling. Schlichter was the first NFL player to be suspended for gambling since Alex Karras and Paul Hornung in 1963.
(The Associated Press contributed to this story.)