INDIANAPOLIS — A few dozen big-money donors have helped Republican U.S. Sen. Mike Braun quickly catch up in fundraising with GOP rivals in the 2024 race for Indiana governor, with his campaign saying Tuesday it has raised about $1.5 million since formally launching his bid just over a month ago.
Braun's campaign told The Associated Press he has also transferred about $1.5 million from his Senate campaign fund as he foregoes a reelection bid for his Senate seat that is also up for election next year.
That quick fundraising haul signals a possible expensive primary for the Republican gubernatorial nomination against a field of candidates at least including Lt. Gov. Suzanne Crouch and Fort Wayne businessman Eric Doden, who have each banked amounts approaching or exceeding $3 million over the past couple of years.
Republicans will be seeking to extend their 20-year hold on the governor's office by succeeding Gov. Eric Holcomb, who cannot seek reelection because of term limits.
The Crouch and Doden campaigns both expressed satisfaction with their fundraising so far.
Doden's campaign said it ended 2022 with as much money as Braun despite his prominence as a sitting U.S. senator. Crouch's campaign didn't release on Tuesday updated fundraising totals, which don't have to be reported to the state election division until Jan. 18.
Braun, the 68-year-old wealthy founder of a national auto parts distribution business, fueled his successful 2018 Senate campaign with more than $11 million in personal loans, vaulting from being a largely political unknown to winning the Republican primary over then-Reps. Luke Messer and Todd Rokita, then unseating Democratic Sen. Joe Donnelly.
Braun, however, has said he won't spend his own money on his campaign for governor.
"I am incredibly grateful for the support from Hoosiers and will campaign just as hard as when I defeated three career politicians in 2018," Braun said in a statement.
State campaign finance reports for large contributions show that almost $930,000 of Braun's fundraising since his Nov. 30 campaign launch came from 43 individuals, companies or political action committees giving at least $10,000.
"Mike is getting these folks motivated to give big amounts because I think they're excited about having someone who brings that kind of mainstream businessman perspective to the Statehouse," said Josh Kelley, Braun's senior political adviser.
The Crouch and Doden campaigns have also pulled in significant large donations recently. State records show Doden collected nearly $540,000 from 22 large contributors since July 1. Crouch, who was Holcomb's running mate in 2016 and 2020, collected almost $315,000 from 16 large contributors during that period.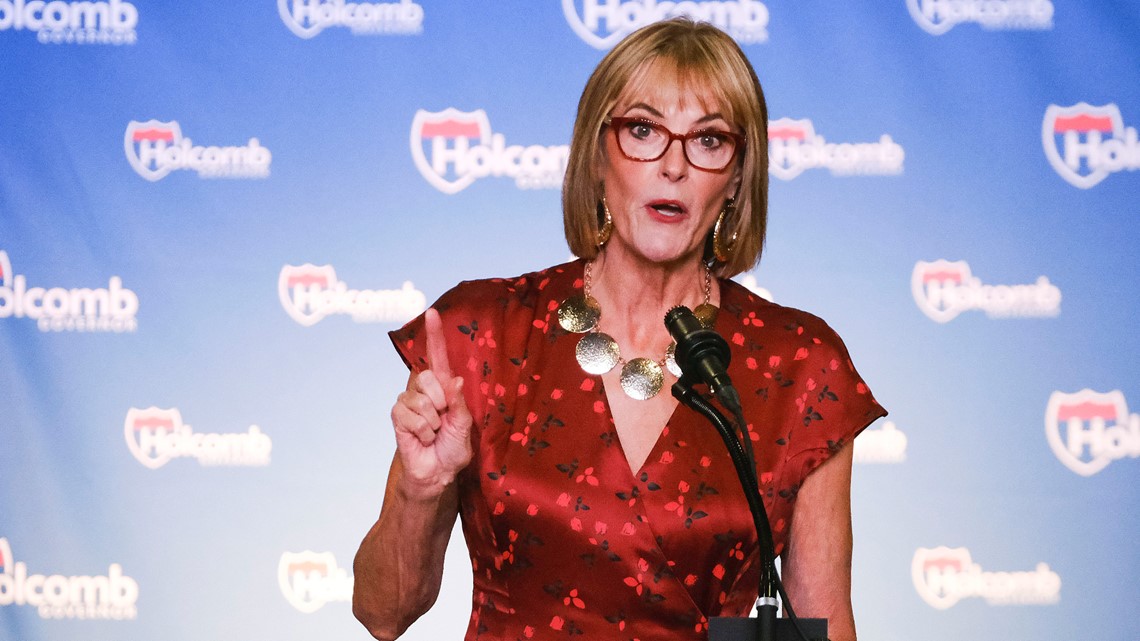 The Braun campaign said it would report about $2.9 million in the bank as of Dec. 31.
Doden, who was a state economic development official for then-Gov. Mike Pence, ended 2022 with $2.8 million in the bank after raising nearly $3.4 million overall, his campaign said.
Doden campaign manager Brian Gamache said the fact that Doden "was able to drastically out-raise a United States senator who had to transfer more than $1.5 million he raised from D.C. insiders and lobbyists solidifies what we've long known, that this race is wide open."
Crouch's campaign had about $2.5 million in cash as of the last reporting period ending June 30.
"We exceeded our 2022 fundraising goals, and our numbers are strong," Crouch said in a statement. "I will be competitive with anyone in this governor's race."
No Democrats have yet announced a 2024 governor campaign, although former state schools superintendent Jennifer McCormick has said she is considering a run. McCormick won election as a Republican in 2016. But she has since switched parties after disputes with Republican Statehouse leaders over education policies.