"We have one of the best updates to give. Scottie has been located and found safe! Medics are checking him out right now," the Eaton Police Department wrote on Facebook.
Local and state authorities were joined by the community in searching for Morris since last week. Frigid temperatures lent a sense of urgency to their search.
"I want this young man to know we are not here to make sure he's in trouble. We want to help him and make sure he's safe," said Eaton Police Chief Jay Turner early in the week. "We've taken this seriously from the very beginning, and we're going to continue to investigate until we find him."
No further details about where Morris was found or his condition were immediately available Friday night.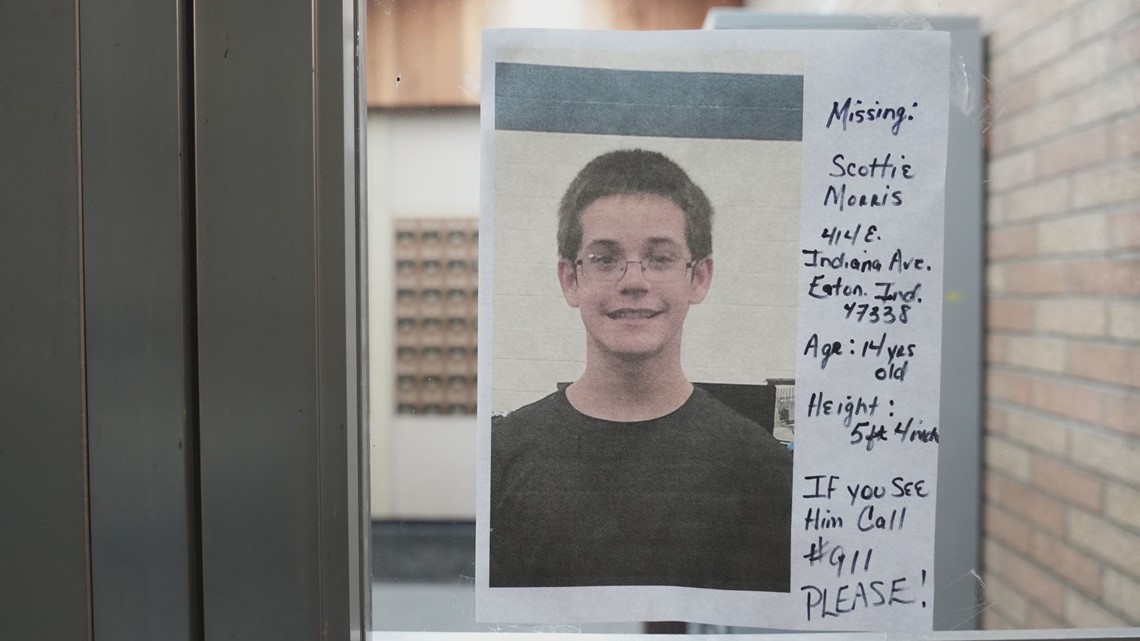 Friday, 3/24 update
Police said they were called to an area of interest Thursday night, but no human remains were found.
The investigation to find Morris continues Friday. Anyone with information on his whereabouts is asked to call the Eaton Police Department at 765-396-3297, 911 or the non-emergency line for dispatch at 765-747-7878.
Thursday, 3/23 update
Eaton police are asking residents who have cameras posted on their houses to check their footage on March 16 from 8:15 p.m. to 11 p.m.
Anyone who finds anything noteworthy is asked to contact the Eaton Police Department at 765-396-3297.
Wednesday 3/22 update
In a Facebook post, the Eaton police clarified that the search for Morris has not been called off.
Police previously said there will be no more organized public searches.
While there won't be search parties, police is still working with the Indiana State Police, Delaware County Sheriff's Department, DNR and the National Center for Missing & Exploited Children to help find Morris.
Police said canine teams are assisting in the investigation, so they are trying to lessen any interference with their operations.
Tuesday 3/21/23 update
State and local authorities aren't organizing any search teams that require help from the public. Instead, they'll be using boats, sonar, drones and even dive teams if needed to search areas of water nearby where Morris was last seen.
In an update Tuesday, the Eaton Police Department said the Indiana Department of Natural Resources will be helping by supplying boats, sonar, drones and dive teams.
They will check areas of water nearby and further search the river as it goes out of Eaton town limits.
Other K-9 teams will also be used Tuesday.
Officers continue to investigate and work leads as they receive them. Investigators have interviewed several people and, police said, they have searched "many" properties and residences so far in the investigation.
A law enforcement meeting will be held Tuesday with members of ISP, the Delaware County Sheriff's Department, Indiana DNR as well as other organizations.
Monday 3/20/23 Update
Search parties gathered Saturday and Monday to search for Morris, but were unable to locate him.
Deputy Chief Chris Liggett posted a video to the department's Facebook page Monday evening, announcing the search is being suspended.
"We want Scottie home safe," Liggett said. "If anybody knows where Scottie is at, please reach out to us. We want to get him here safe and to try to help him with whatever he needs."
Liggett said police have interviewed people in the case and conducted polygraph tests.
"At this time, we're still looking at other avenues and we have no new leads, no new information. We're kind of at a standstill right now," Liggett said.
"The only fear that I have is the fact that if somebody picked him up - a stranger - or he's had an accident or something," said Turner.
Police said they did not organize a search party Sunday because Indiana State Police helicopters were assisting with infrared cameras that would pick up heat signatures from searchers.
Saturday 3/18/23 Update
On Saturday, more than 100 people gathered at the Family Life Center to help search for Morris.
Turner said it was "all hands on deck" Saturday as neighbors from near and far came out to help first responders search for Morris.
"What they did today was very tremendous," Turner said. "They went out into a thick wood line area next to a river — both sides of the river — and walked somewhat of a line completely for two and a half miles."
Community searches for missing Eaton teen
Turner said since Morris disappeared Thursday, searchers have used everything, from infrared drones to a fan boat and dogs, to try to find him. They've searched the town four times so far.
"We are a small department," Turner said. "We have four regular officers and 18 reserves. Our reserves and our regulars volunteered their time to come in and do these searches. I'm very pleased how we came together — fire department, EMS, police department."
Background
Morris is described as 5 feet, 4 inches tall, weighs 150 pounds, and has brown hair and blue eyes. He was last seen wearing black shoes, red and black shorts and a white T-shirt with writing on the front.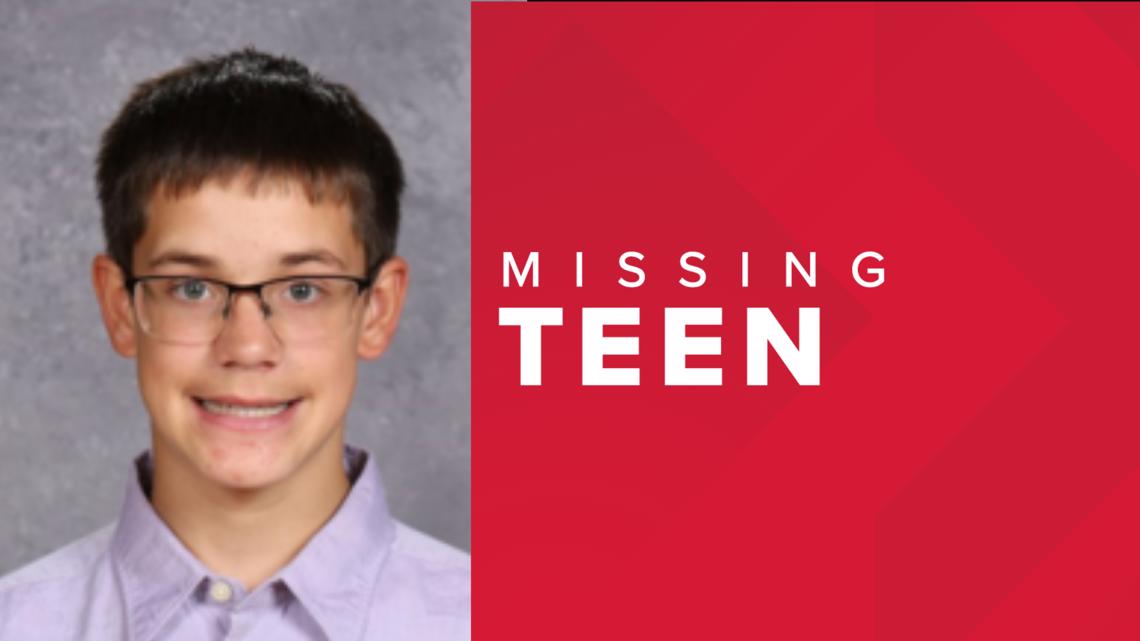 Video from his family's home security cameras showed Morris walking away from his house.
"Scott, I love you and I want you to come home," Morris' mother, Felicia, said. "And I know that you're mad and confused. I'm afraid that you're scared of all this. Everyone is out looking for you and we're not trying to scare you."
Police said Morris is believed to be in extreme danger and may require medical assistance.
If you have any information on Morris' whereabouts, contact the Eaton Police Department at 765-396-3297 or 911.
Amber Alert vs. Silver Alert: What's the difference?
Amber Alerts are for children under the age of 18 who are believed to have been abducted and in danger. Police also need to have information about a suspect and their car to issue an Amber Alert.
Silver Alerts are for missing and endangered adults or children. They are much more common for missing people. It was not until last year when the standards for Silver Alerts were expanded to include children.
In both situations, these alerts must be issued by police.