INDIANAPOLIS (WTHR) — Two IMPD stopped by North Wayne Elementary School Wednesday afternoon as part of a Christmas surprise. The person they surprised is a third grade girl who just happened to share some serious news about the holiday season at their home. Her family is one of many in central Indiana who could not afford gifts for the holiday.
The little girl shared the news Tuesday in class as the teacher led a discussion with students about what they got for Christmas. As part of his regular community service IMPD Officer Terry Winston just happened to be in the classroom to hear the little girl's story. Winston immediately had a conversation with the teacher about what the student shared with everyone. It's not what Winston expected to hear from a little girl in the northwest Indy community.
"Every day we come to work we are trying to make the community a better place," said Officer Winston.
When Winston shared what he overheard a third grader say in her classroom, it melted his heart.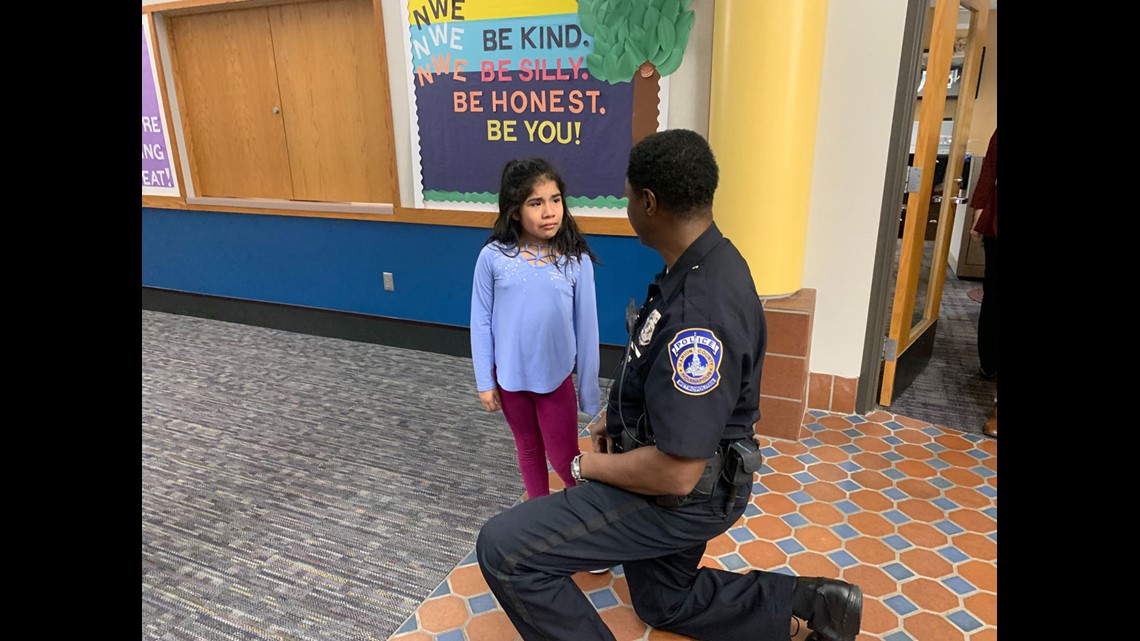 "... She wasn't complaining that she didn't get anything for Christmas, she just simply stated, she didn't get anything for Christmas," Winston said.
So when Winston shared it with fellow officer Marlin Sechrist, they came up with a game plan.
"Marlin takes care of our community involvement stuff like gift cards for kids and things like that," Winston said.
Marlin came up with the idea of giving the girl a bike that they had upstairs. They surprised the girl with it as well as a helmet and a bag of gifts on Wednesday afternoon at North Wayne Elementary.
"I heard your story. You said you didn't get anything for Christmas. Guess what? You now have a bike. What do you think? You now have a bike. You have a helmet," said Winston.
Both the little girl's teacher and Principal Karen Boatwright were also pleasantly surprised about the bike.
"We try to provide our families just using different resources around holiday time, so this was an unexpected pleasure," Boatwright said.
More than 12 percent of children in the U.S. live in concentrated poverty areas according to a study by the Anne Casey Foundation. In Indiana 10 percent of children live in poverty.
"I understand you're going through some tough times, but we are here for you," Winston told the third-grader. "We are here to support you."
The donation from the IMPD Northwest District not only came as a surprise to the student but to the school as well.