See the new $100,000+ pool donated to an Indy grandma following her backyard disaster
Strangers made good on their promise to a great-grandmother, and their story of Hoosier generosity has warmed hearts all over the world.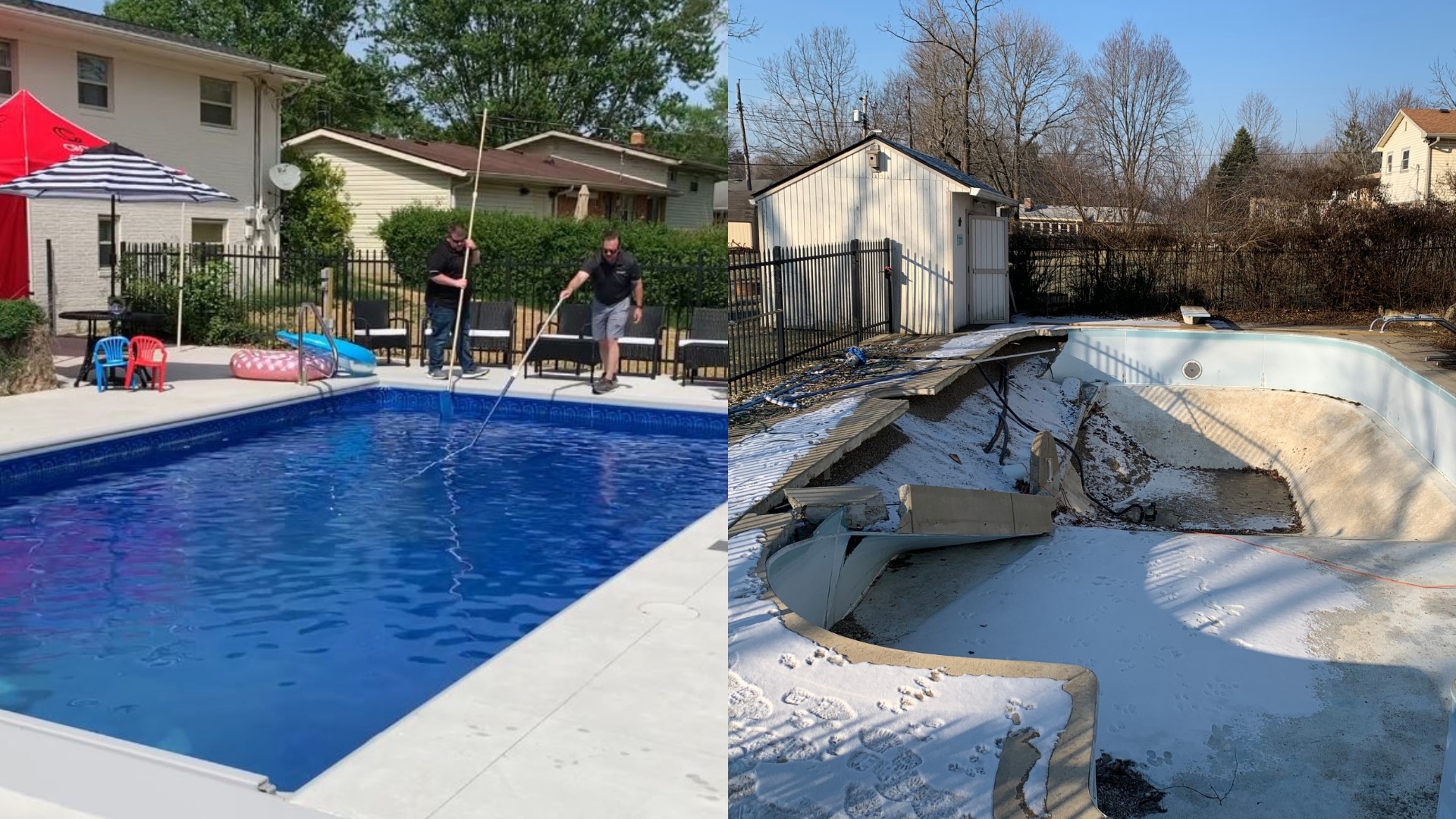 Kitty Smith said she still has to pinch herself every time she looks out her back window.
"I feel like I'm going to wake up from a dream and it's all going to disappear and be gone. It still feels like it can't be real," the south side great-grandmother told 13News.
Smith is talking about a new swimming pool donated by a group of strangers.
Those strangers promised to turn a backyard disaster into an unlikely miracle.
They have now made good on that promise, and their story of Hoosier generosity has warmed hearts all over the world.
Heartbreaking mess inspires heartwarming generosity
:
In the winter of 2021, just a few months after purchasing a home with a backyard swimming pool to enjoy with her 29 grandchildren and great-grandchildren, Smith discovered her in-ground swimming pool had collapsed.
Engineers believe a slow leak in the pool triggered a chain reaction. The walls caved in, leaving behind a massive hole filled with crumbled concrete, shattered fiberglass and Smith's broken dreams.
"I couldn't believe what I was seeing. It's heartbreaking," she said last summer, looking at her collapsed pool while fighting back tears.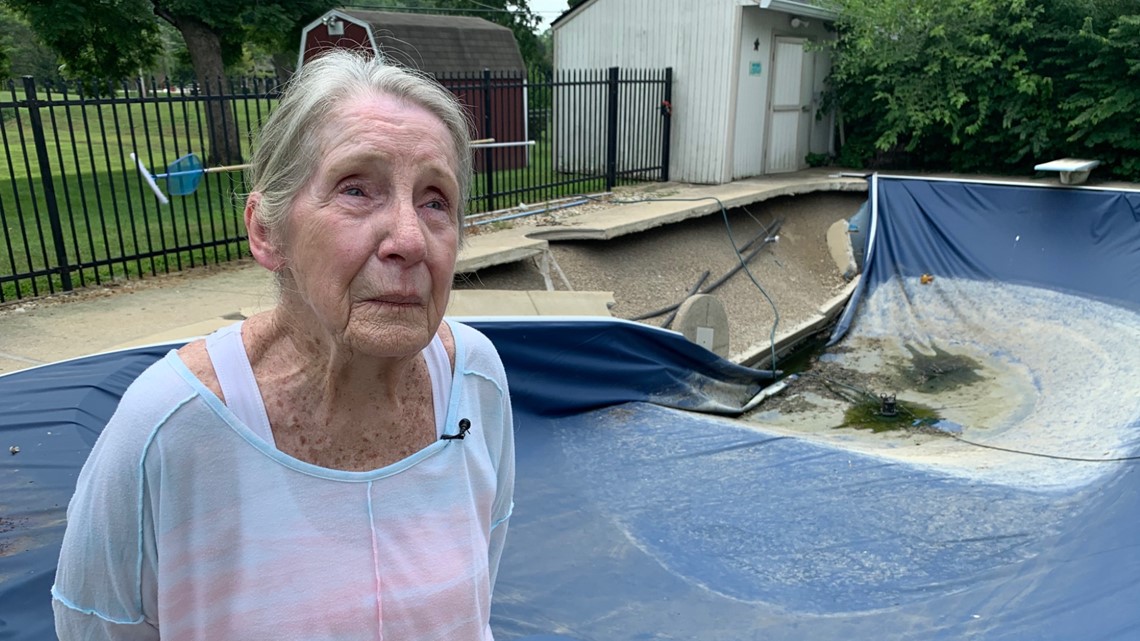 Even more heartbreaking, Smith's homeowner's insurance policy included pool coverage but wouldn't pay a dime for the disaster. It meant she faced a bill of at least $80,000 to tear out the collapsed pool and install a new one.
"I just can't do it. I can't," she told 13News last summer. "I put everything I had into buying this house."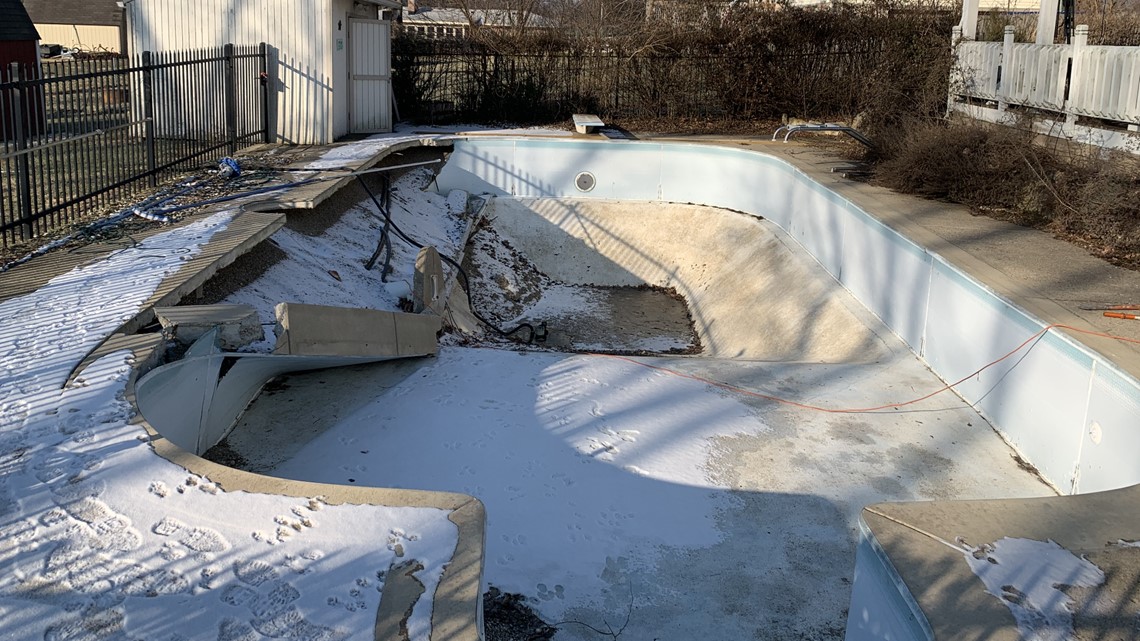 13News shared Smith's story with some local business owners, and that's when the magic happened.
Westfield-based Automatic Pool Covers coordinated an ambitious project, recruiting eight separate pool companies that volunteered to donate their time, labor and all of the materials needed to build Smith a brand new pool.
Representatives from the companies – most of them competitors – gathered on Smith's front lawn a few days before Thanksgiving to surprise her with news of their generous gift.
"We will pitch in and chip in and between all of us, make sure this happens," explained Mike Shadoan, vice president of Automatic Pool Covers, as Smith stood in shock. "You're going to get a whole new backyard with a new pool, and this should cost you zero."
"Oh my God. Thank you," Smith replied. "I don't know your names but I know your hearts. You're what we need in this world."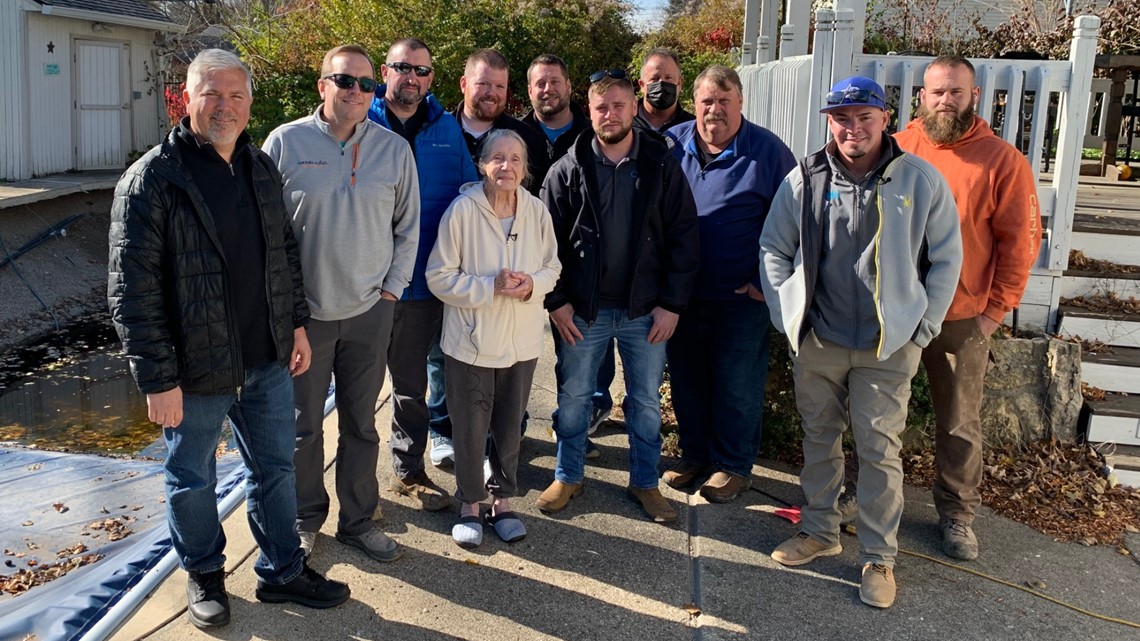 13News' story about Smith's Thanksgiving surprise went viral, attracting millions of views, likes and shares on social media.
Work begins, kindness spreads
:
Several weeks later, on a cold January day, trucks loaded with construction equipment pulled up to Smith's south Indianapolis home to begin demolition and removal of her old swimming pool.
"Today's the day we're breaking ground," said Pablo Crone, owner of Crone Customs Pools in Center Grove, who led the construction phase of the project.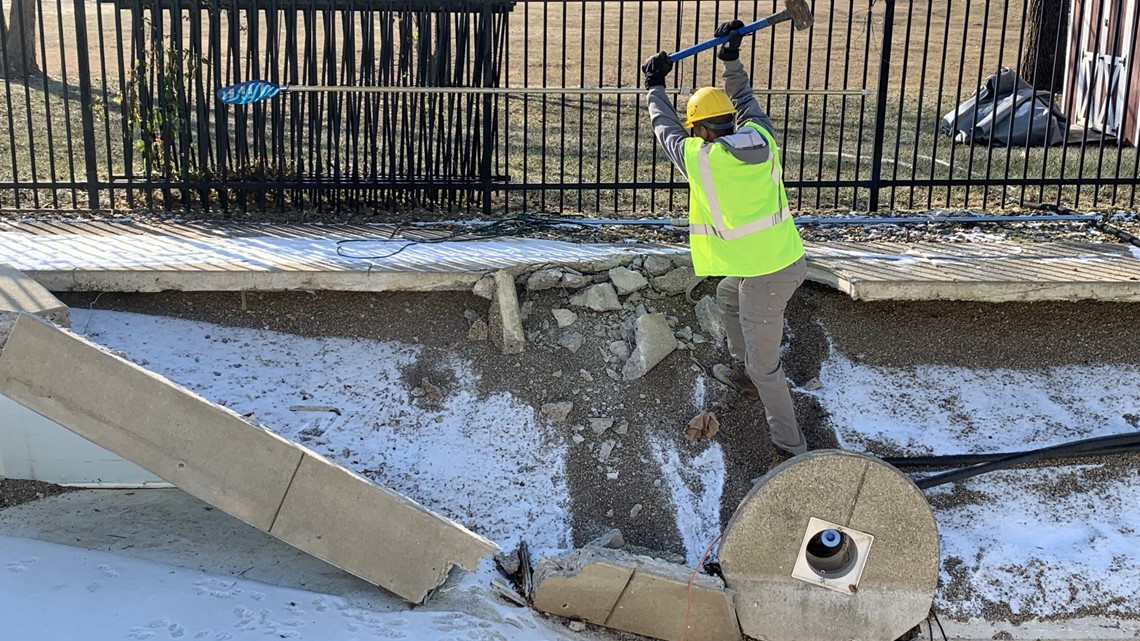 Dozens of workers would spend the next four months donating countless hours to fulfill their promise to Smith. Day after day, they came to her home to break up and haul away tons of old concrete, install new pool walls and plumbing, backfill thousands of pounds of gravel, pour multiple truckloads of new cement, and replace fencing and landscaping.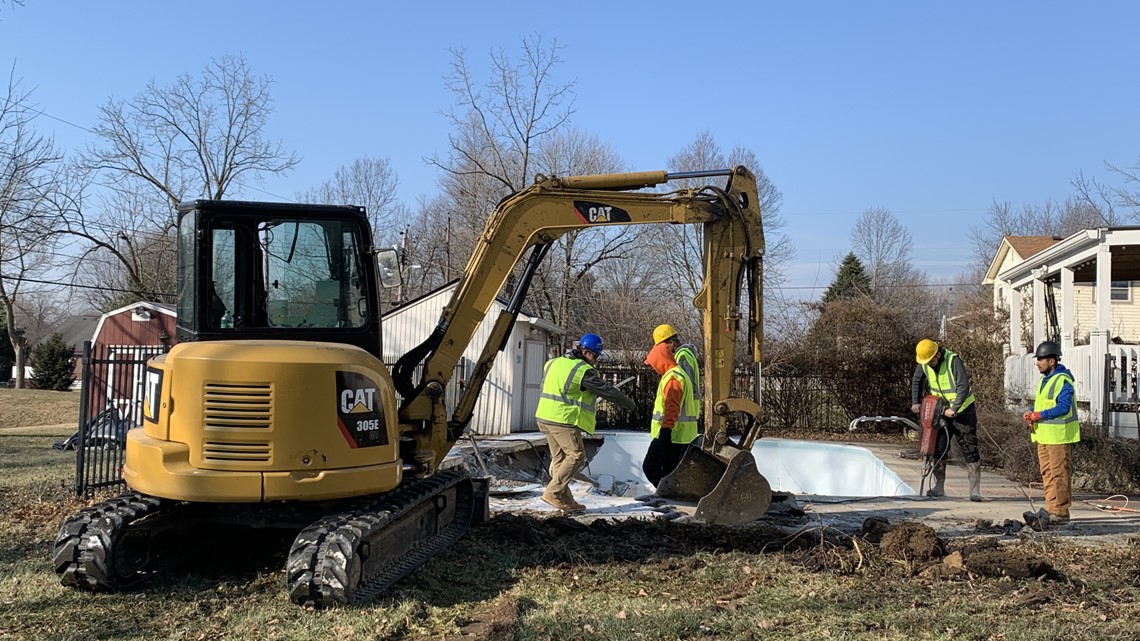 The amount of work and lost profits required to complete the ambitious project is hard to calculate. But as word of the project spread, so did the kindness with more companies lining up to contribute.
"It started with eight [companies] but people were calling, emailing, [asking] 'How can I help? What do you need?' Things just kept coming," Shadoan said. "It's been really neat." Recent donations include offers to provide pool maintenance for the summer and backyard swim lessons for Smith's grandchildren.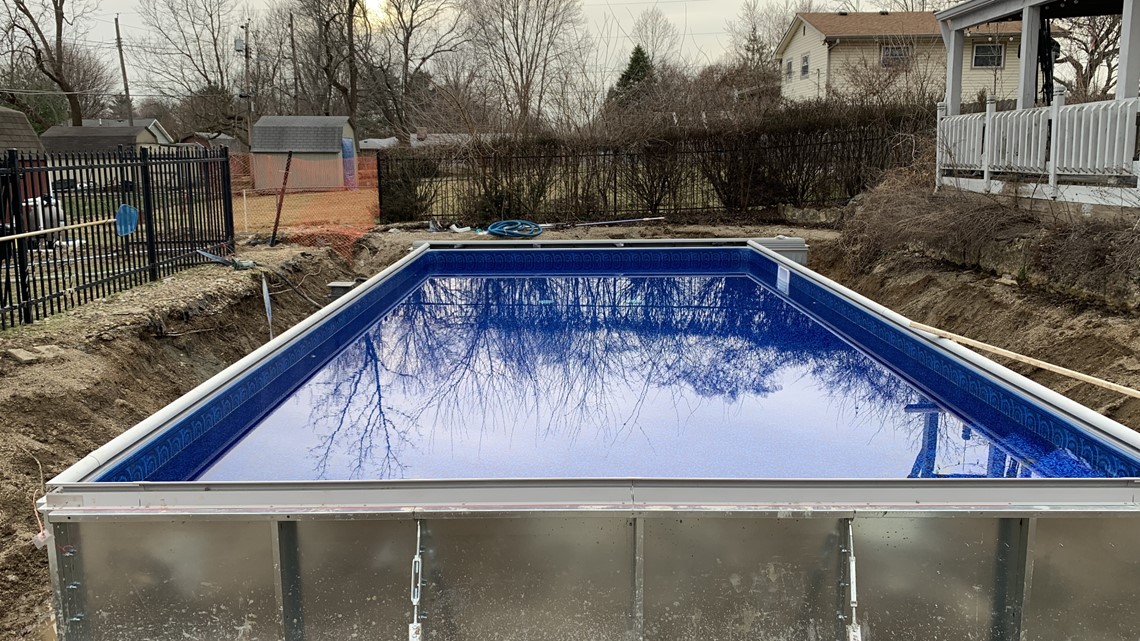 At last count, nearly 20 different companies stepped up to make sure Smith and her family have a pool in time for summer.
Just in time for Memorial Day weekend, they have now delivered a new in-ground, heated swimming pool complete with lights and a new automatic pool cover. The total estimated cost of the project: $110,000.
Fun and games and kisses
:
Some of the workers returned last week for a small pool party to see the finished project. Smith was poolside to greet her guests with beer and affection.
"Fell in love with every one of them. You just can't help wanting to hug and kiss everybody," Smith said.
And that's exactly what she did, offering a hug or kiss — sometimes both — to the business owners and workers who visited.
"I'll never, never, never in this world be able to thank all of you," she told them. "I will love you all forever. You made a dream come true."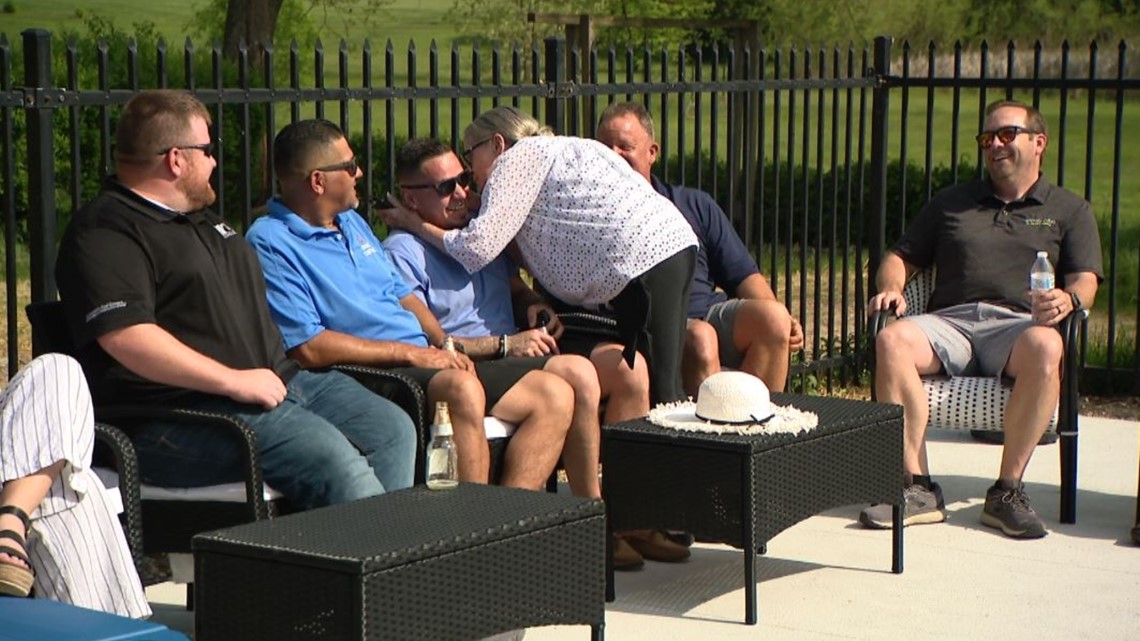 Asked to reflect upon the completed project, the business owners said Smith was not the only one who received a gift.
"At the end of the day, this is Indiana, you know. This is our hometown and it's really been an honor to be part of it and to do something that's never been done before," Crone said as he looked at the pool. "We're very thankful to have the opportunity to do something for the community."
"So satisfying just to see everyone come together and work together. When I first saw this thing and what it looked like to right now, it's really cool," added Shadoan.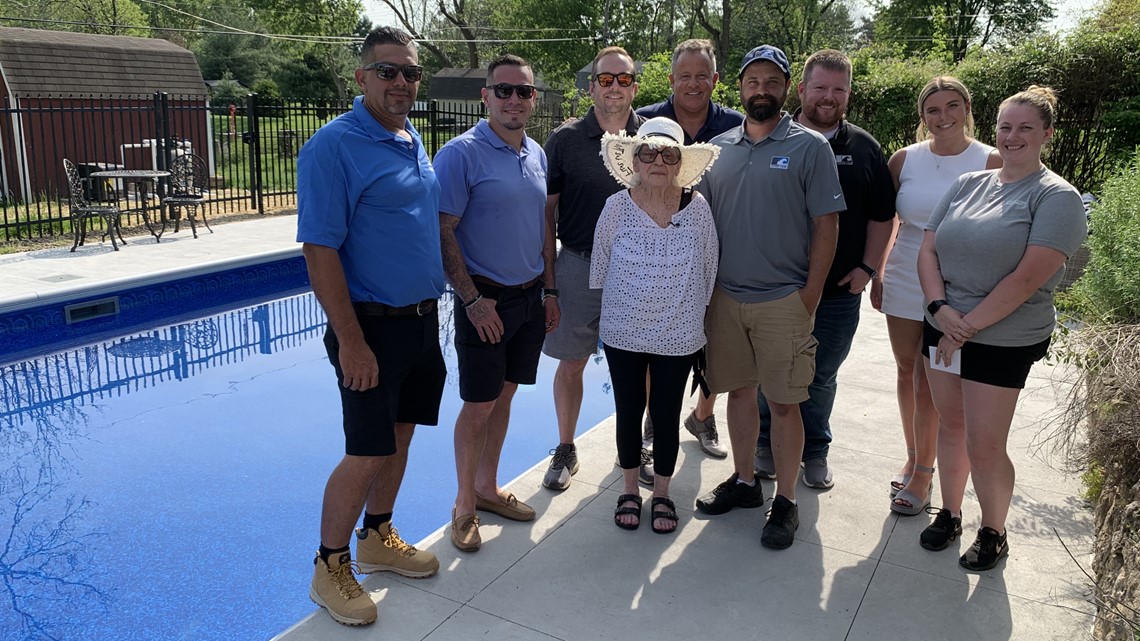 Sixteen months after Smith first discovered a mess in her backyard, she finally got to enjoy the moment she had dreamed about for a long time. Smith spent Sunday night swimming in her backyard pool, playing a game of Marco Polo with some of her great-grandchildren.
"We had the best time," she told 13News. "They're too young right now to remember me after I'm gone, but hopefully they can look back and say 'That's my Grammy. That was my Grammy right there.' This is such a blessing for me."
GALLERY: New $100K+ pool gifted to Indy great-grandmother
Companies that donated to Kitty Smith's pool project:
Automatic Pool Covers, Inc: Project general contractor, supplied new pool cover
Crones Customs Pools: Construction coordinator, excavated and built new pool
Cover Care: Installed pool cover
Modish Pools: Supplied concrete
Pools of Fun: Installed pool liner
Hendricks Pools: Installed plumbing
C-Ray Pools: Supplied and installed electrical
Imperial Pools: Supplied pool lights
Heritage Pool Group: Chemicals, sockets and skimmer plate
POOLCORP: Supplied PVC, startup kit and grabrails
Only Alpha: Supplied pool walls, steps and braces
Tara Liners: Supplied pool liner
Fairway Finishes: Hauled away dirt and old concrete
Concrete Evolution: Poured new concrete
Hayward Pool Products: Supplied pump, filter and heater
Pentair Pool Products: Provided electronic pool cleaner
K & K Fence: Installed new sections of fence
Jack Heartless: Installed gas line
James Swindle: Relit furnace/water Heater/stove