INDIANAPOLIS (WTHR) - An Indianapolis mother is calling for change after her son was hit by a car that ignored his school bus' stop signs.
Collyn Crandall's right leg will be in a boot for at least a couple weeks as he heals from a broken bone.
"Any mother's concern is that it could've been prevented. He is 16. He could've had his life taken for something that could've been prevented," said his mother Danyelle Nealy.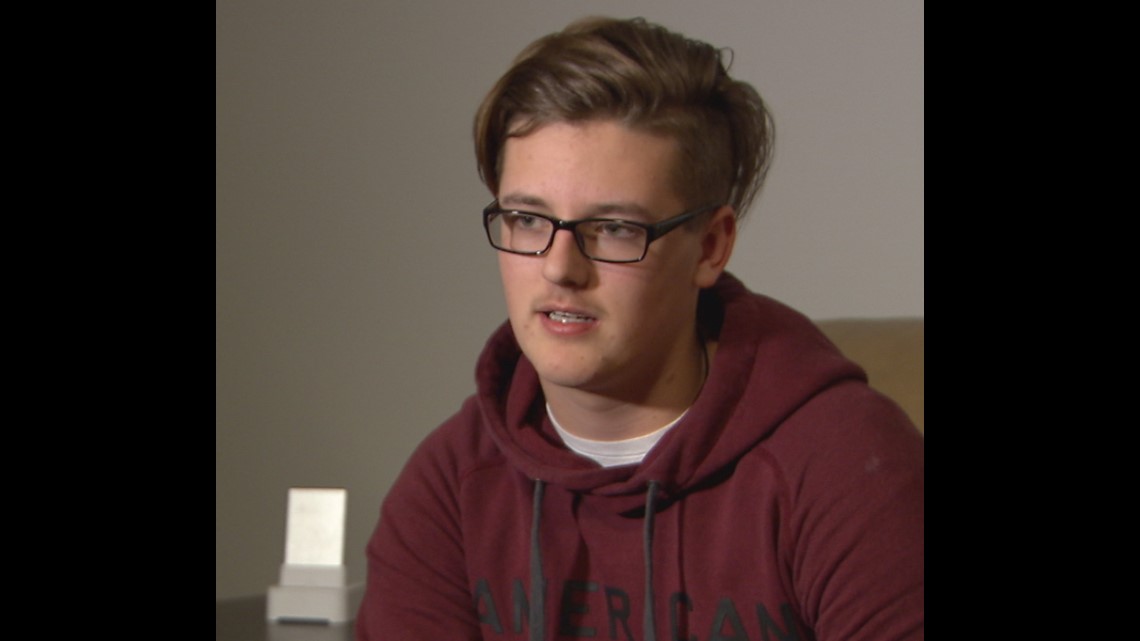 It happened as Collyn headed for his school bus for Decatur Central High School. The bus stop is right in front of his house, but since the bus comes from the west, he has to cross a busy Thompson Road each morning.
When he started across Tuesday morning, thinking the school bus driver was waving him clear to cross, Collyn said, "my dad screamed. I didn't hear him, but I remember hearing these tires lock up, squealing and I turned over and I just saw the vehicle and all the smoke coming up.and I jumped backwards."
A car coming the opposite direction, toward the bus, ran right past the school bus, even though it had its red lights and stop arm flashing.
"I remember the front tire, hitting it initially, because it kind of jerked my leg to the side a little bit," Collyn said. "He never slowed down, he never stopped at all. He just locked up his brakes. Almost hit the car behind the bus. And just kept on going."
"Somebody cares so little that he didn't even stop to see if he was OK," said Nealy.
But Collyn's dad and police caught the driver. Officers arrested him and charged him with leaving the scene of an injury accident. According to a police report, he's 19-year-old Kody Gillum.
"My biggest hope is that parents in the township speak up and say 'We're not OK with this'," Nealy said.
Wednesday, the school changed the bus route so Collyn doesn't have to cross Thompson in the morning. But his mom says other kids still do.
"As a mother, I'm not going to trade my son's safety for another son's safety. Needs to be changed, it needs a district-wide policy. We need to say that as a district we are not OK with any of our kids crossing those roads and putting their life in danger," she said.
Nealy said drivers keep violating the red flashing light laws.
"We can't make them stop, we can't make them pay attention. We can raise the fines, we can increase police patrols, but we can't make them stop. But if we can prevent our children crossing the street to begin with, we solve half the problem," she said.
Collyn's mom and others want school districts to refigure their bus routes so that students are not crossing busy roads to get on or off the school bus.