INDIANAPOLIS — As Hoosiers hit the road for summer travel this season, nurses at Ascension St. Vincent want to make sure families are also packing the appropriate car seat.
That's because, right now, staff at Peyton Manning Children's Hospital are seeing more and more injured children due to improper car seats or a lack of seating altogether.
"Car seats are complicated, without a doubt," said Lori Baldwin, registered nurse and injury prevention manager. "There are many options, and they are not standardized."
However, Baldwin said taking a few minutes to make sure your children are in the appropriate seat can make a big difference.
"If kids are safely buckled, then we can prevent some major injuries," Baldwin said. "Accidents are going to happen, so we are here to serve."
For all caregivers, Baldwin said there are three main steps to making sure your child is safe while riding in a car.
First, consider the vehicle you are driving and refer to the vehicle's manual when it comes to which seat is best for a child.
"You need to follow the vehicle instructions on where the proper places are to put children in a vehicle," Baldwin said.
Second, know the height and weight requirements and limits on each seat.
"There are a lot of different seating options, but they are not necessarily standardized," Baldwin said.
That means the best seat for one 4-year-old boy may not be the same seat for another.
Third, Baldwin reminds caregivers to ensure they know how to properly secure the car seat in the vehicle.
"Should you use the lower anchor tether system, or should you use the vehicle seatbelt to secure the seat?" Baldwin asked.
"We see very small children that are well-secured in their seats from being babies," Baldwin said. "It's that transition to another age where we start to see confusion or lack of proper seating."
As a reminder, there are state laws in Indiana when it comes to car seats.
All babies under age 1 and less than 20 pounds must be in a rear-facing car seat.
All children under 30 pounds must be in a forward-facing car seat.
All children under 8 must be in a car seat or booster seat.
All children under 16 must be in a booster seat or wearing a seat belt, depending on their weight.
In addition, Baldwin said children must be in, at least, a booster seat until they are 8 years old and 4'9".
"This is where we see kids start to get out of seats a little too soon," Baldwin said. "They hit that magical 8-year-old age, but they are not 4'9"."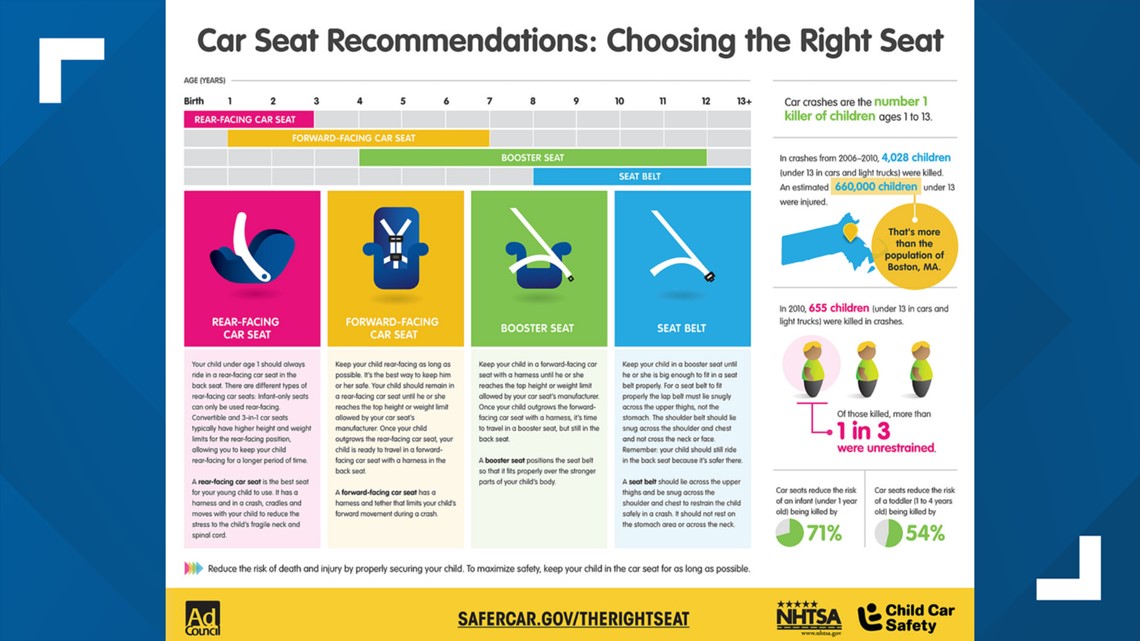 In addition to the safety regulations, Ascension St. Vincent also uses what it calls "Take Me There" stickers. They are filled out by caregivers and placed on car seats. That way, in case of an accident, first responders know basic information about the child, even if the caregivers are not able to communicate.
Just as trauma season starts for local emergency departments, Baldwin reminds caregivers that properly using a car seat can prevent major injury.
In fact, Baldwin and her pediatric injury prevention team are now taking their tips on the road.
"That's a huge part of my job, is being out and about in the community," Baldwin said.
Baldwin's team plans on being at the Indianapolis Zoo to talk to families and share free advice three times in June:
Friday, June 2: 9 a.m. to noon
Friday, June 16: 9 a.m. to noon
Friday, June 23: Noon to 4 p.m.