INDIANAPOLIS (WTHR) — Amidst a rapid rise in COVID-19 deaths at Indiana nursing homes, state leaders still won't say which facilities have been hardest hit by the virus. Most of the nursing homes also refuse to publicly discuss their COVID-19 cases and, in some cases, they have tried very hard to keep the information secret.
But despite a lack of transparency by state officials and many nursing home operators, data showing what is happening inside Indiana long-term care facilities is now being exposed as local and federal agencies begin to release COVID-19 data that is crucial in understanding the spread of the virus. After weeks of collecting this data, 13News is now releasing the information in a searchable online database to help seniors and their families make more informed healthcare decisions.
"I'm helpless, and they know that"
There is growing outrage about the spread of COVID-19 through Indiana nursing homes – not simply that the virus has infected more than 3,000 nursing home residents and been linked to the deaths of nearly 600 of those elderly Hoosiers, but also that their families have largely been unable to get information about where the virus is and how quickly it is spreading.
"My mom tested positive a month before they even told me. They barely give any information about how many cases there are and they don't say anything about deaths," said Craig, whose mother is currently living in the memory care unit of a Morgan County nursing home. The man asked 13News not to identify him, his mother or the long-term care facility where she is living for fear that she might face retaliation for him speaking out, so Craig is not his real name.
The facility where his mother lives has seen a rapid spike in COVID-19 cases during the past week. Craig cannot see his mother because of visitor restrictions meant to keep residents safe, and she cannot speak with him because of her advanced dementia. All the information he receives is from a daily text sent to residents' families.
"They send me texts saying there are dozens of people who are positive, but you can never get ahold of any staff to talk to, and I want to know if people inside are dying from this," he said. "I'm afraid I'm going to get a call any day saying my mom is dead. I go to bed worrying about it and I wake up worrying about it. I'm helpless, and they know that."
Craig's story has been echoed by dozens of other families that have contacted 13News to express frustration about the lack of communication and transparency at many Indiana nursing homes during the COVID-19 pandemic.
Barbara Arteaga is furious that management at Greenwood Meadows told her of only "a reported case" of COVID-19 at her father's nursing home. A week later, he died from coronavirus complications. Only then did Arteaga learn from a 13News investigation that more than 100 residents at Greenwood Meadows had already tested positive for COVID-19 and more than a dozen other residents had already died. Even now, the nursing home and its management company will not publicly release the total number of COVID-19 cases and deaths at Greenwood Meadows.
"I feel like they lied to us."
"I feel like they lied to us," Arteaga told 13News just before her father's funeral. "My dad could be alive right now if they had only provided that information sooner so we could have taken him out of that place."
That is why 13 Investigates has been trying to obtain data about COVID-19 in each Indiana nursing home. But like the families' attempts to get coronavirus information from nursing homes, it has been a frustrating process with roadblocks at every turn.
State leaders "playing with fire"
State health officials collect COVID-19 data every day. State health commissioner Dr. Kristina Box ordered long-term care facilities must report the number of new cases and all COVID-19-related deaths withing 24 hours to the Indiana State Department of Health. But once the state collects that data, it won't share the information publicly – at least not in a way that identifies which nursing homes are infested with the virus and struggling to contain it.
ISDH has chosen to report only aggregate statewide data for its nursing homes. As of May 11, the most recent date that the state released coronavirus data for long-term care facilities, 3,033 nursing home residents had tested positive for COVID-19 and 584 seniors in long-term care facilities had died from it. The numbers show about 40 percent of all Hoosiers who have died from COVID-19 caught the virus in a long-term care facility.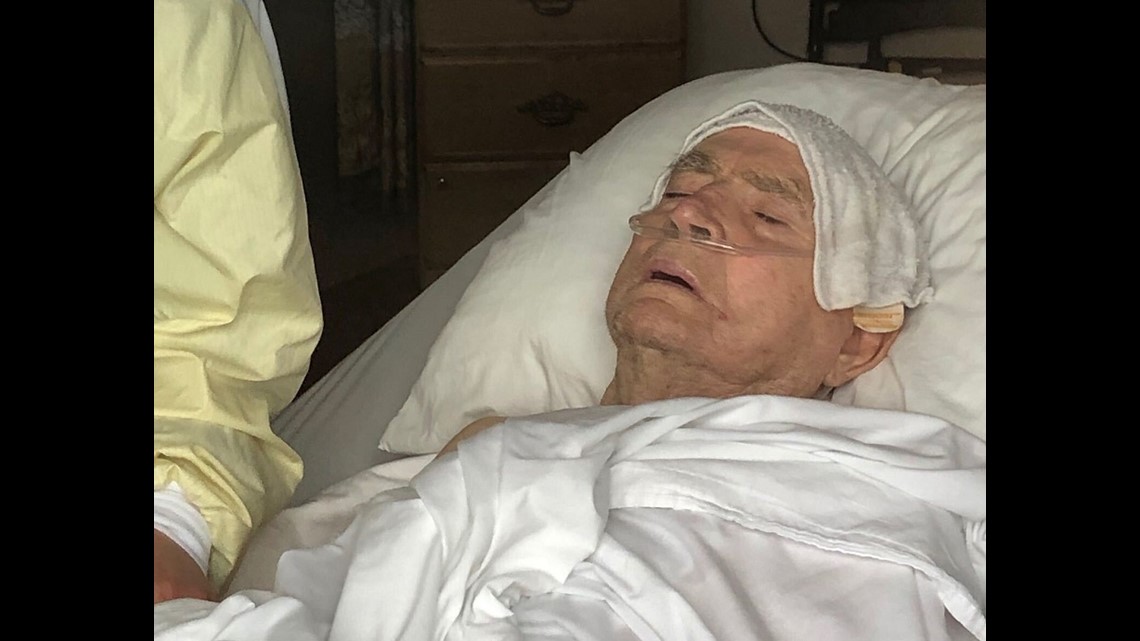 Still, state officials see no need to publicly release data that is specific to any nursing home, instead choosing to provide only a bird's eye view that protects the identity of Indiana's long term care facilities, including those that have COVID-19 outbreaks.
"At this point, that is the extent to which we want to report this," Box said in April, when she was repeatedly asked by reporters why the state would not publicly release its data.
Governor Eric Holcomb also refused to order the information be released, citing the special relationship between private businesses and the government agencies that regulate them. (Most of the nursing homes in Indiana are not owned by private businesses, but rather by municipal health agencies.)
While many other states, including all of Indiana's neighbors, do release COVID-19 data specific to nursing homes, Indiana will not – despite a death toll in Indiana nursing homes that has jumped 360 percent in the past three weeks. State representative Ed Delaney (D–Indianapolis) believes the virus' spread in Hoosier nursing homes is now a statewide crisis that must be met with transparency.
"We're going to be better off if we know how big the problem is and exactly where it is, so we can start analyzing what's working and what's not," Delaney told 13News. "This is public information that the public needs to know about. Why should we have to settle for rumors when the governor has exact data building by building. There is no reason to hide this."
Delaney also believes withholding the data from Indiana residents will ultimately be very costly, and he urged the governor and nursing home owners to be more open about their COVID-19 statistics, including the number of residents at each facility that have been tested, that have tested positive, that have been transported to hospitals and that have died.
"They are playing with fire because it's going to come out eventually. There are morgues and death certificates, so we are going to know who died and where they died," he said. "That industry is going to collapse if it can't play straight with us, and the governor should not help the nursing home industry collapse and destroy public confidence in what they're doing."
Secrecy vs "tell us what you need"
Some nursing homes have released COVID-19 information on their own. Otterbein Senior Life regularly updates the public on data involving its nursing home in Franklin, where more than 50 residents have tested positive for COVID-19 and 15 residents have died from virus complications. The Hearth at Stones Crossing in Greenwood openly discusses its total numbers whenever asked. (Eight reported COVID-19 cases and one death.) Trilogy Health Services now posts coronavirus information daily, detailing COVID-19 data at each of its 20 nursing homes throughout Indiana.
"Just tell us what you need," said David Sease, a spokesman for Otterbein Senior Life, which sent 13News an update about its Franklin nursing home 24 hours ago. "I know transparency is very important to this company."

But most nursing home owners and operators share only limited, inconsistent data about COVID-19 cases or, more commonly, no data at all. For example, CarDon, which operates 19 nursing homes in the state has posted some details about COVID-19 incidents at Carmel Health & Living and its other Indiana nursing homes. But the daily data updates often do not reflect the total number of residents who have tested positive for COVID-19 and those who have died. CarDon has not responded to 13 Investigates' requests for data involving all of its long-term care facilities in Indiana.
Long-term care provider Communicare told 13 Investigates it will not provide data for any of its 20 Indiana locations.
"We've actually decided to decline to make those numbers public. Having a lot of attention paid to those numbers is counterproductive to what we are doing," Communicare general counsel Fred Stratmann told 13News Thursday afternoon. "I think the numbers paint the industry in a bad light and creates panic and fear."
American Senior Communities, the state's largest nursing home operator, will not publicly release COVID-19 case and death data for its 78 long-term care facilities in Indiana. Despite repeated requests from 13 Investigates, ASC will not explain the reason for withholding the information, stating instead that the company is following reporting guidelines established by state and federal agencies.
"Communication with families is very important to us," ASC spokewoman Sherri Davies wrote last week in an email to 13News. "Greenwood Meadows has been working very hard to communicate regularly and effectively with residents and family members regarding the novel virus. In response to the April 27th COVID-19 guidance by Governor Holcomb which was most recently updated on May 3, we are providing all information as requested by the Indiana State Department of Health to residents and designated representative under guidance and will continue to keep families informed."
Over the past six weeks, many families who have loved ones at ASC facilities have disputed ASC's position, describing repeated attempts to contact ASC nursing homes without getting any response. And multiple ASC staff told 13 Investigates they were told by management not to share COVID-19 information with residents and their families.
ISDH recommends that all long-term care facilities follow a set of guidelines to ensure residents and their families are informed about COVID-19 cases within each nursing home. Those recommendations are not good enough, according to Sara Waddle, the Indiana state director for AARP.
"We know there are instances where people aren't getting the information they need, and I think we're really to a point where it's not working," said Waddle, whose organization represents more than 800,000 Indiana seniors. "And there's one really easy way to clear all this up, and that's just make the information public. We've been direct with the governor's office about that, but it looks like we may need to be more aggressive in making that point."
Find data for a specific nursing home
Since most nursing homes are not releasing COVID-19 information specific to each facility and state leaders have not been willing to require it, 13 Investigates has found a different way to gather nursing home data for the public.
Over the past two weeks, 13News has been collecting nursing home COVID-19 information from county health departments, which are required to release public data in their possession. Some county health departments refused our request. Marion and Morgan counties, for example, appear unwilling to release COVID-19 data for a single nursing home. WTHR has filed a formal complaint with the Indiana Public Access Counselor to challenge that decision.
But most central Indiana health departments are now releasing data showing the number of COVID-19 cases and deaths at each location. 13News has compiled that information into a database that you can search right now. It includes more than 100 long-term care facilities where nearly 1,000 cases of COVID-19 have been reported, resulting in nearly 300 of the state's nursing home deaths. Because some counties will not release their nursing home data, not all long-term care facilities in central Indiana are represented in the database, but we are adding more locations to the database and updates daily.
Keep in mind, the data itself is not an indication of the quality of a long-term care facility. For example, a nursing home that shows many COVID-19 cases may have decided to be proactive and test many or all of its residents, resulting in the discovery of multiple cases, while a nursing home that shows no cases may have not tested any residents at all. And because there is often a delay in obtaining data due to lag time in reporting between nursing homes, ISDH, local health departments and 13News, today's updated data may be several days old. The information included in the database should be used as just one factor when making healthcare decisions involving a loved one residing at or in need of a long-term care facility.
Has anyone in the nursing home tested positive for COVID-19?
What is the nursing home doing to prevent infections?
Does nursing home staff have the personal protective equipment that they need to stay safe, and keep their patients safe?
What is the nursing home doing to help residents stay connected with their families or other loved ones during this time?
What is the plan for the nursing home to communicate important information to both residents and families on a regular basis?
Is the nursing home currently at full staffing levels for nurses, aides, and other workers?
Even though the state has been allowing nursing homes to keep their COVID-19 data secret, The Centers for Medicare and Medicaid Services has decided that information is too important to keep hidden. The federal agency just announced it will start publishing coronavirus case and death information for individual nursing homes all across the country. CMS hopes to start doing that by the end of this month, and 13News will provide more details and a link when that happens. In the meantime, you can find much of the data right now by searching 13 Investigates' Nursing Home COVID-19 database.
If you have a family member at a long-term care facility in Indiana, have trouble getting information from that facility and are listed as the official contact for your family member, you can file a complaint with your state or local Long-Term Care Ombudsman's office.