INDIANAPOLIS — Special Prosecutor Rosemary Khoury announced the grand jury decided no criminal charges should be filed against the IMPD officer involved in the deadly shooting of Dreasjon Reed.
"This has not been an easy task and it's been a very heavy burden," she said. "I have to believe that justice was done because I trust our system. I trust our judicial system. I put this in the hands of a special grand jury. I presented them with what I thought was a very thorough, comprehensive investigation that my team put together. And I have to believe in the system."
Khoury said she reached out to Reed's mother early on and promised a fair investigation. She said she feels she lived up to that.
"The most challenging part was trying not to let my emotions become involved. There was a lot of evidence to sort through. There were many, many witnesses that the investigators needed to interview and I believe that, like I said, the most challenging part was trying to sort through all of the evidence," Khoury said.
IMPD Officer Dejoure Mercer shot and killed Reed on May 6 after a vehicle pursuit. Reed streamed part of the police chase where he ended up stopping the car at 62nd Street and Michigan Road on the city's northwest side. In the video streamed by Reed, at least 12 to 15 gunshots can be heard before someone says "police action shooting."
The recovered shell casings came from two guns, according to IMPD Chief Randal Taylor. Khoury had Indiana State Police take over the investigation from IMPD.
Indiana State Police showed surveillance video and audio from before, during and after the shooting, along with images of the scene.
Among the images were ones showing the barb from the officer's stun gun still in the leg area of Reed after the shooting. ISP said the stun gun saved the officer's life by causing Reed to fall as he was pulling his weapon. ISP said that allowed Officer Mercer to pull his gun and fire at Reed.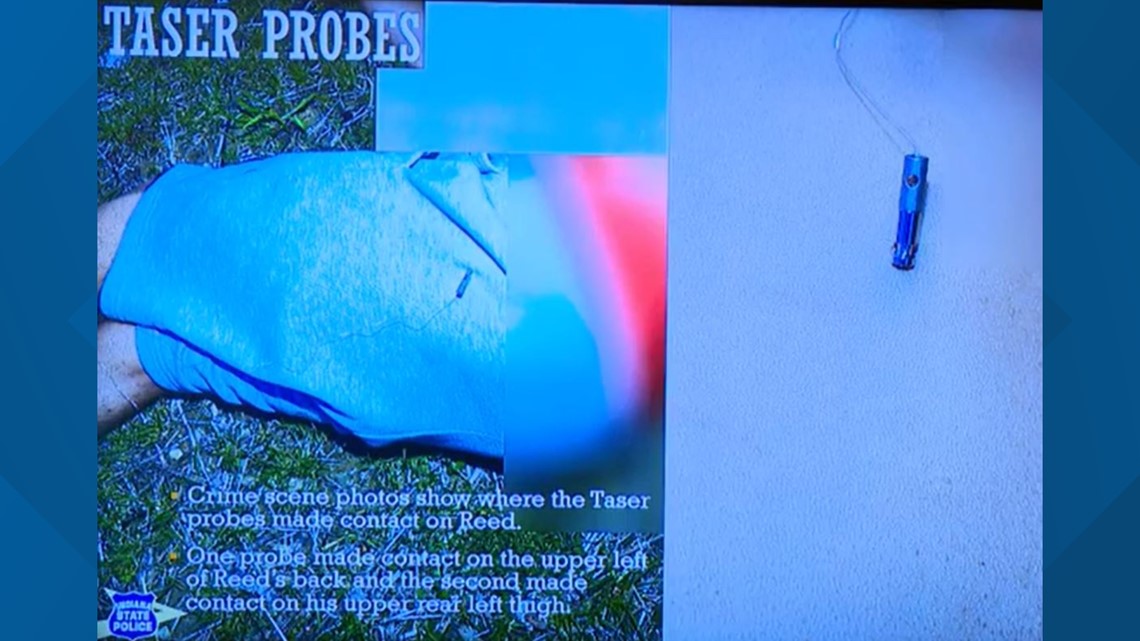 An analysis of Reed's Facebook Live video showed shell casings being discharged.
ISP said two of the shell casings at the scene did match Reed's gun. Reconstruction showed Reed was facing the officer when he was shot. ISP said they were unable to determine who shot first, but that Reed did fire two shots at the officer.
ISP said the gun Reed had was linked to other crimes, including two drive-by shootings in Indianapolis. No one was injured in those drive-by shootings. The weapon itself, ISP learned, had been stolen from a pawn shop in Texas. ISP said surveillance images from that store showed Reed take the gun.
Reed's family filed a federal lawsuit against Indianapolis and the IMPD for his death. The lawsuit claims excessive force and wrongful death in the case. IMPD was later dismissed from that case by a judge.
According to attorneys for the family, they say "at the time of the shooting, Reed presented no immediate threat to Officer Mercer or anyone else," and that Reed did not fire at Mercer.
Officer Mercer has been with the department since 2016. He is currently on administrative duty. The firearms review board will review the circumstances of the case now that ISP has completed its criminal investigation.
Reaction to grand jury decision
Indianapolis Mayor Joe Hogsett released a statement in response to the grand jury decision:
"Today my thoughts are with the family of Dreasjon Reed, who continue to grieve the loss of a son, a brother, and a friend. The events that led to the death of Mr. Reed have forced our community to confront the loss of this young life and have raised understandable questions produced by centuries of racism and mistrust.
From the beginning, I advocated for a transparent review of the incident – requesting monitoring from federal authorities and supporting the appointment of a special prosecutor to lead the Indiana State Police investigation. Today's announcement by Special Prosecutor Khoury draws this process to a close, with the empaneled grand jury declining to issue an indictment.
This decision ends the criminal review of the interaction but it doesn't heal the divides in our community caused by a heartbreaking incident such as this. I offer my sincere thanks to the many faith and community leaders who have advocated for law enforcement reforms, including the creation of a Use of Force Review Board, changes to our Use of Force Policy, the implementation of body cameras, and a citizen-majority General Orders Board. These reforms are meaningful steps forward as we continue to build new trust between Indianapolis neighborhoods and our police department."
IMPD response
"We are grateful to Prosecutor Khoury, Indiana State Police Superintendent Carter and all the troopers who participated in this investigation, as well as the citizens who served on the grand jury for ensuring a fair and just investigative process and a transparent outcome.
We also extend our thanks to Indianapolis residents for awaiting the conclusion of this lengthy and intensive process alongside us. We understand that this result may be frustrating for some of our residents, but it is our hope that the full transparency offered by Prosecutor Khoury and Superintendent Carter will help to move our city forward, improve the relationship between our officers and neighborhoods, and bring us closer to healing the division in our community. We look forward to continuing a productive dialogue with our residents and building the types of partnerships with our neighborhoods that prevent violence."
John Kautzman, attorney for IMPD Ofc. Dejoure Mercer
"We appreciate the careful analysis and review of this matter and the grand jury's conclusion that Officer Mercer acted legally and reasonably based upon the totality of the circumstances. We've always believed the evidence proved that Mercer was justified in defending himself on the date in question and did not engage in any improper conduct related to this encounter. The evidence showed that he took actions consistent with his training - and more importantly - consistent with the law. He has never before faced criminal charges or any type of departmental discipline for alleged use of excessive force. Indeed, Officer Mercer has served this city diligently and in good faith - with bravery and professionalism.
There are of course no winners when an officer is required to use deadly force in tense, unertain, and rapidly evolving situations. We look forward to putting this entire matter behind our client and his fellow officers and hope this will start a process of healing for the entire community of Indianapolis."
NAACP statement
"The Greater Indianapolis Branch of the NAACP asks for peace in the community as Special Prosecutor Rosemary Khoury and the grand jury concludes the Reed investigation by issuing no charges. We, like Prosecutor Khoury, believe there are no winners in this tragic circumstance. The Branch appreciates the transparency of the investigation and giving the community as close to a full disclosure as permitted by the law.
The NAACP has long-standing experience with issues involving police use of force. We need an ongoing dialogue that continues to reimagine policing within the greater Indianapolis community. The task may seem daunting, but we feel Indianapolis will rise to meet the challenge.
We appeal to community members who wish to express themselves to do so in a peaceful manner and not engage in detrimental conduct which undermines our cause. By remaining peaceful, the overall message of respect and transparency in policing will not get lost.
Again, our hearts are with Dreasjon Reed's family, the IMPD family and the Indianapolis community as we begin to move forward in the healing process."
African American Coalition statement
The African American Coalition of Indianapolis issued a response reading in part:
"We recognize that not only his family but the Black community, including the officer involved have been significantly impacted by this tragic event."
"Peaceful protest is the language of the unheard and a constitutional right that should be protected. But beyond protesting, the AACI commits to its ongoing work of creating a relationship between the police and the community built on trust, shared accountability and mutual respect. We hope that things for which we have advocated for and are being implemented including implicit bias training, body cameras, de-escalation training, citizens on both the use of force and general orders boards are steps to prevent future police action shootings and promote existence of real accountability."
Indiana Black Legislative Caucus statement
"The Indiana Black Legislative Caucus has a mission to advocate for those in need and ensure that we do our best to protect our constituents. As you are aware, threats of violence and fear are among us. Today, the decision of the grand jury in the Dreasjon Reed case was announced. It is our sincerest intention to extend to the family of Mr. Reed our deepest condolences.
While we respect engagement and demonstrations, we want to encourage everyone to be cautious. The IBLC will remain vigilant and continue to monitor the situation. We implore everyone to remain safe and remember that we are in the middle of global pandemic. Please treat each other with humanity and kindness."
100 Black Men of Indianapolis
"The 100 Black Men of Indianapolis, Inc. continues to remember the Dreasjon Reed Family in thoughts and prayers after his tragic death. This case has left many broken hearts in our community. Our organization's mission includes mentoring young people in their educational goals which Reed benefited as a participant.The 100 Black Men of Indianapolis urges members of our great city to respond to the Grand Jury Decision in this case with respect, civility and peace. Although the case may have led to some divide, we as a community must heal as we remain thankful for the men and women in law enforcement who continue to protect & serve the City of Indianapolis every day. Our organization supports a healthy and strong relationship between The Indianapolis Metropolitan Police Department and the community as we all work together for a more trusting relationship."
Indianapolis Urban League
"The Indianapolis Urban League is vigorously advocating for accountability measures within the ranks of our law enforcement agencies by closely monitoring the rollout of police officer body cameras and the implementation of a majority civilian representation on the Use of Force Review Board. We also stand in unity with the African American Coalition of Indianapolis, other community partners and civic and corporate allies who are also advocating for improved transparency and accountability for police actions in our city," said Tony Mason, Indianapolis Urban League.
"As we continue to lift our voices for social justice, we must not allow our actions to overshadow our message for accountability and affirm our commitment to non-violent protests." Mason said.
IMPD timeline of shooting
On May 6, 2020 at approximately 6:00 p.m. Indianapolis Metropolitan Police Department (IMPD) Deputy Chief Kendale Adams was traveling northbound on Interstate 65 at West 30th Street when he observed a vehicle, described as a grey Toyota Corolla with four doors, driving recklessly. The vehicle had almost struck other vehicles while it exited the interstate. Deputy Chief Adams was in an unmarked police vehicle and Chief Randal Taylor was in a separate vehicle directly behind Deputy Chief Adams. Both Chief Taylor and Deputy Chief Adams were in uniform.
Deputy Chief Adams asked for other officers' assistance as he began a pursuit on the vehicle. Chief Taylor continued to assist Deputy Chief Adams. The vehicle continued driving at a high rate of speed and disobeying all traffic signals.
As marked cars arrived in the pursuit, Chief Taylor and Major Adams removed themselves from the pursuit as is standard procedure. At 6:10 p.m. the pursuit was terminated by the Sergeant monitoring the pursuit. Officers immediately backed away from the vehicle and disengaged their emergency equipment.
Just before 6:16 p.m. a Northwest District officer observed the grey Toyota Corolla pull into the rear of a business in the 6200 block of Michigan Road. The driver then jumped out of the vehicle disregarding the officers verbal commands to stop. A short foot pursuit occurred east bound from the location. Initial information indicates the officer deployed his taser. It appears the taser was ineffective, and an exchange of gunfire between the driver and the officer followed. The driver was struck by the gunfire.
The officer was not hurt in this exchange; however, the driver, later identified as Dreasjon Reed, was pronounced deceased on the scene.
Officers located a firearm near Mr. Reed at the scene, which was collected as evidence. The distinctive appearance of the firearm matched one Mr. Reed had been seen posing with on social media.
Ballistic evidence recovered from the scene initially indicate that shots were fired from both the officer's weapon and Mr. Reed's weapon. Details will be confirmed as the evidence is tested by the Marion County Forensic Services Agency.
The IMPD Critical Incident Response Team is handling the criminal investigation. The Marion County Prosecutor's Office (MCPO) was also on the scene.
An Internal Affairs investigation is also ongoing.
The officer is currently off work on administrative leave as is standard procedure in these types of incidents.
NOTE: The above video is from a previous report on the day of the shooting.
Civil suit filed by Reed family
The lawsuit alleges four IMPD officers, the city of Indianapolis and IMPD used "excessive force" in violating Reed's Fourth Amendment rights.
The four officers listed are IMPD Chief Randal Taylor, IMPD Deputy Chief Kendale Adams, IMPD Officer Dejoure Marquise Mercer, and IMPD Officer Steven Scott.
Reed's mother, Demetree Wynn, filed the federal lawsuit in June.
On Tuesday, Oct. 27, Judge Jane Magnus-Stinson dismissed IMPD from the lawsuit, citing that city agencies are protected from certain laws.
"Defendants argue that the IMPD is not a suable entity, and therefore all claims against it must be dismissed. [Filing No. 16 at 3.] Specifically, Defendants assert that although municipal corporations have the capacity to sue and be sued under Indiana law, their individual departments and agencies do not, and courts have consistently recognized that the IMPD is not suable except in the context of lawsuits for access to public records, which is not the case here."
Here are the claims that have been dismissed from the lawsuit:
IMPD
Excessive force claims against Mercer, Taylor, Adams and Scott
Wrongful death claims, negligent infliction of emotional distress and intentional infliction of emotional distress against Mercer and Scott individually
Intentional infliction of emotional distress claim against the city
Indemnification claim against the city dismissed for now, since no liability established yet
Following the court's decision, here is what remains in the wrongful death lawsuit:
Excessive force against Mercer individually and against the city
Claim for failure to train against the city
Wrongful death claim against the city, Chief Taylor and Adams
Battery against Mercer and the city
Negligent infliction of emotional distress against the city, Chief Taylor and Adams
Denial of medical care against Mercer