INDIANAPOLIS — The transcript of a police interview with Kegan Kline reveals new details about the investigation of the Delphi murders.
Kline is the man allegedly behind the fake "anthony_shots" social media profile connected to the killings of Abby Williams and Libby German. Their bodies were found February 14, 2017, near a trail in Delphi.
The transcript of the video interview Kline gave at the Indiana State Police post in Peru when he was arrested August 19, 2020 is 194 pages long. It was obtained through public records by "The Murder Sheet" podcast. That document has since been sealed in the court record.
Kline is not charged in the killings of Abby and Libby. But he faces 30 charges involving child pornography and exploitation. In court records, Kline admitted to creating the social media profile "anthony_shots" to meet underage girls and receive sexually explicit photos.
Eleven days after the bodies of the girls were found, police served a search warrant at the house in Peru where Kline lived with his father. They seized phones and other electronic devices.
But Kline was not arrested until more than three years later. In that 2020 interview, investigators told Kline that the "anthony_shots" profile is one of the last contacts with Libby German before her death.
"I literally have no clue how that girl died," Kline told investigators. "I don't know anything, anything to do with it. Yeah, that is a weird a** coincidence that I happened to talk to her, like, I get that."
After her death, "anthony_shots" communicated online to others that he was supposed to meet Libby, "but she never showed up."
Kline told investigators he believed he was being interrogated again as a murder suspect:
"Killing two girls - that's what they said to me. They tried to say that I failed a polygraph and that I did it. Me or my dad," he said.
Investigators intensely and repeatedly questioned Kline about someone else using his devices, suggesting his father may have had access. His father's name is Jerry Anthony Kline. He goes by Tony. Kegan lived with his father in Peru at the time of the murders.
Tony Kline pleaded guilty to harassment in a 2009 Howard County case where he admitted to making repeated sexually explicit phone calls to a woman. Tony also has previous convictions for battery and theft.
Attorney Kevin Greenlee and journalist Aine Cain, founders of the "The Murder Sheet" podcast, told 13News Thursday the transcript also revealed how Kegan Kline communicated with other young girls.
"Some other girl gave anthony_shots her address, and shortly thereafter, this girl is coming home on a school bus and she sees someone in a ski mask looking into her bedroom window. That's like something out of a horror movie," Greenlee said.
Greenlee and Cain say the transcript gives insight into where the investigation stands. They reached out to investigators and the prosecutors office before they went public with it.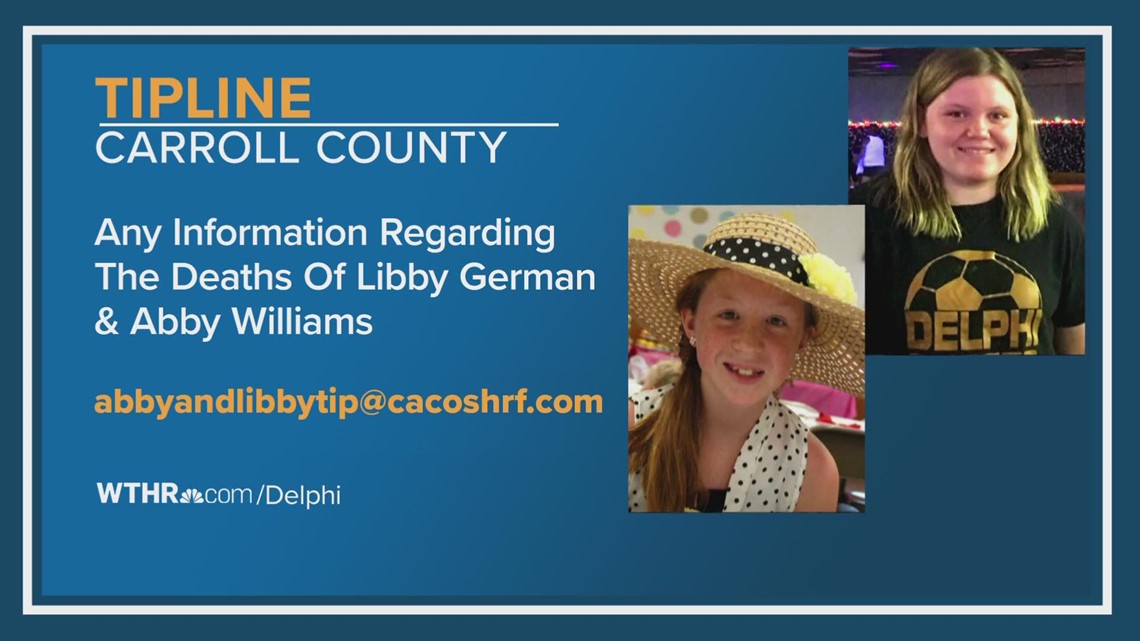 How to submit a tip in the Delphi case
Those with information about the case can email abbyandlibbytip@cacoshrf.com with as much information as possible, including:
Suspect's name
Date of birth or approximate age
Physical description, including height, weight, hair color, eye color
Address or location, including city
Vehicle information, including year, make, model, color
Specific reason for the tip; Why could they be the suspect?
Motivation for the crime
Connection to Delphi, Indiana
Police say individuals don't need to have all of those pieces to send a tip, but do ask to include as many details as possible.