INDIANAPOLIS — It is no secret businesses are experiencing labor shortages. In some cases, companies are turning away customers because their work force can't support the demand.
That is why a viewer sent us this Facebook post asking if it's true:
"FYI: Business Owners. If you are having the same issue as many other business owners are when it comes to hiring individuals and no one is showing up after being hired, call the Department of Workforce Development at 920-208-5856 to report the name(s) of those who were offered a job and didn't bother to show up or contact you with other arrangements due to other circumstances. Once they have been given a name they will check to see if this person is on unemployment. If they are and are "refusing to work" they can and most likely will be disqualified for unemployment."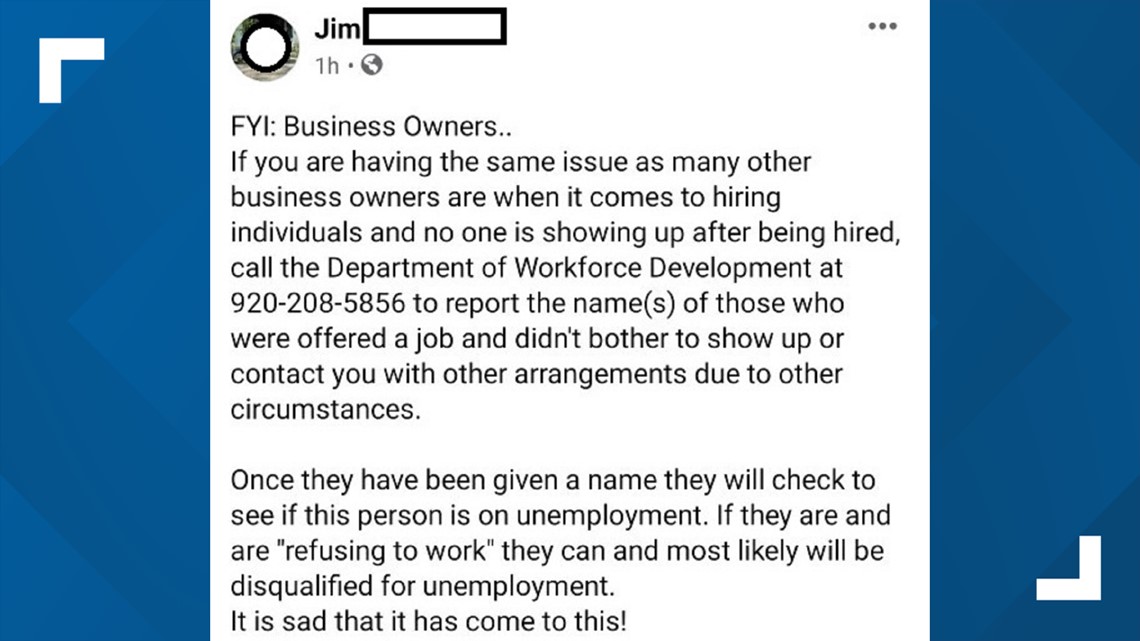 THE QUESTION
Can employers report unemployment claimants who decline suitable job offers to the state?
THE SOURCE
Indiana Department of Workforce Development
THE ANSWER
Yes, employers can report a claimant's work refusal to DWD via their SIDES online portal and yes, that report can impact a claimant's benefits.
However, the phone number listed in the Facebook post is non-working.
WHAT WE FOUND
If an employer reports a claimant's refusal to return to work or refusal to accept a suitable job offer, the claimant will receive a notice on their Uplink page that an employer has made a report, according to Indiana DWD's Frequently Asked Questions. The state says a suitable job offer is a job under substantially the same terms and conditions as your previous job.
The DWD's FAQ goes on to say that DWD will evaluate the reasons for refusal and make a determination on continued eligibility for unemployment insurance benefits.
The claimant will then receive a Determination of Eligibility (DOE) in Uplink.
If the DOE denies or reduces a person's UI benefits, he or she has the right to appeal the DOE.