INDIANAPOLIS — There's a brand-new elephant encounter at the Indianapolis Zoo.
Not only is the exhibit much larger, but your family can now give the animals a "spa day."
At a time when COVID-19 has families social distancing, the new close encounter at one of Indy's favorite attractions allows people to experience elephants more personally at the Indianapolis Zoo.
"You're actually really close," explained elephant trainer Sara Parsons. "You can actually get sprayed during the bath if you get too close!"
The exhibit is an expansion from the original home for the zoo's herd of six: Sophi, Ivory, Tombi, Kubwa, Kedar and Zahara. The larger space gives the majestic animals more room to roam and gives visitors a firsthand look at their care.
Guests can touch the elephants, too.
"We have a lot more shaded areas and grass for them to eat and then we also have our demonstration areas where we can give them baths," Parsons said. "We can do different husbandry behaviors with our elephants that the guests normally wouldn't get to see on a previous basis."
It's also giving the zoo's youngest guests a much better view.
"I kinda see its legs and I see its ears," said 6-year-old visitor Ben Betzner. "I see its trunk too."
"The elephants that I've seen they didn't have those," added 5-year-old Skyler Crawford, pointing at the tusks. "They're pretty cool!"
Now, this exhibit is getting even more interactive, with an animal adventure where you can actually scrub and bathe the elephants.
"We soap them up with a special elephant soap that helps moisturize their skin," Parsons explained, "and we'll scrub them and rinse that off, so we'll have guests do that and it's really exciting for us"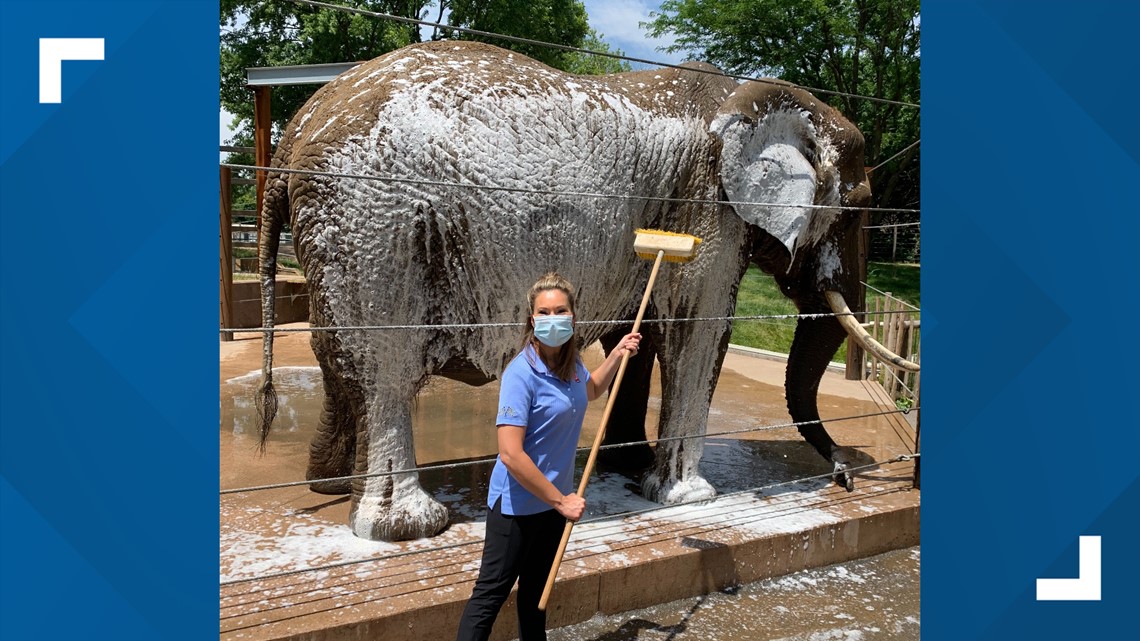 Admittedly, it was also pretty exciting for certain news reporters.
13News reporter Jennie Runevitch got to try out giving Sophi a "spa day," which she thoroughly enjoyed.
Families can reserve a spot online for up to four people to bathe the elephants.
The cost is $200 for zoo members, $280 for non-members.
Children have to be at least six years old and those under 14 must be accompanied by an adult.
The zoo says it's a chance to learn more about the elephants, get up close and personal and give a little pampering to these 9,000-pound beauties.