CARROLL COUNTY, Ind. — A storm cell that moved through north central Indiana Friday night produced a pair of tornadoes that touched down in Tippecanoe and Carroll counties.
The National Weather Service on Saturday confirmed there was an EF-1 tornado in far eastern Tippecanoe County and an EF-0 tornado in western Carroll County on Friday night.
Most of the northern part of central Indiana was placed under a severe thunderstorm watch earlier in the day Friday.
The first tornado touched down in far eastern Tippecanoe County around 8:18 p.m. Friday night. It had maximum winds of 95 mph and it traveled 2.17 miles.
In a report, the NWS described the path the EF-1 tornado took and the damage it caused.
The tornado began near the intersection of 1025 E and 100 N in far eastern Tippecanoe County.
The NWS reported a roof on the east side of a barn was lifted and thrown about 20 yards to the southeast. The tornado also broke several large branches off of trees and threw them to the west and northwest.
A small windmill was knocked down during the storm and pointed into the path of the tornado and several small farm vehicles were moved or overturned.
The NWS reported the tornado then appeared to lift briefly but may have occurred again in a field of corn before hitting a barn and house along County Line Road, which was northeast of where it originally began. In this location, another roof segment was torn off a small barn and tree branches were thrown into the side of a house and a few went through windows.
At another farm across the road in Carroll County, a barn's roof was lifted and one of its walls collapsed. The tornado continued on a northeast path to just north of the intersection of County Road 700 S and 800 W where it hit a farm and threw the roof and sides of two barns to the north and west. This is where the NWS reported the tornado appeared to have ended at 8:23 p.m.
At around 8:30 p.m., the NWS issued a tornado warning for Carroll County for a storm with radar-indicated rotation near Flora.
A short time later, reports were made of a tornado on the ground in Carroll County. Emergency dispatchers told 13News they received reports of "a lot of touchdowns" east of Flora and north of Burlington.
According to the NWS, the storm continued moving northeast from Tippecanoe County into Carroll County. It traveled across large expanses of corn and bean fields as well as wooded areas. There wasn't any additional damage until just east of County Road 500 E along 100 S where the second tornado began and brushed the corner of a wooded lot and a home.
Photos shared with 13News show a large funnel cloud near Burlington in Carroll County.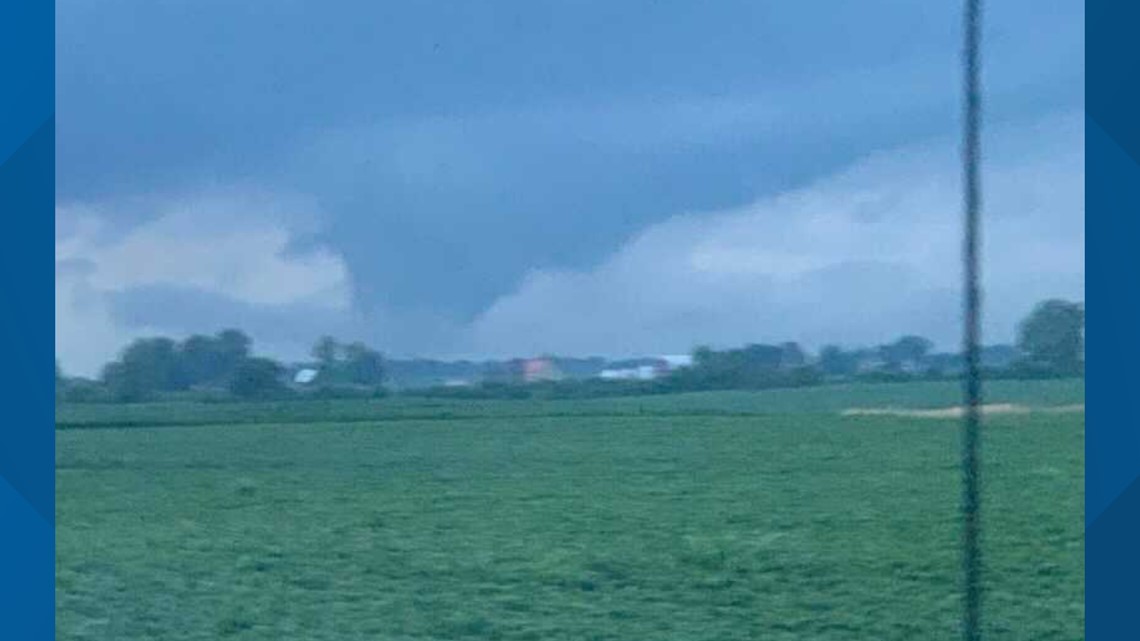 This tornado was rated an EF-0 with winds of 70 to 74 mph. It traveled 2.35 miles, which was a little further than the previous tornado.
Reports of damage in Carroll County included mainly tree damage and some minor shingle or siding damage to homes, but there were no reports of any injuries.
The first damage the NWS found was several trees that were snapped towards the top with large limbs broken and brought down to the northeast, but a few large limbs were convergent into the path of this tornado and pointing southeast.
The NWS reported this tornado again appeared to dissipate but quickly start again multiple times along its path.
This tornado ended just south of County Road 100 N about halfway between 600 E and SR 18 in Carroll County. This location was near the border of Howard County.
A tornado warning was extended into the western portion of Howard County Friday night, where a photo shared on social media appeared to show a large tornado - and possibly two funnels - in the northern part of the county, near CR 1200 West.
A tornado warning was later issued for southeastern Cass County until 9:45 p.m. and extended until 10:15 p.m., but that warning was allowed to expire as the storm weakened.
Storm chaser Robert Swisher recorded video of a tornado near Rossville in Clinton County, which wasn't a warned storm at the time.
In a second video, Swisher captured the apparent tornado pulling the roof off a barn in the same area.