DOUGLAS, Mich. — Douglas, Michigan, is made up of only 1,300 people, but if you are an art lover, its importance to the Midwest is so much bigger.
Leave the tourist town of Saugatuck, take a few winding curves, and you'll wind up at a gallery and winery that is so well known, it has drawn guests from many parts of the world.
J. Petter Galleries is one of many galleries in southwest Michigan, but it is profoundly special and important to this region . . . in part, because of its location.
Juli Petter left the corporate world in 2013 and took over ownership of the gallery, a place influenced in large part by Lake Michigan.
"The beauty of the area is definitely a draw to artists. You get artists that come here to try to paint what's here — the beautiful lakeshore, the water, the sky. I think that we attract artists, which turns us into an art town," Juli said. "The history of it is maybe a little deeper. Back in the early 1900s, the School of the Art Institute of Chicago opened an artist residency here called Ox-Bow, so that brought a lot of artists here and artists from all over the world for residency. In the '70s, Joyce Petter, who opened this gallery, had been traveling the world and had realized that there was not a lot of great places for American art to be shown, so she opened her fine art gallery here."
Joyce was joined by other artists who opened galleries nearby and a destination place for art lovers was expanded.
Juli's art offerings cross every possible category. There are paintings and pottery, as well as glass and sculptures. The viewing areas are huge and because of the size of the facility, it would be easy to think of it as a museum. But it is not. J. Petter Galleries is a place to purchase fine works at just about any price point. Because of its prominence, Juli said she can be picky about who gets to show their work here.
"I say a lot of no's, unfortunately, because the level of art in here has gotten so good that the art really has to be over the top to get in," Juli said. "I look for things that are unique that I haven't seen before. I listen to my clients that are coming in."
What are they looking for? Colors, a different style of brushstroke, well-finished and there has to be a "wow factor."
There are PLENTY of wow factors here to see, from local artists to those from different parts of the world. There are a lot of rooms here, and in each one, the intent is for guests to be totally immersed in the art, the experience and the possibility of taking something home!
"I want them to be surrounded by it. I mean, this place is so big. We have 24 rooms. We have a wonderful wine bar, where they can come in and have a glass of wine. I encourage people to walk with the wine, to sip, to savor, to linger, to let themselves feel what's around them," Juli said. "There's an energy in this space and this building that's really special."
PHOTOS: Artwork at J. Peter Galleries
Lake-based paintings, impressionistic and more avant-garde work are all in the galleries. It's a place you can easily spend an entire afternoon and be motivated to come home with a wonderful treasure. It's also a place, according to Juli, to make — and even relive — lifetime memories.
"They purchase a piece like this because it's a memory of their vacations. It's a memory of their family times together," Juli said. "One of my favorite stories about one of these pieces was I got a call from a lady in New York, and she said, 'There was this painting, and the painting was up the dunes in Saugatuck, and I used to vacation there with my grandparents. I need a painting like that. Can you help me get one?' So that's kind of fun."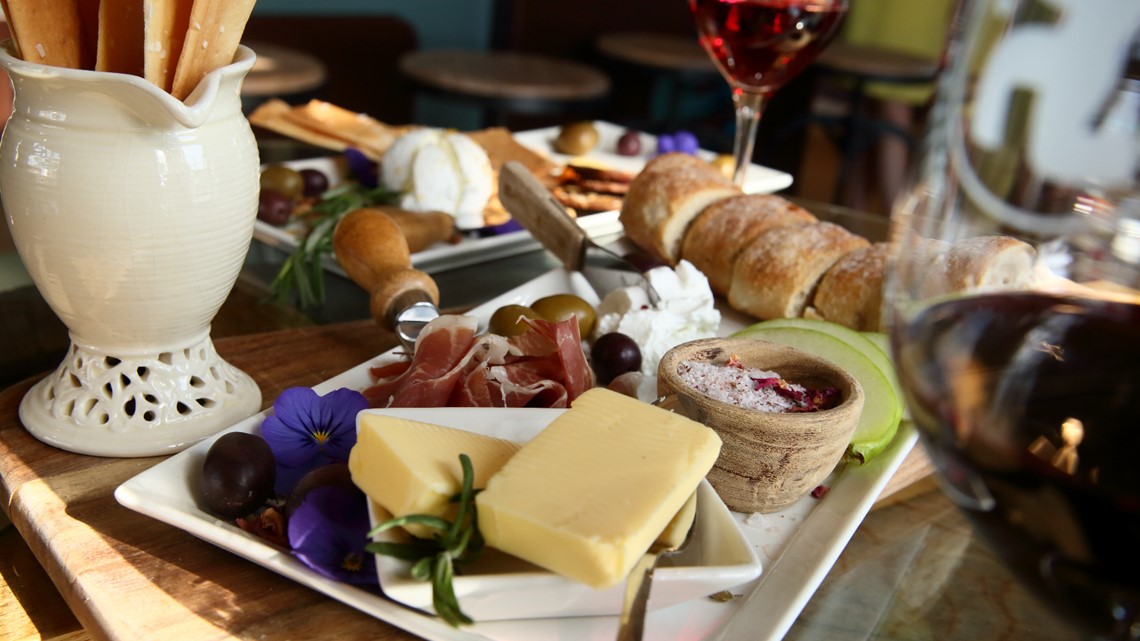 Did I mention the quiche? Juli also has specially baked goods created just for the gallery. On occasion, guests can also hear music outside on the patio. J. Petter Galleries and the other galleries in the Douglas/Saugatuck area want this part of Michigan to be a total destination stop. They have transformed the lake shore to the art coast!
From jewelry to functional art, from exhibitions to two- and three-dimensional pieces, this gallery is a must-visit. Be prepared, you'll probably linger here quite a while once you walk in the door.
J. Petter Galleries also has a smaller location in Saugatuck.