MACKINAC ISLAND, Mich. —
Chuck and his team take us on a bucket list trip to the majesty, mystery and fun of beautiful Northern Michigan.
The Straits of Mackinac
 For hundreds of years, this windy, treacherous, beautiful connector between Lakes Huron and Michigan has been a formidable foe for captains of every kind of vessel. 
The main strait is only three and a half miles wide, nearly 300 feet deep and flows between the world-famous Mackinac Bridge, one of the most recognized suspension bridges on the globe. The currents are some of the most challenging in all the Great Lakes. A voyage here means holding tight to the steering wheel.
Imagine then, navigating these straits daily, with passengers on board on trips to and from historic Mackinac Island. Ferries leave in the morning and continuously make half-hour junkets to and from the island until the middle of the evening.
Our Chuck's Big Adventure crew boarded a ship in the Shepler's Ferry fleet on a rainy, cold, windy Saturday night. The few passengers on board took refuge in the ships covered lower deck. We didn't. Producer Megan, photographer Steve and I braved the elements for a fast, rocky 25-minute trip to the island.
Our captain, Steve, didn't seem nervous even though we found it hard to even walk up the aisle. He was just glad the ship was moving at all. Due to the pandemic, the tourist season was in doubt. In fact, in May, the captain thought the whole season might not happen.
The season did open up though and by mid-summer, the crowds were streaming back to Mackinac Island and getting there on Shepler's Ferry vessels.
"It's a great atmosphere. They are just ready to go and get to the island and have a good time," Captain Steve said.
One of the other captains we met, Captain Geoff, who once piloted a ferry through 90 mile per hour winds, said this year has been the most different seasons of his career, due primarily to COVID-19.
"After every trip, every one-way, we sanitize the whole thing," Captain Geoff said. "We have a 30-second dry time fog that kills everything and anything under the sun." 
The extra cleaning time has not dramatically changed times for arrivals and departures. 
Riding the ferry to Mackinac Island is fun. As an eighth grader, I made my first trip on a ferry to this magnificent destination, and I felt the same thrill many years later. The fresh air, chill from the water and anticipation of arriving were just as real now as then. If you've not been, make this a bucket list trip and by the way, tell Captains Steve and Geoff I said hi!
Grand Hotel
Stand in front of Mackinac Island's Grand Hotel and just watch. Watch people walking up the hill to this place, and watch as tourists approach the building on horse taxis. Watch closely, and you'll see the same reaction: dropped jaws and folks saying the word, "wow."
This was a big get for our Chuck's Big Adventure team. After the hotel agreed to being featured, we made Mackinac Island our first stop. We began our trip back in time by arriving to the island via the Shepler's Ferry, loading our gear on a horse taxi and arriving to this magnificent edifice with the same dropped jaws in awe that most visitors have.
The Grand Hotel truly is a trip back in time, something that management embraces wholeheartedly. They also help visitors get in the mood for a slower, more laid-back visit. The center of that effort is the world's longest front porch, providing an incredible view of the Straits of Mackinac, Lake Huron and the idyllic island that draws thousands of visitors each year.
The front porch, at any one time, has 100 rocking chairs available and 260 Geranium boxes that use 7 tons of potting soil. It is almost impossible to sit in one of those chairs, stare out at the natural beauty and not feel a sense of peace and calm.
Five U.S. presidents, including JFK and Harry Truman, have stayed here, and even Thomas Edison and Mark Twain checked out this historic resort. Vice President Mike Pence is the latest nationally known visitor, where he delivered a speech in September 2019 to Michigan Republicans. It was also the first eight-car motorcade on the island since 1898 when cars were banned.
Built in the 1880s, the hotel was built by rail companies as a destination point for travelers. During the past 80 years though, it has evolved into a resort that rivals any in North America.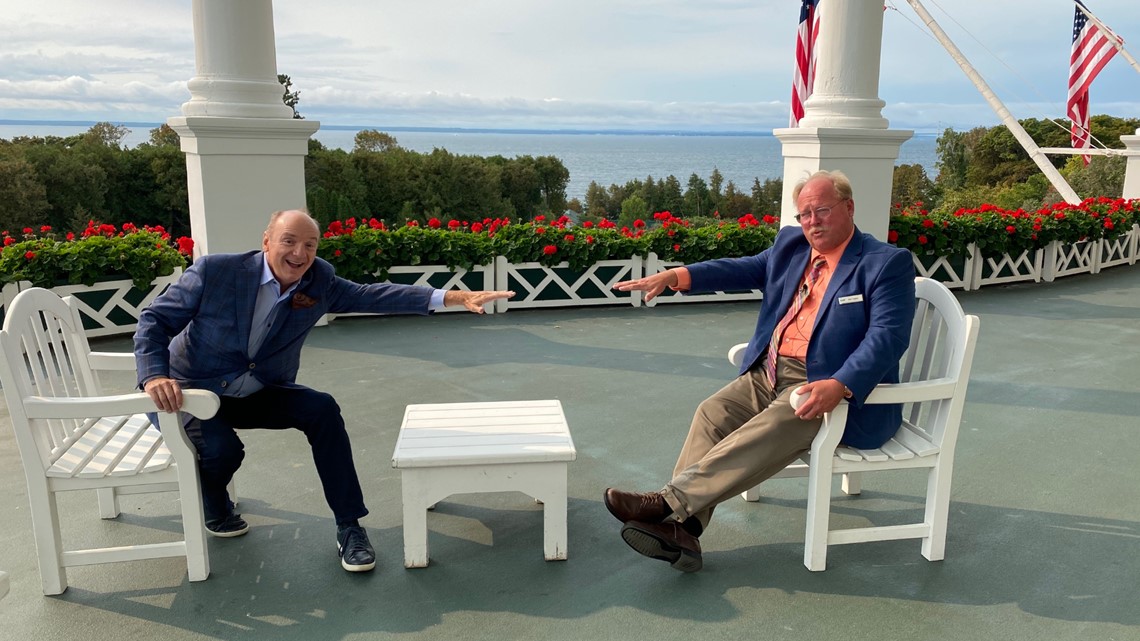 Hotel historian Bob Tagatz says this is a legacy hotel where families and couples come again and again. He also says the food, events and beauty are draws, but the biggest draw is the romance.
"Last year, we did 113 weddings. We've had some movies made here. The 'Somewhere In Time' movie is very impactful," Bob said. "It's made us one of the most romantic destinations, and about half of those people married here say they came here because of the romance of the film and the beauty of stepping back in time. It just touches so many people's lives to come here."
He isn't kidding. There is a "Somewhere In Time" weekend in October in which many of the guests wear period costumes at the hotel where the movie was filmed.
My team of producer Megan, photojournalist Steve and I found that we could have spent a week at this historic landmark and not been able to capture it all. It is simply breathtaking, memorable and a bucket list trip for anyone.
The staff has earned the hotel a four-star rating from AAA, and that should come as no surprise to anyone, especially if you like food.
Dinner is still, despite the more casual attitude of our society, a dress up affair. In fact, elegance is still held in high regard here, according to Norman Dillard, VP of Food and Beverage, who I shared afternoon tea with in the hotel's lavish parlor.
"The thing I love most, Chuck, about our afternoon tea is to watch the young kids come in with their parents or their mom and dad, and they're dressed, and they come in and it's all about etiquette," Norman said. "It's about how do you transition and help young people understand what that looks like, what it feels like and what it tastes like. "
Music really helps. No matter where you go, and this was such a big thing for me personally, you hear music. Whether it's a harpist playing in the parlor, a jazz band in the library or an orchestra playing for dancing after dinner, music is a key part of everything — and it's intentional.
"It's a great environment. You'll hear people will come in, and they'll go up and ask for special songs, and he or she will play those on the instruments," Norman said. "It creates a special bond that I think creates the whole of the environment."
How much do I love this place? Truth be told, my wife and I spent three days here prior to our Big Adventure trip. We will return next year.
Yes, it's beautiful, friendly, majestic and the food is to die for, but I believe there is something else here that keeps the hotel at 99 percent occupancy. I think it's a place where you can slow down, enjoy people, enjoy beauty and without meetings, schedules, or commitments — you can simply enjoy everything, and you don't feel one bit guilty.
Fudge on Mackinac Island
Michigan's Mackinac Island is known for 3 important things:
The opulent Grand Hotel
The 500 horses that shuttle everything from tourists to trash cans
and....
Fudge
During the heart of tourist season, 10,000 pounds of fudge gets made daily by the island's 13 fudge shops. The folks on this tiny island say they are the fudge capital of the world, and they just may be right.
About 120 years ago, as the island transformed from a fur trading capital to a tourist mecca, the Murdick family operated the first candy store, primarily featuring maple syrup treats. As time moved on, the candy expanded to include fudge and for some reason, tourists took to it immediately.
Now, in the year 2020, generations of families have come to this wonderful vacation spot, and many can't imagine a good time without consuming mass quantities of this smooth, rich, delectable treat.
I met with Gregg Callewaert, whose family has been making fudge for decades on Mackinac Island and operates four shops, selling everything from sugar-free fudge (my only option) to Oreo and peanut butter fudge.
Gregg and his brother-in-law, Les, gave me a lesson in the art, and yes, I said art, of making this world class taste treat.
Gregg says Ryba's Fudge really gained prominence 50 years ago when his dad would send the fudge to soldiers in Vietnam. Since then, people from around the world have made Ryba's Fudge Shop a must-stop on their trips to this little slice of heaven nestled in the Straits Of Mackinac.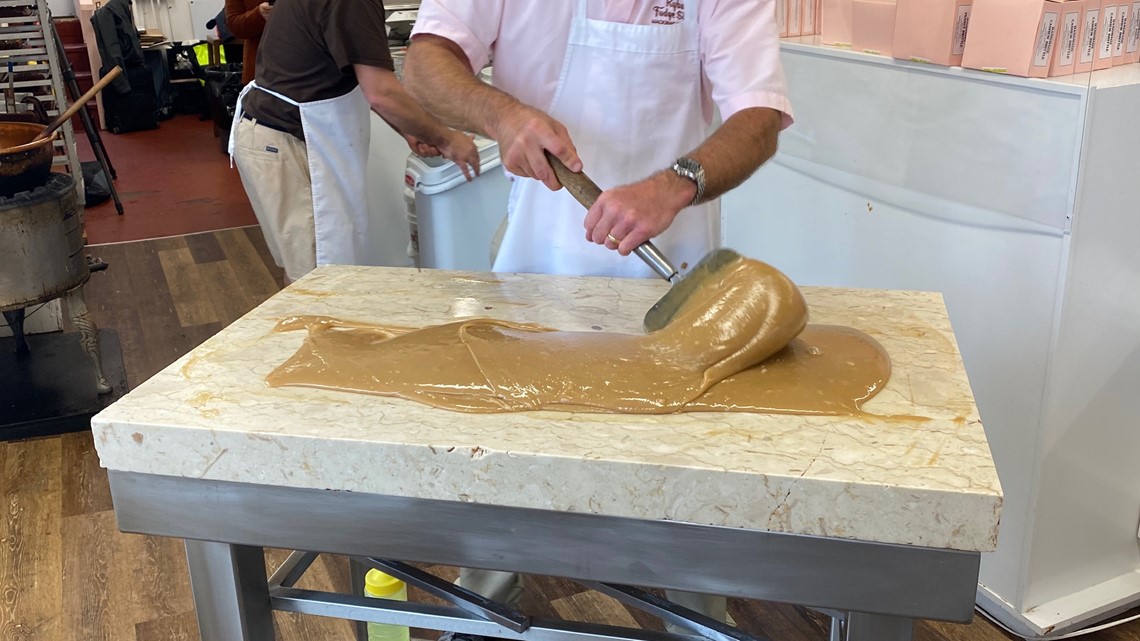 The secret to this melt in your mouth treat?
"When it comes out of the oven, it's about 230 degrees, and it's the consistency of water, so it would run off the slab of marble, but irons hold it for about 15 minutes or so until it cools enough that they can work it," Gregg said.
Watching these craftsmen make the fudge is like watching an artist as they slowly work the fudge back and forth, side to side. As the fudge slowly thickens, I watched Les put peanut butter in the fudge but by the time he finished, the morsels were totally mixed in, and there was no visual evidence that peanut butter was part of the candy. You sure could taste it though!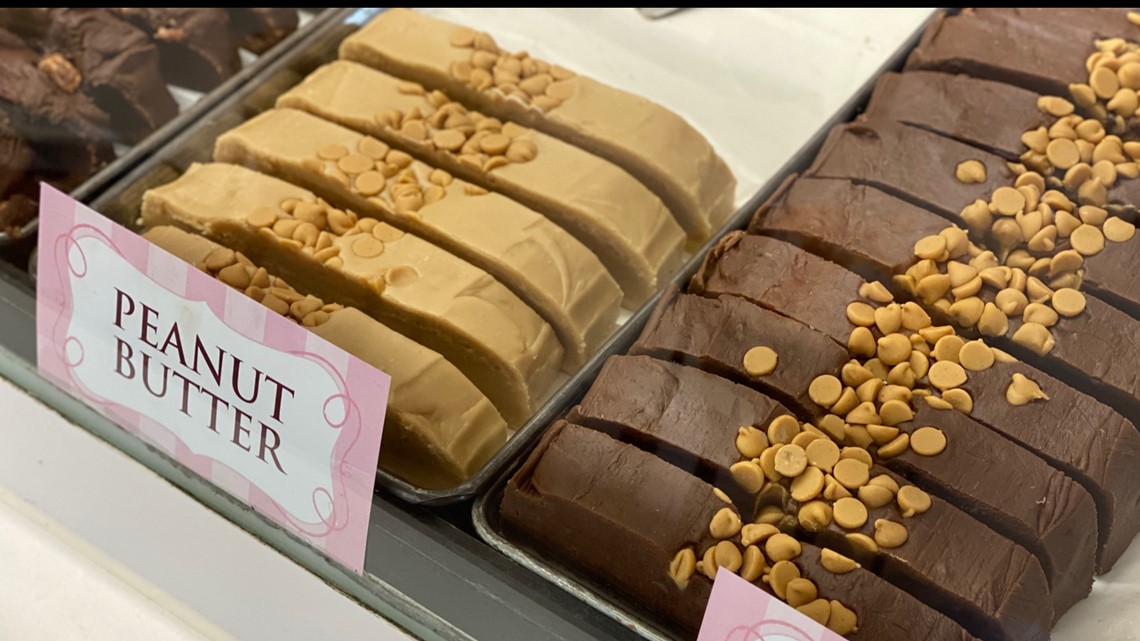 Gregg said candy makers were drawn to the island because of the climate.
"It's not particularly hot here, it's pretty moderate during the summer, so before air conditioning and even fans for electricity, candy makers would come up here because their candy wouldn't melt fudge. It's an ideal climate for fudge," Gregg said.
How do you know good fudge from bad fudge? The consistency. Gregg says good fudge should be smooth as butter and if it's gritty, don't waste your time eating it. I found that the warm fudge I consumed melted in my mouth and was incredibly rich.
Tourists here are called "fudgers" by the 500 residents of the island. I proudly accept that moniker. Why not? I ate more fudge in one afternoon than in the last 30 years combined. Most stores, like Ryba's, send their delicious candy all over the country.
Mackinac Island horses
You hear them. You see them. You even smell their sometimes less than fragrant aroma. You will never forget them.
Owning a car isn't legal on tiny Mackinac Island, so for generations, more than 500 horses do the work in providing transportation, delivering goods and providing lifetime memories for tourists.
"Horses kind of founded tourism here with the very first horse carriage tours with families that came here from Ireland in the 1830s," said Bob Tagatz, Grand Hotel historian. "And here's the difference in our horse culture here: Most places you go to see horses, it's at the County Fair, and it's a novelty and when you come; here, it's living, working and peak season, and we have close to 600 horses."
That number was down a bit due to COVID this year, but there were still hundreds of horses working their shifts daily, providing the steady klip-klop sounds that are as part of Mackinac Island as the smell of fudge and the winds from the Straits Of Mackinac.
Angie Morthland left Bedford, Indiana, to retire in nearby Mackinaw City but is drawn to the island by the horses.
"Well, we love them because of the sound. I mean when you're just sitting here on the porch or anywhere, you hear the sound of the horses, and you feel like you've stepped back in time," Angie said.
Our Chuck's Big Adventure crew took a ride with Tyler McLean, a horse tour driver with Gough Livery Carriages. His family has lived on the island for five generations.
He said that due to the pandemic, business was reduced a lot this season. Tyler would usually expect 20,000 people on the island on an early autumn day, but that number was reduced to 6,000 or 7,000 visitors per day — a real hit on businesses.
Still, Tyler said once people arrived on the island, he kept busy giving tours, though people were more spaced out on the carriages.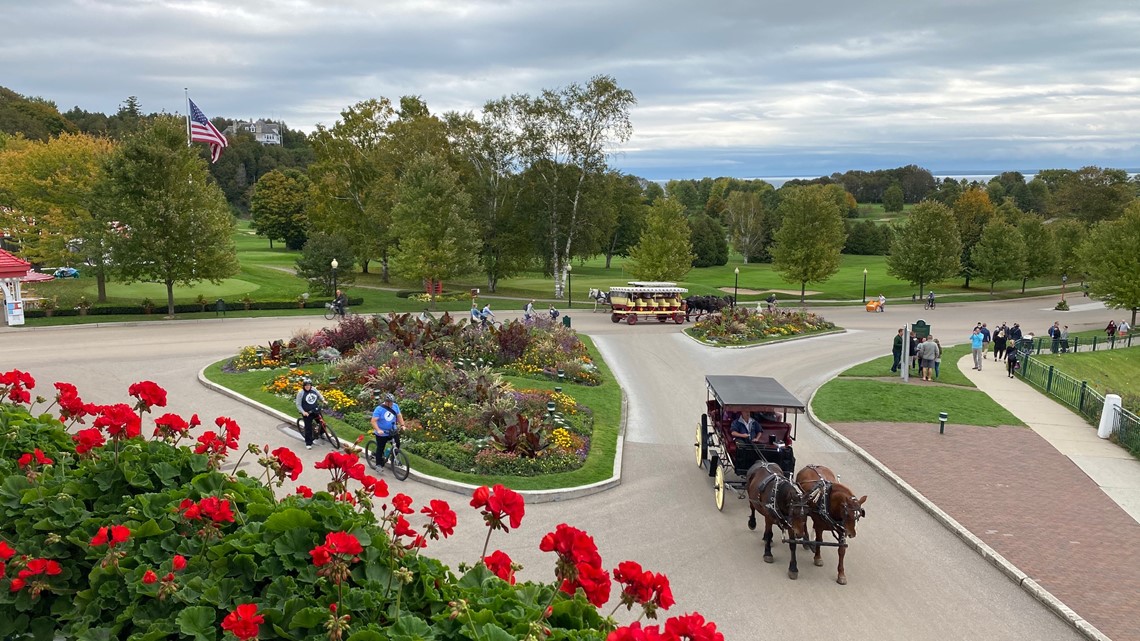 I know what you are thinking: What about all the horse waste?
Crews routinely patrol the islands roads, quickly cleaning up the mess and transporting it to the center of the island.
It's quite the experience riding in the carriages. The pace is slower, there's more time for conversation and appreciating the beauty of the island, and it certainly gives a 2020 visitor a glimpse of what it was like getting around the island more than 100 years ago. It's romantic, and it's not unusual to see a couple sneaking a kiss in a carriage as they travel around the breathtaking scenery.
When the season is over, there are only 500 full-time residents on the island, so what happens to the horses? In between Labor Day and November, most of the horses are taken off the island and transported to a 2,200-acre horse farm in the Upper Peninsula of Michigan where they can rest and regroup for six months.
Mackinac Island is so special, for the world's best fudge, one of the world's great hotels, but it's the horses that provide the kllippety-klop soundtrack for a wonderful bucket list memory.