INDIANAPOLIS - Look at that photo, the one Morgan Desir, wife of Colts' cornerback Pierre Desir, sent me. They are a picture of familial bliss, a Rockwell portrait, a husband and wife and three beautiful kids, all smiling (well, except for little PJ) like they don't have a care in the world.
The picture does not convey the struggle they've known through their young lives. It does not convey how Pierre, who moved with his family from Haiti at age four, struggled through his early days living in St. Louis' dangerous inner city. It does not convey how Morgan and Pierre became parents to Keeli, now 10 years old, at the tender age of 16. It does not convey the Pierre's loneliness when he went away to college, leaving behind a young and growing family to scrimp and make their way in the world. It does not convey how Morgan, an aspiring dancer, cared for her children with the help of her parents and her in-laws. The picture does not convey how Pierre worked odd jobs after he transferred schools, how he was quite literally up to his knees in excrement as he worked to support his family, how he bounced around the NFL time and again before landing in Indianapolis.
The story is long and convoluted and heart-wrenching, but Pierre continued to chase his football dreams and Morgan continued to chase her dream of motherhood and dance, and how the five of them, together, have come together to live the American dream.
All these years later, they hope and pray for one more blessing, and it is this:
A home where all of them can live together.
"You never want to be too comfortable, especially in this business,'' said Pierre, who was signed by the Colts in September of this year and has steadily emerged as a starting cornerback. "But as a player, as a father and as a husband, you always want to have a stable place to call home.''
The day I spoke with him, he was packing his belongings and heading back home to St. Charles, Mo., which is 24 miles outside of St. Louis. His family comes to Indianapolis for some games and during vacations, but they still remain geographically apart. Morgan runs a dance studio and looks after her three children – 10-year-old Keeli, 7-year-old Kamryn and 2-year-old PJ (Pierre, Jr.). It's been a long, circuitous route for both of them, but after all the years of struggle, it finally appears that Pierre, a fourth-round draft choice by the Browns out of tiny Lindenwood in St. Charles, Mo., has established himself as a worthy NFL player. Now it's a matter of getting re-signed by the Colts at season's end, and bringing the entire Desir clan here to Indy, where they hope to have a life – together.
"Every time we come out [to Indianapolis], we absolutely love it,'' Morgan said. "The kids, they never want to leave. They love the area. We love the stadium, the atmosphere, everything. And being part of the Colts family? Yeah, that would be great. But we're going to wait and see what happens next year. We don't want to keep moving the kids when they're developing all these relationships [back home]. We can only hope.''
Pierre was born in Haiti, lived in a dilapidated one-bedroom apartment that had no indoor plumbing. This was at the same time of massive political upheaval in the country of his birth, a time marked by violence in the streets of the capital city of Port-au-Prince. When he was 4, a group of missionaries helped the Desir family uproot and move. They thought they were headed to Miami, like so many other Haitian refugees, but ultimately, they ended up in St. Louis.
Which, in the end, wasn't a whole lot better than Haiti in some respects.
"Growing up in that neighborhood, it was all I knew so it seemed normal,'' Pierre said. "Armed robberies, violence, a lot of fighting, guns, drugs. But you think it's normal when you're in that situation.''
When Pierre was 11, the family was able to move to St. Charles.
"Eye opening,'' he said of moving to the suburbs. "It was night and day [from inner city St. Louis].''
They did it the hard way, his parents, Wilfrid and Marie, working two and three jobs, scrimping, saving and getting by in the hope of giving their children better lives. At that point, Desir, who grew up playing soccer, had moved to football, where he was an instant star – even though he put on his shoulder pads backwards the first time he attempted to play. His parents? They weren't thrilled. They knew next to nothing about football – soccer is the primary sport in Haiti -- and figured their skinny son would get beat up playing a violent game. But Pierre was undaunted.
Then, one day in high school, he heard there was a new girl in his school, and being the sociable, friendly guy that he was – and is -- he took it upon himself to introduce himself to Morgan. They met in a school hallway, by the lockers.
"The first time I saw her, it was my sophomore year of high school, and it was basketball season, so I was dressed up in a dress shirt and a tie,'' Pierre said. "One of my buddies had told me there was this new girl at school, so I wanted to see who she was.''
"I shot my shot, but she didn't bite,'' he said, laughing. "Not at all.''
Morgan confirmed Pierre's memory.
"When I first met him, I really didn't want anything to do with him,'' she said, laughing. "I thought that he thought he was too cool, so I was like, `Ehhh.' But he was persistent. I'll give him that. He would continuously message me on chats, so a couple of months later, I finally gave in and went on a date.''
Said Pierre: "She just had this persona about her, she didn't care what people thought about her. She was very independent; that's what made me gravitate toward her. She wasn't like everybody else in high school. She wasn't trying to be like everybody else.''
They dated, as high school kids will date, and then everything changed.
Morgan, 16, and Pierre, 15, learned they would soon be parents.
Morgan's parents were, well, let's just say they weren't thrilled, as you can imagine. They saw their daughter going to college, pursing a dance career. They had plans for her, and none of them involved becoming a teenage mother.
Pierre was frightened beyond words. Frightened by the prospect of becoming a young father, and frightened about how he was going to tell his parents. It took him three weeks from the time he heard the news to drop the bomb.
"Scared to death,'' he said, smiling. "Scared. To. Death. I went to my parents' room and told my mom, 'Hey, I have something to tell you.' And I didn't say it loud, but it seemed like everybody in the house heard it. All of a sudden, my father comes in, my sister, my brothers. I told them, "Morgan is pregnant'."
"They took it very well, which surprised me,'' he said. "My mother said, 'Well, we need to go to Morgan's house and talk to her and her parents now,' so that was a huge relief to have that kind of support. That's an experience that's hard to explain unless you've been through it. It's just so life changing.
"Honestly, I had mixed emotions. Like, I was still a kid myself; now I've got to raise a kid? I was happy, nervous, not knowing what to do, not having friends who were having that same experience.''
When Keeli was born, Pierre had to get a ride to the hospital; he wasn't yet old enough to have a driver's license.
"She was just beautiful,'' Pierre said. "She had a lot of hair, and big feet and hands. I just fell in love with her the moment I saw her. Even though she's my oldest, she's still my baby girl.''
Joy soon gave way to the reality of life as teen parents. Both continued going to school, with both of their parents helping with Keeli. On the football field, Pierre was becoming a big-time recruit, got pursued by several Power Five schools, except for one problem: Despite being a B student in high school, he could not score high enough on his ACT exam to qualify for the schools who recruited him. He decided to go the small-school route and went to Washburn University in Topeka, a four-and-a-half hour drive from St. Charles. The only time Pierre could see his young family was on Saturdays after his games, when he would climb into his 1997 Toyota Camry and drive home for one day. Then it was back to campus, where the loneliness consumed him.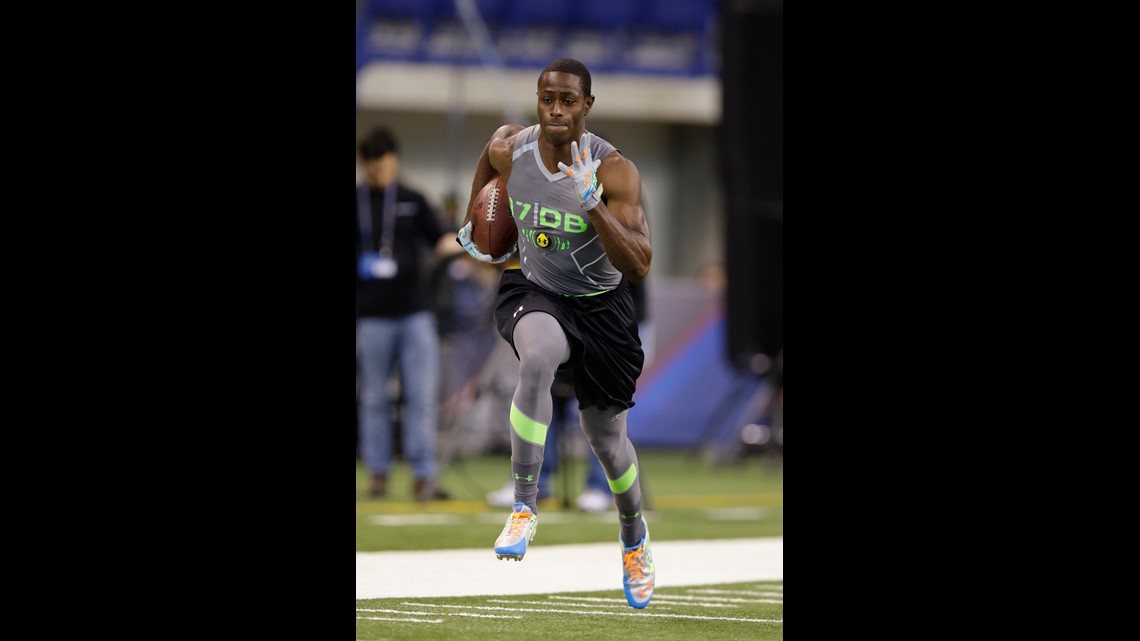 He spent three years at Division II Washburn – he was redshirted his freshman year – but best yet, Morgan, Keeli and his newborn, Kamryn – came to Topeka his third year to live in an inexpensive campus apartment. While he took classes and played football, she worked and cared for their two children. Pierre was a model father, handling the middle-of-the-night feedings for Kamryn, changing diapers, only to wake up bleary eyed and head back to school in the morning. It was, in a word, a massive struggle for both young parents, but Pierre could not and would not forget how selfless and hard-working his parents had been, how they had tested the limits to give their children a better life.
"Our schedule was, I would leave in the morning, she'd stay home with the kids, then I'd get home and she'd leave for work, so I would never see her,'' Pierre said. "We got maybe 30, 40 minutes to see each other before she had to leave. Plus, we had to share the one car. It was really difficult. Tough time.''
Finally, there was a light, and it came in the form of Lindenwood University, an NAIA school right there in St. Charles. How perfect was that? Pierre and his young family could move back home, be back around both of their supportive families, and he could continue to pursue his long-held football dream.
Inexplicably, and wrongly, his Washburn coach refused to give him his release, which meant Pierre would have to sit out a year before playing football for his new school. Here he was, a young father with two children – he would become Morgan's husband in 2011 – and now he had to find a way to support his family and put his football dream on hold. He worked every odd job imaginable, with an emphasis on "odd,'' including temp-agency work that found him knee-deep in human excrement as he cleaned out dilapidated homes.
"It was awful,'' he said. "It was a hard time.''
Money was tight. The struggle was real. But the Desirs found ways to make it work. Finally, he returned to the football field with Lindenwood, and played so well, he was widely viewed as one of the best small-school players in the country.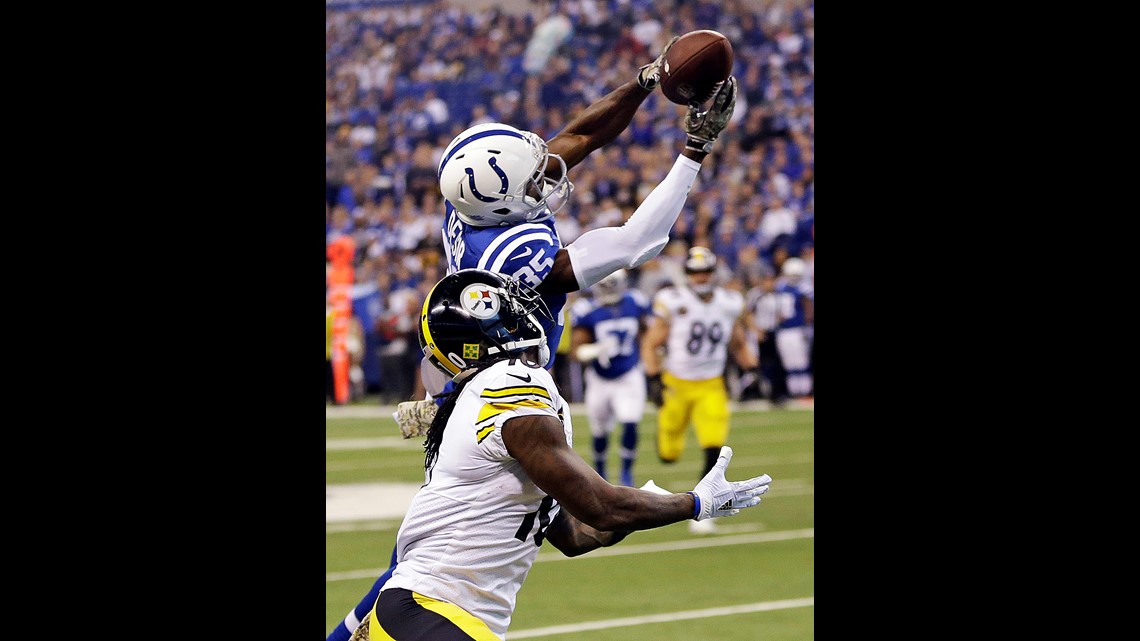 In 2014, he was drafted in the fourth round by the Cleveland Browns, and Morgan and their growing family moved there with him. But that didn't last long, just as nothing lasts very long in Cleveland, which is the football equivalent of Siberia.
He went to the San Diego Chargers. Was waived in 2016.
He went to the Seattle Seahawks later that season. Was waived in September 2017.
One day later, on Sept. 3, he was claimed by the Indianapolis Colts.
Since then, he has opened eyes and had his first career interception a week-and-a-half ago, against Ben Roethlisberger and the Pittsburgh Steelers.
"We usually watch all the games at home, but I was in St. Louis at a dance convention with Keeli,'' Morgan said. "I was watching in the lounge area and I completely forgot where I was. I instantly screamed as loud as I could and everybody thought I was crazy. 'I'm sorry, I'm sorry.' One lady asked me, 'Do you know him?' 'Yes, I do know him actually'."
Desir was talking last Monday to his locker room neighbor, Christine Michel, as both men were packing up and preparing to leave town for the Colts' bye week.
"You going to see your people?'' Michel asked.
"Yeah, yeah, going to see my wife and kids,'' Desir said.
"How old are your kids?'' Michel wondered.
"They're 10, 7 and 2,'' he answered.
Michel paused, did a double take.
"How old are you, man?'' Michel asked.
"Twenty-seven,'' he answered.
Michel looked at him sideways. He was doing the simple math in his head. Or so it seemed.
"Honestly, it's the best feeling in the world to see where he came from and the person he is, where we came from together,'' Morgan said. "It's amazing. He's worked so hard for this. He never gave up no matter how many people told him it wasn't going to work out - 'You can't do this, you can't do everything,' but he did and he's still doing it. It's so amazing to watch and now my kids have him as their role model as somebody who never gave up and showed if you work hard enough, you can accomplish anything.''
It's been a long road. It's been a hard road. He and his wife have chased the dream together, and now there's just one more thing before the dream is truly real and complete:
Making it here, right here in Indianapolis, and making this a place they can call home.