INDIANAPOLIS (WTHR) — In the privacy of her home office in Indianapolis, 30-year-old Ashley Flowers is bringing an unsolved crime to life.
She speaks into a microphone and reads from a script on one of her computers.
Her podcast called "Crime Junkie" will be heard by millions of people. Ninety percent of her audience are women in their 20s and 30s.
"Podcasting is booming," said Flowers.
She and her co-host and longtime friend, Brit Prawat, have been fascinated with crime since they were young girls.

"I grew up watching 'Perry Mason' and 'Columbo' with my mom. Reading 'Agatha Christie' and 'Nancy Drew' when I was 5, 6, 7," said Flowers.

Flowers grew up in South Bend, Indiana. She attended Arizona State University and got her bachelor's degree in bio-medical research. She returned to northern Indiana where she did genetics research at the University of Notre Dame. She spent time working in medical sales and software sales. Flowers re-kindled a friendship with a high school boy named Erik Hudak. They started dating and eventually got married. The idea for "Crime Junkie" came as Flowers was doing work with Crime Stoppers of Central Indiana.
"I don't want to go back and listen to it," laughed Flowers. "I think we got a thousand people. We thought it was a smashing success. Nobody knew who we are. We're in the middle of Indiana. So, I remember in the first couple of weeks, we were seeing 4,000 downloads and our minds were just blown," said Flowers.
"I'm always looking for ... where did things go wrong for that person? So, I can prevent it for myself. "
"There's no playbook. Podcasting is still the wild west. There's nobody to tell you what to do or how to do it. So, we kind of had to figure it out," said Flowers. "I was the crime junkie that I was making the show for. I had been listening to podcasts for four years by the time I made 'Crime Junkie.' I just felt like there wasn't enough," said Flowers. "I could listen to every single one. Good, bad, otherwise. There weren't enough podcasts. So, I had this need for something more. I knew there was an opening."
Fifteen months later, "Crime Junkie" is a hit.
"We have about 600,000 unique listeners for every single episode. Then each month we get about nine million downloads," said Flowers. "I have to thank the fans. It is so much word of mouth. People are sharing it on social media. People are sharing it with their friends and family."
Even her dog, the namesake for the company's name "Audio Chuck", is a star.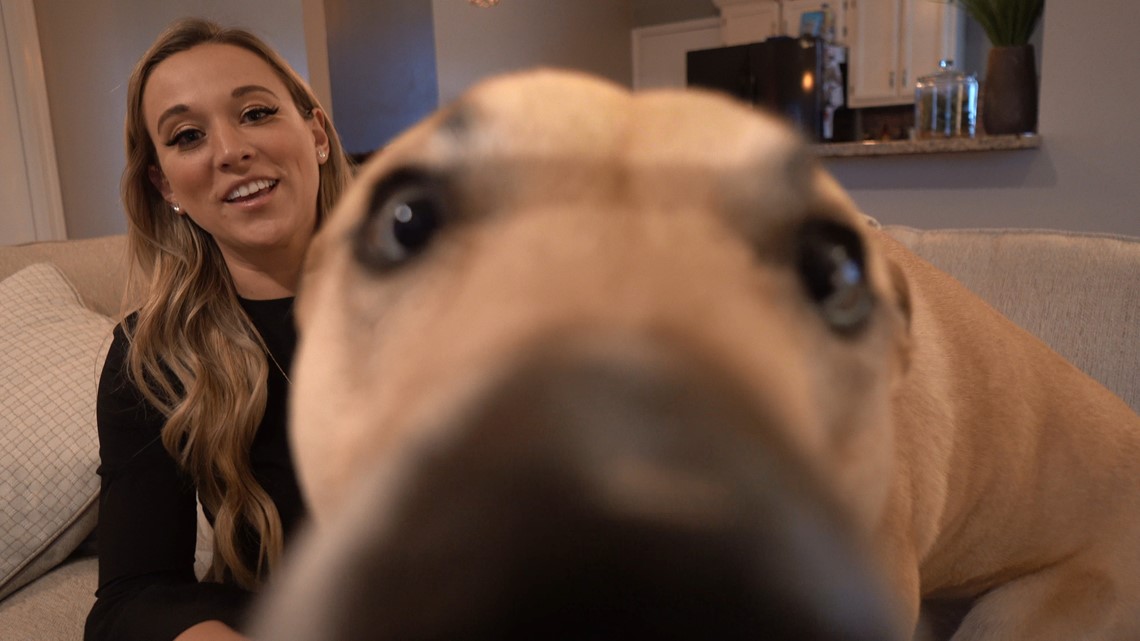 "He's my whole world," said Flowers. "We have this gig at the end where we ask if he approves. He gives his husky howl. He's become more famous than I have. He got recognized at a bar the other day before me," said Flowers.
Hudak has seen his wife's podcasting talent improve since late 2017.
"It's amazing how she's grown just as a storyteller from episode one until now, it's completely wild," said Flowers' husband Erik Hudak. "I think it's how she connects with everyone. It's just a soothing tone. She tells a story very direct. The details are there. There's not a lot of fluff. It's right to the point. She also cares for every victim and she cares for every case."
The 30-minute weekly "Crime Junkie" podcast often showcases Indiana unsolved crimes like the 2017 Delphi murders of 14-year-old Liberty German and 13-year-old Abigail Williams.
"My favorite episode that I did was on the April Tinsley case, which was also a local case in Fort Wayne," said Flowers.
Her listeners suggest a thousand different crimes a month for Flowers to consider. She picks one, does the research and writes a script.
"I always prefer to cover the ones that are unsolved. Specifically missing persons cases. I think those are the ones that need the most attention," said Flowers. "I always start with Google. I find out what's available. I think some of the best cases that we do are when I have to track down old news articles. Whether that's in an archive, in a library or available on newspaper.com."
Flowers considers herself a writer and host.

"I'm not a journalist. I'm not going and knocking on doors or talking with witnesses or family members. I'm not trying to get a scoop. Everything that we tell a story on has already been reported," said Flowers.
"I think we found a good niche. It's a good conversational podcast," said Flowers. "I've always been passionate about having two hosts. I think why ours is different is there's a lot of two-host, true crime podcasts who go down rabbit holes or go off on tangents. Or, there's a lot of personal inside jokes. Even though we have two people, we very much stick to a script, stick to the facts of the case, the episodes are easy to digest. I think it's what people were looking for," said Flowers. "We script everything out. We don't adlib. It sounds very conversational. I make the script to make sure I hit every point I want to hit and make sure we don't get sidetracked."
Flowers has been growing the Crime Junkie brand with advertising on Facebook and in other podcasts.
"A lot of people still don't know what podcasting is, so anytime we invest money in advertising it's with other podcasts," said Flowers.
Rolling Stone magazine named "Crime Junkie" one of the top true crime podcasts in 2018. Her "Crime Junkie" merchandise routinely sells out. In some cases, they will receive hundreds of orders from fans seeking coffee mugs and sweatshirts.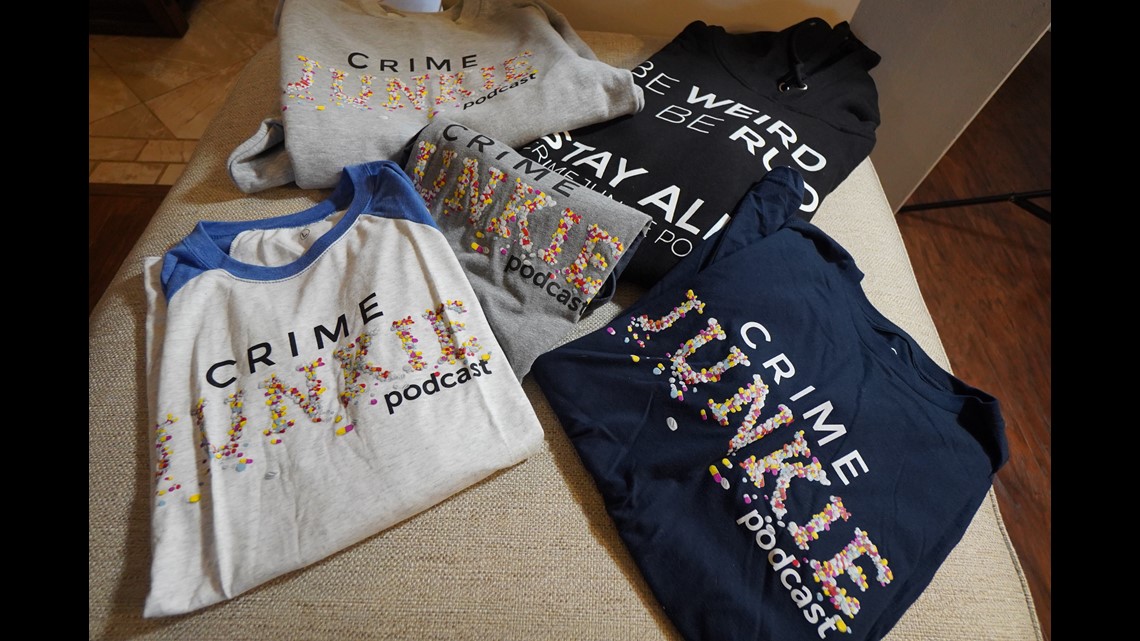 "In one episode, I made an off-handed comment that people should stop worrying about what people think about them, they should be weird, rude and stay alive. People have latched onto that more than anything. So, that's on mugs and t-shirts. It's become the anthem of the crime junkie," said Flowers.
"We do meetups and hundreds of people show up. It's so weird to me that this has grown outside of Indiana. Not only is it national. But international. We have fans all over the world," said Flowers. "My voice has been to so many cool places."
Flowers' husband is a fan of "Crime Junkie" but does not share his wife's fascination with crime.
"That stuff scares me. I don't want to deal with it," said Hudak. "It's hard because she wants to talk about all the details of the cases. A lot of it is people that haven't been caught and they're still missing. It just creeps me out. I try my best to listen and provide any guidance that I can on episodes. But, I let her do her thing. She's the expert in it. I'm just there if she needs any help."
"I think why I'm so fascinated by it and why I'm drawn to these cases...I'm always looking for the thing — why did that happen? Where did things go wrong for that person? So, I can prevent it for myself," said Flowers.
Flowers believes she knows why her podcast resonates with millions of listeners.
"I think it's because you can take these podcasts anywhere. I'm with people when they're driving to work everyday. I'm with people when they're taking a bath. It's a very intimate setting. People tend to feel like they know you. They feel like you've been friends for years. I feel the same way because I feel like that with the podcasts I listen to," said Flowers. "They say, 'your show feels like we're sitting around with my two friends and we're just talking about a story.'"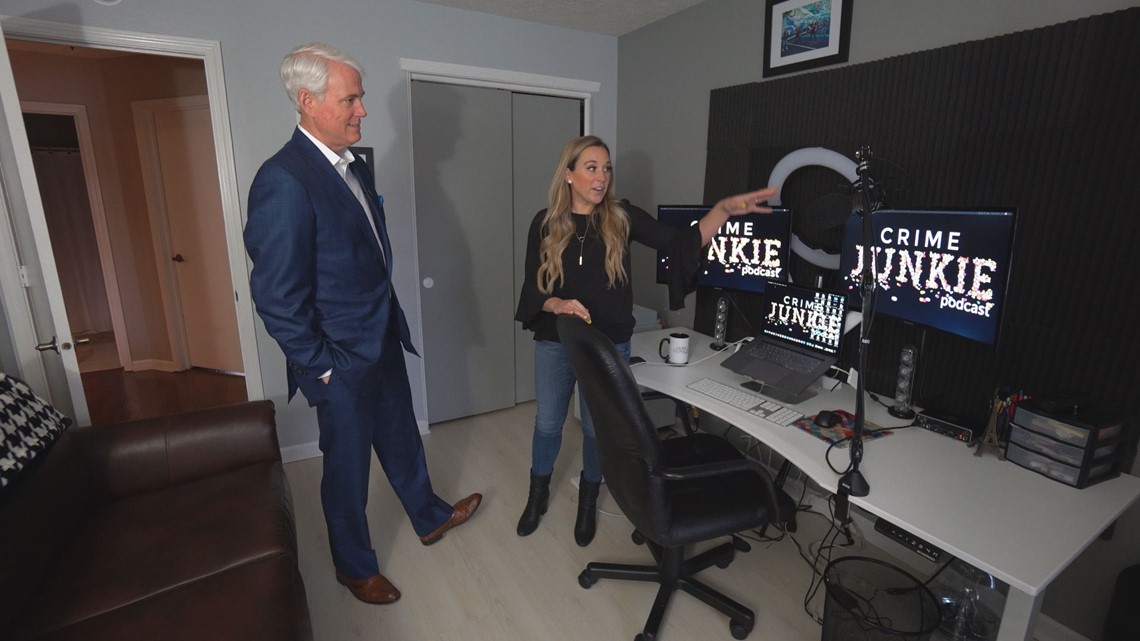 Flowers says the most important goal of "Crime Junkie" is to draw attention to unsolved cases.
"In our show we're very intentional about trying to not make this just about entertainment," said Flowers. "We're talking about the worst time in someone's life. To use that to make someone's commute cushier doesn't feel ethical. So, I love covering cases where using our platform to get attention can make a difference."

Flowers is working on a fiction podcast, books and a possible TV show. For now, she is enjoying the fruits of hard work.
"I always said, if I could just pay my bills. The goal at the beginning was, if I could just make my car payment off podcasting, that would be great. It's a good side hustle. Now, it's become a fulltime thing," said Flowers.