INDIANAPOLIS (WTHR) — It's 11 p.m. downtown, and the lobby of the Indianapolis Athenaeum is filling up for an overnight ghost hunt.
As the groups of investigators stream in, they're given a map of the building and a sheet to document strange phenomenon they experience during the night.
Each person also has to sign a waiver before they're allowed to join the hunt.
I spotted Robin Kirk-Hotz from Boonville right away.
You can't miss her and her friends, all clad in matching purple sweatshirts that say "Hot Flash Honeys."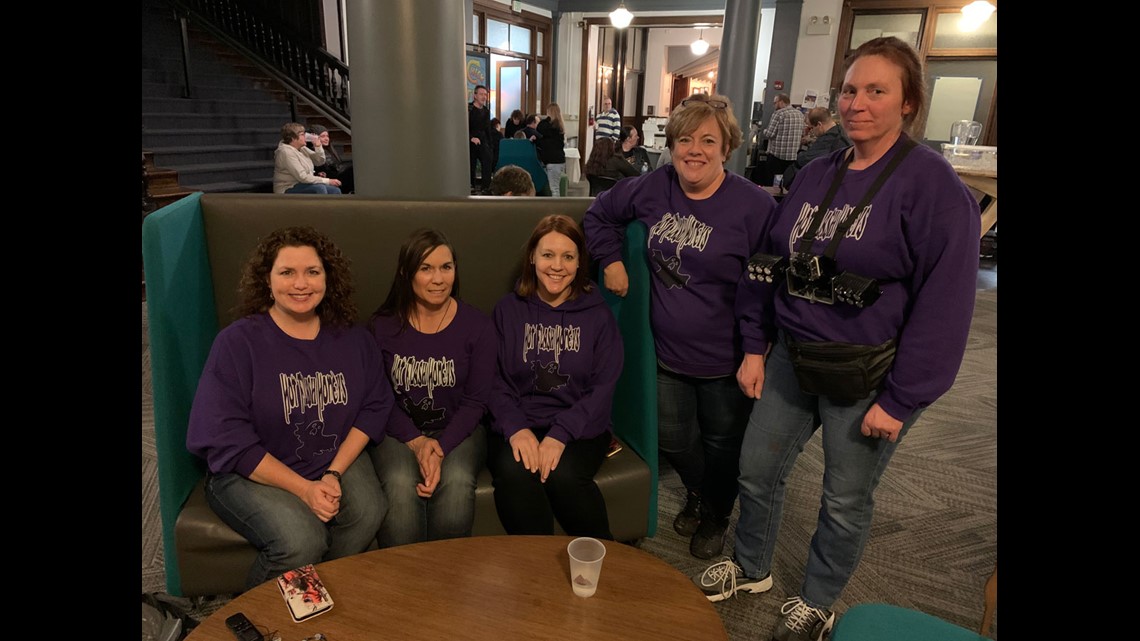 They're friends originally from southern Indiana who get together for ghost hunts all over the country.
"I've been doing it for quite a few years, gone to a lot of places," Kirk-Hotz explained. "We have five people in our group and our name is Hot Flash Honeys because we're all about the same age. Sometimes you'll get senses or feelings. Sometimes you'll get meters going off. But the big things I'll usually get are the recordings, either disembodied voices or EVP's."
"How many ghost hunts have you been on?" we asked another group of ladies. "This is my first," said Tricia Sechrist of Indianapolis. "But I watch ghost stories all the time and 'Ghost Adventures' and all of them."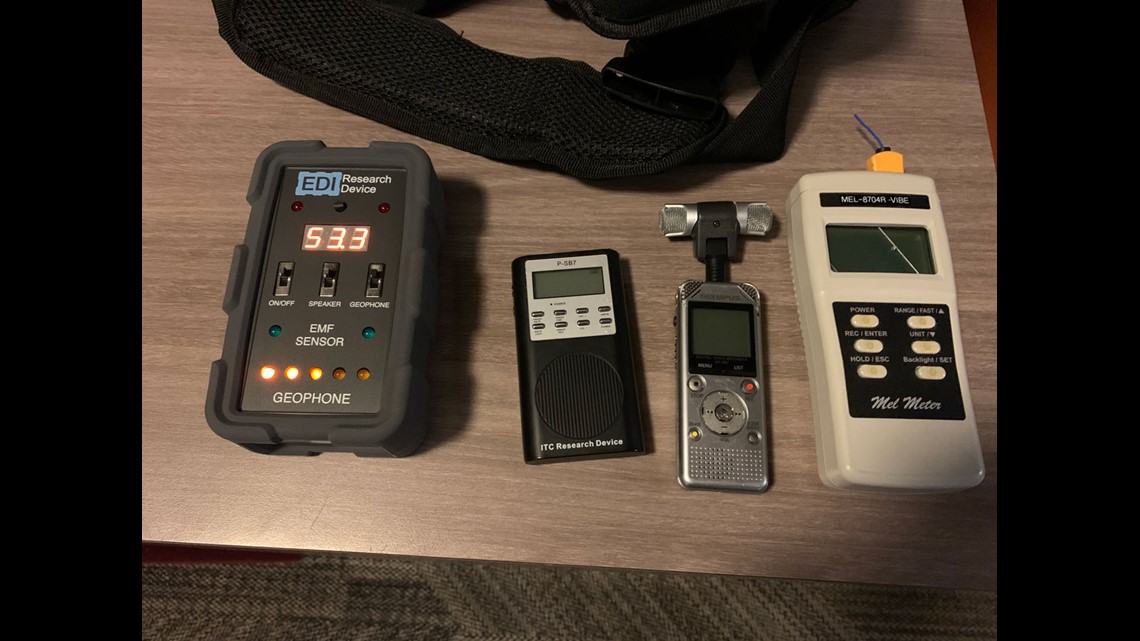 The 50 paranormal investigators have all different types of backgrounds in ghost hunting, and they're all hoping to document the unexplained.
They also come prepared with a lot of special tech and ghost detecting gear.
"This is an EMF sensor, a Geoforce, which is movement and then this is a temperature change, so if you get a sudden temperature change, they'll start flashing," Kirk-Hotz said.
She also has cameras and lights strapped to her chest.
"This is a full-spectrum GoPro, and it operates basically with these IR (infrared) lights and when I turn it on, then we can see in the dark. I'm ready, hoping it's a busy night," she said.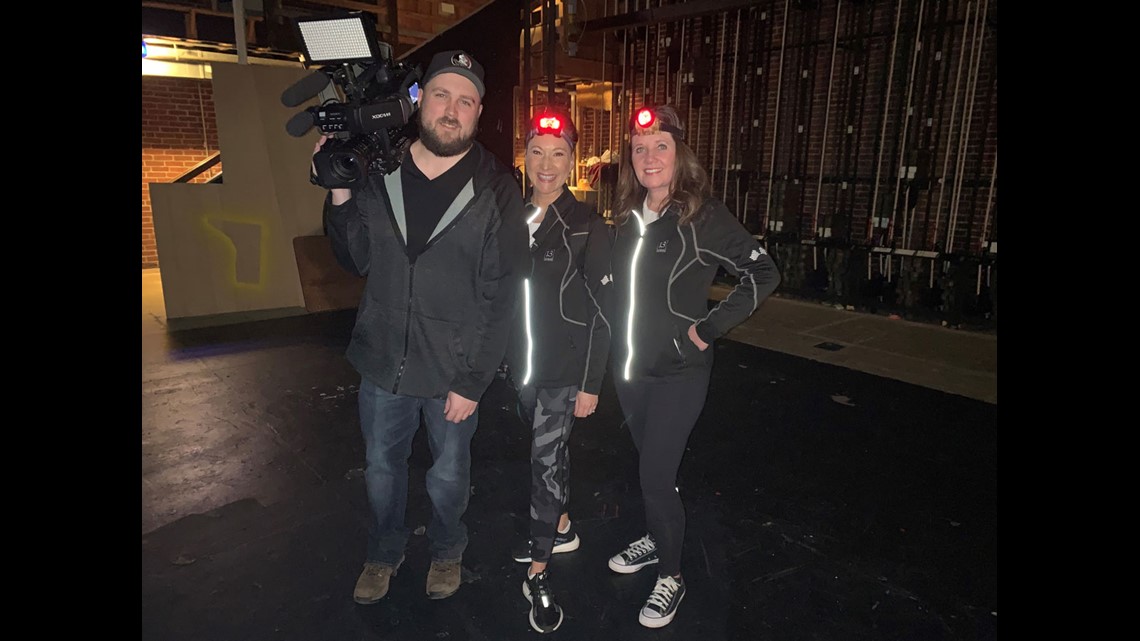 Our team includes myself, Kelly Greene and photographer Josh Blankenship.
We went into the experience a little skeptical, but very interested and with an open mind.
This building was once a German Cultural Center called "Das Deutsche Haus" and seven ghosts are said to have taken up residence here.
Craig Mince, president of the Athenaeum Foundation, and Indiana ghost hunter Michael Kobrowski told the group we'll be able to explore 14 "hot spots" where staff and visitors have reported seeing or hearing spirits.
Then at 11:51 p.m., all the lights go off, except for the aptly-named "ghost light" on the theater stage.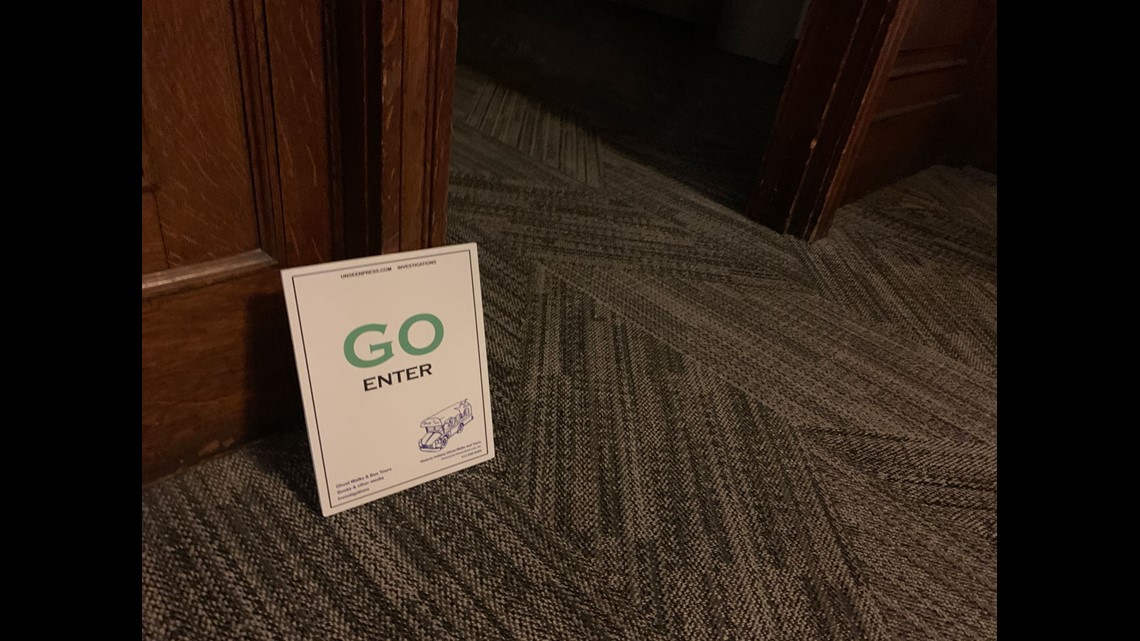 Each room has a red and green flashcard in front of it. If it's green, a group can enter and investigate. Red means another group is already inside.
In searching for spirits, we learned there's a lot of questioning in the dark and a lot of silence, waiting for a response.
"Can you give us a sign of your presence," one group asked, using their "ghost radar" app.
"Is Logan still here?" someone asked in another room.
Not long after midnight, a group from Indianapolis captures something on camera.
"Take a look," John Maxey said, showing us his iPhone. "Two big orbs, a little one, looks like one down below and a small one next to her."
"What does the orb mean," we asked.
"It's like a...spirit," Maxey said. "It kinda freaked us out!"
Maxey's group said they experienced something else too:
"We were upstairs in the studio and basically, they had their spirit box and it called my name. 'Clear as day,' they said, which I didn't hear it, thank goodness because I'd probably be running out the door," Maxey said, laughing.
A group of ladies from Indianapolis told us they got something shortly thereafter.
They're using a pendulum, which dangles over a paper with words on it.
They claim spirits move the pendulum and answer questions. But it's impossible to tell if that's actually what's moving that pendulum.
"We met her down in the basement. She's been with us the whole time," Tricia Sechrist said. "She keeps telling us she's with us."
"Do you want to go to another room?" she asked. "Is somebody with us?"
Eventually, Josh and I move on to what's called "Grandma's Attic."
It's the room we can't help being most afraid to enter in the dark.
A lot has reportedly happened here. A lot of people have seen and heard things here.
And simply by design, the attic is just creepy.
This is also where the longest wait came all night.
Groups lined up onstage below the stairs for their chance to explore the space.
"Grandma's Attic" used to be the costuming room for the theater, and Mince told us it's where paranormal activity reportedly spikes.
We met up with the "Hot Flash Honeys" investigators, excited to test that out.
They broke out their EVP meters, dousing rods and a spirit box, which scans radio frequencies, which ghosts they say, sometimes speak through.
"We're too old for roller coasters, so this is our adrenaline rush," said Jaime Haney of New Harmony, Indiana.
And here's where it got weird.
Metal dousing rods reportedly use the energy of spirits to answer questions.
You're supposed to establish which direction means "yes" and which means "no," then begin a line of questioning.
The Hot Flash Honeys did a few rounds, then gave me a chance to try it.
And when she started asking about Dr. Helene Knabe, a woman who worked at the Athenaeum and was murdered in a nearby apartment in the early 1900's, the answers were spot on with historical fact.
It was eerie because I know I was not moving those rods on my own.
Was it a ghost? Can't say.
But she wasn't the only person to have something strange happen in that attic:
"So when we went to the top of the stairs, both the doors were actually locked," said Rachel Coy from Fairland. "We were trying the doors to see if they'd open. None of us were near one of the doors and you could actually hear someone trying to unlock it , like the door handle jiggle. We thought somebody was in there. We actually came down, got somebody to unlock the door. Nobody was in there."
"So do you feel like this place is active," I asked Kalah Gallapoo, Coy's friend from Bloomington.
"Oh very," she said. ... "We're both a bit sensitive and we saw things as we walked in the building tonight, so a lot of stuff's coming out to play, and it's really exciting."
Around 2:45, Josh and I met back up with Kelly, who explored other rooms with other groups.
She said she used dousing rods too, which strangely got her questions right as well.
Now, she's going into the YMCA, where a "woman in white" is known to haunt the place.
"I'm walking around the weight room, the YMCA in the Athenaeum," she said. "Sometimes you just have to be quiet. I will say it's creepier being alone, which I haven't really done tonight."
Aside from the word "decomposing" coming up on someone's ghost radar app, there was not any potential paranormal activity in that area.
At 3:35 a.m, we went back to the Basile Theater, where we met up with a mother and son who took the ghost tour together.
Sujai Cobb and Jelani Cobb said they're both very sensitive to the spiritual world.
Jelani has performed at the Athenaeum and claims he's seen ghosts in the theater before.
"I've always believed, ever since I was little, always believed," Jelani said. "You have to have an open mind basically."
His mom said Saturday night, she felt something specific in this space.
"It was like an onslaught of energy, heat. I felt dizzy," Sujai said. "It comes and goes throughout this whole facility but it's strongest here."
That was right where multiple Athenaeum staffers have reported seen a ghostly couple dancing among the tables and chairs.
"We both sat in silence for awhile, which is what you do and just wait. You can't rush the spirits and we heard someone whistle," Sujai said. "So he asked a second time if that was you, would you mind doing that for us again and this 'person' whistled this little random tune a second time."
Whistling, footsteps, voices, they're all things investigators reported hearing during this ghost hunt.
And those dousing rods? Kelly and I definitely got the chills from that experience.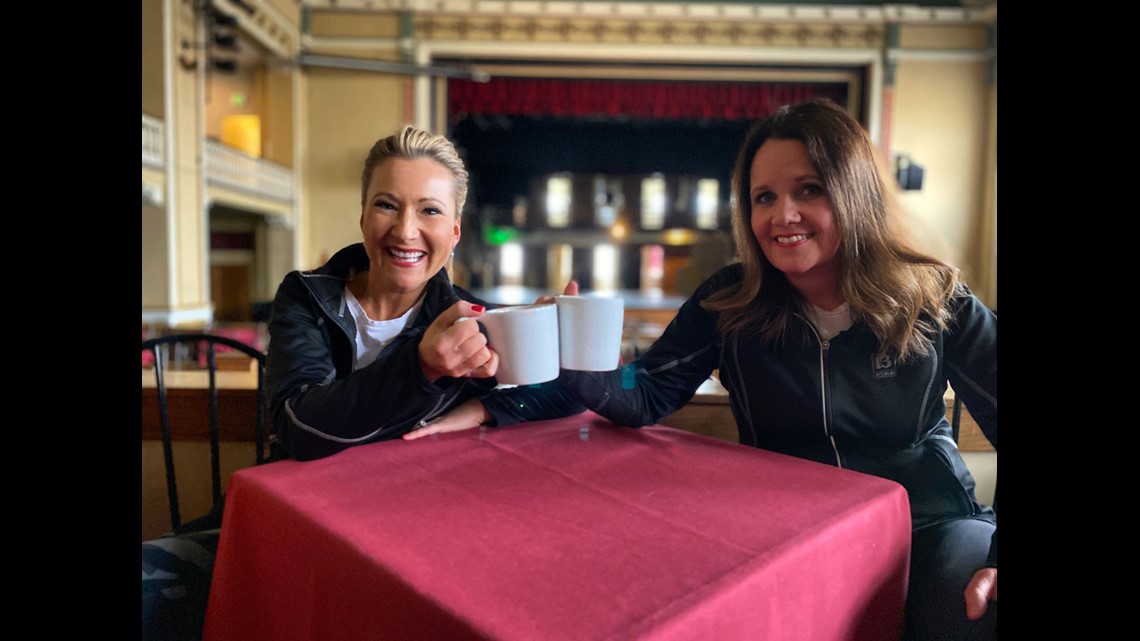 But major paranormal moments? We didn't really capture any on camera.
Still, investigators said they enjoyed the night.
"We had a lot of fun. I don't know what I believe or what I don't believe really," one woman told us. "Some of it felt real to me, but then you become skeptical because you don't see anything or feel anything."
And that's what we left with, maybe no proof that this building is haunted, but certainly the idea that this experience was fun.
What a way to spend a night with friends, exploring the Atheneaum's mysterious past and wondering who else may have been with us.
Money from ticket sales goes right back into supporting the Athenaeum Foundation.