RICHMOND, Ind. (WTHR) — It's certainly been an unusual graduation season for high school and college seniors.
But we are still celebrating their accomplishments, amid the pandemic.
That includes an Indiana University East student with an impressive success story.
Determination is quite a difference maker and 2020 graduate Austin McNew has more determination than most.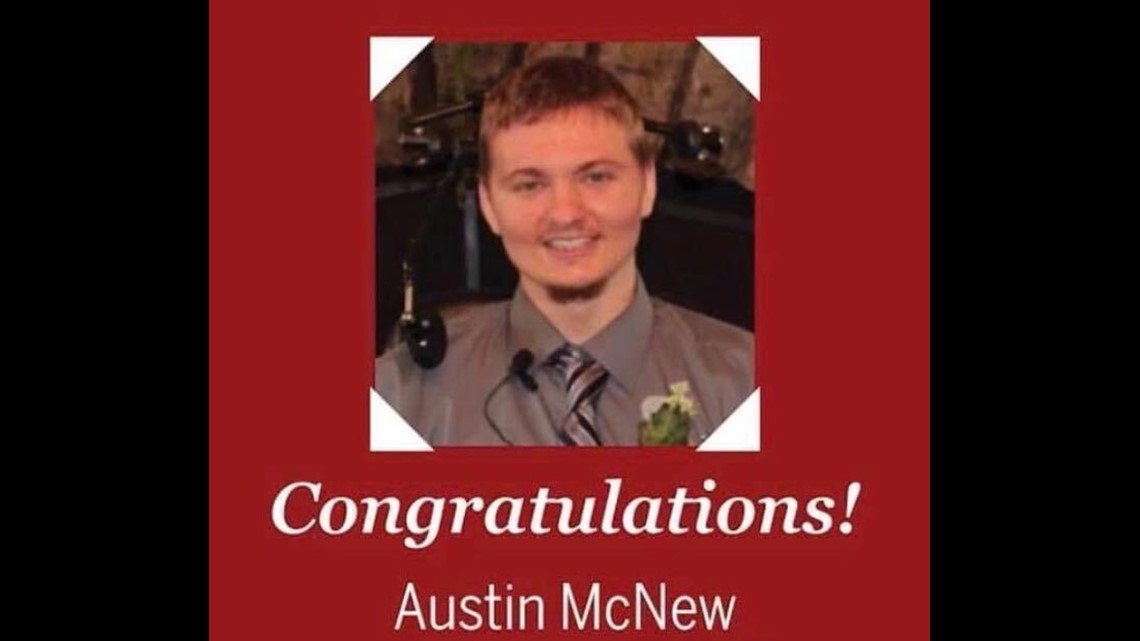 "It's been pretty exciting and it's kind of hitting me that I did something that a lot of people can't do," McNew said. "People started telling me, 'you inspire me. You're an inspiration' so that's when I decided I'm just going to push myself through quickly."
McNew earned two degrees in three years at IU East, double majoring in Psychology and Political Science.
Now, he's headed to law school.
They're impressive accomplishments for any college student, but Austin did all of it while battling a life-altering injury.
"It's shown people that no matter the circumstances, anything is possible. You just have to work hard, be dedicated and figure out a way to do it," McNew said.
At age 17, a sledding accident during a snow day with friends, left this standout football player at Northeastern High School paralyzed with a spinal cord injury.
"It pushed me in there and broke my neck at the C4, C5 level and instantly everything went numb," McNew explained, "and they (his friends) kept telling me, they said 'hey man, it's just a stinger. It's happened before' and I said 'no guys, this is different. I'm paralyzed.'"
"Every day I'm getting a little more sensation in my body," he said from his hospital bed.
"He's aware," added his mom, Teresa McNew. "But he's willing to fight."
And his will to succeed never wavered.
The message on "McNew Strong" t-shirts: "It's not whether you get knocked down; it's whether you get up", became Austin's mantra.
"There's always going to be setbacks. I've had plenty of setbacks. So you just have to push forward," McNew said.
"It's just so exciting when you see a student who works so hard and is so deserving," said Chera LaForge, associate professor of Political Science at IU East. "There is no one that works harder than Austin. He is working hard in class, he's working hard in physical therapy."
Despite missing half his junior year after the accident, Austin graduated high school early.
In college, while studying and gaining academic honors, he also underwent intense rehab and stem cell treatments.
"...despite the ups and downs, you can get through it."
He now has feeling in his legs and some movement in his arms.
"I'm now using my computer mouse with my hand. When I first started school, I was doing everything with my voice," McNew said. "I want to work on feeding myself and then work on driving and then work to a point where I can live independently."
Professors aren't surprised at Austin's achievements in the hospital or the classroom.
And although the pandemic has altered public graduation plans, they're celebrating his remarkable journey and ability to inspire others.
"I wish that I could be here to shake his hand and congratulate him," LaForge said, "but I hope he does recognize that so many of his faculty and staff and everyone who worked with him at IU East are so proud of him for all the work he put in."
"Everyone has their peaks and everyone has their valleys, especially with college students," McNew said, "and I just want them to see what I've done and understand that despite the ups and downs, you can get through it."
McNew is set to attend the IU McKinney School of Law in the fall.
He hopes to eventually either have his own law firm or incorporate a law degree and his love for football into becoming a sports agent.