FAYETTE COUNTY, Ind. (WTHR) — Most birthdays are celebrated with cake, perhaps ice cream or a dinner with family and friends.
Loved ones, however, were robbed of that opportunity to celebrate with Denise Pflum who would have turned 51 on Jan. 14.

Instead of celebrating, family and friends fanned out across Fayette County to continue their push for answers.

More than 30 years ago, Pflum vanished from Connersville on a spring day. Then 18 years old, she has never been seen or heard from since Good Friday in March of 1986.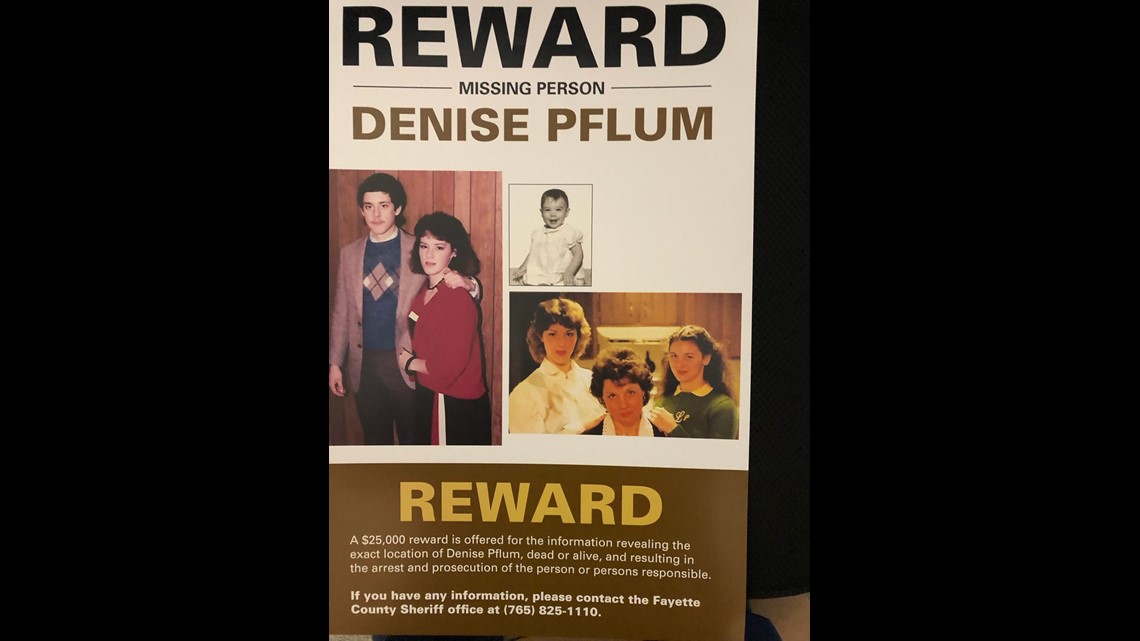 To keep the pressure on, loved ones put up dozens of posters around Fayette County this week advertising a new $25,000 reward leading to information about what happened to their daughter. This comes as a national show is putting together a documentary about the Denise Pflum story. Now in their 70s, her parents are worried they'll never know what happened to the teenager.
"Birthdays for your kids are supposed to be joyous occasions, you don't ever have joy anymore," father David Pflum previously told Eyewitness News.
"We feel compelled to keep looking. You don't give up you spend your life looking," mother Judy Pflum previously told Eyewitness News.
Her parents, sister Jenny Hardy, uncle Dennis Nutty, childhood friend Wendy Pyle, and police detective Stacy Reese joined together to put the posters in windows and light posts around the community. While Reese doesn't live in Fayette County, she grew up there and remembers hearing about the case. Reese volunteers her services to help the family.
The Fayette County Sheriff says they continue investigating the case and follow up on new leads. They remain hopeful the case will be solved.